News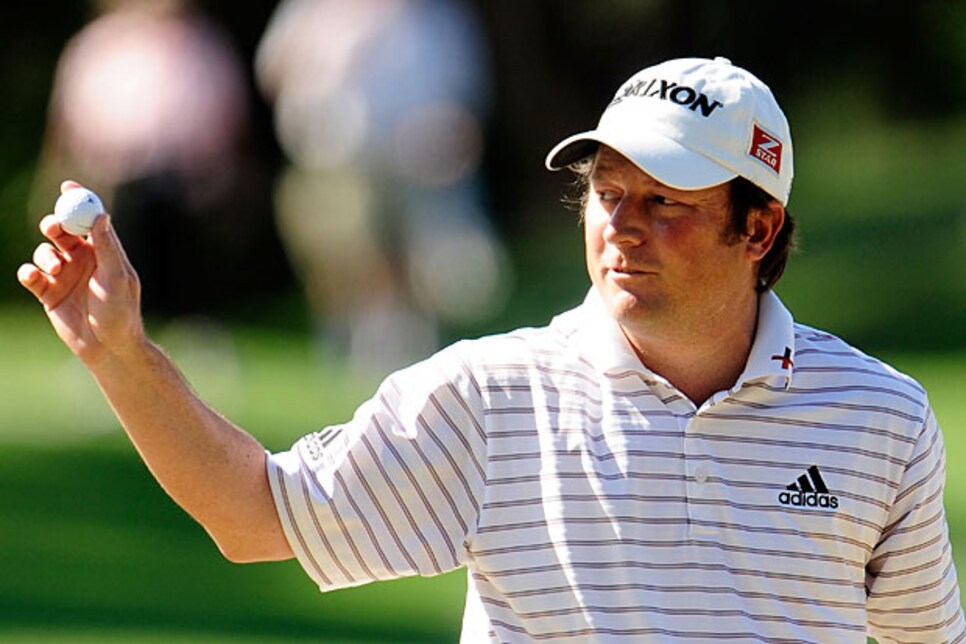 Fantasy Fix favorite Tim Clark returns to action for the first time since his breakthrough win.
Welcome to another edition of Fantasy Fix, where playing hooky to go play golf is always accepted.
Next up, the PGA Tour concludes its three-week Texas swing at the Colonial. Like the Byron Nelson, the Colonial has a strong tradition (In fact, it's the longest running non-major PGA Tour event to be held at the same site). Unlike the Nelson, it actually boasts a strong field.
into an otherwise bland Nelson. Meanwhile, Jason Day, who at 22 could have been confused for Spieth's slightly-older brother, came out of nowhere (six missed cuts and no top 20s in 2010) to capture his first PGA Tour victory. It's clear that with the depth on tour right now, any given week can be a breakthrough for any given player.
To that point, a co-worker made a huge jump in the standings of our one-and-done pool at work with his pick of Brian Gay, who finished T-2. His astute reasoning for the selection? The fact that he had recently posted this delightful "What's In My Bag" feature
on our web site. I saw a construction crane on my way to work. Perhaps I should take Ben Crane this week. Ahh, fantasy sports. Now for some (hopefully) more sound reasoning, here are some thoughts.
Tim Clark: What? Just because he won the Players Championship doesn't mean we're going to stop pumping up this Fantasy Fix favorite. It was here last year where Clark reached perhaps the low-point of the best-player-never-to-win portion of his career. He blew a two-shot lead with five holes to play and had putts of inside 10 feet to win on both the final hole of regulation and the first hole of a sudden-death playoff. On the second hole, Clark's approach shot hit the stick and bounced 20 feet away, while Steve Stricker stuck one to three feet to close out the tournament.
After losing, a devastated Clark said "I have a lot of work to do when it comes to closing out golf tournaments." Mission accomplished. Fast forward to now when people are still buzzing about his bogey-free final round at TPC Sawgrass. While winning for a second straight start after it took him 206 tries is unlikely, the South African clearly isn't a one-hit wonder.
As for a man looking to become No. 1, Phil Mickelson certainly can't be overlooked at a venue where he's won twice, most recently in 2008. Lefty couldn't defend his title last year while on break to spend time with his ill wife, but he can overtake Tiger Woods in the world rankings with a victory this year. Something tells me he'll be pretty motivated.
Jim Furyk can't climb to the top spot in the rankings no matter what he does this week, but he does enter this event as one of the front runners in the race for player of the year. In half of his last 12 trips to the Colonial, Furyk has finished in the top 10, including two runner-ups.
Another top 10 player, Ian Poulter, has shown a quick liking to this event with a solo eighth and a T-15 in his only two trips. In eight career rounds at Colonial, he has never shot over par, amassing a tidy scoring average of 68.
And it looks like the recent King of the Colonial may be rounding back into form just at the right time. There was finally a__Kenny Perry__ sighting at the Nelson last week, though a final-round 73 dropped him from T-4 to T-16. The performance was the Kentuckian's best since starting the season with a T-6 at the SBS Championship.
Perry turns 50 in about six weeks, and while it's possible he's slowing down, keep in mind this is a player who won a total of five times over the past two years and racked up more than $9 million in earnings. He still has game and I wouldn't bet against him on a track where he's won twice (both with 261 totals, a tournament record) and accumulated more than $2.6 millon. (Side note: Ben Hogan won a grand total of $3,000 for each of his wins here in 1946 and 1947 -- the first two years the tournament was played. That's probably what Perry tipped the locker room attendant on his way out the door.)
Steve Stricker: Last year, Stricker played the role of Tim Clark, getting over a stretch of near misses to get back into the winner's circle. This year, it's tough to say what role he's going to play. After getting 2010 off to a great start with a win at the Northern Trust Open and moving up to No. 2 in the world ranking, things haven't been as rosy.
for the first time in four weeks. Defending champion or not, I'm staying away for awhile until I see evidence that he's healed.
I hate to pile on Vijay Singh again, but it's hard not to. He was a "dud" for the Nelson last week and it would be tough to think of a better word to describe his performance. On a course where he's had plenty of success, Singh shot rounds of 73 and 75 to beat just four of the 156 players in the field. He's a former champion here as well, but I'll pass.
In keeping with the big-name theme, I wouldn't expect much from Geoff Ogilvy this week either. The Aussie has more missed cuts (2) than top 25s in his seven trips to Fort Worth. He's also in an uncharacteristic rut with no top 25s in seven stroke-play events since winning the season-opening tournament in Hawaii.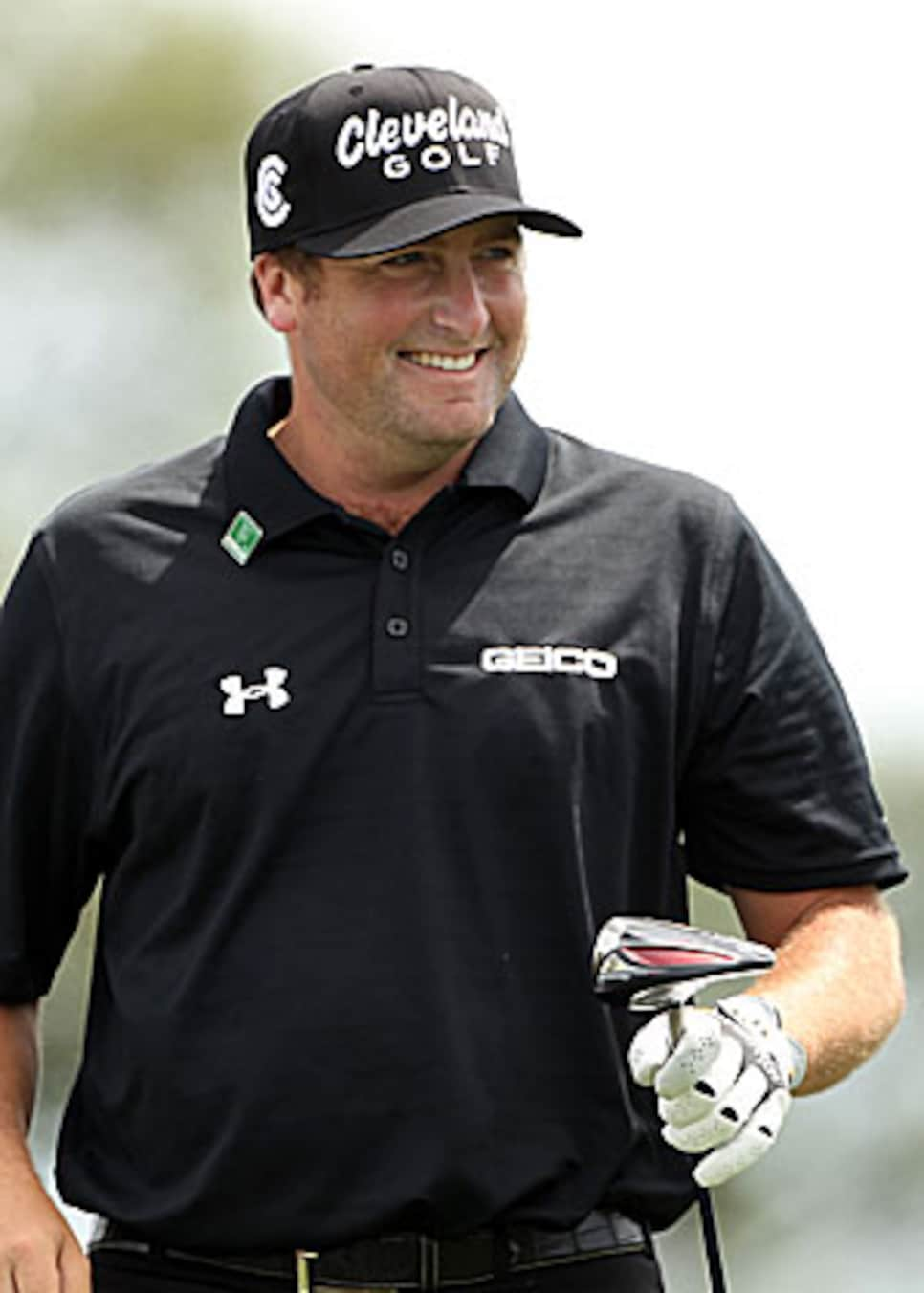 home crowd in Fort Worth.
Steve Marino nearly earned his first PGA Tour win here a year ago before losing in that three-way playoff. He also should have plenty of crowd support considering he grew up a few blocks down the road. That's paid off in his first three appearances as a professional, with finishes of T-24, T-10 and last year's T-2.
I would ride the hot hand with Jason Day. Yes, I know he won last week, but did you see the final leader board? Hence, why he's still in the "sleeper" category. Day, 22, could have picked up win No. 1 here last year after shooting 65 in each of the first three rounds, but wound up missing out on the playoff by one shot.
And then there's Corey Pavin. The Ryder Cup captain has been questioned for playing in this event instead of the Senior PGA Championship, but with his track record, who can blame him? This will be his 27th time teeing it up at Colonial and his consistent travels to Fort Worth have paid off, with 14 top 25s, seven top 10s and two wins. Colonial C.C. is an old-school course favoring precision over power, and thus a place where an old-school player like Pavin can still compete, as evidenced by his T-18 and T-15 finishes the past two years.
Pavin is also coming off a T-23 at the Nelson, where he was in contention through three rounds before struggling to a 73 on Sunday while playing with 16-year-old Jordan Spieth. Perhaps he was thrown off by playing with someone who could pass as a grandson. Or perhaps he was thrown off by actually playing in front of big crowds again. Either way it all goes back to Spieth playing hooky. I'm inspired and it is a perfect day ...
-- Alex Myers is a contributing editor for GolfDigest.com.