News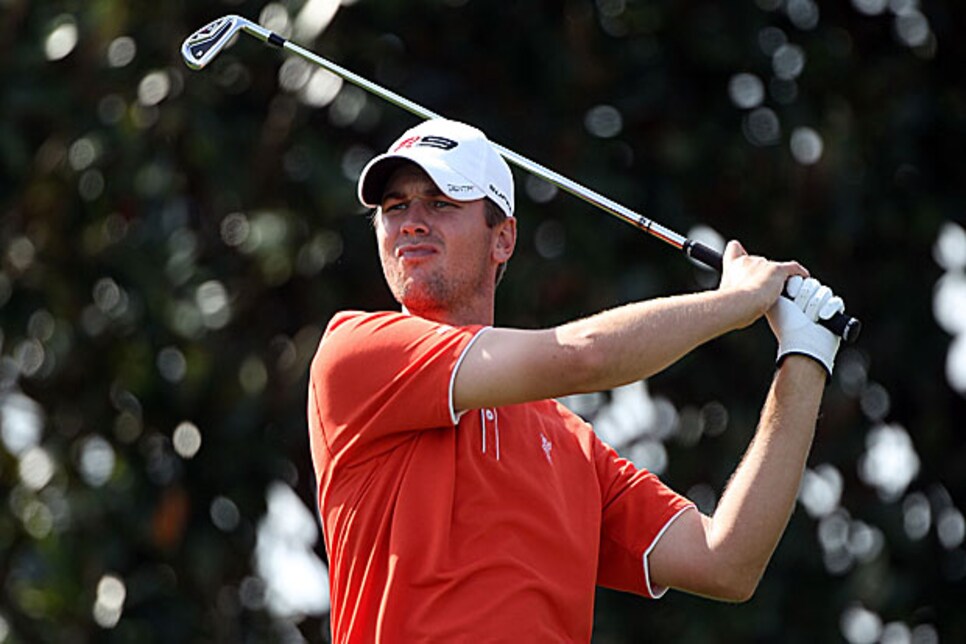 Sean O'Hair is too good to only have two top 10s thus far in 2010.
Welcome to another edition of Fantasy Fix, where being washed up before the age of 30 is a myth. At least we hope so.
at the Valero Texas Open, his first on the PGA Tour in two years (hey, maybe there's still hope for Sergio Garcia after all). Fantasy Fix has been pumping up the Aussie for a while now and we were all set to make him our big pick this week, but apparently now he's even too good to play in the Byron Nelson Championship.
Sadly, Scott is just one of the many big names not playing this week, making the field look like, well, the Valero Texas Open again. But any event on tour has the ability to change a life and at the very least, the standings in your fantasy league. Here are some thoughts.
Dustin Johnson: Already a winner in 2010, Johnson is one of the biggest-hitters and biggest names in the field this week at the TPC Four Seasons. Throw in the fact that he shot no worse than 68 on this track last year to finish T-4, and is now under the tutelage of Butch Harmon, and there's really nothing not to like.
For a second straight week, I like Dallas native Justin Leonard. With nine straight cuts made at the Nelson, Leonard's record here has been consistent, even if it hasn't been spectacular. Five of those times he has finished in the top 20, though, so if you're in need of solid performance, look no further.
Sean O'Hair has three top-25 finishes in four appearances here, including a runner-up in 2005. He's played solidly this season with two missed cuts in 11 starts, but surprisingly only has one top 10 to show for his efforts. When is all that advice on winning from Michael Jordan and Tiger Woods at last year's Presidents Cup going to start paying off? I wouldn't be surprised to see it be this week. (Side note: Hey Tiger, I'm a one-planer. Give me a call...)
With my he-probably-doesn't-deserve-to-be-called-a-stud pick of the week, I'll go with J.J. Henry. Sadly, this tournament hasn't been getting as many of the stars to commit since Lord Byron's passing, but with a purse still fitting of a prestigious tournament, it has players like Henry licking their chops. The TCU product has plenty of fond memories of competing in this area and he finished no worse than T-13 at this event from 2005-2007. In total he's made six straight cuts here and he still has to be feeling pretty good about a T-7 at Quail Hollow. Like I said, it's a stretch.
Vijay Singh: It's tough to slot a great player and former winner of this event into this category, but his recent struggles justify it. Since withdrawing from the Shell Houston Open with an injured back, Singh clearly hasn't been himself, with three straight missed cuts and a T-64 at the Valero Texas Open over the weekend.
Singh has a great track record at the TPC Four Seasons, but at this point, it's hard to trust him enough to insert him into your lineup. At the age of 47, his better days on the golf course are clearly behind him, but this latest setback seems only to be expediting his decline. This week he fell out of the top 50 in the world ranking
for the first time since 1992. That means unless he does well this week, he'll be forced to try to qualify for the U.S. Open at Pebble Beach the hard way. If you have a handicap index of less than 1.4, maybe you'll see him out there.
but he has not felt at home in this event. In six appearances, Mahan has two missed cuts and has finished no better than a T-42 in 2008.
Another player with Lone Star State ties and a poor track record at the Nelson is Chad Campbell. The Andrews, Texas native finished fifth in 2006, but other than that he has a slew of indifferent performances along with missed cuts the past two years. Getting off to slow starts hasn't helped. Campbell hasn't broken par in the first round here since 2003.
Brett Wetterich: A shoulder injury has been the main culprit keeping this former Ryder Cup team member from playing up to his capabilities since his breakout seasons of 2006-2007. The long hitter may be rounding back into form, though, with his T-13 in San Antonio despite a disappointing final-round 74.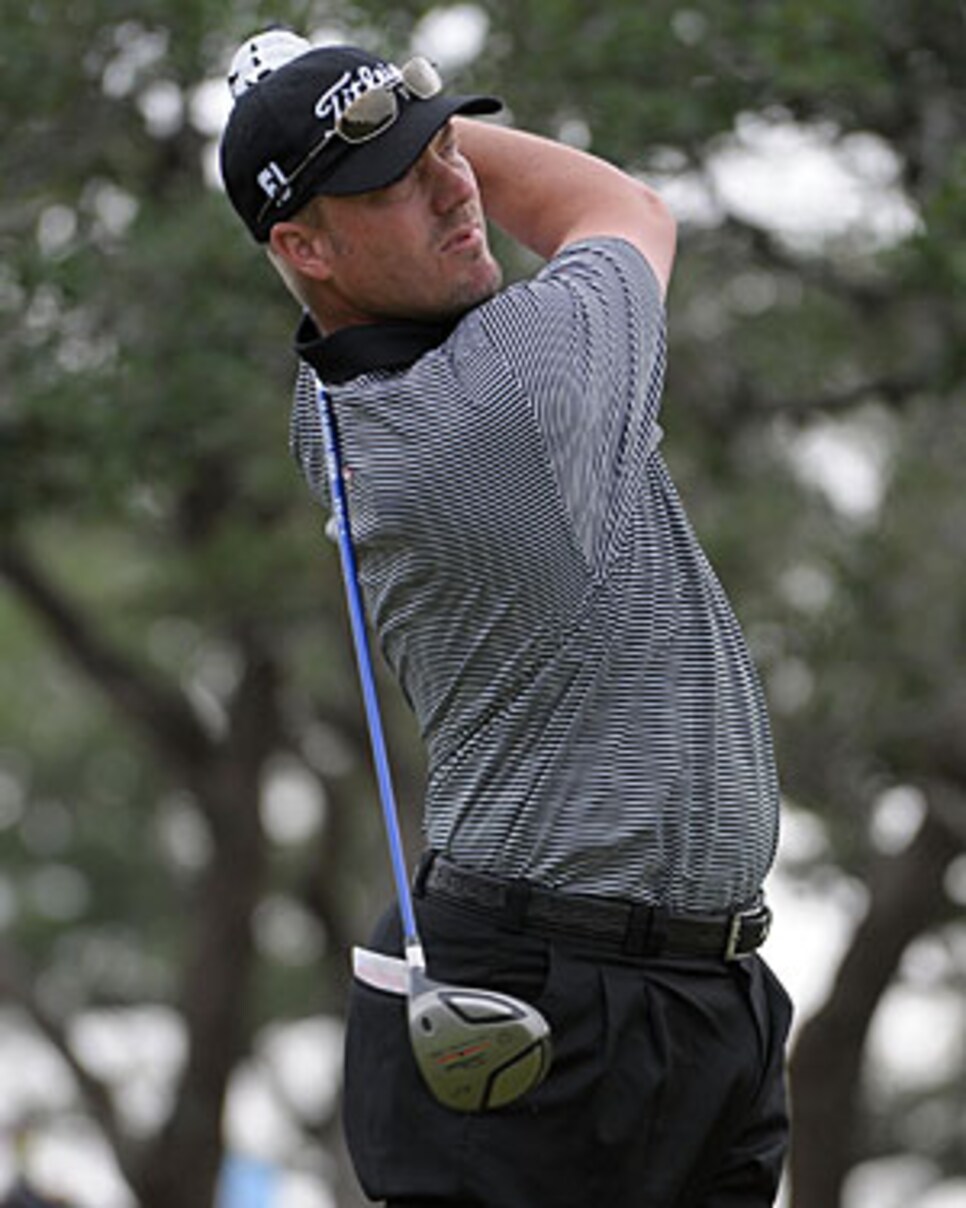 The finish was Wetterich's first top 25 since 2007 and now he arrives at the site where he picked up his lone PGA Tour title in 2006. He bookended that win with top-20 finishes at TPC Four Seasons and overall has been in red numbers in 11 of 18 career rounds at this event.
Another former winner here, who comes in with some momentum is Scott Verplank. The Dallas native won here in 2007 and also has a runner-up, a solo fourth and a T-6 at the Nelson in the past decade. At age 45, Verplank can still hang with the big boys as evidenced by his recent T-13 at the Players Championship and a T-18 at the Masters.
In the wake of Tim Clark's big win, it's time to single out another Fantasy Fix favorite before he gets his second win on the PGA Tour.Andres Romero has never played here before, but he's coming off a T-10 at the Players Championship and he likes tournaments where you get lapped by the field if you're not shooting in the mid-60s (Defending champion Rory Sabbatini shot an aggregate score of 261 last year).
Last year, John Mallinger put himself in position to pick up his first PGA Tour win when he was tied with Sabbatini, the eventual champion, through three rounds. A final-round 70 wasn't disastrous, but on a day of low scoring it dropped Mallinger to sixth place. A year later, he would probably trade a big toe for such a finish, having missed eight straight cuts and 12 of 13 overall in 2010. While his three-year streak of earning more than $1 million is in jeopardy, at the age of 30, he's got plenty of time to turn things around, as evidenced by Scott. This week would be a good place to start.
-- Alex Myers is a contributing editor for GolfDigest.com.