News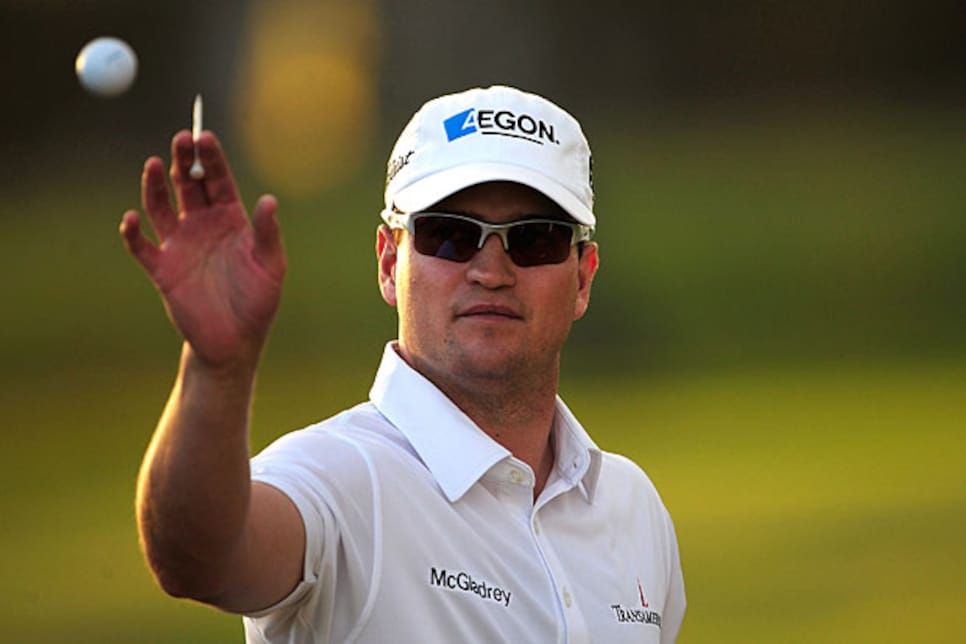 Zach Johnson may be from Iowa, but he has felt at home in Texas the past two years.
Welcome to another edition of Fantasy Fix, where we feel like a proud papa. Tim Clark has been our boy all year and it was great to see him breakthrough at the Players Championship, especially if your league goes by money earned. ($1.7 million?! Did this guy win the Lottery or a non-major golf tournament?)
After a few moments of quiet celebration alone, I've dabbed away the tears of joy and am ready to move on. Next up, the PGA Tour stops in San Antonio for an event in which going low never seems to be a problem. In fact, Tommy Armour III set the PGA Tour scoring record for 72 holes with a 254 total in 2003.
But for a second straight week, I am putting a disclaimer out there. Last week, I said the Players was a particularly unpredictable tournament due to the risk-reward nature of TPC Sawgrass. However, unpredictability is raised to a new level when golfers have never played a course.
That's the case this week, with the tournament moving on after 15 years at La Cantera. The new course is the AT&T Oaks Course at TPC San Antonio (Doesn't that just roll off the tongue?), making it the first PGA Tour venue where the naming rights were sold. What's next? The Waste Management Open at the Waste Management Course at TPC Scottsdale?
That being said, players' track records in this event should still be considered, but obviously not as much as usual. One sure bet, though, is that the golfers who find success this week will be a lot happier about the change. Here are some thoughts on how things will shake out.
Zach Johnson: Talk about owning a course, the two-time defending champion deserved naming rights at La Cantera based on his performance the last two years. Johnson shot in the 60s his first seven rounds at La Cantera. His eighth round was a 70 on Sunday last year, in which he was still able to win the tournament by birdieing the first playoff hole against James Driscoll.
New course or not, ZJ clearly has the Valero vibes. While a three-peat would be unlikely, it's tough to go against a player who is batting 1.000 at an event.
Before Johnson came along, Justin Leonard was the king of La Cantera. Leonard won this is event in 2000 and 2001 when it was simply the Texas Open and picked up another title in 2007. It's safe to say the native Texan feels comfortable playing in this area. Overall, he has five top-two finishes in 12 starts and the astonishing stat of having shot over par just three times in 50 career rounds.
Speaking of Waste Management, the company's top spokesman, Charley Hoffman, is coming off a T-22 at TPC Sawgrass, despite the fact that he completely tanked down the stretch. Hoffman was five-over for his last five holes (He actually made par on No. 17) to shoot a 77 and cost himself what looked like it would be a certain top-10 finish. Those five holes aside, he's made the cut three straight weeks and has three top-11 finishes in his four starts at the Valero.
For a second straight week, Ben Crane is a "stud." The extremely analytic golfer backed up this title last week with his T-4 at the Players and is actually one of the biggest names in a watered down field this week. If he can take advantage and post another high finish, he could find himself in great position to make the Ryder Cup team.
Ernie Els: I'm going out on a bit of a limb here considering how well the Big Easy has played this year (No. 1 in the FedEx Cup standings), but he didn't look sharp at the Players Championship. In fact, since his three straight wins (What, you don't count the Tavistock Cup?), Els hasn't been nearly as good with a T-44, T-18 and a missed cut at TPC Sawgrass. Throw in the fact that he's never played this event, regardless of the course, and I'd rather save him for some of the bigger events down the road.
John Daly: In case you saw his name in the field and were thinking about taking a flyer, let me remind you that he has just one top 25 in eight starts and that was a T-24 at the prestigious Puerto Rico Open. He's made $56,486 for the entire season, which is probably less than he makes during Masters week by selling his line of clothing at the Augusta Hooters. On the bright side, that's more money than what he made in the 17 tournaments he played in 2008.
And for my randomly-pick-on-someone pick of the week, I'm singling out John Mallinger. As a testament to how cruel golf can be, Mallinger has made just one cut and $12,524 in 12 events this year after earning more than $4.5 million the past three years. Then again, how cruel can that be considered for a guy whose made $4.5 million the past three years playing golf?
Bo Van Pelt: It's amazing what a small tweak can do for the confidence of a touring pro, but Van Pelt is the latest proof. BVP had his old putter refurbished
and has been on fire ever since, with three straight top fives, including a T-4 at the Players.
But Van Pelt is actually No. 1 on the PGA Tour in ball striking this year. That stat is a combination of total driving, in which he's No. 2, and adds it to his greens-in-regulation rank, in which he's No. 5. Even with his newfound faith in his flatstick, he ranks No. 111 in total putting. Shhh! Just don't tell him that.
Another guy coming off a top-five finish at the Players and with previous success in Texas (T-5 at Valero last year) is Fredrik Jacobson. The skinny Swede shot under par all four rounds at TPC Sawgrass to finish T-10.
Some brutal chipping kept him out of the winner's circle here last year, but__Paul Goydos__ is still a good option this week. He kept an alarming trend of disastrous final rounds (He has shot no better than 77 the last three Sundays he's played) going at TPC Sawgrass with an 81, but he's managed to finish in the top eight three of the last four times he's made this trek to Texas.
On the other hand, Mark Wilson has gotten all he can out of his final rounds at the Valero the past two years. Wilson shot a 64 last year on Sunday to climb to T-11 and the year before that, a closing 63 earned him a T-2. Wilson has just one top 10 this season, but he really made count by doing it two weeks ago at Quail Hollow, where he finished T-7.
-- Alex Myers is a contributing editor for GolfDigest.com