News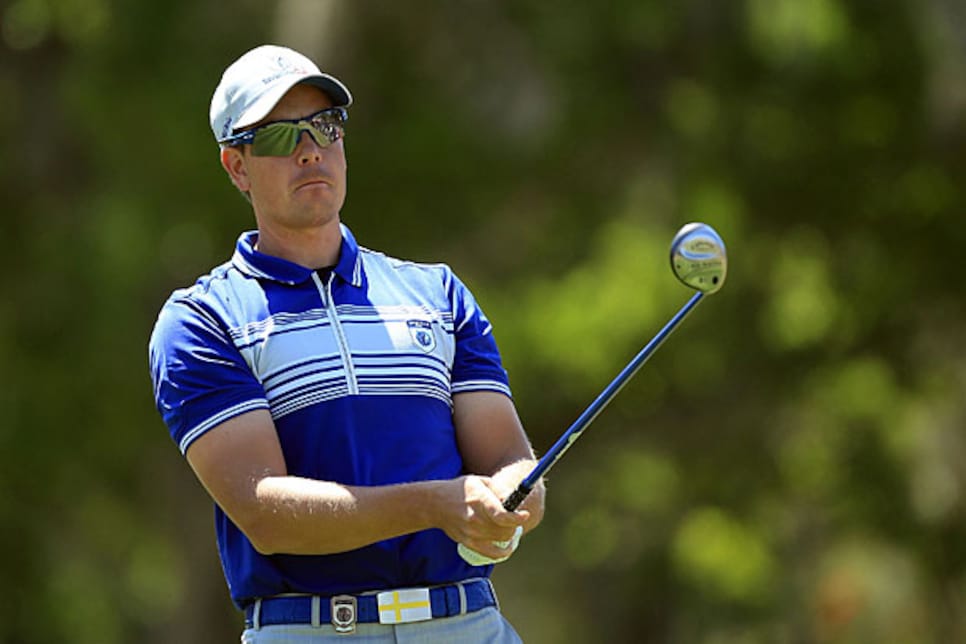 Stenson kept his cool and kept his clothes on for a dominating win at TPC Sawgrass last yer.
Welcome to another edition of Fantasy Fix, where we never miss the cut.
This week, all eyes will be on TPC Sawgrass for the Players Championship. Unofficially considered golf's "fifth" major championship, the tournament always boasts one of, if not the, strongest field of the year.
With a course that presents plenty of opportunities for players to stumble, TPC Sawgrass makes for exciting golf. Unfortunately for prognosticators (disclaimer alert), that also makes for very unpredictable golf.
That's probably the reason why it seems no one has a particularly good track record here. Sure, someone picks up the crystal trophy every year (Fred Funk in 2005?! Craig Perks in 2002?!!!), but the next year it always seems to go to someone else who held off a completely different crop of challengers. Trying to make sense of this is a tough job, but someone has to do it. Here are some thoughts.
Henrik Stenson: The big Swede dominated last year with a 66 on Sunday to win going away. If that's not enough to believe he's a fan of the Stadium Course, however, keep in mind that he's been very productive in his three other appearances with a T-3, T-10 and a T-23. Stenson has dropped in the world rankings this year, but it's not his fault that he doesn't get any credit for his performance at the Tavistock Cup.
I can't believe I'm labeling this guy a "stud," but when the pickings of those with good track records are so slim, I have to go with ... wait for it ... Sergio Garcia. The Spaniard has shown little life this year, other than usually making the cut, but he is still just two years removed from the biggest win of his career at the 2008 Players. He also finished runner-up here in 2007 and added a T-4 in 2002 when people gushed about him the way they are now about Rory McIlroy. (I'll be worried about McIlroy if he starts doing Michelob Ultra commercials.)
Then there's my main man, Jim Furyk. After learning my lesson (a couple times), I may never pick against the grinder again. I certainly won't in this event where he's been as consistently good as anyone. Here's a rundown of his last six years: T-5, T-27, T-28, T-3, MC and T-4. A T-7 last week at Quail Hollow has Furyk right on Ernie Els' heels for the lead in the FedEx Cup standings so there's no reason to keep him out of your lineup.
Another big name who I wouldn't be surprised to come out on top at the end of this week, despite the fact he's never won here before, is Padraig Harrington. It's been awhile since he's even contended here, but Paddy did manage back-to-back runner-ups in 2003 and 2004. Perhaps if he had been the major championship wiz that he is now, he would have been able to close the deal on at least one of those. Then again, he's been known to make a big number on holes where water is involved (See last year, No. 16 at Firestone and No. 8 at Hazeltine) and there's a lot of water at TPC Sawgrass. A lot of water.
You know it's a weak week when Ben Crane (Sorry Ben, even when I'm not picking on you, it seems that I'm picking on you) makes it into the list of "studs." Why is he listed here? Because he is the only player in the field to finish in the top six each of the last two years.
Tiger Woods: It's tough to ever call arguably the greatest player of all-time a dud, but at no other event has he struggled so much. Woods has only won once (2001, aka "Better Than Most!"), and last year he shot a final-round 73 while playing in the final group to drop from second into eighth place.
Amazingly, that was his first time in the top 10 at TPC Sawgrass since that victory nine years ago. And while he's never missed the cut here, he's finished outside the top 30 more times than he's finished inside the top 10.
There are plenty of other surprises when it comes to how some of the bigger names have fared in this big event. Geoff Ogilvy has never finished in the top 15 in eight tries while missing the cut four times. In the three times Hunter Mahan has teed it up here, he's put up a T-40, a T-71 and an MC. Even Phil Mickelson, who won in 2007, only has three top 10s in his 16 trips to Ponte Vedra Beach. This place really is the Bermuda Triangle of golf.
And then there's__Sean O'Hair__, who appeared to have a chance at capturing this title in 2007 until he reached the dreaded island green par-3 17th (side note: If I can hit that green with a 9-iron in one attempt, so should the pros. Nevermind the fact that perhaps the proudest moment of my golfing career occured with no wind, no pressure other than a $5 Nassau and minus about 30,000 people watching me..). Two dunked balls and seven shots later and he reached the 18th tee in need of some serious therapy having cost himself a shot at winning and more than $700,000. Apparently, the scars of that experience haven't disappeared. O'Hair hasn't sniffed the cut in either of the past two years.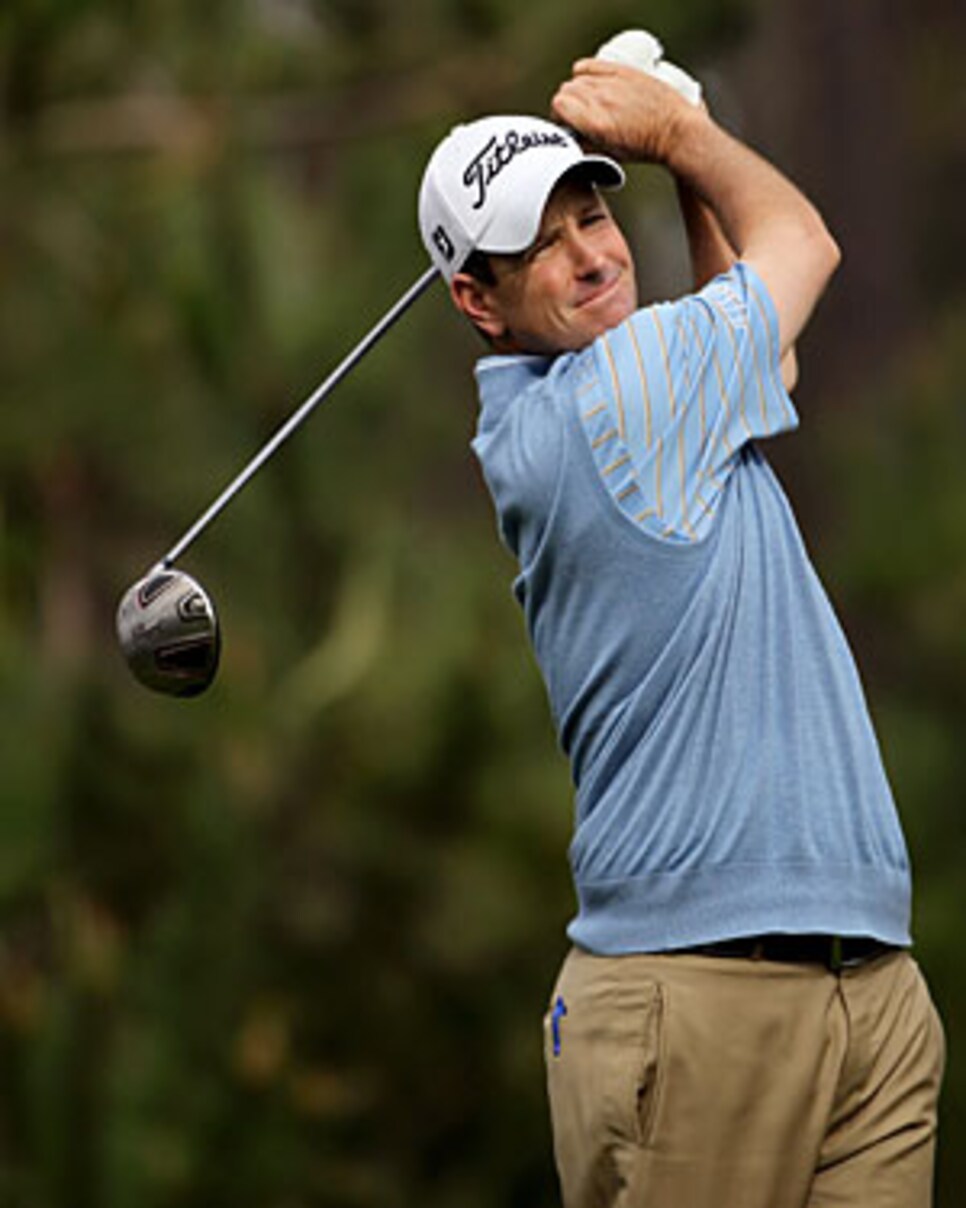 head pro asks him for advice on how to play it.
Jeff Klauk: It's possible that no one knows the Stadium Course better than the local boy. Klauk, who grew up in Ponte Vedra Beach, actually worked there in high school (his dad is the former TPC course superintendent) and he's estimated playing more than 1,000 rounds on the famed track. That experience paid off last year when in his first appearance in this tournament, he finished a very respectable T-14. Talk about consistency, the guy carded rounds of 71, 72, 71 and 71. Imagine what he could do if he had a little more practice there?
In my play-the-semi-hot-hand pick of the week, I'm going with Brian Davis. The Englishman won plenty of fans (unless he's on your fantasy golf team) by calling a penalty on himself at Hilton Head while in a playoff with Furyk. Following that emotional rollercoaster he managed to get into contention the next week in New Orleans only to falter over the weekend. He's got the putter rolling right now and a T-5 in this event last year shows he can handle the pressure of one of the premier tournaments.
Finally, for my questionable sleeper pick of the week, I'm taking Alvaro Quiros, who is fresh off his win at the Spanish Open. The long-hitting Spaniard has never played at this event, but nevermind that. As I've already pointed out, it's the type of place where it's hard to establish a good track record no matter how good you are (See: Woods and Mickelson) and where bad memories can haunt you (See: O'Hair). Quiros will tee off on Thursday with his mind a clean slate when it comes to TPC Sawgrass. Perhaps that's a good thing.