News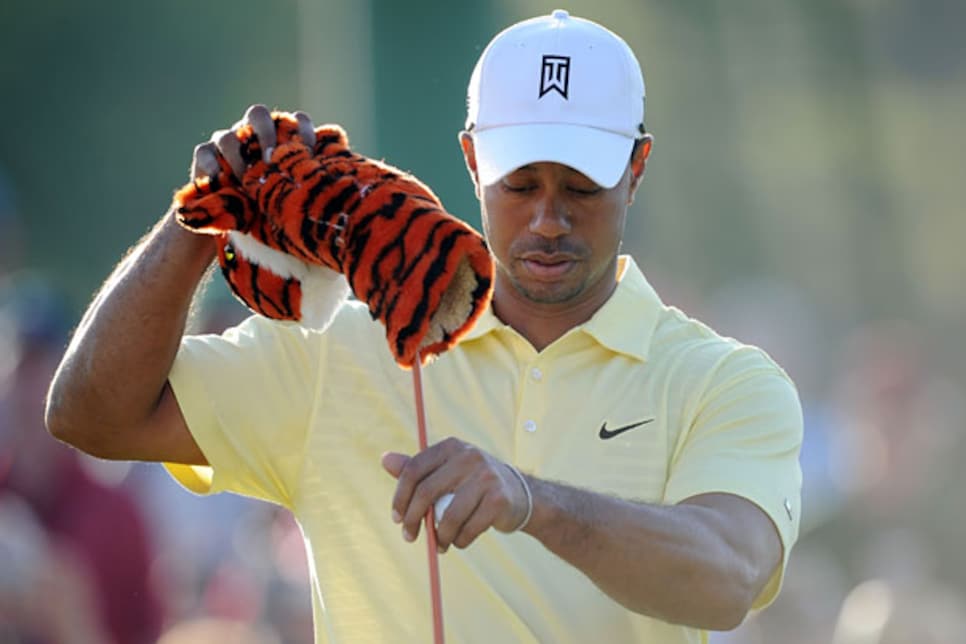 It's good to see that Tiger and Frank still have a healthy relationship.
Welcome to a Masters edition of Fantasy Fix. Wow, the first major championship of the season is finally upon us and it coincides with the return of Tiger Woods to competitive golf. I can honestly say I'm more excited about this than the BBQ chicken salad our cafeteria serves on Fridays, and that's saying a lot. Don't judge me until you've tried it.
Anyway, we've come to expect the unexpected at Augusta National the past few Aprils with Angel Cabrera winning the coveted green jacket last year and Trevor Immelman and Zach Johnson slipping it onto their slightly more slender shoulders the two previous tournaments. Are we in store for more surprises? Here are some thoughts.
Ernie Els: Forget about what he did last week in Houston. Els won his prior two starts at Doral and Bay Hill and comes here as the hottest player in the world, leading the PGA Tour's money list by more than $1 million. Els has never held back his desire to win the Masters and has had his share of close calls, most memorably in 2004, when Phil Mickelson birdied five of the last seven holes to beat him by a shot. With Phil struggling and Tiger just returning from his extended hiatus, this could be the Big Easy's best chance to get that elusive win.
Another South African with two runner-ups at Augusta National and two U.S. Open titles is Retief Goosen. His prowess on fast greens is why the Goose finished second or third in four of the last eight Masters. Overshadowed by Els in recent weeks, Goosen has quietly notched five top 10s in six tournaments, including a T-4 at Bay Hill in his last start.
Has a defending champion received less love than Cabrera? OK, I'm sure Johnson ('07 champion) and Immelman ('08) weren't given much chance of repeating their surprising wins, either. Still, most oddsmakers have "El Pato" at 50-1 to win. What they're probably forgetting is that Cabrera's Masters win wasn't his first major title. Maybe that's because he was the surprise winner of the '07 U.S. Open at Oakmont, holding off Woods with a hot putter and a heavy dose of nicotine. Cabrera's record at the Masters is impressive: four top 10s and only three missed cuts.
Two other guys with a chance to win their first Masters are Jim Furyk and Sean O'Hair, who both tied for 10th last year. Furyk has missed the cut only once ('02) and has four top 10s in his 13 Masters. He's about as safe of a bet as there is to give you a high finish. He also recently ended his 58-tournament draught with a win at the Transitions Championship. O'Hair on the the other hand, has been solid after missing the cut in his Masters debut in 2006. He finished T-14 in 2008 and his T-10 last April could have been a lot better if not for a disastrous 76 in the second round.
Finally, how can you not include Woods here? A four-time winner of this event, he always seems to find himself in the mix on Sunday no matter how much he struggles early on in the tournament. While winning would be a little unexpected, a top 10 wouldn't. He's done that in each of the past five years and in 10 of the 13 times he's played this tournament as a professional.
If you're playing in a daily league, I'd probably hold him out for the first round (regardless of the unusual circumstances surrounding this tournament, he's never broken 70 on day one at Augusta), but after that, keeping him out of your lineup would make about as much sense as hitting driver off the deck when you're nursing a one-shot lead with four holes to play. That might not be the best example since Anthony Kim got away with that over the weekend, but you get the point. Playing the smart odds means playing Woods.
Phil Mickelson: What has happened to the man who seemed poised to take over the golf universe entering the 2010 season? Mickelson had his latest lackluster performance in Houston, where he finished T-35 and his T-8 at Pebble Beach has been his only top 10 thus far in seven tournaments.
Meanwhile, his sponsor Callaway is running a big promotion this week, promising to reimburse your money if you buy one of their new drivers and Phil wins at Augusta. It's a genius ad campaign, since it doesn't look like there's much danger of them coughing up any money.
Last year, it was Sergio Garcia who had the same promotion based on him, only TaylorMade was the manufacturer. Once again, genius. Here are Garcia's last five results at Augusta: MC, T-46, MC, MC and a sparkling T-38 in 2009 as TaylorMade pretended to breathe a sigh of relief. Sergio's one shining moment this year with a run to the semifinals at the World Match Play championship, but his three tournaments since then (T-50, T-37, T-41 in three Florida events) give little hope that his first major since turning 30 will be the one for his first victory.
I'm also not wild about Justin Leonard, who missed the cut last year and who has only managed two top 10s in 14 appearances, the last of which came in 1998. With a T-17 at the Honda Classic being his best performance so far this year, it's hard to imagine a strong performance this week.
Charl Schwartzel: It's probably not fair to mention this guy as a sleeper any more, especially after his T-3 in Houston, but I still think the average golf fan wouldn't recognize him if they happened to be paired with him at their local muny and he introduced himself as Charl on the first tee.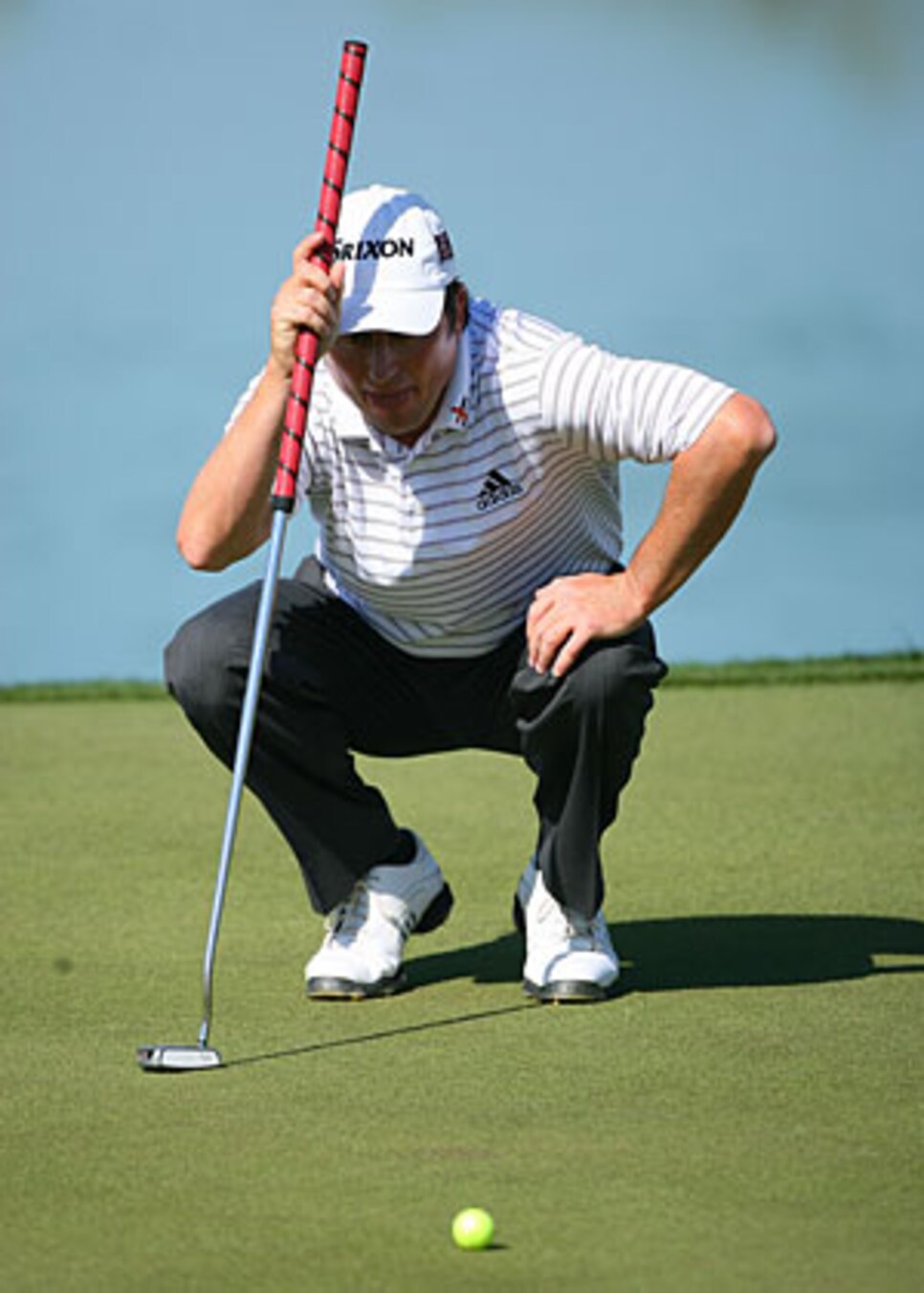 the fact he uses a putter that's taller than he is and
Schwartzel certainly has all the tools to follow in fellow countryman Immelman's footsteps and make the Masters his first major win. He began the year with two wins on the European Tour and he hasn't slowed down with two near misses thus far on the PGA Tour.
Could Fantasy Fix favorite Tim Clark get his breakthrough PGA Tour win at a major championship? It seems unlikely, but if it were to happen anywhere, Augusta would be a good bet. Clark has a strong track record here, including a runner-up finish to Mickelson in 2006. He finished T-13 last year and has four top 15s in the past seven years. Despite his unorthodox claw-grip/long putter combination, what makes Clark so good is his putting -- something that has been known to come in handy on Augusta National's famed greens.
Then there's Bill Haas, who comes from a family that has a strong Masters history. Haas' father Jay never won the tournament despite contending a few times, but his great uncle, Bob Goalby, did in 1958. So it may have taken a colossal scorecard error by Roberto De Vicenzo to make that possible, but a win is a win. Following that blunder, De Vicenzo famously uttered the line, "What a stupid I am." Hopefully, I won't be muttering the same thing to myself Sunday night.
-- Alex Myers is a contributing editor for GolfDigest.com.