News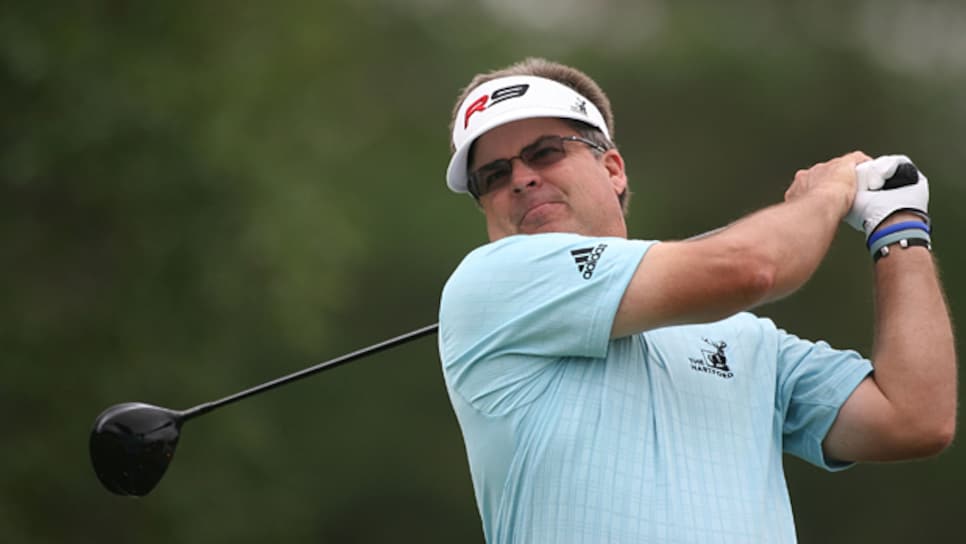 Can the struggling Kenny Perry get back on track this week?
Welcome to another edition of Fantasy Fix, where March Madness is another term for the Florida swing. Not even the NCAA basketball tournament and my first trip to Las Vegas could keep me from keeping up with the golf over the weekend. Which was good, since seeing plenty of my picks surfacing on the Transitions Championship leader board at least offered some solace while my bracket got torn to shreds.
As a result, I've decided I should stick to predicting golf. After all, in my one-and-done pool, I have managed to pick the last two winners. Unfortunately for me, Ernie Els and Jim Furyk have won the week after I selected them, leaving me feeling about as cursed as Greg Norman at Augusta National.
This week, the PGA Tour heads to Orlando for the Arnold Palmer Invitational. Other than the King, the tournament's other main attraction, Tiger Woods, will not be in the field despite earlier speculation he would make his return here. With the world No. 1 having won this event six times, including the past two years on walk-off putts, I doubt many players in the field at Bay Hill are too broken up that he's holding off his return until the Masters.
Vijay Singh is the last player not named Tiger to win, but he's got a bad back and withdrew on Tuesday. So, who do you turn to and who should you avoid? We've got you covered.
Sean O'Hair: Last year, it was O'Hair's turn to get burned by a Woods birdie putt on the 72nd hole. This time around, he won't have to worry about Woods, but the scars from blowing a five-shot lead heading into the final round last year may still remain. If Michael Jordan taught the youngster anything about mental toughness at the Presidents Cup in October, though, he should be able to get past it.
O'Hair's runner-up finish last year wasn't the first time he's been in contention at Bay Hill. The year before, he finished T-3 and in 2007 he notched a T-14. In fact, five of his past seven rounds have been in the 60s. Unfortunately for O'Hair, the two that weren't were his last two, including a 73 in the final round.
It's been a disappointing year thus far for Kenny Perry (nothing better than a T-33 following his Top-10 to start the season at the SBS Championship), but maybe a trip to Bay Hill is what he needs to get going. Perry finished T-8 here last year in a tune-up for what nearly became his first major win at Augusta. He also was the 2005 winner of this event and finished T-2 in 2003.
Then there's Zach Johnson and Stephen Ames. Neither have ever really flirted with winning here, but both have solid track records. Johnson has three Top-10s in six tries, while Ames has four Top-10s in 10 tries. Hey, it's nothing spectacular, but Top-10s can still pay those fantasy bills. Besides, there hasn't been a lot of success to go around at an event that has been so dominated by you-know-who.
Finally, with the world's top player returning in a couple weeks, something tells me that the two players who have been battling it out for No. 2 in the rankings during his absence,Phil Mickelson and Steve Stricker, will make a statement.
Jim Furyk: Maybe I'll finally nail it down with this guy this week. When I pick him to do well, he bombs. When I pick him to bomb, he wins. He's more unpredictable than a roulette wheel.
But despite coming off his win at the Transitions Championship, I've got to play the odds here. In nine tries, Furyk has just three Top-25s and a lone Top-10 that came all the way back in 1998. Usually, a cut-making machine, he's also missed out on the weekend a third of the time.
Ten years ago, Davis Love III would have been considered one of the favorites here. In his career at Bay Hill, he has seven Top-10s, including three runner-ups. However, he's only been able to manage two T-31s, a T-62 and two missed cuts since 2002. I'd also stay away from Ben Curtis, who has been in the Top-40 here just twice.
But no top player has been worse here in recent years, however, than__Ian Poulter__, which is surprising considering he lives in the area and competes for the Lake Nona team in the Tavistock Cup. Amazingly, Poulter has played Bay Hill five times and has made the cut just once, finishing T-48 in 2008. It doesn't help that his second-round stroke average is a startling 76.2.
John Senden: A new Fantasy Fix favorite (If you haven't noticed the trend, any player -- usually unheralded -- that makes one of my picks looks good becomes a Fantasy Fix favorite.), Senden is riding a hot stretch of late. He finished T-11 at Doral and then backed that up with three strong rounds at the Transitions Championship before a 76 dropped him to T-28. There's no reason to think he can't keep his good play going at a course where he finished T-4 last year.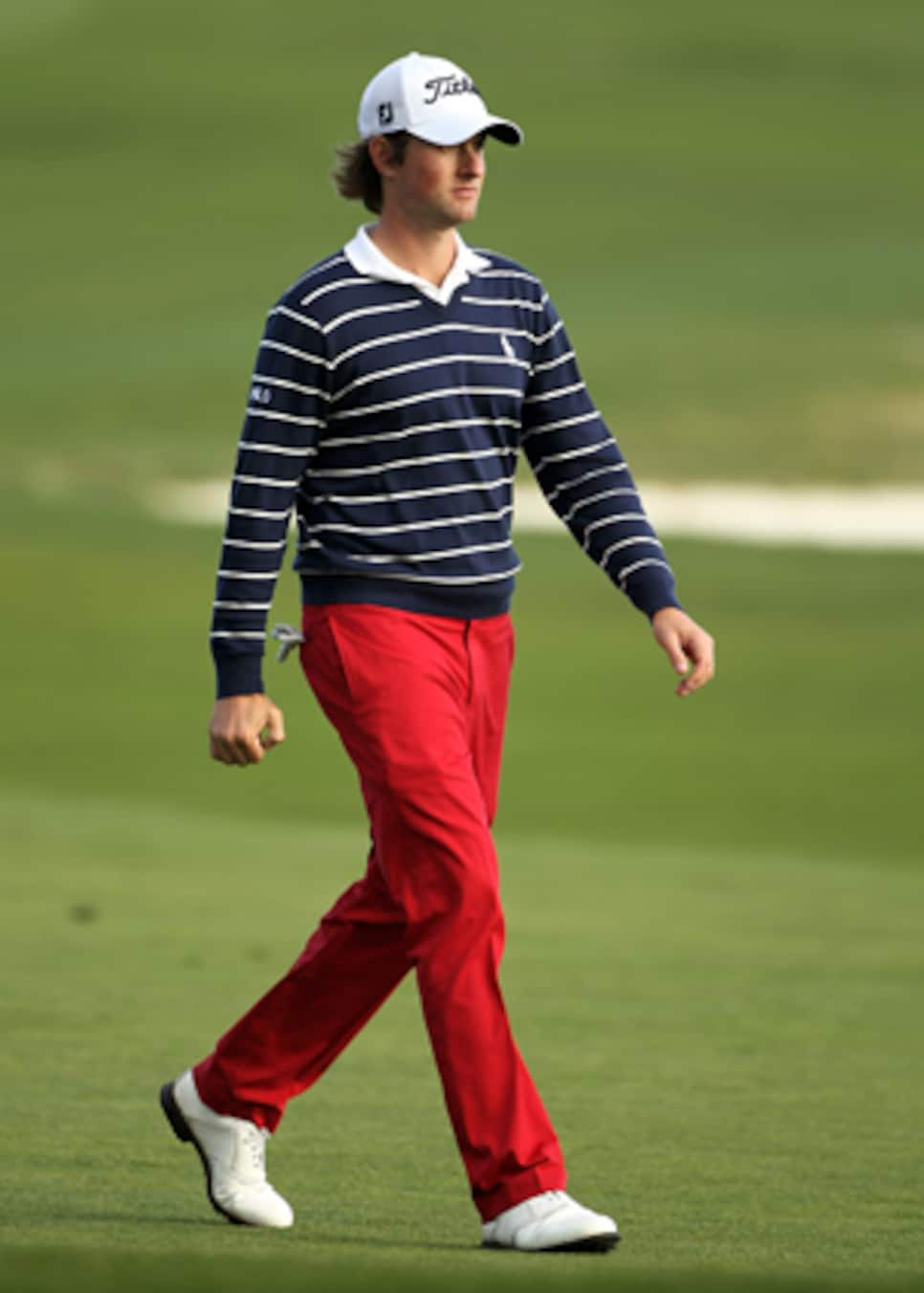 vibes at the King's course.
Speaking of Fantasy Fix favorites, Tim Clark is in the field so he deserves mention. The South African has only played here twice, but he already has five Top-25s this season.
And finally, in honor of Wake Forest's thrilling run in the NCAA basketball tournament (OK, so it was only one dramatic win over another disappointing team before being annihilated by top-seeded Kentucky) it's time again to pump up a former Demon Deacon, Webb Simpson.
It's been a relatively quiet sophomore year on the PGA Tour for Simpson, though he's coming off a T-13 at the Transitions. But now he returns to the home of the biggest legend ever produced by his alma mater, Arnold Palmer. Bay Hill was also the site of the highlight of Simpson's rookie season, when he aced the par-3 17th hole in the second round in his first appearance at the event as a professional. He went on to finish T-11.
-- Alex Myers is a contributing editor for GolfDigest.com.