News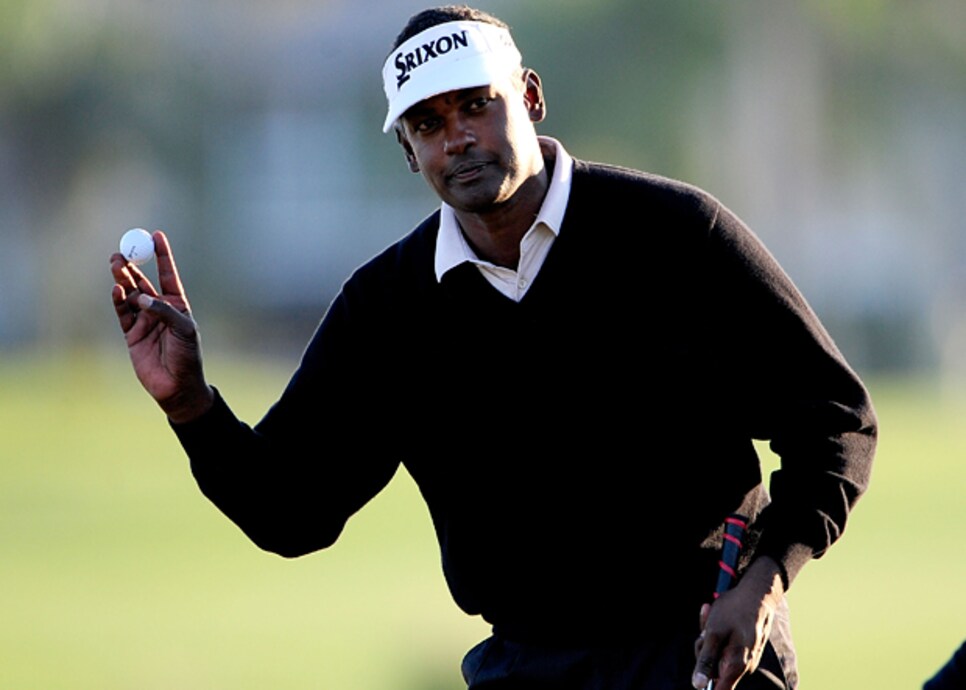 Ho-hum. The big Fijian is back in a big way.
Welcome to another edition of Fantasy Fix, where we thank Charl Schwartzel for making us look like geniuses. Before this week, Schwartzel was probably best known in the U.S. as the guy who stayed with Ernie Els during the Honda Classic (The most amazing part of that story is that Schwartzel somehow couldn't crack the Honda Classic field). Now we know him as a gracious guest who challenged Els before ultimately letting his host pull away for a long-awaited win.
As for Els, we pumped him up for that week and I even took him in my one-and-done league only to be disappointed by a T-67 that left him a mere 21 strokes behind winner, Camilo Villegas. Of course, he turned back the clock the next week to dust the best field of the year. I guess the Fantasy Fix's ability to see the future is so strong that we sometimes see two weeks in advance.
(Speaking of prognostication, the Fantasy Fix likes Kansas, Kentucky, Baylor, and Syracuse in the NCAA Final Four, with the Jayhawks upending the Wildcats in the National Championship game. Consider this non-golf related advice a bonus public service).
This week, the PGA Tour continues its Florida swing at the Transitions Championship. It's a fitting name since we may be on the verge of the transition back to the Tiger Tour from this equal-opportunity circuit that has produced 12 different winners over the first 12 tournaments. We'll see if unlucky No. 13 breaks that trend.
Steve Stricker: Got off to a slow start at Doral, but closed with a 68 to finish T-16, proving that he's reached a point where he can finish in the Top-25 even when he doesn't have his best stuff.
Stricker's also fared well here the past two years with a T-4 last year and a T-14 in 2008. Something tells me he might end the aforementioned string of different winners and become the first to notch two titles in 2010.
For a third-straight week, I'm going to tout Vijay Singh, who is enjoying a resurgence at the age of 47. Hey, when it ain't broke, don't fix it. Singh finished T-4 at the Honda and followed that up with a T-11 last weekend at Doral. Despite not playing here since 2007, he won this event in 2004 when it was still played in the fall and called the Chrysler Championship. Then again, he won just about everything he played that year.
After correctly predicting a bad finish for__Stewart Cink__ at Doral, I like his chances this week to get back on track. Following a year in which he picked up his first major championship at Turnberry, Cink has yet to win in 2010, but he's a perfect five-for-five in cuts made, including a recent run to the quarterfinals at the Accenture Match Play.
Cink's last three appearances here were a T-3, a T-19 and a T-2 in 2008. He didn't play in 2009, which might have something to do with the meltdown he had to finish runner-up to Sean O'Hair the previous year. He appeared to be cruising to a win in that tournament until he dropped four strokes to par from holes 13-16. The extra time off from seeing that back nine should have helped heal those wounds.
Finally, I should mention two players who have won this tournament twice: Retief Goosen and K.J. Choi. However, it's worth noting that their records at Innisbrook Resort aren't too good in the years they haven't won.
Goosen has bookended wins around a series of lackluster performances for a player of his caliber, while Choi has been equally hit-or-miss, with wins in 2002 and 2006 to go along with three missed cuts and a WD in which he opened with a 79. I'm guessing they'll hit here, with Goosen already boasting three top-six finishes this season and Choi coming off a runner-up (albeit to a teenager) at the Malaysian Open.
Bubba Watson: After an early T-2 at the Bob Hope Classic, Watson has struggled to regain that form. His last four tournaments have resulted in two missed cuts and a best finish of T-36 at the Waste Management Phoenix Open. The long hitter hasn't faired well at the Innisbrook Resort's Copperhead course either. In four appearances, he has three missed cuts.
The course doesn't discriminate based on length, though, as Zach Johnson has also been quiet here. Outside of a T-14 in 2007, the 2007 Masters champion has two missed cuts and a T-55 in his only other tries.
Jim Furyk's trips to Palm Harbor have been few and far between and he has little to show for them. In 2004 he missed the cut and didn't return until last year, where he did marginally better with a T-52. Furyk is also the guy I picked last week in my one-and-done pool to little success. However, based on my recent trend of picking players one week too soon (See: Els, Ernie), Furyk may just win this week.
I hate to do it, but I have to slot fellow Wake Forest classmate Bill Haas here as a dude as well. Haas has had a breakout season with his first career win at the Bob Hope Classic and a strong T-6 at Doral. However, he has yet to show that he can sustain such high level of play in his four-plus years on Tour and his track record here doesn't thrill me. He's broken 70 just once and that came in his first attempt in 2006. In somewhat related and surprising news, I'm also picking against my alma mater in the NCAA tournament. Sorry, Demon Deacon Nation.
John Senden: It may surprise people to know that Senden finished runner-up here in 2008 and 2007. He missed the cut last year, but he's also coming off a strong showing at Doral in which he finished T-11 after closing with a 69. Plus, since the Australian didn't attend college in the United States, he's far less likely to be distracted by the Big Dance.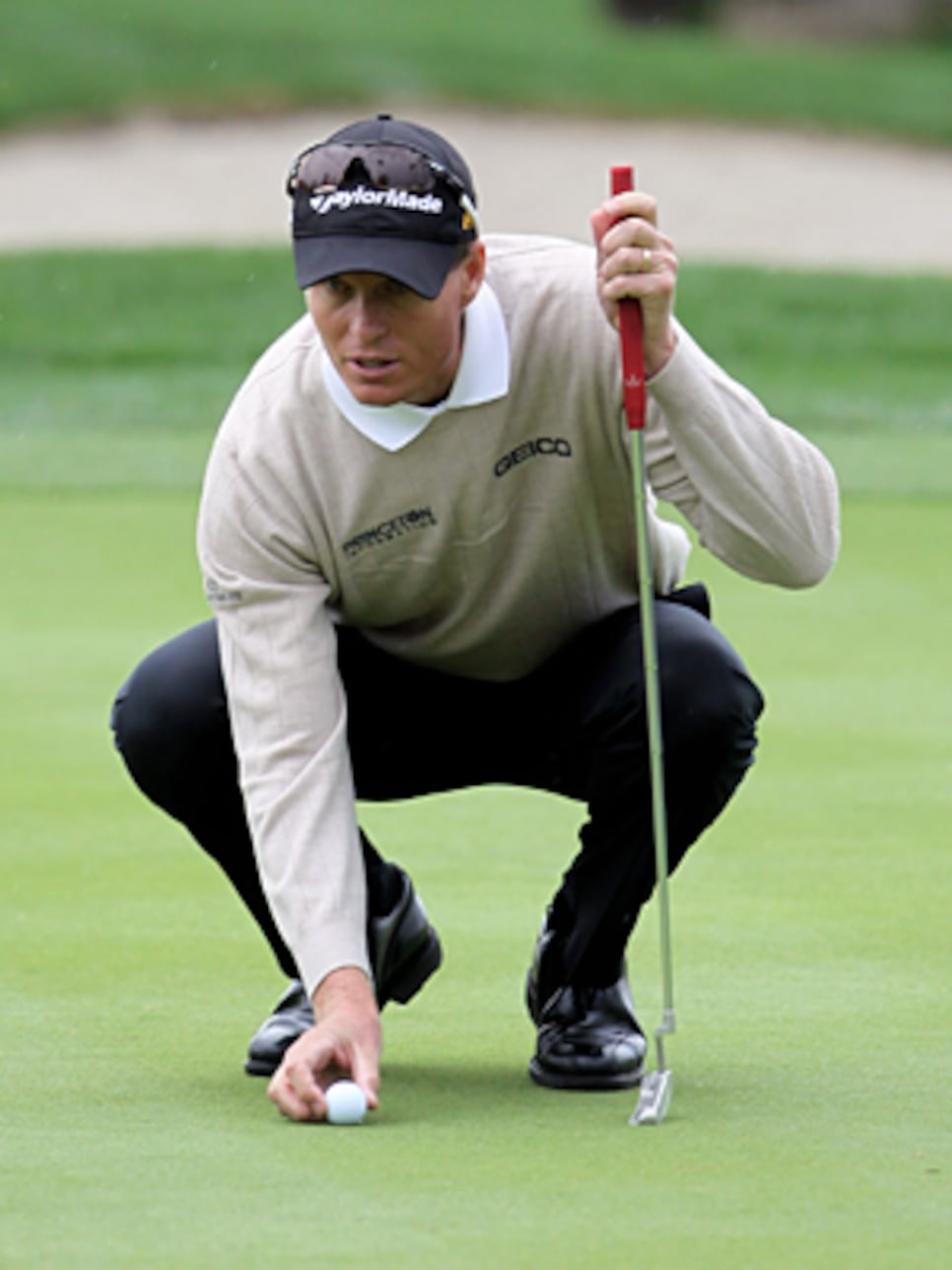 Speaking of runner-up finishes, poor Brett Quigley finished in that spot last year as he lost to Goosen by one shot. I don't use the word poor because I feel bad about the paycheck he earned ($475,200 to be exact), but rather because like Tim Clark, Quigley has the distinction of being one of the best players to have never won a PGA Tour event. Hey, it's better than not being known at all, especially considering he's earned more than $10 million in his career.
Then there's Charlie Wi, who did me proud with an eighth-place finish at the Honda Classic after being selected as a sleeper for the week. For someone born in South Korea, he certainly likes the Florida swing. He's made the cut at this event in all three attempts, including a T-4 last year.
And how about the best young Japanese player not named__Ryo Ishikawa__? That would be__Yuta Ikeda__, who handled himself well against the elite field at the CA Championship with a T-22 finish. Just 24 years old, Ikeda won four times on the Japan Golf Tour in 2009 to place second on the money list to his more celebrated countryman Ishikawa.
I also like Richmond, Washington, San Diego State and UTEP. Wait, sorry, I accidentally slid back into hoops mode there for a moment. Good luck in your fantasy golf leagues and your NCAA pools. Unless I'm playing against you, of course.
Alex Myers is a contributing editor for GolfDigest.com.