News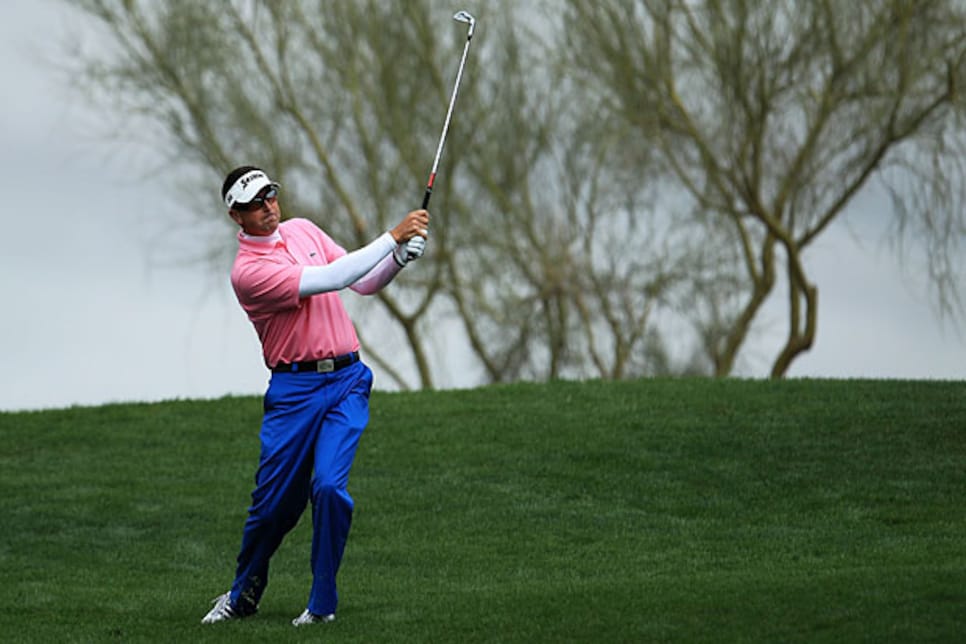 If Robert Allenby keeps playing well, we'll excuse this color combination.
Welcome to another edition of Fantasy Fix, where giving bad advice to your boss isn't recommended. Last week I pumped up Kevin Na for our office one-and-done league. This week, I've been told I'm teetering on one-and-done territory myself with this column.
Everyone misses a cut now and then (For the record, Na made the cut on the number and finished T-53 -- I guess that wasn't enough for people), but I'm confident that this will be a big bounce-back week. You see, I've never been a West Coast guy, but Florida, ahh Florida. The Honda Classic marks the return of the PGA Tour to the land of early-bird specials, alligators and shuffleboard, aka American curling. It was here where I learned to love the game while visiting grandparents and it is here where I will right the ship. (Side note: In that same office pool, I picked J.B. Holmes. So did a certain editor who amazingly had picked the winner in each of the past three weeks. Of course, his streak came to a screeching halt when linked to me, as Holmes finished just ahead of Na. Side, side note: My boss has requested I write that out of six people, I'm in last place. By a lot.)
Back to the Honda Classic, which has historically been very hard to predict (Had to throw that disclaimer in). In fact, in the past 22 years, there have been 22 different winners. Those have included complete unknowns at the time like Todd Hamilton in 2004 and Y.E. Yang last year. Nevertheless, I think there's plenty to discuss, so let's get to it.
Robert Allenby: Another week, another top-10 for this man from Down Under. Allenby has kept up his hot play that started with his run at the end of 2009 and there's no reason to think he won't continue playing well in Palm Beach, where he has finished in the top-5 of his past three appearances at the Honda. He has only missed the cut once in his nine career starts there and that came in his first trip in 1996, before the tournament's official name changed from Honda Classic to The Honda Classic (Glad the good people at Honda cleared that one up).
I would have bypassed the obvious selection of the defending champion, if that same person hadn't nearly won last week at TPC Scottsdale. Y.E. Yang appeared to be on his way to his third win on the PGA Tour in the past year when he grabbed a two-shot lead late on Sunday, but both Hunter Mahan and Rickie Fowler passed him. Still, it's an encouraging sign for Yang, who broke through for the first win of his career here last year, well before he struck the hybrid-heard-round-the-world to close out Tiger Woods at the PGA Championship at Hazeltine.
Then there's Ben Crane, who backed up a T-12 here in 2008 with a solo third last year. Crane has been playing well in 2010, not just including his win at Torrey Pines. He's a perfect four-for-four in cuts made and in the semi-random stat of the week, he has an 18-under total on par 4s, which is tied for first on the PGA Tour this season.
I'm expecting big things from the Big Easy as well. Following a nine-year hiatus from playing here,Ernie Els won in 2008. In his title defense last year, he ended strong with a final-round 66 under windy conditions to move up to T-22. In 2010, Els has been quietly solid, finishing at least T-12 in all three of his stroke-play events. No reason to think that trend won't continue.
Finally, two other former champions here, Padraig Harrington and Vijay Singh, are both players to watch. Both have been quiet on the course this year, but their track records at the Honda can't be overlooked. Aside from his win in 2005, Harrington has been T-13 and T-16 in his only other appearances. Meanwhile, Singh has never missed a cut in his eight starts, including two runner-ups and a win in 1999.
Brandt Snedeker: It would have been tough to imagine penciling this guy into this spot last Saturday night when he led the Waste Management Phoenix Open heading into the final round. But it would also have been hard to imagine such a collapse.
To the five people who picked him last week in a survival Top-25 pool that I'm also in, losing the lead itself wasn't a huge deal. No, the ultimate dagger came over the last three holes. Still at 12-under (9-under or better got you into the Top-25), Snedeker apparently forgot that as he transitioned into weekend-hacker mode to finish bogey, double bogey, double bogey to wind up at seven under for the week. His disastrous 78 dropped him 42 spots from first to down near Na territory (Side note: I had Camilo Villegas in that same pool and watched in horror as he fell to a tie for 35th with five holes left after leading for most of the week. However, he rallied for three straight birdies to finish T-8 and keep me from retiring from fantasy sports.)
With a high finish, Snedeker would have wrapped up a spot in the Masters. Now, he's still got work to do. At least he doesn't have a history of similar episodes. Other than four-putting on the final hole of the BMW Championship to miss making the Tour Championship by one shot and shooting a 77 in the final round of the 2008 Masters of course. Oh yeah, he also missed the cut at this event last year after opening with a 79.
I hate to keep picking on the guy, but once again, I won't be counting on David Duval for a pick-me-up. It's probably not fair to point out his results at various tournaments the past few years since other than his runner-up finishes at last year's U.S. Open and at Pebble Beach last month, he's earned about as much as your average Hooters Tour player (or your average Hooters waitress for that matter). But considering he's only broken 75 once in four career rounds at PGA National, the odds say to stay away.
two letters in his last name. Oh yeah, the guy
pictured here is Charlie Wi.
There are plenty of appealing options in this category this week for a tournament that usually features a slightly watered-down field due to its timing. Last year, in his debut at the Honda, Jeff Klauk nearly beat Yang to a first win before a bad final round landed him in solo fourth. But Klauk still has good vibes here. He grew up just 30 minutes down the road in Boynton Beach and he fondly recalls attending this event as a kid when it used to be held at TPC at Eagle Trace, where his dad used to be the superintendent.
D.A. Points has a short, but sweet career in Palm Beach as well. He finished T-9 last year and also placed T-10 the last time he played in 2006. With $1.3 million in earnings last year and another Top-10 under his belt at Torrey Pines this year, Points is a prime candidate for a breakthrough victory.
So, too, is Charlie Wi, who has quietly made the cut in more than two-thirds of his events over the past three-plus years, while racking up more than $4 million in prize money. Poor final rounds have cost Wi dearly here in all four of his appearances, but that hasn't stopped him from making the cut each time, including a T-9 last year and a T-13 in 2007. Maybe he should be my under-the-radar recommendation to my boss this week. On second thought, I'll keep it to myself for now.
Alex Myers is a contributing editor for GolfDigest.com.