News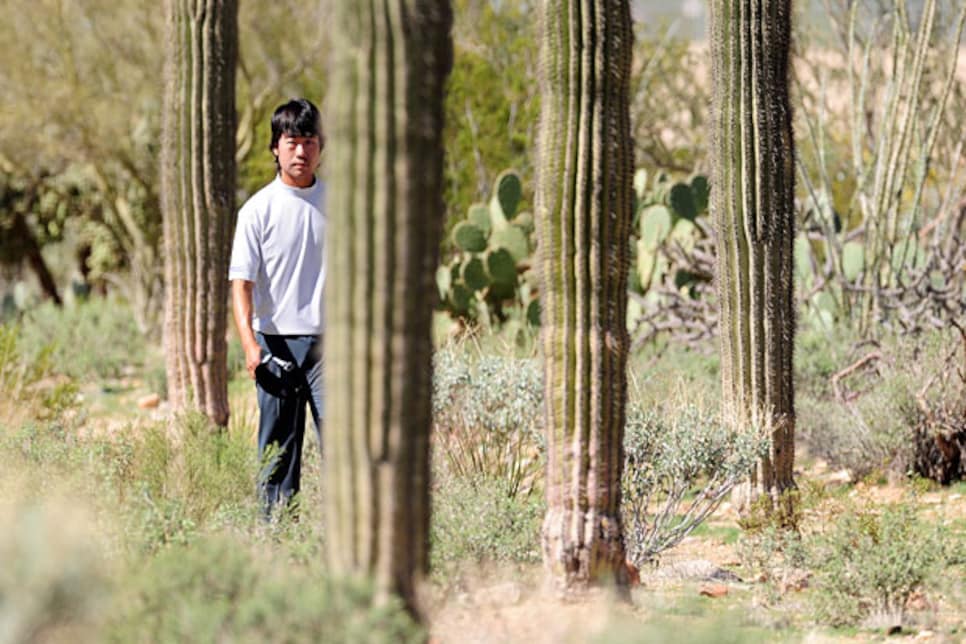 Let's hope we don't see Kevin Na find himself in a similar position this week.
Welcome to the latest edition of Fantasy Fix, where we'll pretend we didn't suggest taking a golfer who had to scramble just to break 80. (Thanks, David Duval. Just for that, I'm taking away the cool nickname I gave you. Going forward,Ian Poulter is the new "Shades.")
On the other hand, I did give you Poulter as one of my four non-top seeds to watch at the Accenture Match Play Championship, as well as Briny Baird as a top sleeper at the Mayakoba (T-4). Let's pause while I go ahead and give myself a pat on the back.
Of course, I still didn't benefit from this. In fact, I was hurt by it in my one-and-done league as two co-workers took Poulter while I opted for Fantasy Fix favorite Tim Clark. One was my boss, meaning I had to endure some insufferable bragging, and the other was the same person who picked__Steve Stricker__ at Riviera and Dustin Johnson at Pebble Beach, meaning I'm getting beaten as badly as Sergio Garcia over the weekend. Didn't Garcia realize his consolation match with Camilo Villegas was worth an extra $110,000?
This week the PGA Tour heads to Phoenix for the newly-named Waste Management Open (Really? Is Tony Soprano the new sponsor?). The host course, TPC Scottsdale, was also the site of last year's "fluffgate," when Kenny Perry came under fire for appearing (to some) to improve his lie on a chip from the rough during his playoff against Charley Hoffman by grounding his club several times behind the ball. Perry didn't receive a penalty and was later absolved of any wrongdoing by the PGA Tour. If he was hurt by any of the criticism, I'm sure the check he cashed for nearly $1.1 million helped ease the pain.
Perry will be back to defend his title, but there are plenty of other familiar faces in the field as well. Here's a look at some who should be considered and avoided when setting your fantasy lineup this week.
Kevin Na: The 26-year-old is still waiting for that breakthrough first win and nowhere has he come closer. In just four career appearances, he has three Top-4 finishes, including a runner-up to Phil Mickelson in 2005. Na hasn't had any huge paydays yet this year, but his five made cuts and two Top-10s in five events show he's on his game.
Speaking of Mickelson, the No. 3 player in the world is back from a family vacation just in time to play one of his home events. A two-time winner in Phoenix, Mickelson can get it cranking here as evidenced by the 60 he shot en route to this 2005 title.
In our first installment of the year, we pumped up David Toms for the Sony Open, but he ended up with a lackluster performance. Perhaps he wasn't ready for the pressure that Fantasy Fix hype produces. Now, with a few more weeks under his belt, it's time to endorse Toms again.
In his last seven trips to Phoenix, Toms has four Top-10s. Last year, he shot in the 60s all four rounds and finished T-4. He hasn't shot anything worse than a 70 thus far in 2010, but so far, that hasn't translated into big results.
Then there's Mark Calcavecchia, a three-time winner of this event. Calc has nine career Top-10s in Phoenix, but he's most remembered for his play in 2001 when, at the time, he set the PGA Tour scoring record for a four-round event. That week, he made a remarkable 32 birdies in 72 holes and finished with a 28-under total of 256 to finish eight shots clear of runner-up Rocco Mediate.
Perhaps no one owes more of their career to the Phoenix event than__J.B. Holmes__, who has claimed both his PGA Tour titles at TPC Scottsdale. The long hitter has taken advantage of the spacious fairways (If you've ever played Tiger Woods PGA Tour on the original Playstation, you know there are scores to be had out there) to win here in both 2006 and 2008. True to his erratic form, the Kentucky native also missed the cut in 2007 and 2009, but when he makes the weekend, he owns a sparkling scoring average of 67. So if you're not going to have confidence in him here, there's not much point to ever plugging him into your lineup.
But wait, there's more. In case you haven't noticed, Holmes is in the midst of a torrid stretch, having finished T-3 at Riviera and then finishing runner-up, just one shot behind Dustin Johnson, at Pebble Beach a week later. Bombs away, J.B.
David Duval: And no, this isn't just more payback for him making me look bad last week at Mayakoba. Even at the top of his game, D.D. never did much in Phoenix. His career-best finish was a T-14 in 1997 and he hasn't made the cut since 2000.
Another big name with little production at this event is Anthony Kim (I know, I can't believe he's playing two weeks in a row, either!). In his three starts, AK, a.k.a. "The Buckle", has a T-30 sandwiched by two missed cuts.
Surprisingly, Fred Couples has a terrible track record here as well. While Couples is clearly going to dominate on the Champions Tour, he has missed the cut in his last four appearances at Phoenix. Sure, he finished T-3 once upon a time, but that was in 1990. Was there such a thing as fantasy golf then?
Brian Gay: Gay stunned a lot of people last year with two decisive wins at the Verizon Heritage and the St. Jude Classic. While he hasn't had quite the same success at the TPC Scottsdale, he does boast three straight Top-25s here, including a T-6 last year.
Two other guys who played well here last year and remain under the radar are__James Nitties__ and Scott Piercy. Nitties has missed the cut in all four events he's played in 2010, but his T-4 at this tournament last year was the best result of his rookie season on Tour. Meanwhile, Piercy finished T-6 and posted a T-15 in his only other appearance here in 2006.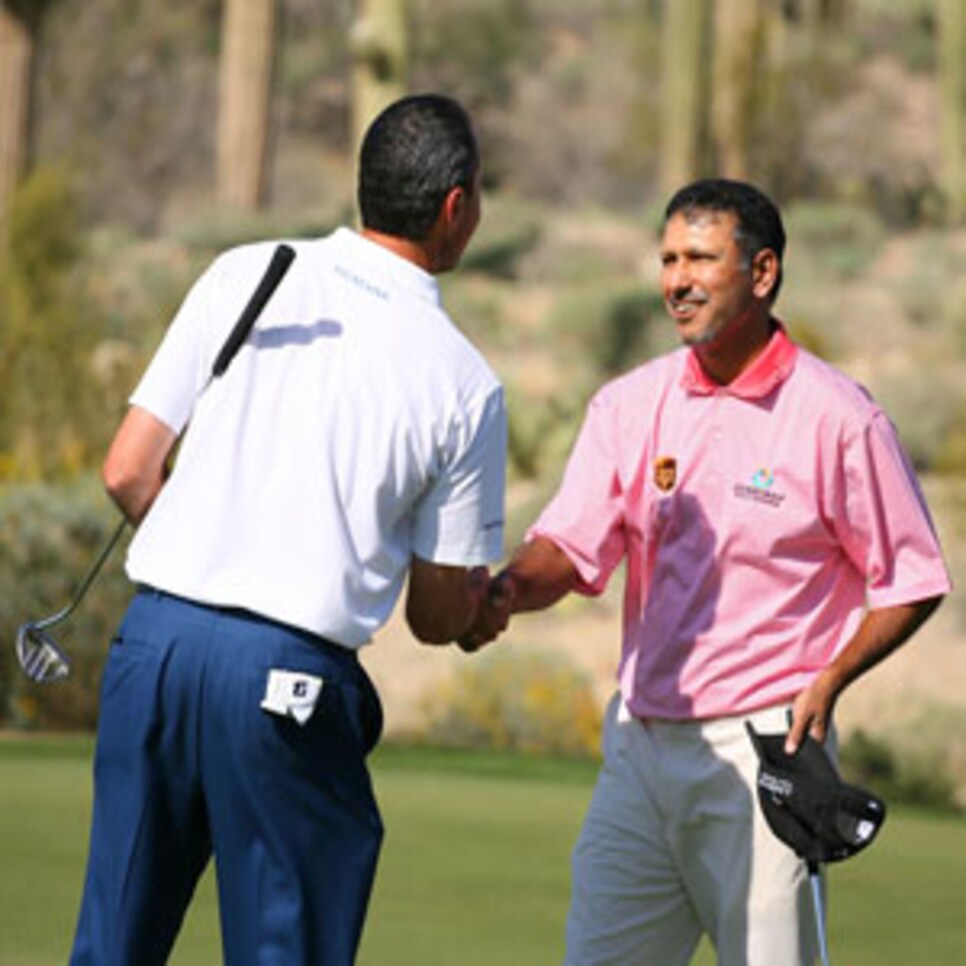 Finally, two-time winner Vijay Singh may not be in the field this week, but if you're having some Singh withdrawal, never fear, Jeev is here. Introducing another Fantasy Fix favorite, Jeev Milkha Singh usually does most of his dominating on the European and Asian Tours, but he's a nice plug-in when he plays in the U.S.
As a No. 15 seed at this past week's Accenture Match Play Championship, he knocked off No. 2 Padraig Harrington and No. 10 Matt Kuchar before falling to No. 3 Ian Poulter in the round of 16. So basically, he would have won the whole thing if he didn't have to face the new "Shades." Maybe this will be the week he makes history by becoming the first Indian to win on the PGA Tour. Hey, if there can be a rain delay in the desert like last week, then anything's possible.
Alex Myers is a contributing editor for GolfDigest.com.