News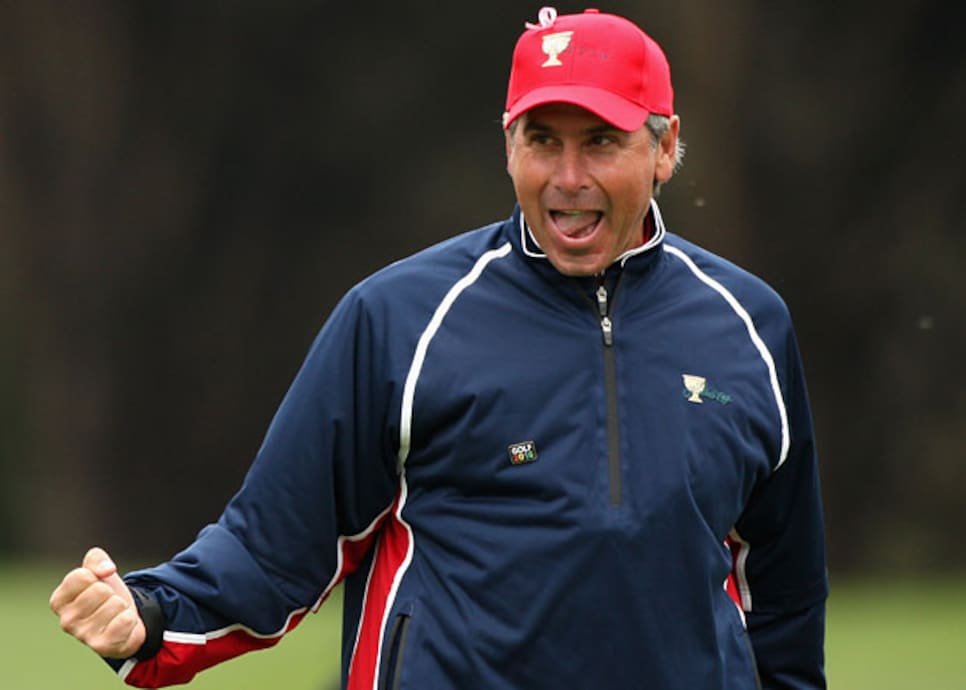 Time to celebrate, Freddie. Riviera calls.
Welcome to another edition of Fantasy Fix, where we offer fantasy advice no matter what type of grooves you're playing. The PGA Tour season finally seems to be in full swing now that Phil Mickelson is playing again. This week, the field at the Northern Trust Open has more marquee names than we've seen since the Tour Championship. (If you didn't see Geoff Shackelford's piece in Golf World last week about how basketball legend Jerry West is working hard at restoring the event's prominence, check it out).
Ahh, the allure of Hollywood. Even Anthony Kim is making his first PGA Tour start of the season. Other flashy players in the field include Japanese phenom Ryo Ishikawa,Adam Scott,Rickie Fowler, who is coming off an impressive performance at the Farmers Insurance Open, and__Jim Furyk__. OK, so maybe Furyk is about as flashy as a wet bath towel, but last time I checked, he's still the fifth-ranked player in the world, despite not having won a PGA Tour event in more than two years. Last time I checked, I also noticed__Martin Kaymer__ is No. 6 (Martin Kaymer?!), but that's another story.
As for Fowler, of course he had his stellar performance THE WEEK AFTER I named him as a sleeper. Maybe it's a sign I need to shake up how I'm doing this. Maybe I should try going with Super Bowl-themed picks this week in honor of the big game Sunday. Representing New Orleans, I'll take David Toms, a Louisiana native. And representing Indianapolis, I'll take, hmm, um, okay, so maybe that wasn't such a good idea. Turns out Toms, who burned me earlier this year, isn't even playing this week (Rumor has it that he's in Miami teaching Peyton Manning how to throw a skinny post), so it's back to the old drawing board. Here we go:
Fred Couples: Freddie's track record in this event (no matter what it's been called throughout the years) is better than most players' entire careers. In one seven-year stretch, Couples racked up two wins (1990 and 1992) and three runner-up finishes. Overall, Couples has 13 Top 10s at Riviera.
Couples is by far the oldest pick I've made so far. Having turned 50, he's postponed his inevitable domination of the Champions Tour (Think "Silly Season" for the entire season) to continue playing a mix of tournaments on both circuits.
"Boom Boom" nearly won his first event as a Champions Tour rookie, but he was nipped by Tom Watson's two closing birdies at the Mitsubishi Electric Championship in Hawaii. Now that's the Hollywood ending we all wanted to see from Old Tom, too bad it came a few months removed from his magical run at Turnberry.
I also like Robert Allenby. If not for a disastrous triple bogey on the penultimate hole at the Farmers Insurance Open, he could have had a chance to catch Ben Crane. Still fuming from a ruling on the 17th hole that required him to declare his tee shot a lost ball since no one actually saw it come to rest in the hazard, Allenby stuck a 3-wood to about five feet on 18 and made the eagle putt to manage a T-9.
No one has been hotter on golf courses around the world in the past few months (Wins abroad at the Australian PGA and Nedbank in South Africa to end 2009, followed by a second at the Sony and another close call in San Diego), as the Australian's switch last year to a claw-grip when he's putting has produced immediate results. Always a renowned ball-striker, Allenby, the 2001 champion of this event, has been making more putts -- even if some of those come after shaky lags, as was the case several times during the final round at Torrey Pines. Plus, a co-worker made a prediction that Allenby would win this event a few weeks ago. Good enough for me!
The aforementioned Scott is a solid pick as well. Unofficially, he's a returning champion, having won in 2005 when the event had to be shortened to 36 holes due to bad weather. He followed that up with a runner-up finish in 2006. His first win in his home country, at the Australian Open in December, showed he isn't ready yet to go the way of Craig Perks, another former Players Championship winner, and that he is over whatever relationship he had with actress Kate Hudson. Once again, it all goes back to Hollywood.
Others to consider are Steve Stricker (obvious), 2006 winner Rory Sabbatini (more obvious), two-time defending champion Phil Mickelson (most obvious) and of course, Tim Clark, a Fantasy Fix favorite.
Vijay Singh: Maybe it's the bright lights of the Sunset Strip or the three-hour time change, but this is one of the few events that Singh hasn't performed well in. He missed the cut last year and remarkably has a career-best finish at Riviera of a T-18 in 2000, despite coming here a majority of the years since 1995.
For a player of Singh's caliber, his track record makes about as much sense as someone winning a Grammy for best album, despite not being able to stay on pitch while singing the song that made her famous. Since that actually happened, I guess anything is possible. But in this case, since Singh will turn 47 in a few weeks, there's no reason to think this trend is going to change anytime soon.
Steve Flesch: Picking against this guy for this event is about as obvious as picking Phil Mickelson to do well. Flesch has missed the cut here in three of the last five years, but more alarming than that, he's missed the cut nearly everywhere since a T-6 at Augusta last year. His most recent MC came last week at Torrey Pines, where he posted an 80 in the first round. Enough said.
Michael Sim: Once again, I'm announcing that I'm jumping on this guy's bandwagon before everyone else does. OK, so that's probably too late after his runner-up at Torrey Pines to Ben Crane, but I will point out that I was impressed long before.
Sim is just 25 and he probably wouldn't have even become the Tiger Woods of the Nationwide Tour last year (Three wins, $644,142 in earnings in just 14 events) if hadn't suffered a stress facture of the spine during his first go-round on the PGA Tour back in 2007.
Before he really breaks through, he's an easy sleeper pick -- every week he plays.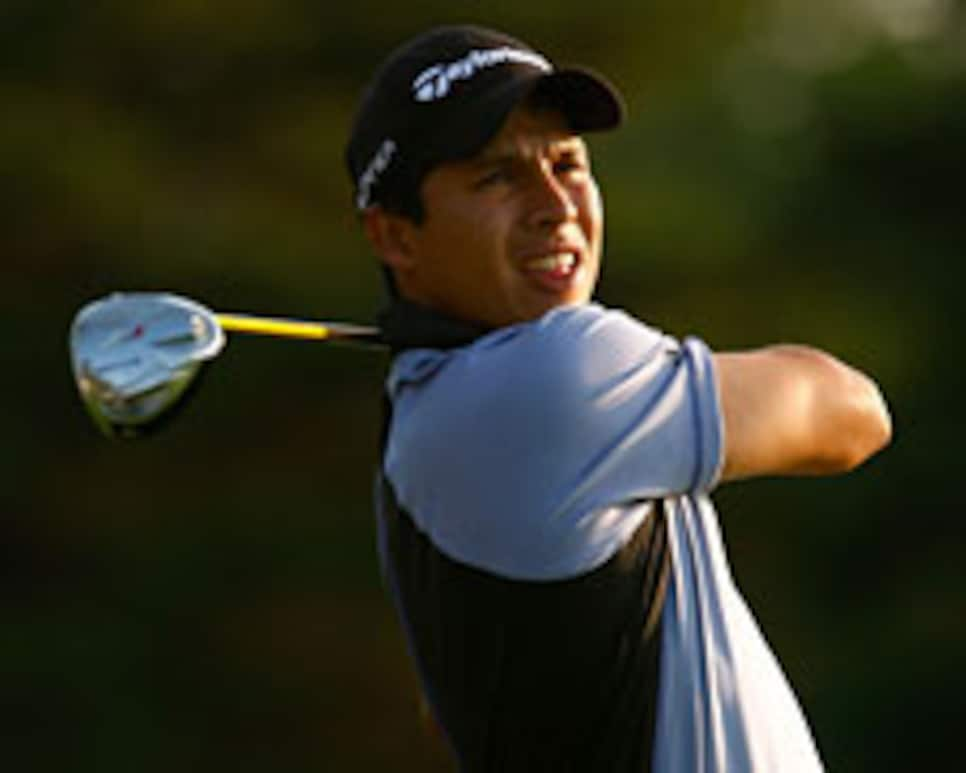 K.J. Choi: Where has this guy been? A threat to win the first FedEx Cup title in 2007, the South Korean has fallen from elite status as quietly as he first appeared.
Now ranked just inside No. 100 in the world, Choi still has time to accomplish a lot more. He will turn 40 in May and his T-15 at Torrey Pines and a made cut in his only other event at the Sony Open shows he's in good form. On the bright side, Choi finished T-3 at Riviera last year. On the dark side, it was his only Top-10 of 2009.
Finally, look out for another guy I enjoy pumping up, Andres Romero. After a breakout 2008 season, the Argentine took a huge step backwards in 2009. Then again, that hot-and-cold streak is what his game is all about. Take last week, when he was one shot off the lead during round two before winding up in a tie for 71st place. I think this year his rollercoaster golf game will be back at its peak and an event where he finished T-3 last year seems like a good place to start the climb. Now that sounds like a phrase straight from a Hollywood script.
-- Alex Myers is a contributing editor at GolfDigest.com.