News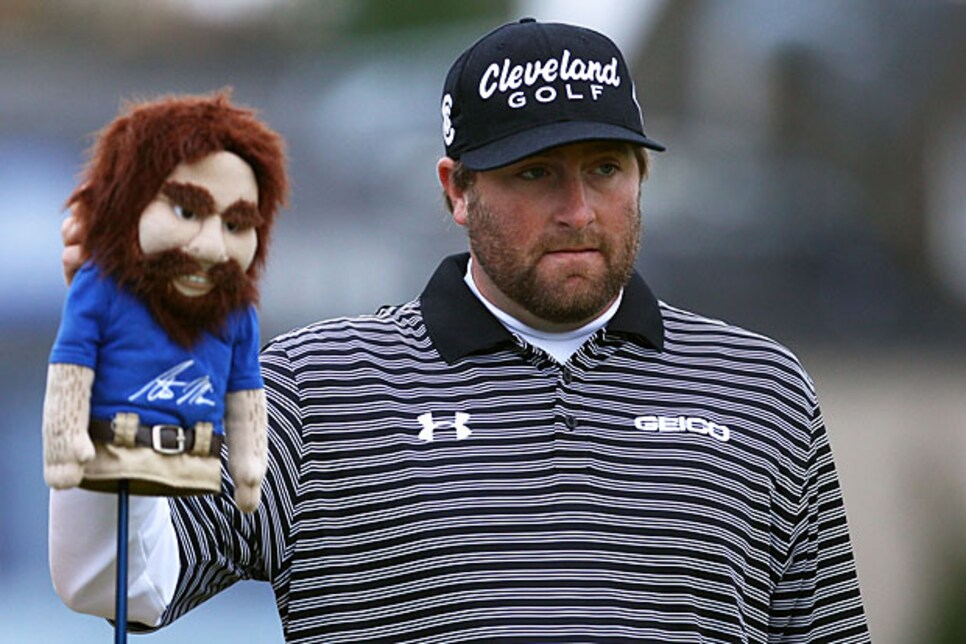 Is that a GEICO caveman head cover? Regardless, Steve Marino is on the verge of picking up his first tour win.
Welcome to another edition of Fantasy Fix, where I'm feeling extra good about my picks this week after making a rare successful trip to Atlantic City. My luck began at the blackjack tables and didn't run out until learning the rest-stop KFC on the way back was out of chicken. So without further ado, here are this week's words of wisdom.
After two weeks in Hawaii, the PGA Tour begins its West Coast swing with the Bob Hope Classic. The five-day event (remember to set your lineups by Wednesday) features four courses, a plethora of celebrities, and more birdies than you can shake a U-grooved wedge at.
Before focusing on this week's tournament, a point about the week that was if I may. As Waialae Country Club collected rain like I pile up fantasy sports titles, I heard more and more experts say long hitters would rule in Honolulu. But in the end, two of the shorter and more accurate players, Mark Wilson and Tim Clark -- two guys who can't hit it past the celebrities they'll be paired with this week -- finished 1-2. Length is certainly advantage every week, but the bottom line is that all these guys have the distance to contend at just about any event. And before I ramble too much, the bigger point is that golf, like sports in general, is sometimes impossible to predict. I mean, did you see that Jets-Patriots game?
Bill Haas. It was last year at this event when I showed my unabashed bias toward fellow Wake Forest alums, especially those from the class of 2004. Haas picked up his first PGA Tour win by birdieing the final two holes to beat Matt Kuchar, Tim Clark and Bubba Watson and added another title at the Viking Classic later in the year. Can he take another step toward having this event officially renamed the Bill Haas Classic? His initials are a good start.
STUD OF THE WEEK (OTHER THAN BILL HAAS)
Matt Kuchar. Looking at this field, you could make the case that he's the only stud at La Quinta. Kuchar, who nearly won this tournament last year, is the highest-ranked player in the field at No. 13 and the only player in the top 25. Meanwhile, No. 1 Lee Westwood and No. 4 Phil Mickelson headline a much stronger field on the other side of the world
at Abu Dhabi. Back to Kuchar, I may have underestimated him last week at the Sony, but I won't make that mistake again. The breakout player of 2010 appears to be here to stay with a T-5 and a T-6 in Hawaii.
DON'T BE SURPRISED TO SEE THESE GUYS MAKE A RUN
Chad Campbell and Pat Perez. For a second straight week, we'll highlight Campbell, who won this event in 2006. He's also coming off a T-13 at the Sony, where he began his season by firing four straight rounds in the 60s. Perez didn't play as well in Honolulu, but no one has been more explosive (both good and bad) in this event. He has a 60 under his belt and has twice shot 61, including in 2009 when he picked up his lone PGA Tour title. Of course, the year he opened with a 60, he somehow managed to finish 73rd.
BEST ATHLETE IN THE FIELD THIS WEEK
). Instead, I'll take Bo Jackson, the 1985 Heisman Trophy winner who went on to become the only person to ever make an all-star team in two professional sports. And yes, Bo knows golf.
FITTING ENDORSEMENT DEAL OF THE WEEK
David Duval signed with Scratch Golf and then promptly went out and put together a pair of 72s and a missed cut. Point is, scratch golf is a lofty ambition for most of us, but it's not going to cut it on the PGA Tour. Speaking of Duval, he once shot a final-round 59 at this event for a memorable win. Again, though, that seems like ancient history. Stay away.
"Hey Alex, thanks for picking me last week. Sorry I couldn't win for you, but I promise to do better next time. I'm going to sign off before I start getting choked up. Sincerely, Steve Stricker."
No, the Strick Show didn't actually write me, but then again, he didn't have to after posting a solid T-9 finish. Seriously, though, please feel free to email me with comments, questions or just to make fun of my picks. And of course, you can follow me on Twitter
WOULDN'T TOUCH WITH AN EXTRA-LONG FLAGSTICK
Justin Leonard. The former major champion won this event in 2005, but has missed the cut two of the last four years, including 2010. He didn't play terribly last week in his season debut, but a pair of 70s kept him from playing the weekend.
GUY WHOSE FIRST WIN IS JUST A MATTER OF TIME
is enough evidence of this man's immense talent. Put a wooden bat in his hands and he's probably have more pop than your average middle infielder. Add in the fact that he did it under the pressure of trying to win his first PGA Tour event and you can't help but be impressed. An absolute birdie machine, Marino should improve on the top-30 finishes he's posted here the past two years. Also, keep in mind that last year at this time, we guaranteed Tim Clark would win before the year was over and he nearly pulled it off the same week before claiming his first victory at the Players Championship. Don't be shy about getting the diminutive Fantasy Fix favorite, who has two runner-ups and a T-5 in four starts at the Hope, in the mix again this week.
UPDATE: Clark's blister problem is worse than originally thought. If you're in a one-and-done league, get him out of your lineup. If you're in a daily league, monitor how he plays on Wednesday. Switching to Bubba Watson, who has been in the 60s in 10 of his last 11 rounds at this event, isn't a bad option.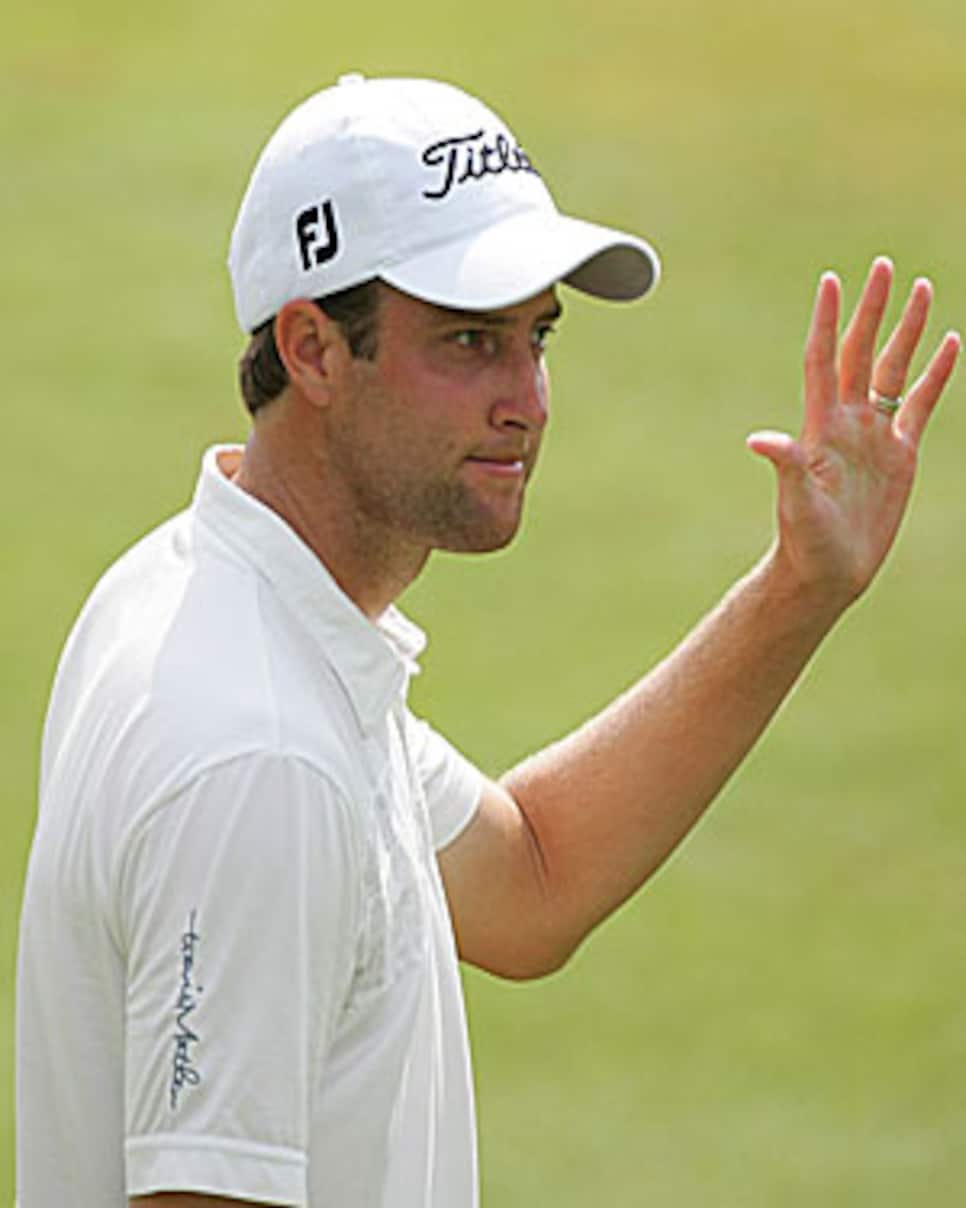 GUY YOU'VE NEVER HEARD OF WHO COULD WIN
Chris Kirk. The University of Georgia product was the only rookie out of 27 in the field at the Sony to make the cut and play on the final day. The 2005 NCAA champion, who was on our list of 10 Nationwide Tour grads
to watch out for, appears to be over a wrist injury that kept him out of the final two events of the 2010 Nationwide Tour season.
FREE FANTASY BASKETBALL ADVICE
Draft Clippers phenom Blake Griffin with your first pick next year, even if you have the No. 1 selection overall. With LeBron James and Dwyane Wade's partnership bringing their individual stats down and Kobe Bryant continuing to show signs of decline, the rookie's recent 47-point, 14-rebound performance on 19-of-24 shooting shows he is as worthy as anyone of being the top pick. Several people in my office are ruing the day they let him fall to me in the fourth round.
Ernie Els earns this week's honor for his lackluster T-42 at the Sony that included a final-round 74. Overall, it was a good weekend, though, especially when I factor in that straight flush I hit in three-card poker at the Showboat...
BEST LONG-HAIRED PLAYER IN THE FIELD THIS WEEK
I was tempted to go out on a high note and take musician Kenny G here, but instead, I'll play it safe and go with Charley Hoffman. The native Californian won the first of his two career titles at this event in 2007 and rumor has it, he's a decent sax player in his own right.
*-- Alex Myers is a contributing editor for GolfDigest.com. Feel free to email him
since he has self-esteem issues.*