News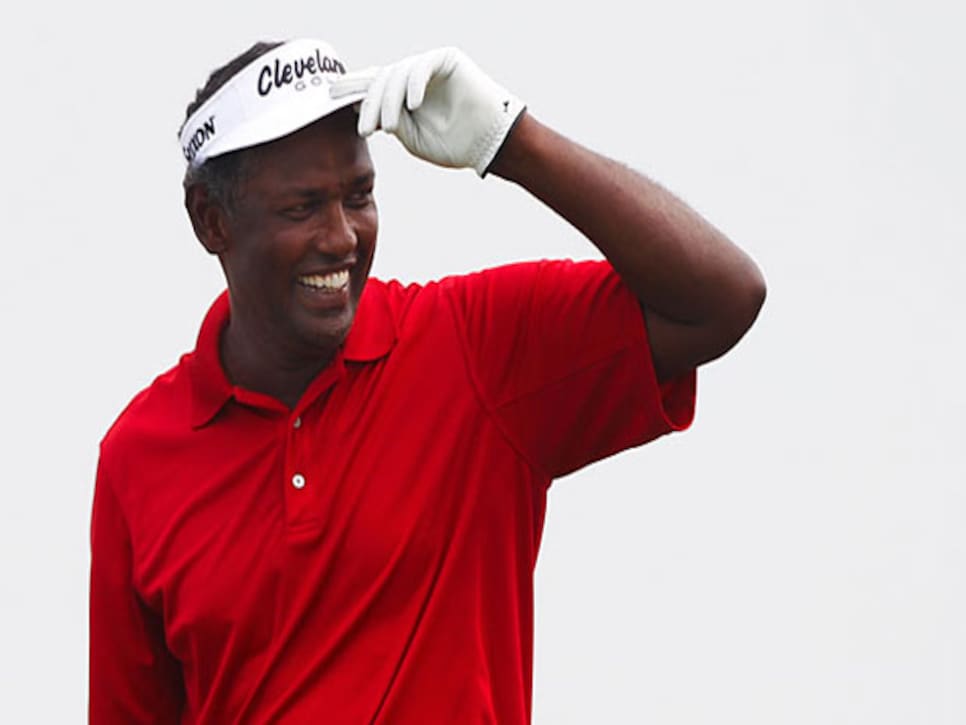 At 48, Vijay Singh looks like he's not done winning on the PGA Tour just yet.
Welcome to another edition of Fantasy Fix, where we never linger once the exit music gets cued up. Last week we came close to delivering a couple trophies with our Luke Donald (to the finals) and Spencer Levin predictions. Who will take home this week's hardware? Here are our thoughts.
The PGA Tour begins its Florida swing with the Honda Classic. Expect to hear plenty of "Bear Trap" references with the Jack Nicklaus-designed PGA National Champion Course as well seeing a surprisingly strong field with seven of the top 13 players in the world rankings.
Random tournament fact: Again, this is a Jack Nicklaus course and holes No. 15-17 are known as the "Bear Trap." This cannot be overstated enough. Seriously, though, another fact is that Tiger Woods has a career-worst scoring average of 75 in this event and he has never made the cut. True story. OK, so he played once and he was only 18.
Camilo Villegas. Spiderman hasn't been hanging around the top of many leader boards since, but perhaps this is the week he gets into contention again. Last year he picked up his third PGA Tour title here by a convincing five shots. What made it more impressive were the four players trailing him: Anthony Kim, Justin Rose, Paul Casey and Vijay Singh. Villegas also finished T-2 hear in 2007 and as a former Florida Gator, he's pretty accustomed to swampy conditions.
Lee Westwood. Having been bounced from the top spot in the world rankings, No. 2 will probably have a little added motivation this week. His T-9 here in his only trip to PGA National last year is enough to think that he could be back on top of the world at the end of this week. If he can avoid "The Bear Trap," of course.
A WORD ON FASHION IF WE MAY
We are huge fans of Martin Kaymer here at Fantasy Fix, but not of the new neckwear he was sporting in the desert over the weekend. We half expected to see him pull the cloth up over his face and pull a six-shooter out of his holster. Also, could the "Boss" be any bigger on his shirts? It came close to rivaling the obnoxiousness of Ralph Lauren's almost life-size horse logo. Then again, at least he wasn't a walking billboard for Taco Bell like J.B. Holmes...
Has a player ever both capitalized on a situation, but then blown it quite like Holmes at the Match Play? He was a late alternate when Tim Clark withdrew (again) and even got to take Clark's No. 11 seed, unlike Henrik Stenson, who earlier got in, but had to be a 16. Holmes then made it all the way to the final eight before blowing a 5 up (5 up!) lead on Bubba Watson and losing in extra holes. Overall, though, the Kentuckian is playing well and would have been a decent play this week if he hadn't withdrawn.
"Hey, Alex. Please don't ever pick me again to win the Match Play. Sincerely, Paul Casey."
Sorry for the jinx, Paul, but I had to pick somebody. OK, so Casey didn't really email me, but he would have if he wasn't so shy. Seriously, though, please feel free to e-mail me with comments, questions or just to make fun of my picks. And of course, you can follow me on Twitter
DON'T BE SURPRISED TO SEE THIS GUY MAKE A RUN
Charlie Wi. What else can we say, but we like Wi. The native of South Korea has four top-25 finishes here in five tries, including a solo eighth last year and a T-9 in 2009.
THIS WEEK'S CONTENDING GEEZER
Vijay Singh. First, it was Freddie at Riviera, then it was John Cook at the Mayakoba. We're cheating a little with the Big Fijian since he hasn't hit the big Five-O yet, but he did just celebrate his 48th birthday last week. Singh has finished in the top three in two of his last three and he finished T-4 here last year, despite a disappointing final-round 72 (Bold prediction: He will win again on the PGA Tour). He's also a former winner of this event as well, though the victory came down the road at TPC Heron Bay. Wait, Nick Price is in the field? Maybe there is hope for another Champions Tour contender...
Luke Donald. The third-ranked player in the world (it still feels weird saying that) won this tournament in 2006 at a different course, but was runner-up to Ernie Els on this track in 2008. And in case you didn't hear, he's coming off the biggest win of his career. Yes, as Aaron Baddeley showed us last week, it can be tough to follow up a big win. But no offense to Badds, Donald is playing on another level right now and this isn't the Mayakoba Classic. Expect him to distance himself further from No. 5 Tiger Woods (Again, it feels weird saying that) with another strong performance this week.
Matt Kuchar. Never finished better than T-39 at PGA National, but his current run is too hard to ignore. After a T-6, T-5 and T-7 to start the season, Kooch stumbled to a T-35 at Riviera, but bounced back with a third-place showing at the Match Play. A win can't be far off for the reigning PGA Tour money-list leader.
Johnson Wagner. We are impressed by J-Wags' much-needed win in Mexico after losing his PGA Tour card at the end of last year. We are not impressed by his record (no better than T-40 in four tries) in this event.
Spencer Levin. Wagner's opponent in the Mayakoba Classic is already closing in on a career year money-wise through his seven starts in 2011. A lack of success in this event, though, and the strain of playing for the eighth straight week makes him a risky start.
DIMINUTIVE FORMER CHAMPS TO KEEP AN EYE ON
Y.E. Yang: Before he became known as the Tiger Tamer, Yang picked up his first career PGA Tour win at this event in 2009. Since his stunning win at the 2009 PGA Championship, he has more been known as that-guy-who-beat-Tiger-that-one-time-but-hasn't-done-anything-since, but perhaps that is going to change after a good showing at the Match Play.
Mark Wilson. He's only managed two missed cuts and a T-72 since his win in here in 2007. He's only broken par in one of his last nine rounds on the Bear Trap. But that was before he became the PGA Tour's most unlikely leading man
. Perhaps more importantly, that was before we dubbed him "Little Cheese."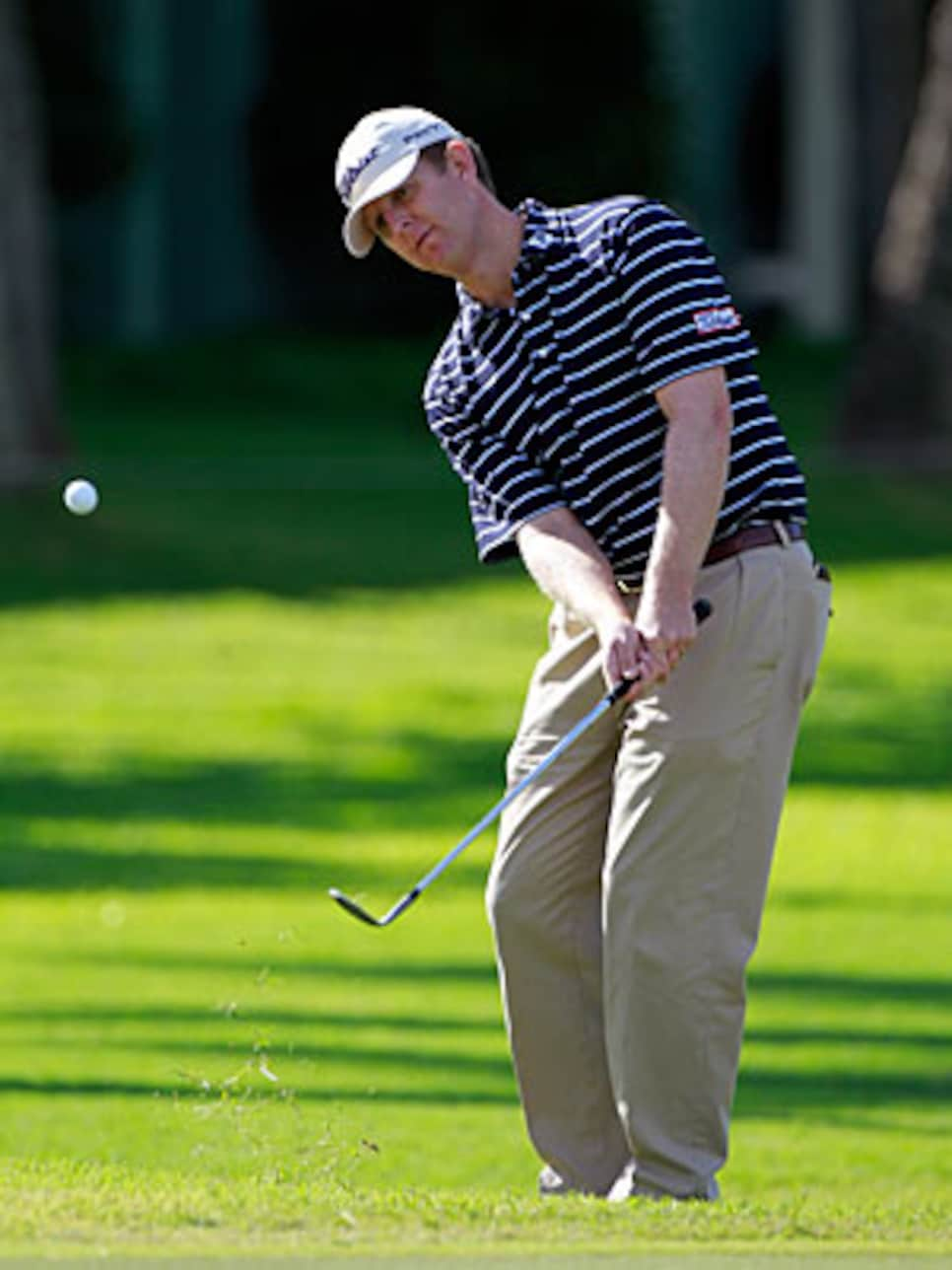 GUY YOU'VE NEVER HEARD OF WHO COULD WIN
Michael Connell. Perhaps he loves playing in the humidity or maybe he gets inspired by the flamingos that often roam the grounds. Whatever the reason, Connell finished T-6 behind that star-studded top five last year in his only appearance in the event. Admittedly, we wouldn't have recognized him in this picture (Right) if Getty Images hadn't labeled it. Hopefully, it's actually him...
FREE FANTASY BASKETBALL ADVICE
I'm a huge Baron Davis fan, but only one word describes his trade to the Cavaliers for his fantasy owners: disaster. Ever heard of the "Freshman 15?" Well, the Baron could eclipse that in his half semester in Cleveland. Unfortunately, it's probably too late to trade him in your league, but you can still keep him from sinking your playoff hopes by putting him on the bench. Then you won't have to monitor his hot dog intake.
*-- Alex Myers is a contributing editor for GolfDigest.com . Feel free to e-mail him
) since he has self-esteem issues.*