News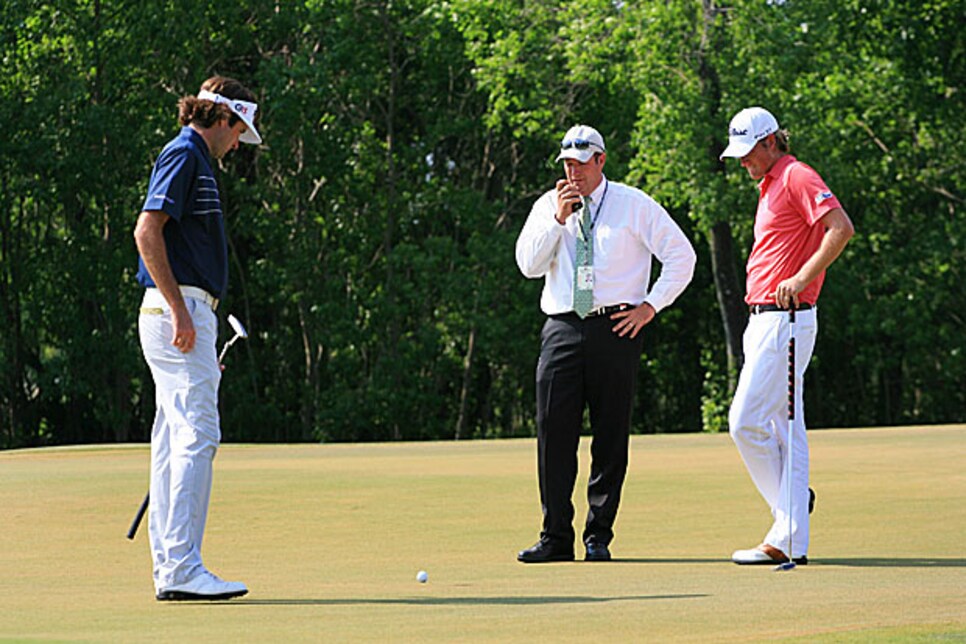 Do the Golf Gods owe Webb Simpson one after what happened here last year?
Welcome to another edition of Fantasy Fix, where we thank John Huh for his inspirational lesson. The next time we're 9-over par through eight holes, we'll remember that it's possible to come back and have a chance to win a golf tournament. That is, until we remember that we're not John Huh. We made a few bogeys ourselves last week (Sorry for not picking the guy who hadn't won in SIX years), but it's time to get back on track in the Bayou.
The PGA Tour makes it's annual stop in New Orleans (Sorry, Avondale, for all the sticklers out there) for the Zurich Classic. After two weeks of drab fields, watching this tournament should seem like a treat. On a personal note, I'm excited to be making my first trip to The Big Easy next month for a wedding, especially since it won't be during the NFL season. I'm a little wary of those eavesdropping, bounty-hunting Saints...
Random tournament fact. Tim Petrovic beat James Driscoll in a playoff in 2005, the first year this event was held at TPC Louisiana. For your own sake, I hope you didn't remember that.
Bubba Watson. What can we say? The world is yours, Bubba. Ever since his thrilling Masters win, Watson has been everywhere (If I hear one more time that he's never had a formal golf lesson...). Everywhere that is, except the range. Despite his incredible start to 2012, I'd be cautious to use him in this spot. However, with the "B" category in Yahoo!'s format being particularly weak, I'm going to play him with the hopes that his natural talent shines through again.
STUD/KNOCKOUT PICK OF THE WEEK
Webb Simpson. The Wake Forest product was last year's hard-luck runner-up when he was forced to call a penalty for wind moving his ball on the green before he was about to tap in on the 15th hole of the final round. Had that happened this year, with the new rule change, he'd probably be defending. In any matter, we feel the Golf Gods owe him one. OK, so that's not the most logical reason, but maybe it's time to throw logic out the window after watching a guy who had made 24 cuts in his previous 119 PGA Tour events win.
Carl Pettersson. The big Swede doesn't have a big-time track record at this event, but I've been burned by not mentioning him too many times already in 2012. With a win and two runner-ups, he's hot and a legit early candidate for player of the year.
Brian Davis. Still looking for his first win on tour, the Englishman is on perhaps the best streak of his career. His T-13 last week at the Valero followed up back-to-back T-4s at Bay Hill and in Houston.
Starters: Webb Simpson, Bubba Watson, Brian Davis and Jason Dufner.
Bench: Keegan Bradley, Andres Romero, David Toms and Carl Pettersson.
This week's guest pick comes from Bo Bohlmann (@bothegrape) in Missouri:
"There are four back-to-back winners over the years, but more impressively from 2002 through 2007, five of the six tournament winners earned their fist victories on the PGA. So, the barn door is open and someone will emerge. That someone based on his continued improvement, and determination will someday become a fan favorite after he was blindsided during an interview on Golf Channel. Matt Every -- it is your day in the sun."
Strong words, Bo. If Matt Every happens to be reading this, I think he's found the president of his fan club.
) for a chance to appear in next week's column. Or if you just feel like making fun of my picks or sharing your favorite spot to enjoy a beverage in New Orleans.
Justin Rose. In his past three attempts at TPC Louisiana, Rose has two missed cuts (each of which featured a round of 77) and a T-43. So why does he keep coming back? We think it may just have something to do with his relationship to the tournament's title sponsor...
Nick Watney. He hasn't done much here since winning in 2007. He hasn't done much this year, either. That's got to change at some point, though, right?
and so far he's been solid. One of his four runner-ups in 2010 came right here, so perhaps this is where he gets that breakthrough win on tour.
FREE FANTASY BASEBALL ADVICE
When you spend top dollar on Albert Pujols, you should check with him first to see if he's going to take the opening month of the season off. I've got as many home runs this year as the future Hall of Famer, for crying out loud! Fortunately, the baseball season is longer than a bad Greg Norman golf course, so there's still time.
Jason Dufner. The reigning PGA Championship runner-up has three straight top 10s in this event, including a T-3 last year. As usual, there's not too much else to say about this guy.
Charles Howell III. CH3 has never missed a cut in nine trips to New Orleans, finishing in the top 16 six times. Judging by his frame, he also stays away from the jambalaya when he's in town.
, the Aussie has finished in the top 10 the past two years.
Cameron Tringale. The 24-year old has played solidly in the Bayou his first two go-rounds. He's also quietly having a very strong season with three top 10s, including back-to-back T-8s in his past two events.
Andres Romero. A Fantasy Fix favorite, he was T-8 here last year and a winner in 2008 when he was the PGA Tour's Rookie of the Year. That may seem like ancient history for the erratic Argentine, but hey, he's won more recently than Ben Curtis had...
*-- Alex Myers is a contributing editor for GolfDigest.com. Feel free to email him
since he has self-esteem issues.*