News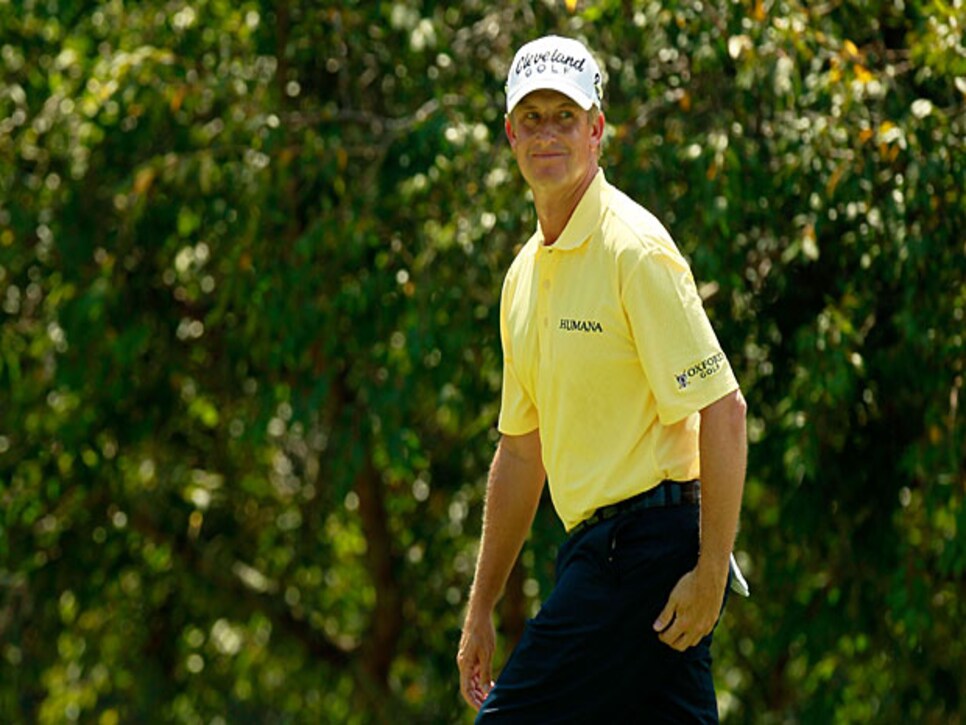 David Toms has had plenty to smile about this summer.
Welcome to another edition of Fantasy Fix, where we wonder if going to a blind draw might be the best way to pick the next major champion. First Darren Clarke, a guy who didn't have a top 10 in a major in a decade, wins, and then Keegan Bradley comes through in his first ever major. What's next? A Greg Norman win at Augusta? With major championship season over, the excitement level may die down just a bit, but that doesn't mean we're taking things any less seriously. Here are some thoughts on this week's event.
The PGA Tour heads to Sedgefield Country Club in Greensboro for the Wyndham Championship, the last regular season event before the start of the FedEx Cup Playoffs. And that's where a lot of this week's intrigue begins as some big names are still trying to play themselves into the postseason. Ernie Els (126), Padraig Harrington (130), Justin Leonard (142), Paul Casey (147) and Angel Cabrera (150) are currently on the outside looking in, while others like Camilo Villegas (125) need a solid performance to shore up a spot in the Barclays next week. For some reason I can hear Bone Thugs-n-Harmony rapping the classic "Make money, money, make money, money, make it" line in my head...
Random tournament fact: Frank Nobilo won his lone PGA Tour title here in 1997. We just wanted to point that out since we may or may not have a slight man-crush on the Golf Channel analyst.
Arjun Atwal. It's been a struggle this year for one of Tiger Woods' good friends. Motivated to make the FedEx Cup Playoffs, though, and coming back to a course where he made history by becoming the first player born from India to win on the PGA Tour, you have to like his chances of a solid performance. One has to wonder, though, how watching Tiger hack it around in a practice round last week at Atlanta Athletic Club will affect his game.
Charles Howell III. Keegan Bradley and Adam Scott may be the new poster children for the long putter, but Sticks has quietly been sweeping in the cash with a broomstick this summer as well. In his only appearance at Sedgefield, he finished T-13, but more importantly, he hasn't missed a cut in six tourneys with the new flatstick, while racking up three top fives.
David Toms. The veteran has had a bounce back season in 2011, but it can really be traced back to this tournament last year when he nearly tracked down Atwal on Sunday with a final-round 64. Toms arrives with back-to-back top 10s against two of the strongest fields of the season. He should be licking his chops to face some easier competition.
Ryan Moore. He has an extremely weird track record here, having his win in 2009 bookended by two missed cuts in 2008 and 2010. What does that mean? He's due for a win this year. Obviously. OK, so if only it were that simple. Still, based on his play this summer, we like his chances of contending.
Watch out for my Wake Forest boys! Webb Simpson was T-8 here last year with a final-round 63 and Bill Haas has finished 13-under par the past two years at Sedgefield. Plus Haas is coming off a T-12 in Atlanta, his best finish at a major and he's No. 9 in the Presidents Cup standings. He'd like nothing better than to impress captain Fred Couples this week.
Brandt Snedeker. The Vanderbilt product has finished in the top 10 here the last two years, including a T-5 in 2009. This tournament tends to turn into a shootout and it usually comes down to a putting contest. It's tough not to like Sneds' chances then since he ranks No. 2 on tour in strokes gained-putting. Of course, it will help if he can actually make it to his tee time on time.
"Hey Alex, it's Tiger again. Watching my performance was pretty rough, huh? Anyway, my golf game is obviously in shambles. In your expert opinion, what should I do? Sincerely, TW."
When did this become a self-help line? This is supposed to be a place where I pat myself on the back. Fine, Tiger, I'll help you out. Just keep practicing in your time off and maybe don't work out so hard since your knee is as fragile as Steve Stricker under Sunday pressure. Oh, and maybe you should try out a long putter. They seem to be all the rage... OK, so Tiger didn't really write, but that doesn't mean you shouldn't. Please feel free to email me
with comments, questions or just to make fun of my picks. And of course, you can follow me on Twitter
Jason Bohn. He finished T-2 here in 2009 in his only time playing since the tourney moved to Sedgefield. Prior to that, he played well down the road at Forest Oaks as well with another runner-up in 2006 and a T-3 in 2005.
Chris Riley. The former Ryder Cupper hasn't done much the last five years, but he always seems to play well in Greensboro. With a T-8 in 2010 and a T-13 in 2009 on the relatively short Sedgefield track, he's not a bad option.
Scott McCarron. Does this guy still play on the PGA Tour? Hold on a second while I check the media guide. OK, yep, he does. And he's certainly played like a top tour pro at this event since it moved to Sedgefield in 2008, with a runner-up, a T-17 and a T-12 last year.
Justin Leonard. Sorry, I can't get that song out of my head. As we mentioned, Leonard is on the outside looking in right now in terms of the playoffs. However, he returns to a place where he finished T-3 last year.
WATCH OUT FOR THESE OLD GUYS
Vijay Singh. Unlike Leonard, Singh is comfortably in the top 125, but the 47-year old could still use a strong finish to help guarantee that he plays in more than just one playoff event. Since an early-season surge, Vijay has been quiet, but we still think there's a W in him before he heads to the Champions Tour.
Davis Love III. After playing with Tiger Woods for two days at the PGA Championship, Love must have been thinking he should name himself as a captain's pick for next year's Ryder Cup over the 14-time major champion if it comes down to it. Despite faltering over the weekend in Atlanta, he's had a great last three months that have included a T-9 at the British Open and a T-11 at the U.S. Open. Don't be surprised to see the Charlotte native and UNC product make some noise in his home state.
FREE FANTASY FOOTBALL ADVICE
Don't hold off on drafting Hakeem Nicks. The Jets scooped Plaxico Burress from the Giants and the Eagles stole Steve Smith away. The Raiders? They took tight end Kevin Boss (Yeah, not exactly a game-changer). In any matter, while that means more coverage on Nicks, it also means more targets for quarterback Eli Manning, who was looking for an excuse to throw it more to the third-year wide receiver anyway.
Steve Marino. We've been pumping up this UVA product all year and for the most part, it's worked out. However, he seems to have hit a snag following his latest close call to getting his first PGA Tour win at the AT&T National. Since then, he's gone T-65, MC, MC. Since he was T-71 here last year and he has failed to break 70 in each of his last 11 final rounds, we're not expecting to much.
Kyle Stanley. The PGA Tour could tweak it's slogan to "These guys are good... even the rookies." Bradley was the latest to come through, but Stanley came close to his own maiden victory a few weeks ago at the John Deere Classic. He missed the cut in 2009, but that was before he had Bobby Brown on his bag. We can only hope that Dustin Johnson's former caddie won't take too much credit if his new man comes through this week...
*-- Alex Myers is a contributing editor for GolfDigest.com. Feel free to e-mail him
) since he has self-esteem issues.*