News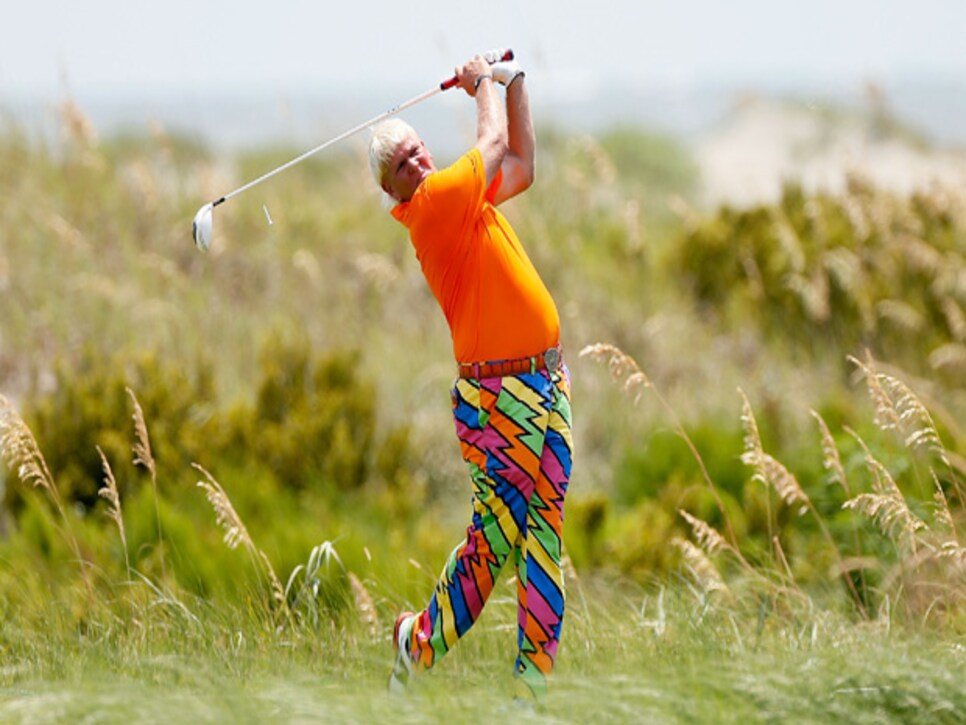 Don't laugh, but John Daly is relevant again -- and not just in the world of bad fashion.
Welcome to another edition of Fantasy Fix, where eight is suddenly the most meaningful number in golf. You had Rory McIlroy winning the PGA Championship by a remarkable eight shots, matching the margin of victory in his previous major win. But it also happens to be the number of golf fans who had ever heard of runner-up David Lynn before this week (We are boldly predicting that #Lynnsanity won't catch on). Unfortunately, it also happens to be the number of months before the next major is played at Augusta. But don't despair. There's plenty of meaningful golf left as we hit the homestretch. Let's get to our thoughts on this week's event.
The PGA Tour heads from South Carolina to North Carolina for the Wyndham Championship. This is the last regular season event before the start of the FedEx Cup Playoffs.
Random tournament fact: For a second-straight year, I'd like to point out that this event (then called the Greater Greensboro Classic and played at Forest Oaks CC) is where Frank Nobilo captured his only PGA Tour title. Perhaps if I keep pointing this out, I'll eventually get the Golf Channel guru to follow me on Twitter. . .
Webb Simpson. It was here where the product of nearby Wake Forest broke through for his first PGA Tour win. After the birth of a second child, the U.S. Open champ looked rusty in his return at the PGA, but we aren't expecting a bad run of play for one of the game's most consistent golfers.
Carl Pettersson. A winner here in the first year of this tournament going back to Sedgefield CC (2008, after a 32-year break), he also finished T-4 last year. Plus, we became big fans of his resiliency at the PGA. After being informed of receiving a two-stroke penalty for brushing a leaf in his backswing on the first hole of the final round, Pettersson responded with back-to-back birdies and still managed to finish T-3. Oh, and it's kind of fun to call a self-proclaimed ice cream-eating, beer-guzzling guy a stud.
Brandt Snedeker. The Vanderbilt product didn't make it to the weekend last year, but he had a pretty good excuse. He had hip surgery soon after and has made a full recovery in 2012, with a win at Torrey Pines and a T-3 at the British Open. He also finished T-8 and T-5 the two previous years here.
Sergio Garcia. A sloppy final-round 70 in 2009 kept Garcia from winning this event the only time he's played at Sedgefield. We predicted big things from the Spaniard this year after a bounce-back 2011 campaign, but so far, we've been let down. Having been passed by Ian Poulter for the last automatic spot on the European Ryder Cup team, though, El Nino knows it's time to pick it up.
Bill Haas. Like Simpson, Haas attended college down the road at Wake Forest. Unlike Simpson, though, he surprisingly hasn't found much success here. He hasn't found much success anywhere else of late either after a strong start to 2012, but he's been closer than you think, briefly entering the top 10 on Sunday at the past two majors before finishing poorly.
Charl Schwartzel. A shoulder injury hampered his 2012 campaign after it got off to a fast start, but the slight South African is starting to show some signs that he's regaining his form. He failed to break 70 in four rounds at Kiawah, but we're taking more from his final-round 63 at Firestone the week before. It's his first time playing in this event, but then again, last week was David Lynn's first time even playing in the U.S. . .
WEEKLY YAHOO! ROSTER SELECTIONS
Starters: Sergio Garcia, Brandt Snedeker, David Toms, and Carl Pettersson.
Bench: Webb Simpson, Ryan Moore, Blake Adams, and Jason Dufner.
) for a chance to appear in next week's column. Or if you just feel like making fun of my picks or discussing your favorite random runner-up at a major. Speaking of which, should we send out a search party to look for Gregory Havret?
David Toms. DT has been in the top 25 here the past three years, including a runner-up in 2010. That's good enough for us.
Y.E. Yang. The 2009 PGA champ was a T-30 in 2008, the only time he's played in this event. So why are we singling him out? Motivation. Yang enters this week just outside the top 125 in the FedEx Cup points list. That and a few golf bag lifts over his head should have him extra pumped up come Thursday.
FREE FANTASY FOOTBALL ADVICE
We thought a broken foot might derail our prediction that Hakeem Nicks will be the No. 2 fantasy wide receiver this year, but never fear, he's back. With new weapons surrounding him in rookies Rueben Randle and David Wilson, and with Victor Cruz distracting opposing defenders with his salsa dancing, that should make it even easier for Eli Manning to find his favorite target.
Charlie Wi. The big Wi-sy doesn't have much of a track record here and is coming off back-to-back missed cuts, but he finished T-3 on a similar old-school course at the Greenbrier last month. Wi are still waiting for that first win. Sorry, couldn't help it. . .
YOUNG SLEEPER OF THE WEEK
Ben Kohles. Who is the hottest golfer in the world not named Rory McIlroy? Probably this 22-year-old from nearby Cary, NC. Incredibly, the recent UVA grad won his first two events after turning pro on the Web.com Tour before cooling down last week. Nevertheless, he's second on the tour's money list despite playing in only three tournaments. Nerves could play a factor in his PGA Tour debut, but he also will probably never be riding such a wave of confidence.
John Daly. We're going back to the well on this one after the bleached-haired bomber briefly contended at Kiawah and finished a respectable T-18 (one shot behind Tiger Woods). Daly, who finished T-5 at the Reno-Tahoe Open the week before the PGA, has made the cut the past four years at Sedgefield, but only managed three sub-par rounds on the weekend, resulting in nothing better than a T-41. We expect that to change this year as he is within reach (14 spots) of earning a spot in the FedEx Cup Playoffs for the first time. Don't think he has a chance? Uhh, did you miss that part about David Lynn?
*-- Alex Myers is a contributing editor for GolfDigest.com. Feel free to email him
since he has self-esteem issues.*