News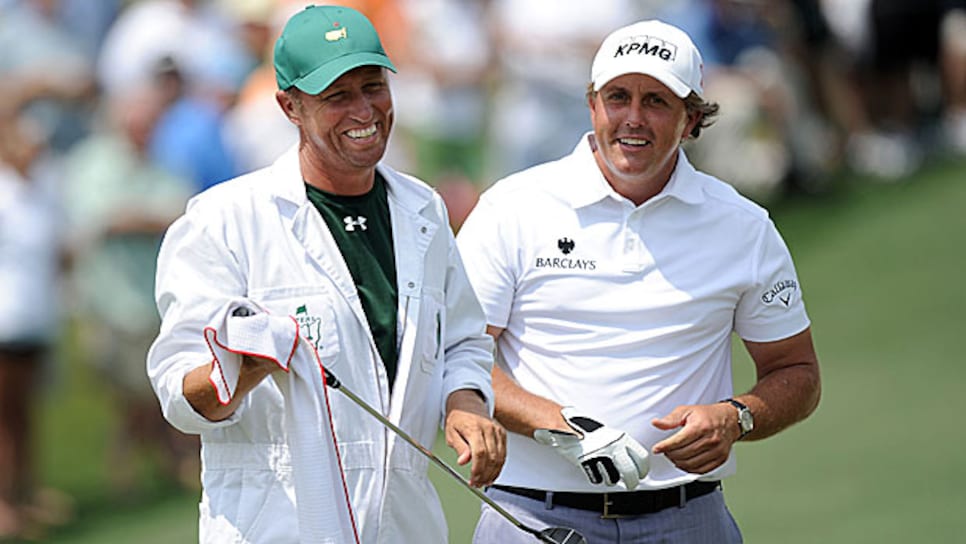 Caddie Jim 'Bones' Mackay is certainly happy his man Phil Mickelson is back. He likes getting paid.
Welcome to another edition of Fantasy Fix, where we're always careful not to offend the golf gods. It's too bad Webb Simpson's ball "inexplicably" moved on the 15th green in the final round, but did he really think he'd get away without being punished for using a belly putter while still in his mid-20s? In the future, we promise to consider such things more carefully. Here's what else is on our mind for this week's tournament.
The PGA Tour heads to Charlotte for one of its biggest non-majors of the year, the Wells Fargo Championship. Formerly the Wachovia Championship and last year simply the Quail Hollow Championship, the event has become a big date on the calendar in a relatively short amount of time thanks to a great golf course (chosen as the site of the 2017 PGA Championship) and the usual presence of Tiger Woods. At least this year, with Woods sidelined with injuries, the golf course will still be there.
Random tournament fact: Wells Fargo's logo is an old-time western stagecoach. That could also be the PGA Tour's new emblem for its "slow-play Sundays" when players like Simpson, J.B. Holmes and Kevin Na are in contention.
Rory McIlroy. It was at this event last year when the title of the next great golfer was passed to Rory McIlroy by any golf writer with a computer or typewriter. McIlroy shot a final-round 62 to blitz a field of contenders, including Phil Mickelson, who was fresh off his latest Masters win. McIlroy would go on to claim his own green jacket this year... oh wait, never mind. Actually, he hasn't won anything since, though he has done enough to still be ranked sixth in the world so he's a good candidate to defend his title. As long as he's coming from behind on Sunday, of course.
Bubba Watson. His win in New Orleans has many experts calling him the best American golfer. We're not going to go that far just yet, but he has definitely entered the conversation. Watson finished runner-up here in 2009 to Sean O'Hair (remember him?) and was T-22 last year despite a final-round 74.
Tiger is missing this event due to injury, but the game's other marquee name, Phil Mickelson, will be in action. Lefty has never won here, but he has five top 10s in seven trips, including a runner-up last year. For that, we will also dub him our__stud of the week__. Phil, go ahead and celebrate with a Krispy Kreme donut -- or two.
Jim Furyk. The Grinder has been fantastic in this event, winning in 2006, finishing runner-up in 2005 and being T-11 or better in each of the past three years. Furyk hasn't been exactly been tearing it up in 2011, but his track record here is too good to overlook.
FORMER CHAMP TO STAY AWAY FROM
Anthony Kim. We've been down this road before. Tony K still has to prove he's made it all the way back from the surgery he had on his thumb last year. He's shown glimpses of it, but he's also had moments where he's looked about as out of place as John Smoltz at a Nationwide Tour event. OK, so that's a little harsh.
"Hey, Alex. Thanks for picking me as a stud last week and sorry I let you down with a final-round 73. I'll try to do close things out better next time. Sincerely, Charles Howell III."
Thanks for the e-mail, Sticks. Sunday was disappointing, but overall, I can't complain about a T-13. You have a little work to do before you get back into my circle of trust, but you'll get there. No, Howell didn't write, but that shouldn't stop you. Please feel free to e-mail me
with comments, questions or just to make fun of my picks. And of course, you can follow me on Twitter
NICE GUYS FINISH MIDDLE OF THE PACK?
Rickie Fowler. The 22-year-old is still looking for his first win as a pro, but he already leads the tour in one unofficial category: congratulatory tweets. Fowler is certainly quick to give props to those picking up trophies around him, but he must be getting tired of friends like Brendan Steele beating him to the winner's circle. Maybe this week he catches up at an event where he finished sixth last year.
BIG NAMES TO STAY CLEAR OF
Matt Kuchar. The seemingly most steady player on tour has been consistent here as well -- just in a bad way. In six appearances, Kuchar has only made it to the weekend three times and his best finish is a T-51.
Ryan Moore. The former NCAA champion's lone PGA Tour victory may have come in the state of North Carolina at the Wyndham Championship, but he has had about as little success as possible at this Charlotte tour stop. Moore has a T-75 and three MCs to his credit in four trips. In other words, keep the tie-wearing pro on the bench. Speaking of keeping someone on the bench...
FREE FANTASY BASEBALL ADVICE
It's time to give up on Derek Jeter if you're an owner. Sure, his batting average on balls in play is bound to go up and his numbers will look a little better, but the guy hits more ground balls than my boss on a golf course. Do yourself a favor and cut him loose any way you can. Unless of course, your league rewards extra for infield hits.
DON'T BE SURPRISED TO SEE THESE GUYS MAKE A RUN
David Toms. The inaugural winner of this event in 2003 has been top 25 in four of his last five tournaments. He's also ranked 10th in the PGA Tour's new putting statistic, strokes gained, with an average of .632. Translation: he's putting well.
Bill Haas. The 28-year-old lists Charlotte as his birthplace and certainly has good vibes in North Carolina, having been a four-time All-American at Wake Forest University in nearby Winston-Salem. Haas has been relatively quiet since his streak of six-straight top 10s going back to the end of last year, but we expect him to get back on track at a tournament where he picked up his first career top-5 finish in 2006. Wait a minute. He's a Wake Forest product in his 20s, who also happens to be currently wielding a long putter? We might have to reconsider...
*-- Alex Myers is a contributing editor for GolfDigest.com. Feel free to e-mail him
) since he has self-esteem issues.*