News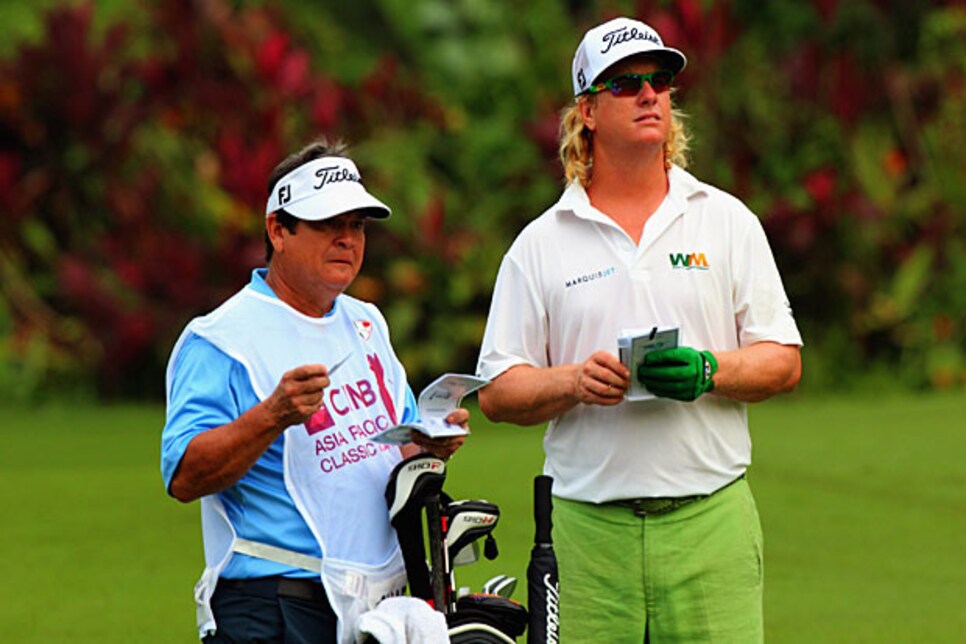 Not surprisingly, those green golf gloves haven't caught on with the masses...
Welcome to another edition of Fantasy Fix, where we admit we're in need of a pick-me-up. First, I get "Charl Schwartzeled" by Golf Digest Assistant Managing Editor Jeff Patterson, who denied me a plaid jacket in our big office putting competition; and then, I have to watch Carl Pettersson get draped in one himself for winning the RBC Heritage. No offense to Carl, but watching him pull away from that big-boned leader board
wasn't exactly the cure for my post-Masters hangover. Perhaps this week's event will do a better job getting the juices flowing, though there's probably more of a chance of Pettersson winning next year's Boston Marathon. In any matter, let's get to it.
Random tournament fact: This is the third year this event will be played at the Greg Norman-designed TPC San Antonio. At 7,522 yards, it's one of the longest courses on tour, and it also played as the seventh-toughest course on tour last year. Guess the Shark still has plenty of bite. Sorry, that was bad...
Brendan Steele. Months before he was in contention to be the first major winner to use a belly putter at the PGA Championship, Steele picked up his first PGA Tour win here. In something you rarely see at a regular tour event, Steele held on by parring the final 11 holes. We'd have more confidence in him if he wasn't coming off of three-straight missed cuts, having failed to break 80 twice in his past six rounds.
STUD/KNOCKOUT PICK OF THE WEEK
Charley Hoffman. The normally-inconsistent Hoffman has been surprisingly consistent in this event, finishing in the top 15 in five of six years. At TPC San Antonio, he has finished T-2 and T-13. So in a Fantasy Fix first, we are picking Hoffman to win. It may or may not also be the first time he's been referred to as a stud.
Matt Kuchar. The class of the field when going by Official World Golf Ranking (No. 15), He finished T-2 at this event in 2001 when it was held down the road at LaCantera Golf Club. He's coming off a T-44 at Harbour Town, but we're hoping that was simply a post-Masters hangover.
Johnson Wagner. J-Wags is the only player in the field who is in the top 10 in this year's FedEx Cup standings. That is all.
Ryan Moore. First time playing here. Hasn't done much in 2012. Simply put, there's no real reason to pick Moore in this spot. So, why do we like him? Again, we refer you to the rest of the field.
Fredrik Jacobson. Apparently, there's something about Texas that causes the Scandinavian to raise the level of his game. He has finished in the top five here in each of the past three years, including a runner-up to Adam Scott in 2010. Following Carl Pettersson's victory at Harbour Town, Jacobson will try to make it back-to-back Swedish winners on tour. Of course, if he tried on Pettersson's new tartan jacket from winning at Hilton Head, he'd get lost.
Starters: Matt Kuchar, Fredrik Jacobson, Charley Hoffman and Johnson Wagner
Bench: J.B. Holmes, Kevin Chappell, Ryan Moore and Colt Knost
Apparently, everyone else was uninspired by this tournament because I didn't get any guest picks. Let's blame Greg Norman. Instead, allow me to share that I somehow just managed to discover General Tso's chicken this weekend thanks to a couple friends. What a game-changer for my taste buds. Unfortunately, my arteries will never be the same either.
) for a chance to appear in next week's column. Or if you just feel like making fun of my picks or talking about your favorite Chinese dish.
BREAKTHROUGH ROOKIE CANDIDATE
Harris English. Will a rookie win this event for a second straight year? It wouldn't be too surprising to see English, coming off a T-8 at the RBC Heritage, pull off the feat. He's made eight of 10 cuts this year and has already passed the $500,000 mark in earnings.
Colt Knost. A former high school state champion in the Lone Star state, the SMU product and 2007 U.S. Amateur winner is coming off the best finish of his PGA Tour career with a solo third at Harbour Town. After making just 12 of 27 cuts in 2011, Knost has made seven of nine this year, including his first two top 10s.
Chad Campbell. CC has never missed the cut in eight tries in this event in his home state. A first-round co-leader at Harbour Town, he struggled over the weekend, but still picked up his first top 25 of the season.
J.B. Holmes. After starting the season slowly (we think recovering from brain surgery deserves a free pass), Holmes has picked it up of late with two top 10s in his last five starts. At this event, he's finished in the top 15 in each of the past two years.
BIG HITTER TO STAY AWAY FROM
John Rollins. The Colleyville, Texas, resident has missed the cut each of the past two years and hasn't broken par in four rounds at this course, including a second-round 77 last year. Another performance like that and he might petition for no more Greg Norman-designed courses on tour.
FREE FANTASY BASKETBALL ADVICE
If you draft the best fantasy player in the league (Kevin Love) with the fifth pick and he carries your team all year, make sure he doesn't suffer a concussion five minutes into a game during your semifinal matchup. Not surprisingly, if this happens, you will lose. At least I won that 90-to-1 bet on Louis Oosthuizen at the Malaysian Open. Oh, wait, that was for the Masters. Nevermind...
Kevin Chappell. The UCLA product's closest brush to winning on tour came here last year when he came up just short against the long putter of fellow rookie Steele. Chappell hasn't posted any high finishes this year (remember, he finished T-3 at the U.S. Open), but he's been a lot more consistent with only two missed cuts.
Greg Chalmers. The lefty has had trouble closing out tournaments this year, but we think he's close to breaking through like he did at the end of 2011, when he won the Australian Open and Australian PGA Championship in consecutive weeks. He's never played this event before, but perhaps the vibes of a fellow Aussie, Norman, will rub off on him. Yeah, we told you it was random...
*-- Alex Myers is a contributing editor for GolfDigest.com. Feel free to email him
since he has self-esteem issues.*