News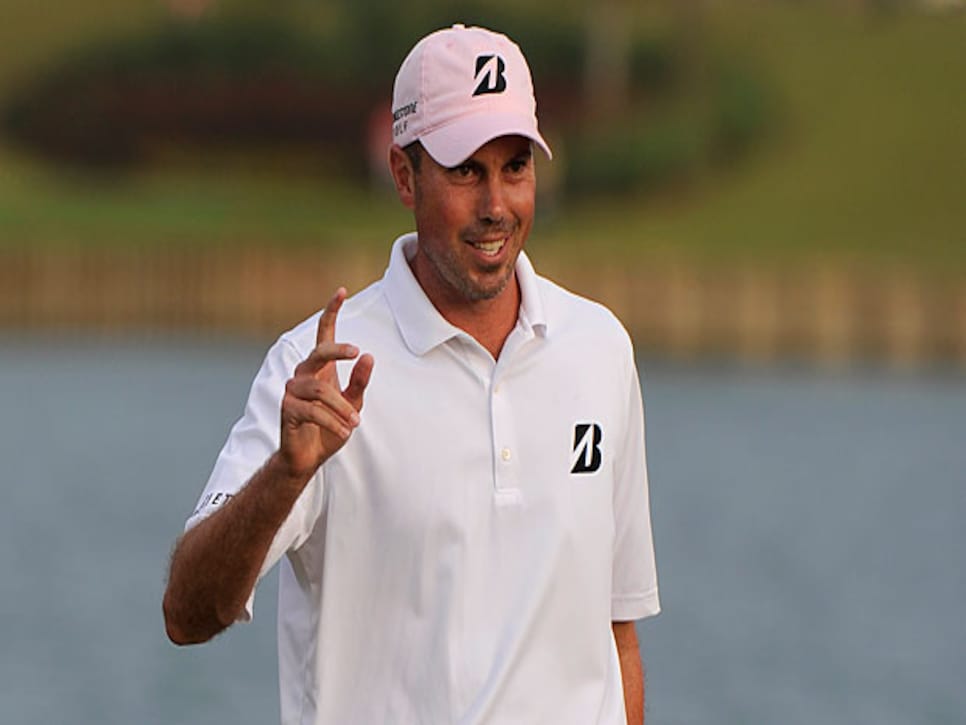 Why is Matt Kuchar smiling? Oh yeah, because he's always smiling.
Welcome to another edition of Fantasy Fix, where we treat every week like it's a major, but we treat majors like four-day holidays. Seriously, we're more excited for the U.S. Open than Louis Oosthuizen at a tractor convention
for this week's event at Olympic Club. So, who will emerge from the incredibly-deep featured cast for a curtain call come Sunday evening? Here are our thoughts.
Pack Johnny Miller some extra snacks for the broadcast booth and cue up NBC's Yanni-penned theme song, "In Celebration of Man." The U.S. Open and its whopping 30 hours of TV coverage has arrived. It is cause for a celebration, indeed. U.S. Opens are all about hitting greens and this week, on a course that should be playing fast and firm with sloping fairways, won't be any different.
Random tournament fact: An Olympic Club member growing up, Miller played at his home course in 1966 as a 19-year-old amateur and finished T-8. You can plan on hearing that mentioned during the telecast at least 1,966 times.
Rory McIlroy. Last year, the 22-year-old made Congressional CC look like a pitch and putt, breaking a slew of U.S. Open records on his way to a staggering 16-under-par total and an eight-shot victory. But the defending champ has been in the news recently for poor play. He nearly won in Memphis last week, but history isn't on his side this week. No one has claimed back-to-back titles since Curtis Strange in 1988-'89.
STUD/KNOCKOUT PICK OF THE WEEK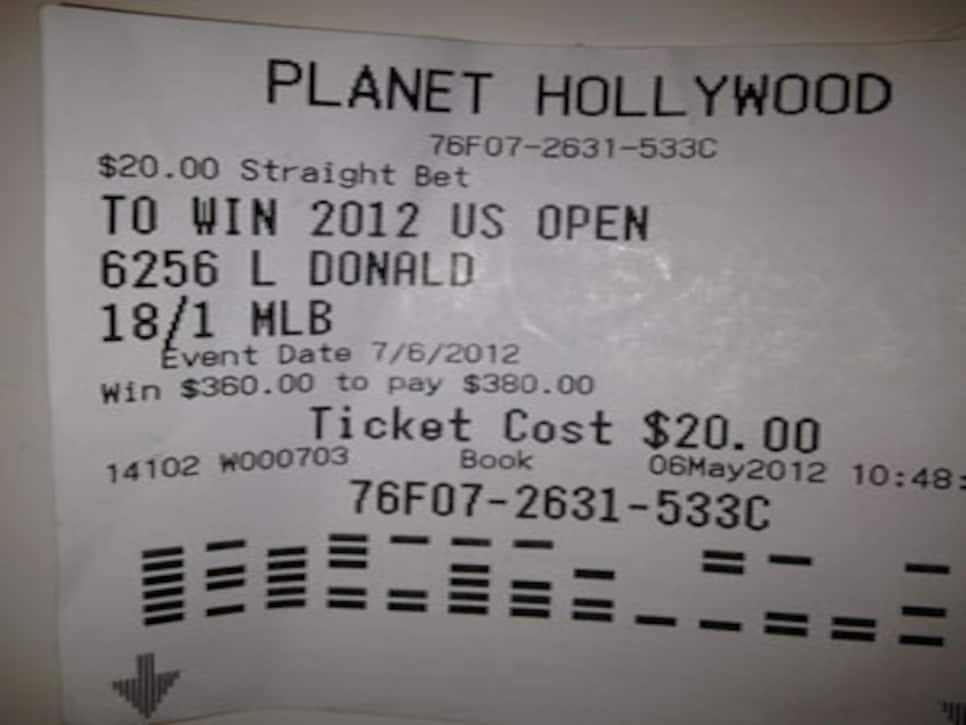 Luke Donald. Strong iron play and putting (second in putting from inside 10 feet and third in strokes gained-putting) are the main reasons he's No. 1 in the world, but my main reason for this pick is much simpler: He's due. Which is why when I was in Las Vegas last month, I jumped on the Englishman at 18-1 (He's now 12-1 in most places -- value bet!), as evidenced by the photo of my betting ticket (right). Then again, I hit this weekend on Union Rags at the Belmont Stakes, so the odds of me winning another sports bet this soon are about the same as me getting that catchy Carly Rae Jepsen song out of my head by the end of the month.
for a chance to win a golf trip to Ireland. See the info box above for details.
Where do we start with this guy? Three of his last six tournaments have been brilliant. The other three? Terrible. This isn't the old Tiger, but when he's on, he still more than resembles that intimidating figure. Woods' brief Olympic history isn't great (T-18 at the 1998 U.S. Open), but with it being dry and not overly long, it's a course he should be able to attack without using driver off the tee very often. As a result, it's hard not picturing the man ranked No. 1 in total ball-striking being in contention come Sunday.
SOMEWHAT OVERLOOKED BRITS
. All kidding aside, Westy is brimming with confidence with new irons and a new putter, he's been in the top three in two of the past four U.S. Opens and he even finished T-7 at Olympic in 1998.
Justin Rose. The often forgotten man in Sean Foley's stable, Rose enters this week ranked third in greens in regulation. However, he has a surprising U.S. Open history considering what a great ball-striker he is. In six attempts, Rose has two top 10s, but four missed cuts. We're leaning toward him adding to his total in the former.
We have called on Chad Rucker (@KennyDaGambler) again because his "bet your paycheck on Rickie Fowler" to win at Quail Hollow worked out so well:
"My heart says JByrd, but my head says go with the slower and steadier Jim Furyk for his second U.S. Open. ... He's an American. 2nd in driving accuracy, 24th in putting average, 168th in putting routine. #FluffStache"
Well put, Chad, especially on Furyk's laborious work on the greens. The Grinder was my pick at this event last year. Hopefully, you have better luck this time around. Care to make a guest pick? Be bold and email me at Alex.Myers@GolfDigest.com
) for a chance to appear in next week's column. Or if you just feel like making fun of my picks or discussing your favorite guilty-pleasure song.
WEEKLY YAHOO! ROSTER SELECTIONS
Starters: Luke Donald, Lee Westwood, Tiger Woods, Jason Dufner
Bench: Matt Kuchar, Hunter Mahan, Justin Rose, Louis Oosthuizen
Despite being underdogs (+150) and potentially having to play four games in Oklahoma City, I can't imagine the Miami Heat losing in the finals for a second-straight year. I mean, did you see the nasty look on LeBron's face as he rose to the rim for that thunderous dunk in the fourth quarter of Game 7 against the Celtics? Basketball's "King" will finally get his ring in six games.
IT JUST FEELS RIGHT PICK OF THE WEEK
Matt Kuchar. No one has played better in 2012's two biggest events thus far. Kuchar was tied for the lead with three holes to play at the Masters before finishing T-3, and he captured the Players. Now he returns to Olympic, where he tied for 14th in 1998 while still a student at Georgia Tech. He didn't do anything again in this event until 2010 when he finished T-6 and then backed that up last year with a solid T-14.
Steve Stricker. The Strick Show had a T-5 here in 1998, but has had only two other top 10s at U.S. Opens. Still, he's 13th in greens in regulation, and when he gets on those greens? Well, let's just say he's given Tiger putting lessons.
Bo Van Pelt. BVP has finished T-17 or better in three of the past five majors and had his best U.S. Open showing last year with a T-14. We expect him to improve upon that this year. At 75-1, we like the guy who is third in putting under 10 feet on tour, fourth in strokes gained-putting and most important, tied for first in top 10s.
Michael Campbell. Speaking of great odds, the 2005 winner is 750-1! KIDDING! STAY AWAY! I'd rather waste my money seeing that new movie "Prometheus." OK, so that's not true either, but you get the point.
Jason Dufner. What else is there to say other than... #Dufsanity! Seriously, the guy is sixth in greens in regulation, trails only Tiger in total ball-striking and never seems to get rattled. He's never been better than T-33 at a U.S. Open in five tries, but that was before #Dufsanity took over the golf world.
Hunter Mahan. Like Rose, Mahan has an odd U.S. Open track record with three solid finishes (T-6, T-13 and T-18), but also three missed cuts in six tries. We like the fact that he's fifth in greens in regulation. And that he's first on tour in wives who are former Dallas Cowboys cheerleaders.
Sergio Garcia. No stranger to fairways and greens, Garcia quietly finished T-7 last year at Congressional. Even more quiet was his solo third in Sweden over the weekend. He also happens to be a (very) surprising 19th in strokes gained-putting on tour this year.
FORMER RUNNERS-UP WORTH TAKING A SHOT ON
Phil Mickelson. Lefty finished T-10 here in 1998 and of course, he has a record five runner-ups in the national championship. He's coming off that mentally-fatigued/cell phone protest 79 at the Memorial, but has already played great golf in California this year with a win at Pebble and a runner-up at Riviera. The main reason for his more consistent play in 2012? He ranks 14th in strokes gained-putting.
Jim Furyk. Quick: Who has the fourth-best scoring average on the PGA Tour this year? That's right, Mr. 5-hour Energy. Keeping that number as a theme, Furyk's five career top 10s are actually all top fives, including a win in 2003 and runner-ups in 2006 and 2007. Plus, @KennyDaGambler took him -- though he didn't go as far as to say he was betting his paycheck again. We'll refrain from that too, as we already have a cool Andrew Jackson riding on Luke Donald. Hey, when in Vegas...
*-- Alex Myers is a contributing editor for GolfDigest.com. Feel free to email him
since he has self-esteem issues.*