News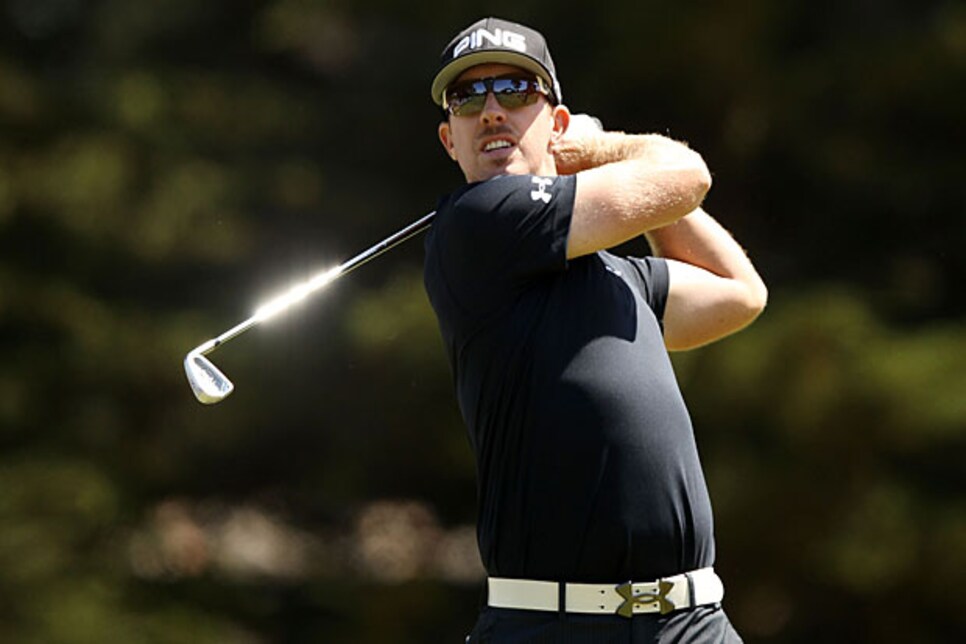 Hunter Mahan broke through here in 2007. This year, he can break away from the pack.
Welcome to another edition of Fantasy Fix, where we fear we're about to see a lot more belly putters and cardigans on the golf course. With an old school look, Webb Simpson won an old school grind-fest at Olympic Club. What's he doing this week to celebrate his U.S. Open win? Why, play in another tournament, of course. The golf season rolls on and so do we. It's time to shake our magic 8-ball to see what will happen next.
The PGA Tour treks across the country to Cromwell, Conn., for the Travelers Championship. The 6,841-yard TPC River Highlands, which played as the 11th easiest course on tour in 2011, will be the site of the event for a 29th-straight year.
Random tournament fact: With 240,000 fans attending for the week last year, this event ranked only behind the Waste Management Phoenix Open in total attendance. But only 5,000 of them had ever heard of Fredrik Jacobson before his win last year.
Fredrik Jacobson. The Swede picked up his first PGA Tour victory in his 188th career event last year. He has zero top 10s this year, but he's a solid play having made 10 of 11 cuts, including a brief run last week at Olympic Club (Jacobson finished T-15, which is probably for the better since Ben Hogan would have rolled over in his grave if someone wearing a painter's cap had won his favorite tournament).
Hunter Mahan. A T-43 and an MC here the past two years haven't been good, but before that, Mahan finished in the top four four-straight times, including a first-career win in 2007. He hasn't been particularly sharp since his win in Houston, but he's still one of three players with two wins this year. Another one here would give him a big leg up in the race for PGA Tour Player of the Year.
THERE HE IS, MR. AMERICA...
-- especially one that's as taxing as the U.S. Open. It's great to see a fellow Wake Forest Demon Deacon honor his commitment to travel to the opposite coast to play this event, but you have to expect a bit of a letdown -- even if this cardigan weather we're having in the Northeast continues.
SPEAKING OF 2012'S OTHER MAJOR CHAMPION...
Bubba Watson. With Hartford the site of his first PGA Tour win in 2010, Watson has played this event the past four years and has shot exactly zero rounds over par in that span. While proven right when suggesting Olympic Club didn't set up well for him, the big hitter obviously feels comfortable on this layout. We were also impressed by his ceremonial first pitch at the Mets game Monday night. Who knew he could curve a baseball as much as he does a golf ball?
LET'S SEE HOW HE PLAYS WITH A FEW BUCKS ON THE LINE
. And who can blame him? Cantlay made the cut in seven of eight PGA Tour events as an amateur, including three majors. Why make his pro debut here? Well, it just might have to do with the 60 he shot in last year's second round on his way to a T-24.
WEEKLY YAHOO! ROSTER PICKS
Starters: Zach Johnson, Bubba Watson, Hunter Mahan, Padraig Harrington
Bench: Keegan Bradley, Ryan Moore, Bo Van Pelt, Patrick Cantlay
) for a chance to appear in next week's column. Or if you just feel like making fun of my picks or discussing the state of Wake Forest's sports programs.
ANOTHER YOUNG GUY TO WATCH
John Peterson. The LSU product may have been the NCAA champion in 2011, but he really introduced himself to golf fans with one shot at the U.S. Open. An ace on the par-3 13th hole
while playing in the second-to-last group on Saturday saved Peterson's round and propelled him to a T-4 finish in his fifth career PGA Tour event. For a man with no status on any tour, it also got him a spot in this week's field. Another top five might be pushing it, but this is definitely a guy to keep an eye on going forward.
GOING BACK TO THE WELL PICK
Bo Van Pelt. BVP has placed in the top 15 in this event three of the past five years. However, he really let me down as my big "sleeper" pick for the U.S. Open. Then again, his T-59 was a lot better than the guy I bet on to win it all. Yeah, I'm talking about you, Luke Donald. Feel free to ship me that $20 any time.
Brian Davis. How easy was TPC River Highlands playing last year? Davis shot 65-67-68-66 and only finished T-9. We think he puts himself in position to pick up that maiden PGA Tour title again this week.
FREE FANTASY BASEBALL ADVICE
With a story on par with the Jeremy Lin phenomenon that swept the NBA early this year, a 37-year-old journeyman suddenly has turned into the best pitcher in baseball. And it's not a fluke. In his last 55 innings, R.A. Dicky has an incredible 71 strikeouts and six walks. Not only should you hang onto him for this year, but he's a keeper for next year despite his age. After all, he throws a knuckleball. Forget putting a baseball in your kid's left hand as a baby if you want him to make it to the big leagues. You might be better off resting it on his knuckles...
Matt Kuchar. Kooch was undoubtedly disappointed by his T-27 at Olympic Club. We'd usually expect a big bounce back from one of the most consistent performers on tour, but he has a poor track record at TPC Highlands, with four missed cuts and nothing better than a T-36 in six starts. Save him for some of the bigger events down the road.
Padraig Harrington. Paddy has played here sparingly (three times), but with some success. He posted a T-5 two years ago, which included bookend rounds of 64. It's been a struggle since his major championship binge in 2007-2008, but he finally looks back in good form -- at least in the big events -- with a T-8 at the Masters and a T-4 at the U.S. Open.
Zach Johnson. Four top 25s in six starts, including a T-3 in 2004. ZJ is coming off two rough weeks, including a T-41 at Olympic Club, but before that, he was on a roll with a win at Colonial and runner-ups at the Players and Harbour Town.
Ryan Moore. The dapper dresser has three top fives in Hartford, including runner-ups last year and in 2006. He may not have Simpson's belly putter, but he does have a similar classic style with his wardrobe. Fear the beard -- and the cardigan...
*-- Alex Myers is a contributing editor for GolfDigest.com. Feel free to email him
since he has self-esteem issues.*