News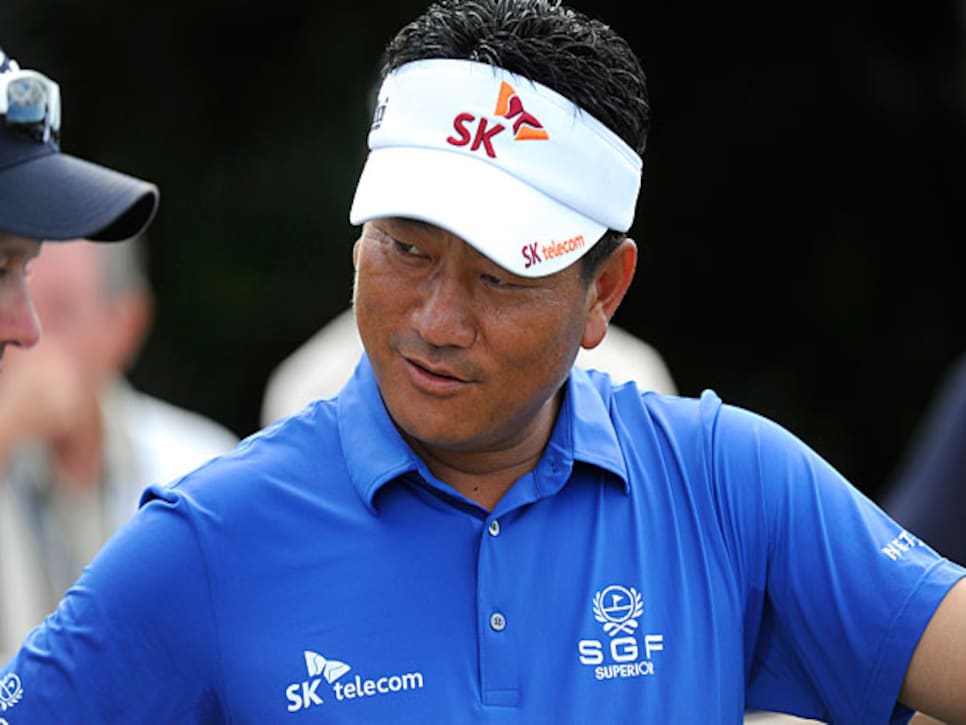 K.J. Choi: "Did you know that I've won this tournament two times?"
Welcome to another edition of Fantasy Fix, where we wish there was more blimp coverage of everything. The in-depth reporting of whether Tiger Woods took two or three ice packs with him as he drove away from Doral, though? We could probably do without that. Moving on, in honor of me attending my first Las Vegas bachelor party beginning Thursday, I'll look at this week's tournament through more of a betting eye (by using odds found on www.bovada.lv). Not that we promote that sort of thing...
The PGA Tour continues its Florida Swing with a trip to Tampa for the Transitions Championship. After three weeks of Tiger-Rory hoopla, we get a little bit of a break. Well, at least from watching them play.
Random tournament fact: The Tampa-based University of South Florida men's basketball team received its third-ever bid to play in March Madness on Sunday. Oops, that's the wrong tournament...
Gary Woodland (50-1). GW picked up his first PGA Tour title when Webb Simpson bogeyed the 72nd hole last year. This year, though, things haven't gone as well after making some changes, most notably, in his switch to employing Butch Harmon as his swing coach. In 19 rounds, he's only broken 70 once. Hey, that's only one more time than I've broken 70 in that span.
STUD OF THE WEEK (GOOD BET EDITION)
Nick Watney (22-1). With top-13 finishes in each of the past three years here, it's safe to say Watney is a fan of the Copperhead Course at Innisbrook Resort. In fact, according to a Golf World survey, it's safe to say most most PGA Tour players
STUD OF THE WEEK (BAD BET EDITION)
Luke Donald (10-1). The now former No. 1 player's only trip to Tampa in the past nine years produced a T-6 in 2010. Speaking of T-6s, he finally showed some signs of life in 2012 at Doral. So why is he a bad bet? Nothing personal, 10 to 1 just seems too high of a price to pay, even for this premium product.
After dodging @PE_Mulroe's attempt to pick two-straight winners and possibly steal my job, we field a prediction from Phil Mickelson, who is going with Ryder Cup buddy Jim Furyk. In related news, Phil has also advised me to take the under in the points total for the 16-seed play-in game between Lamar and Vermont...
OK, so Mickelson didn't actually make a pick, but that doesn't mean you shouldn't in the future. Be bold and email me at Alex.Myers@GolfDigest.com
) for a chance to appear in next week's column. Or if you just feel like making fun of my picks or talking more about March Madness.
WEEKLY YAHOO! ROSTER SELECTIONS
Starters: Nick Watney, Justin Rose, Brandt Snedeker and John Senden.
Bench: K.J. Choi, Bo Van Pelt, Geoff Ogilvy and Peter Hanson.
I'd love to take you through my full bracket like President Obama, but since I've got a little too much on my plate getting ready for Vegas (Should I rock a suit like Vince Vaughn and Jon Favreau in "Swingers"?), let's skip to the Final Four. I've got Kentucky over Marquette and Ohio State over UNC. In the championship game, I'll take everyone's "favorite" coach John Calipari to finally cut down the nets for the first time. It's a lock. Just like all those bets I'll be making the first two rounds at the Palazzo's Sportsbook. Vegas, baby!
K.J. Choi. It's been feast or famine for the South Korean in Tampa. Check out his track record here, starting in 2000: MC, win, T-40, MC, WD, win, T-6, MC, 2, MC. Since a fifth-place finish in the limited-field event to start the season in Hawaii, his best tournament was a T-24 at the Northern Trust Open. It's time for the Tank to get back on track.
TWO-TIME CHAMP TO STAY AWAY FROM
Retief Goosen (50-1). The two-time champ (2003 and 2009) has shot over par only once in his past 12 rounds at Innisbrook. However, he has only one top 10 since the start of 2011. Even with those odds, you can find better horses to back.
Geoff Ogilvy (100-1). Seeing this guy at these odds reminded me of this classic quote from Kevin Malone in "The Office": "If anyone gives you 10,000 to 1 odds on anything, you take that bet. If John Mellencamp ever wins an Oscar, I will be one rich dude." Ogilvy isn't exactly 10,000 to 1, but for a U.S. Open champ who also has a couple top 10s here in six appearances, 100 to 1 seems more than fair.
, but I think the 125 to 1 more than backs up that classification.
Matt Kuchar (20-1). Those odds are a little steep, but Kuchar might be rounding back into the form that's made him arguably the most consistent player on tour the past two years. He finished T-8 at Doral and he lives just an hour and a half down the road in Winter Park. Perhaps NBC or the Golf Channel can provide aerial footage of him driving to and from the course.
Jason Day (33-1). The young Aussie has finished no beter than T-51 in four tries here and is off to a bit of a slow start in 2012. We expect big things from the 23-year old in the future, just not this week.
Peter Hanson (33-1). Other than Rory McIlroy, the Swede is the only player to finish in the top five in both World Golf Championships this year. He didn't do as well in this event last year, but still managed a T-15 despite a disappointing 72 in the final round. Plus, he just looks like he'd be a fun dude to hang with at the Blackjack tables.
Justin Rose (16-1). The Englishman has never finished outside the top 30 in six appearances here, including a T-5 last year. Oh, in case you didn't know with all the blimp coverage, Rose wound up winning the Cadillac Championship.
George McNeill (66-1). A native and resident of the nearby Fort Myers/Naples area, McNeill finished T-2 here in 2008. Oh, in case you didn't know, he won that other PGA Tour event last weekend in Puerto Rico.
Brandt Snedeker (50-1). 50 to 1? Has anyone in Vegas been watching golf this year? Snedeker has been as good as anyone not named Rory McIlroy. Plus, he finished solo fourth here last year and T-8 in 2008.
John Senden (40-1). The Aussie finished runner-up here in 2007 and 2008. Senden also fired a Sunday-best 65 at Doral to finish T-6.
Charles Howell III (50-1). I've been riding him all year. Maybe he's just waiting for when I could actually put a few bucks down on him to win. He has two top 10s in the past five years at Innisbrook's Copperhead Course, including a T-2 in 2009. Speaking of Copperhead, I'll be paying special attention to the action this weekend and taking copious notes since my annual buddies trip/tournament will have a round on the famed track this summer. Wait, who am I kidding? I'll be on vacation. For a bachelor party. In Las Vegas. During the NCAA Men's Basketball Tournament. I might end up on a roof like that guy in "The Hangover" if I even request to watch a little golf. Good thing there's DVR...
*-- Alex Myers is a contributing editor for GolfDigest.com. Feel free to email him
since he has self-esteem issues.*