News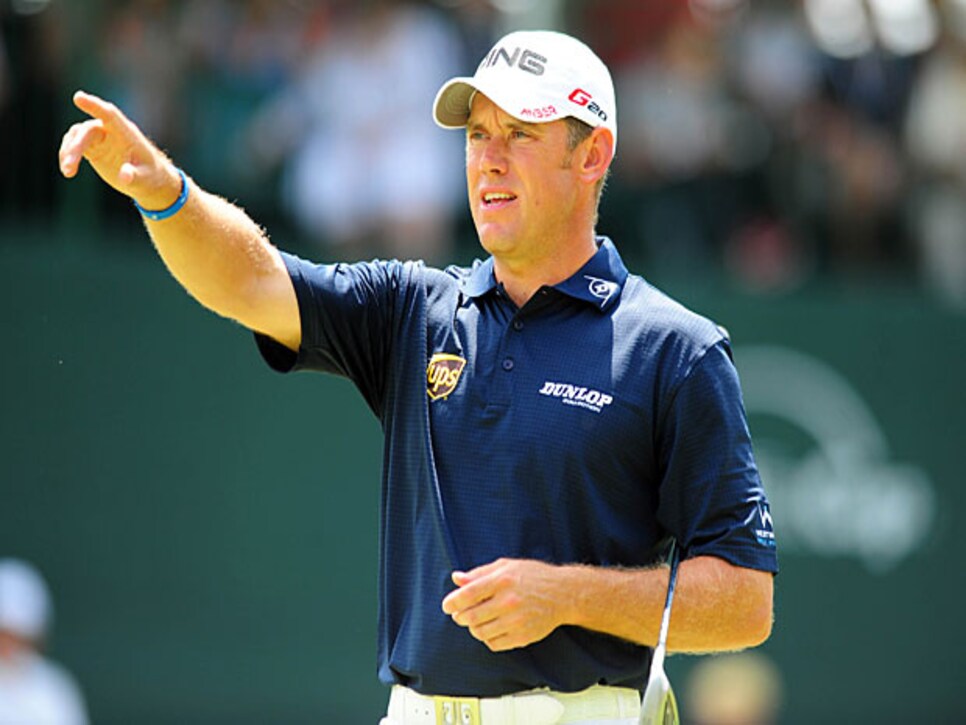 Lee Westwood is still looking for a signature win. We think he'll get it this week.
Welcome to another edition of Fantasy Fix, where we are still seeing orange following Rickie Fowler's colorful win. Either that, or I still haven't fully recovered from my latest trip to Vegas. But in the world of fantasy golf, there's no rest for the weary. We've got a big week ahead and there are plenty of questions to answer. Is Fowler the next great American golfer
and how will he react to his first win? Will our guest picker predict the winner for a second-straight week? Can I possibly match my personal record of eating at the same Jacksonville Chili's five nights in a row? Stay tuned.
The PGA Tour heads home to its Ponte Vedra Beach headquarters for the Players. The event is widely known as the "fifth major," except of course, to those who count it as their only major.
Random tournament fact: There have been 19 different winners at TPC Sawgrass' Stadium Course the past 19 years, including that time PGA Tour commissioner Tim Finchem had to be introduced to Craig Perks.
K.J. Choi. Last year, the Korean Tank made a clutch up and down to force a playoff and then took the biggest title of his career when David Toms made a not-so-clutch three-putt on the second hole of a sudden-death playoff. With just two top 25s in 10 events in 2012, we don't expect that to happen again.
STUD/KNOCKOUT PICK OF THE WEEK
Lee Westwood. Westwood was the 2010 54-hole leader until a final round 74 dropped him to T-4. Westy, who leads the tour in greens in regulation, said TPC Sawgrass "suits his game" following a final-round 66 at Quail Hollow that vaulted him to T-5. A guy who feels comfortable playing a Pete Dye course? Yeah, we like his chances.
for a chance to win a golf trip to Ireland. See the info box above for details.
I did a double take when I looked at last week's column on Wednesday and saw I hadn't even put Woods in my "Fix Six," probably for the first time ever. Well, good thing I didn't. After his win at Bay Hill, Tiger has notched a T-40 at Augusta and an MC at Quail Hollow. Now he returns to a place where he hasn't even been able to make it through four rounds in one piece the past two years, withdrawing with a neck and knee injury, respectively. Aside from that, though, Woods doesn't play well here. Since his lone win in 2001, he's only finished in the top 10 once. Hence, why you don't see his name in that box to the right again this week.
Rory McIlroy. Surprisingly, McIlroy has missed the cut in both appearances at TPC Sawgrass and hasn't broken par in any of his four rounds. While we don't expect that to happen again, we do think there are better spots to play the current top-ranked player.
Luke Donald. Donald has gone back and forth between being ranked No. 1 and No. 2, but the number one has killed the Englishman this year, as in the first round. He started his last event with a 73 before ripping off rounds of 65-66-67 (His wife, Diane, said she motivated him by saying he'd have to come home and clean out a closet if he missed the cut) and he's only broken 70 in the opening round once in six stroke-play events this year. That one time? He won. Maybe Diane should give her pep talks on Wednesday night instead.
WEEKLY YAHOO! ROSTER SELECTIONS
Starters: Luke Donald, Lee Westwood, Hunter Mahan and Ben Crane
Bench: Nick Watney, Ernie Els, Geoff Ogilvy and Jason Dufner
Last week, @KennyDaGambler delivered with his pick of Rickie Fowler. Even more impressive was his follow-up tweet advising people to bet their paychecks on the guy, despite the fact he'd never won a PGA Tour event. We are waiting for more words of wisdom, but haven't heard anything yet. Perhaps, "Kenny" listened to his own advice and is now celebrating on an island somewhere. We'll let you know if we hear anything...
UPDATE: Turns out, "Kenny" is celebrating at Dollywood (Hey, to each his own). Glad to hear that this week he's also going with Westwood, though he's not as confident as last week. Instead of a paycheck, he said to put lunch money on him...
) for a chance to appear in next week's column. Or if you just feel like making fun of my picks or discussing your favorite Vegas story.
Sergio Garcia. The Spaniard has three top fives here, including a win in 2008. To this day, that remains the highlight of his career. Garcia may not think he can win a major, but we think he's still capable of winning golf's fifth major.
Phil Mickelson. You gotta love (or hate) that in golf you can give your Hall of Fame speech one night and then resume your career that still has a decade or so remaining a couple days later. This year it's Mickelson's turn. But while Lefty won here in 2007, it's his only top 10 the past eight years.
FREE FANTASY BASEBALL ADVICE
The Orioles are currently tied for first in the A.L. East and that has a lot to do with starting pitcher Jason Hammel. We only expect one of those fast starts to continue. The 29-year old was under the radar in Colorado, but his strikeout/inning ration and sub-1.00 WHIP are legit. Pick him up if the other owners in your league are asleep at the wheel.
IT'S ALL ABOUT THE GOLF BOYS THESE DAYS
Ben Crane. Hunter Mahan. Bubba Watson. Rickie Fowler. Put simply, the Golf Boys are on a roll. Could Crane be next? He finished T-45 last year, but no worse than T-6 in the previous three Players. Then there's__Hunter Mahan__, who is a solid pick any week these days. And what about honorary Golf Boy__Aaron Baddeley__, who has had front-row seats to seeing his buddies Bubba and Rickie win? Badds has been good in Ponte Vedra with top 10s in two of the last three years.
BREAKTHROUGH WINNER TO PLAY
Jason Dufner. A winner his last time out in New Orleans, Dufner also finished T-6 here last year. We were worried about how he would react after returning from getting married, but then we remembered he doesn't seem to react to anything.
BREAKTHROUGH WINNER TO AVOID
Rickie Fowler. The young star is finally on the board with a tour win, but he's missed the cut here in his only two appearances.
Bud Cauley. The former collegiate star at Alabama grew up in Jacksonville and estimates he's played the course more than 100 times. Yeah, but how many times has he eaten at my favorite Chili's?
*-- Alex Myers is a contributing editor for GolfDigest.com. Feel free to email him
since he has self-esteem issues.*