News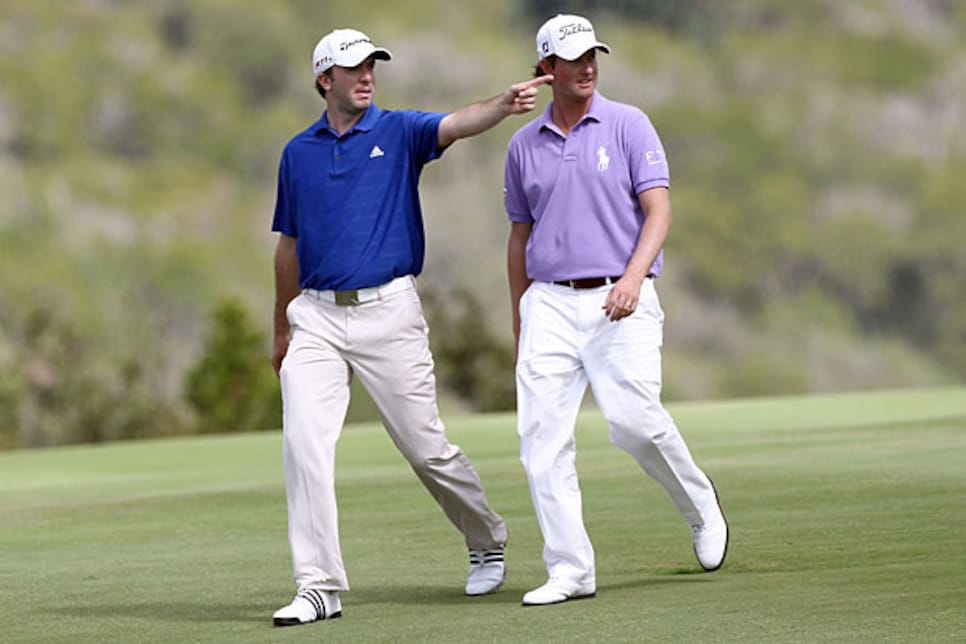 Martin Laird and Webb Simpson are both strong plays at TPC Scottsdale.
Welcome to another edition of Fantasy Fix, where after watching the Farmers Insurance Open, we're glad we don't put tour-pro backspin on the ball. Tough break for Kyle Stanley, though we still like the future of the Clemson product we tabbed as one of our top 10 sleepers to watch on the PGA Tour
this year. Will this be the week one of the players mentioned in that brilliant list breaks through? Let's examine.
The PGA Tour heads to Arizona for the Waste Management Phoenix Open, aka that event that people watch if they are finally so fed up with two-straight weeks of Super Bowl coverage that they don't feel like watching the pre-game show.
can have up to 50,000 fans watching at any given moment. And at any given moment, about 1,000 of them might actually be sober.
Mark Wilson. "Little Cheese" was on top of the world here last year. Not only did he pick up his second win in his first three starts of 2011, but he also paraded around the hole that weekend wearing a cheesehead for his beloved Green Bay Packers before getting to watch them beat the Pittsburgh Steelers in Super Bowl XLV. After winning the Humana Challenge, there's no reason to think he can't contend in another shootout here.
STUD/KNOCKOUT PICK OF THE WEEK
Martin Laird. The Scot had a T-3 here last year despite a second-round 71, which got him lapped faster than Tim Herron trying to run a 5K. Currently fifth in the FedEx Cup standings (Too early? Sorry), his worst score in eight rounds in 2012 is a 70. There's a good chance that stays that way this week.
Starters: Webb Simpson, Brandt Snedeker, Rickie Fowler, and Martin Laird
Bench: Nick Watney, Bill Haas, John Rollins and Vijay Singh
The PGA Tour has a rule that if you finish in the top 10 on a sponsor's exemption, you get into the next week's event as well. Therefore, we felt it only fair that Karl Devlin (@kdevo1) get another crack after his D.A. Points pick finished T-8. Here it goes:
"Going with local resident Bryce Molder this week, 8th here in 2010, and with a 7th and 13th already this season, might surprise!!!"
If Mr. Devlin keeps this up, you might see me adding a lot more exclamation points to my predictions as well.
) for a chance to appear in next week's column. Or if you just feel like making fun of my picks or discussing Blake Griffin's latest ridiculous dunk.
FREE SUPER BOWL PREDICTIONS
For the record, I'm a Giants fan. That being said, do I actually think they will knock off Tom Brady, Bill Belichick and the rest of the New England Patriots? Of course I do! In all seriousness, the play is to take the Giants and the points (hope you locked it in at +3). Why? Because despite their difference in records, this should be a pick'em game, especially since a depleted Giants squad went into New England earlier THIS season and won. Prediction: Giants 27, Patriots 24.
Looking for an enticing (don't they all look enticing?) prop bet? How about Victor Cruz having more than 5.5 receptions. Or if you can find someone taking bets on how many wings I'll consume, take the over no matter what the number is. That's a lock.
TWO-TIME CHAMPION TO PLAY
Vijay Singh. Yes, the first of his two victories here came all the way back in 1995. But do you realize he actually finished T-3 last year? Singh also finished T-13 at Torrey Pines, proving that he can still play with the young guys even as he approaches his 49th birthday.
J.B. Holmes. Shot a 76 in his first round since returning from brain surgery (it still feels weird typing that), but showed some signs with a second-round 69 that included seven birdies. Still, despite that and despite the fact he picked up both his two career wins here, we still see him as a risky play.
Brandt Snedeker. The "Comeback Kid" is emerging as one of the game's elite players after undergoing off-season hip surgery. If Sneds keeps playing like this, you might see a lot more guys going under the knife as well.
Webb Simpson. The Wake Forest product had a T-8 here last year, but does that even mean anything for a guy who lives in the top 10?
Dustin Johnson. DJ withdrew after an opening 72 at the Humana Challenge, then opened with 66 at Torrey Pines before stumbling to T-43. The right knee he had operated on doesn't appear to be bothering him, so a return to top form seems like a matter of just shaking off some rust.
Bubba Watson. Hasn't posted spectacular results here (A T-8 in 2007 is his best), but there's no reason to think he shouldn't play well at TPC Scottsdale. We said last week we wanted to see a top 15 before we endorsed him. A T-13 at Torrey Pines provided just that.
Phil Mickelson. It's dangerous to keep slotting Phil here, but he is in one of the biggest lulls of his career. We'll give him a pass for last week's MC at Torrey Pines due to his daughter's health scare
, but even with Sophie all better, we're not sure about his mental state this week. The guy has been known to lay a little money on big games...
John Rollins. J-Roll hasn't finished in the top 50 the past three years, but also hasn't missed a cut in the nine years he's teed it up here. Throw in a runner-up in 2007, a couple T-11s and a solo third at last week's Farmers Insurance Open and you've got yourself one of the safest picks in the field.
Chris DiMarco. It's been six years since he broke the $1 million mark, but he's off to a good start in 2012. DiMarco once had a run of being in the top 15 here five out of six years, including a win in 2002 and a solo second in 2004. Is it time to rekindle that major-championship rivalry with Tiger Woods? OK, maybe not.
FLASHY PLAYERS TO KEEP AN EYE ON
Camilo Villegas. Spiderman finished T-2 here in 2006 and T-8 in 2010. More than that, we like how he's playing, with top 25s in his first two starts of 2012 -- both of which could have been better after going super low in the opening rounds. Perhaps he's still getting used to lugging that new long putter around for four days.
Rickie Fowler. Nearly got his maiden PGA Tour win here two years ago before laying up on the par-5 15th and ultimately losing by a shot to Hunter Mahan. Followed that up with a T-13 last year and started 2012 with another T-13 at Torrey Pines. It's a shame he's still without a victory. The poor kid could really use a few fans following him around on the course...
*-- Alex Myers is a contributing editor for GolfDigest.com. Feel free to email him
since he has self-esteem issues.*