News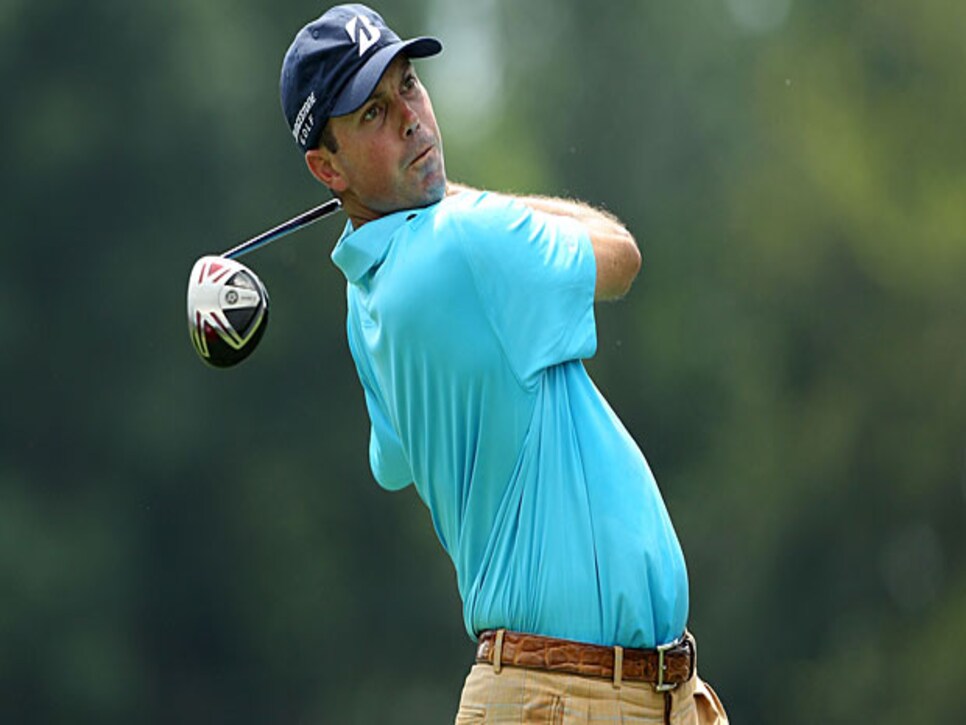 Don't let his recent struggles fool you. Matt Kuchar is ready to win a major this week.
Welcome to another edition of Fantasy Fix, where we wish we had our money invested in gold and long putters. Adam Scott sure looked good on Firestone's slick greens and his impressive win, along with a certain caddie, only added to the excitement for the season's final major championship. Two amazing streaks are in play this week with the past six majors having been won by international players who also happen to be first-time major champions. Will that trend continue this week? Here are some thoughts.
The PGA Tour heads to Atlanta Country Club for this year's edition of the PGA Championship. We promise not to refer to the city as "Hotlanta", since apparently, the natives aren't to fond of that label. So no more Hotlanta. That's Hotlanta. Hotlanta. OK, sorry. Starting... now!
Random tournament fact: The last time this tournament was held here, a New Zealander held the first-round lead. And no, that's not a Steve Williams joke. Grant Waite, AKA the guy Tiger beat at the 2000 Canadian Open with that ridiculous fairway bunker shot, actually led by two shots following an opening-round 64. Shockingly, he didn't hold on for the win, but finished T-59 instead.
THE DEFENDER (TOURNAMENT)
Martin Kaymer. The German's first major win was a bit overshadowed by Dustin Johnson's final-hole bunker controversy, but he is a worthy defender having briefly ascended to No. 1 in the world rankings early in the 2011 season. However, since working hard on shaping the ball from right to left in preparation for the year's first major, Kaymer hasn't been the same. He hasn't won in Europe and his best finish in a PGA Tour-sanctioned event was a T-12 at the British Open. While that's certainly not a bad result, we're not expecting much better.
David Toms. The last time DT played here in competition, he set a tournament record with an aggregate total of 265 and won his only major championship to date. Toms returns enjoying a bit of a career rebirth, including a win at Colonial after we picked him. Four straight rounds of 68 or better at Firestone to finish T-9 is a pretty strong indication he's ready to play well at the site of his biggest achievement. The only question remaining is whether or not he'll take the 5-wood he used to make his famous Saturday ace at the 15th hole out of its glass case in his home...
Matt Kuchar. If we keep picking him to win, eventually he has to, right? OK, maybe not, but we still like the hometown hero's chances this week. The last six majors have been won by first-timers, none of whom have been as consistent as Kuch during the past two years in which he's pretty much lived in the top 10. Not surprisingly, he finished T-10 at Whistling Straits last year. We'd be surprised if he doesn't do better this time around.
Jason Day. With the way he's played in big events this year, last week's T-4 at Firestone included, it's impossible not to include him on a short list of top contenders. Day was in the mix at this event last year, the first time he'd ever contended at a major, but fell to T-10 with a final-round 74. With so much more experience under his belt (he's now a grizzled 23-year old), we are confident he could continue both of the major championship streaks mentioned above.
Last week, the main theme was his return. This week? His return to major championship play after sitting out the U.S. and British Opens. At this point in his career (Heck, it's always been like this), Woods is soley concentrated on winning the four biggest tournaments of the year and he showed in April that he can still turn it on for those events when he nearly won the Masters. His performance at Firestone wasn't pretty, but beating half an elite field after not playing in three months certainly wasn't a disaster either. He could have a similar finish here or he could contend for his 15th major title. His T-29 at this venue in 2001, though, and the fact that he can't even pick a putter
keep us from fully endorsing him in Hot, sorry, Atlanta.
OH YEAH, THAT OTHER GUY...
Phil Mickelson. Lost in how poorly Tiger Woods played in his return, people overlooked the struggles of Phil Mickelson, who actually finished two shots behind his rival. To be fair, Firestone has never been kind to Phil and in his last major, he finished runner-up at the British Open. That was also where he vaguely talked about changing his thinking at majors in an effort to "get back to where I was as a player." Believe him or not, he did finish runner-up at Royal St. George's and he did finish runner-up on this track a decade ago.
"Hey, Alex. Love the column. I know you've always been a big fan, so I just wanted some reassurance that I didn't say anything wrong after winning the WGC-Bridgestone Invitation with the help of my new assistant, Adam Scott. Cheers, Steve Williams."
. I heard the only thing that young chap said after the final round was, "Can I have a ride home now?" OK, so Williams didn't really write me, but that doesn't mean you shouldn't. Please feel free to email me
with comments, questions or just to make fun of my picks. And of course, you can follow me on Twitter
Jim Furyk. The Grinder was T-7 here in 2001, but don't expect the same this time around. Furyk has been terrible of late, with zero top 10s in his last 12 starts. His disappointing season is very surprising considering how well he played last year, when he captured the FedEx Cup Trophy (Yeah, I have a hard time remembering that too... Oh right, he had his hat on backwards at the end).
CONTEND AT A MAJOR ALREADY!
Steve Stricker. Our love for the Strick Show has been well documented, but the time has come for him to win a major or at least just come close. End of story.
Nick Watney. Who benefited the most from DJ's disaster last year other than Martin Kaymer? This guy. If not for Johnson stealing the spotlight, Watney would have been a much bigger story with a final-round collapse that was so bad, CBS barely showed him on the back nine. Watney was the 54-hole leader by three, but he barely finished in the top 20 after posting an 81. How has he responded? With a career year in which he has emerged as arguably America's best player. With two big wins under his belt already in 2011, a third, despite what happened last year, doesn't seem like much of a stretch.
DESPERATE TIMES CALL FOR...
Steve Elkington. The 1995 PGA champ was a surprise contender at Whistling Straits last year following a strong tuneup tournament at Turning Stone. This year, he got his last practice rounds in at the Reno-Tahoe Open and again looked sharp with a T-6, his best finish by far this season. Odds are he won't contend again, but If this is "Glory's Last Shot" time in your league, maybe this is the drastic move you need to make up ground.
Rickie Fowler. For all the hype, Fowler has 13 top 10s and zero wins since turning pro two years ago. However (And I say that word with the full Stephen A. Smith treatment), he seems on the brink of justifying his press coverage. Since missing the cut at the U.S. Open he has been fantastic, playing his way into contention in three of four events, including a T-5 at the British Open and a T-2 at Firestone last week. His Sunday 66 in Akron was a great sign of playing under pressure, though we'd still like to see him do it while playing in the final group. Maybe he'll have that chance this week.
Dustin Johnson. He's too good to go a whole year without winning, though he's also good at finding ways to lose majors. First, there was the classic Sunday implosion at Pebble Beach and then a couple mental mistakes (grounding his club in a bunker at Whistling Straits and inexplicably hitting a ball OB at Royal St. George's). Nevertheless, we like his chances, though is there a chance he suffers another meltdown? Of course. It is Hotlanta after all. Oops, sorry. Starting... now!
*-- Alex Myers is a contributing editor for GolfDigest.com. Feel free to e-mail him
) since he has self-esteem issues.*