News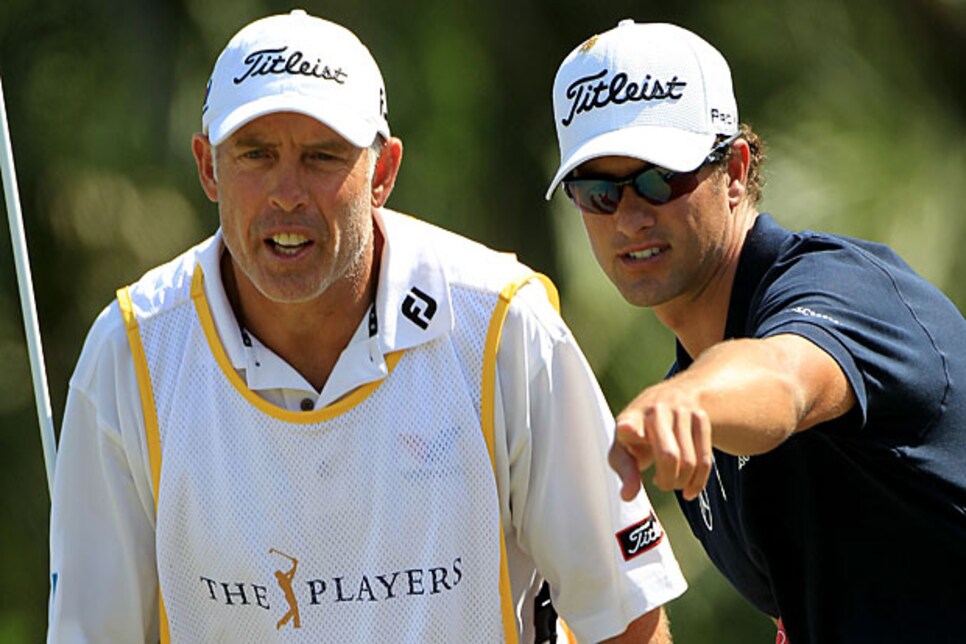 This is one tournament Adam Scott, but not Steve Williams, has won.
Welcome to another edition of Fantasy Fix, where we learned there are things that can cause Matt Kuchar's ever-present smile to grow even wider -- 1.7 million of them in fact. It was a big week for me in Jacksonville as well as I extended my mythical Ripken-like streak of eating at the same Chili's to 10 nights while also setting an unofficial record for the most chips and salsa eaten in the media center. But now the focus is squarely back on having a big week of predictions. Let's get to it before I start having cilantro withdrawal...
The PGA Tour heads to the Dallas/Fort Worth area for the first of consecutive Texas stops: The HP Byron Nelson Championship. It should be a special year this year since golf's famed triumverate of Nelson, Ben Hogan and Sam Snead all would have turned 100 this year if they were still alive.
Random tournament fact: The winner of the Nelson traditionally gets to put a full Nelson hold on the runner-up.*
Keegan Bradley. Before he became known as the first belly-anchored putter to win a major, Bradley was known simply as the first belly-anchored putter to win the Byron Nelson. Last year, the world got its first big taste of Bradley when he beat Ryan Palmer in a playoff to pick up his first PGA Tour title. After a terrific start to 2012, he's cooled off a bit, but he's a strong bet to get back on track against this field.
Adam Scott. A winner here in 2008, Scott has been tough to gauge this year since he's played so few tournaments. But the Australian has finished at least T-17 in all four stroke-play events in which he's competed. Perhaps he makes history this week as the first player to use a chest-anchored putter to win the Nelson.
WEEKLY YAHOO! ROSTER SELECTIONS
Starters: Adam Scott, Jason Day, Brian Davis, Louis Oosthuizen
Bench: Keegan Bradley, Ernie Els, Chad Campbell, Jeff Overton
I'm keeping it in the office this week after colleague Stephen Hennessey (@s_hennessey) picked Matt Kuchar to win last week. And yes, that pick was documented thanks to our Major Championship Challenge
. Here's his take on this week:
Brian Gay's had his sights on this week. He's had a decent year up to this point, the highlight being a T-4 at TPC San Antonio. And with the tour returning to Texas, the expert scrambler/putter Gay should be a factor this weekend. He plays this course really well, with a runner-up in 2010 (with a final-round 63), a T-14 in 2011, and a T-7 in 2008. You also have to look at Texas residents Ryan Palmer, who gave Keegan Bradley his first tournament last year, and John Rollins, who's playing solid right now. Jhonny Vegas went to college in Texas and it looks like his game is back on track, playing great at a much-tougher TPC Sawgrass course last week. But Brian Gay's the safer play.
) for a chance to appear in next week's column. Or if you just feel like making fun of my picks or discussing your
Matt Kuchar. So where does Kuchar go from here? We're not necessarily expecting another 'W' this week, but we do expect him to start picking up more trophies now that he finally broke through in a big event. He had a T-6 here last year, so we expect another high finish. Then again, don't we always from this guy?
BIG NAME TO STAY AWAY FROM
Phil Mickelson. Coming off a week in which he was inducted into the World Golf Hall of Fame and finished T-25 at TPC Sawgrass, we're not sure how much Mickelson has in the tank right now. Sure, he's won here before, but that was before Tiger Woods even turned pro. And before "the Macarena" polluted U.S. airwaves.
OVERVALUED CLOSE-CALL LOSERS
Ryan Palmer. Despite a brilliant birdie on No. 18 to force a playoff with Bradley, he was a runner-up here last year. Before that, though, Palmer missed the cut six of seven other years.
UNDERVALUED CLOSE-CALL LOSERS
made for a great opening-day story at TPC Sawgrass when he shot a 66. He didn't seriously contend again, but he also didn't fade away, taking home by far his biggest check of the year for a T-12 finish. Now he returns to a tourament he finished T-2 in 2010.
Jeff Overton. Most of the past two years have been a struggle for the Indiana product, but not at this event where he followed up a T-2 in 2010 with a T-8 last year.
FREE FANTASY BASEBALL ADVICE
Until Albert Pujols pulls himself above the Mendoza Line or at least hits his second home run, I'm going to refrain from passing along any fantasy baseball advice. On the bright side, King Albert only trails Chone Figgins by one in the HR department. And yes, if you can't tell, I paid top dollar for Pujols to start this year's auction draft. Dagger.
Brian Davis. The Englishman has been consistent all year. Unfortunately, he's also been consistent with his poor play on Sunday. A final-round 75 -- the ninth time in a row he's failed to break 70 on Sunday -- at TPC Sawgrass dropped him out of contention and to T-25. Still, his three top 10s in 2012 and his two top 10s in this event, including a runner-up in 2009, make him a solid pick.
John Huh. The leading candidate for Rookie of the Year has had a tremendous first campaign on the PGA Tour thus far. Even his first attempt at TPC Sawgrass went well with a T-23. Huh has obviously never played in this event either, but that hasn't seemed to stop him from playing well.
Louis Oosthuizen. After a surprising missed cut at the Players, we think the Masters runner-up is a bit undervalued here. Oosthuizen has never played in this event, but we do know he's a huge fan of tractors. What does that have to do with anything? Well, shortly after authoring his own mythical streak of 11 straight wins, Byron Nelson retired at a young age to be a rancher. OK, it might be time to refuel. I wonder if there's any chips and salsa lying around...
*-- Alex Myers is a contributing editor for GolfDigest.com. Feel free to email him
since he has self-esteem issues.*