News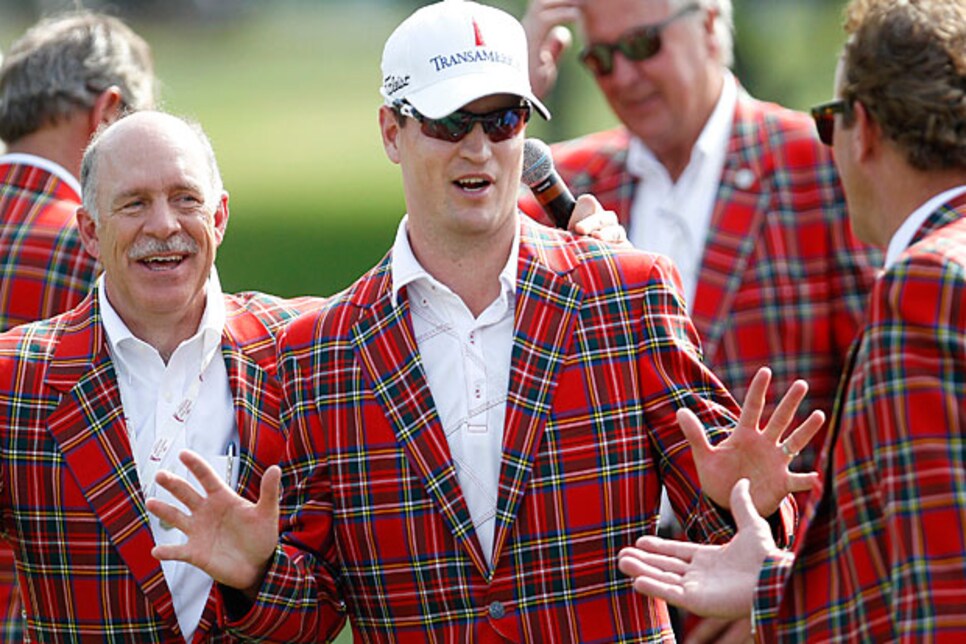 Zach Johnson made us look good at the Colonial. We like his chances again this week.
Welcome to another edition of Fantasy Fix, where we love how quickly everyone gets back to declaring Tiger Woods "back." Jack's tournament certainly brought out the best in Tiger, raising anticipation for next week's U.S. Open to new heights. But in the meantime, there's more work to be done in the fantasy world. Let's get to it.
The PGA Tour heads to Memphis for the FedEx St. Jude Classic. While some version of this event has been held in Memphis since 1958, this is the first time its name hasn't changed in four years.
(Other) Random tournament fact: Al Geiberger shot the PGA Tour's first 59 in the Danny Thomas Memphis Classic in 1977, when the event was played at Colonial Country Club. In related news, I think that was Rickie Fowler's back-nine score playing with Tiger at the Memorial on Sunday.
Harrison Frazar. In one of 2011's best stories, the journeyman won his first PGA Tour event in his 355th start. As much as we enjoyed his emotional response
, we don't plan on seeing Frazar shedding any tears of joy this year. With more missed cuts than made ones at this event, there are a lot of better options out there.
Rory McIlroy. The world's No. 2 had a T-29 here last year after stumbling over the weekend. At this point, after an astonishing three-straight missed cuts, he'd just be happy to be playing any golf over the weekend. But considering his previous stretch (11 top fives in 12 worldwide events) was just as astonishing in a good way, we're not worried about him finding his form again quickly as he tunes up for his U.S. Open title defense. This week, especially versus a relatively-weak field, seems like a good place to start. After all, Tiger was coming off a poor three-week stretch himself last week...
Dustin Johnson. DJ managed a respectable T-19 at the Memorial after missing more than two months due to a back injury. The good thing about golf is that a layoff like that is just a small blip in an entire career. In other words, there's still plenty of time for him to be talked about as "THE next great American golfer
Graeme McDowell. G-Mac tweeted a passenger was removed from his flight to Memphis for saying "I hope this plane crashes" too loudly. You don't see that every day. You also don't see former U.S. Open champs flying commercial every day. We are fans.
THE TOO-OBVIOUS PICK OF THE WEEK
Robert Karlsson. The big Swede has finished runner-up the past two years -- his two closest attempts to capturing a first PGA Tour title. The good news for him? The 2010 winner Lee Westwood isn't in the field and 2011 winner Harrison Frazar, is, well, Harrison Frazar.
WEEKLY YAHOO! ROSTER SELECTIONS
Starters: Zach Johnson, Rory McIlroy, Dustin Johnson and Graeme McDowell.
Bench: Spencer Levin, David Toms, Blake Adams and Matt Every.
) for a chance to appear in next week's column. Or if you just feel like making fun of my picks or discussing your favorite "strongest drink" choice in New Orleans. Now that I've been, I must say I'm partial to the "Jester."
Brian Gay. BG has three top fives here, including a five-shot win in 2009.
David Toms. A two-time winner and two-time runner-up, Toms has seven top 10s in this event. We hear he also does the best rendition of Marc Cohn's "Walking In Memphis" on tour.
"BAD BOYS" WHO ARE DUE FOR A WIN
Matt Every. The talented University of Florida product is delivering his best season on the PGA Tour. Despite his hot-and-cold nature (more missed cuts than made ones), when he does stick around for the weekend, it usually ends well. His seven made cuts have produced five top 10s, including a T-6 at the Memorial.
Spencer Levin. It seemed like Levin was in line for an elusive maiden victory on tour at the Memorial until a sloppy back nine and a certain man in a red shirt stormed past him. He finished T-15 here last season and we're counting on him to at least duplicate that this year. We are also counting on him to lead the field in cigarettes smoked.
FREE FANTASY BASEBALL ADVICE
Normally a solid offensive player, especially for a backup catcher, the Phillies' Carlos Ruiz is off to an incredible start. A little too incredible. While he should be a decent option the rest of the way, don't count on that .368 batting average on balls in play or the outlandish19.5% HR/FB rate to keep up. Then again, have you seenthat ballpark?
Zach Johnson. ZJ has only played in this tournament three times, with his best finish, a T-5, coming way back in 2006. But he's coming off a win (that we predicted
) and a runner-up at Hilton Head. And we think it's fairly safe to say he won't make anymore rules blunders
SEMI-SLEEPERS OF THE WEEK
Blake Adams. We've mentioned this guy a few times recently, but for good reason. He's made four-straight cuts and is coming off qualifying for his first U.S. Open. He also finished T-15 in his first trip to Memphis last year.
Bob Estes. The resurgent vet has a win, a second and a third in this event to go along with 12 top 25s. His ball-striking has been great the past two months, in particular at the Valero Texas Open, where he easily could have won; and at the Players, where he fired a final-round 65. Add in being medalist at his U.S. Open sectional qualifying on Monday and you know what they say about the four-time winner on tour? That's right. He's "back."
*-- Alex Myers is a contributing editor for GolfDigest.com. Feel free to email him
since he has self-esteem issues.*