News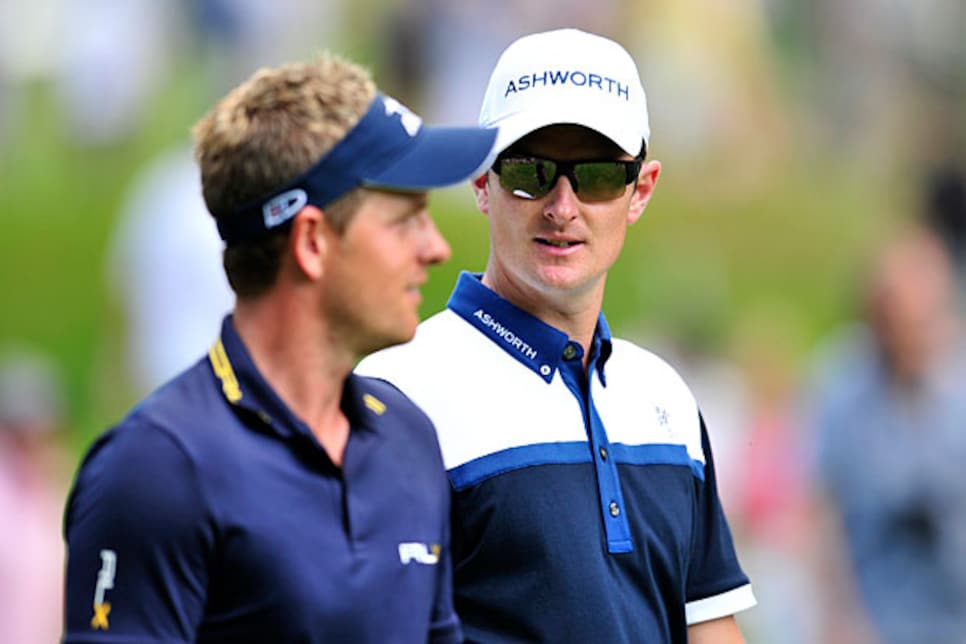 Justin Rose lost to Luke Donald at Wentworth, but he's our top Englishman this week.
of the plaid jacket. What are the odds? There'd be a better chance of us attending back-to-back Miley Cyrus concerts. Unfortunately, it gets a bit tougher this week, since the tour leaves the fantasy-friendly confines of Colonial. Oh, and Jason Dufner (#Dufsanity!) is taking the week off. But we're not ones to cower in the face of a challenge. Here are our thoughts.
The PGA Tour leaves Texas and heads to Dublin, Ohio for the Memorial, hosted by Jack Nicklaus. You know, that guy who invented that half-lemonade, half-iced tea concoction? Wait, that's the wrong guy. What did Nicklaus do again?
Random tournament fact: Roger Maltbie won the inaugural event in 1976, beating Hale Irwin in a playoff. Thirty-six years later, Maltbie is calling shots for NBC, while Irwin is shooting his age in major championships. We love Rog, but we've got to give Irwin the edge there.
Steve Stricker. The Strick Show has only missed the cut at the Memorial once, but last year's win was also his only top 10 in this event. He's not a bad play, but we think there are better options out there. Like...
Justin Rose. It's been a strange four years for the Englishman in Ohio. Rose missed the cut here last year and in 2009, but he won the Memorial in 2010 and finished T-2 in 2008. Coming off a close call to Luke Donald at the BMW PGA and with a win in 2012 at Doral already under his belt, Rose edges out a certain someone as our Sean Foley pupil of the week...
, Tiger Woods is mired in the worst three-tournament stretch of his pro career, with T-40s at the Masters and Players sandwiching a missed cut at Quail Hollow. Do we think his mediocre run will extend to a course where he's won four times? No. Since we're so hot, we'll go ahead and call a T-3.
Jim Furyk. The Grinder showed some life last week with a solo fourth at Colonial. He has 11 top 25s at this event, including a win (2002) and two runner-ups, and he's quietly been having a nice bounce-back year. Furyk already has seven top 25s, six of which have been T-11 or better.
OLD, BIG NAME TO STAY AWAY FROM
Phil Mickelson. This is one of the few tournaments Mickelson has played more than 10 times and not won, though he has played better at Muirfield Village in recent years. Of course, he's also distracted by a possible purchase of his hometown baseball team
. Maybe he's looking for a career change. Even at 41, Mickelson could add some pop to a Padres team that's dead last in the majors in slugging percentage.
WEEKLY YAHOO! ROSTER PICKS
Starters: Luke Donald, Rory McIlroy, Justin Rose and Jonathan Byrd
Bench: Jim Furyk, Rickie Fowler, Bo Van Pelt and Ben Curtis
Guest pick? Who needs a stinking guest pick? Did I mention that I picked Zach Johnson to win last week? Oh, and my top three all finished in the top five? Don't act like you're not impressed.
) for a chance to appear in next week's column. Or if you just feel like making fun of my picks or discussing your favorite Miley Cyrus song. Full disclosure: mine is "Party in the U.S.A."
Rickie Fowler. In 2010, Fowler, then a PGA Tour rookie, was in position for his first win, before getting dusted by Justin Rose in the final round. Now Rickie returns to Jack's place fresh off that breakthrough 'W' and (flat)brimming with confidence. A fourth-straight top five and a fifth-straight top 10 seem imminent.
Luke Donald. Coming off a win in the European Tour's flagship event, the BMW Championship, LD is back on top of the golf world. We hope the cross-Atlantic trip and all the bubbly he downed
after his most recent win won't hinder him too much. Rumor has it, he's a bit of a lightweight...
Rory McIlroy. The 23-year old was also at Wentworth, but his stay was a little shorter (and judging by his club-tossing, so was his fuse). McIlroy is struggling, but he has been top 10 here the two times he's played, including a solo fifth last year. Plus, he should be motivated by recent critcism of his focus
after consecutive missed cuts. After Donald's win at BMW, it's also his turn to take back the top spot.
IT JUST FEELS RIGHT PICKS
Ben Curtis. Lost in the recent Rickie Fowler/Jason Dufner craze is the unexpected resurgence of Curtis. The Ohio native has followed up his win at the Valero Texas Open with a T-5 at Quail Hollow and a T-2 at the Players.
Jonathan Byrd. J-Byrd's track record at the Memorial is almost as unusual as J-Rose's, with just three made cuts in nine tries, but top 10s in two of the past three years.
FREE FANTASY BASEBALL ADVICE
This was going to be the week for my annual Phil Hughes pep talk. Then Monday night happened. The Angels looked like they were taking batting practice against the Yankees' righty. In other words, his stock is less stable than Facebook's right now.
WELCOME BACK, BUT NO THANKS
Bubba Watson. The reigning Masters champ has hit more talk shows than tee shots since his major win. But even without taking an extended break to be with his family, Watson has never finished better than T-23 in six trips to Muirfield Village.
Dustin Johnson. A final-round 65 gave DJ a solo fourth here last year, but this year, he's spent more time rehabbing injuries from a freak jet ski injury than playing golf. Here's hoping he left the jet ski at home this week.
Bo Van Pelt. The 6-foot-4 Van Pelt, 37, has a pair of T-3s here, is tied for the PGA Tour lead with five top 10s, and ranks seventh in strokes gained-putting. In other words, BVP is poised for a win soon, kind of like how we said ZJ was due last week. How did that turn out again?
*-- Alex Myers is a contributing editor for GolfDigest.com. Feel free to email him
since he has self-esteem issues.*