News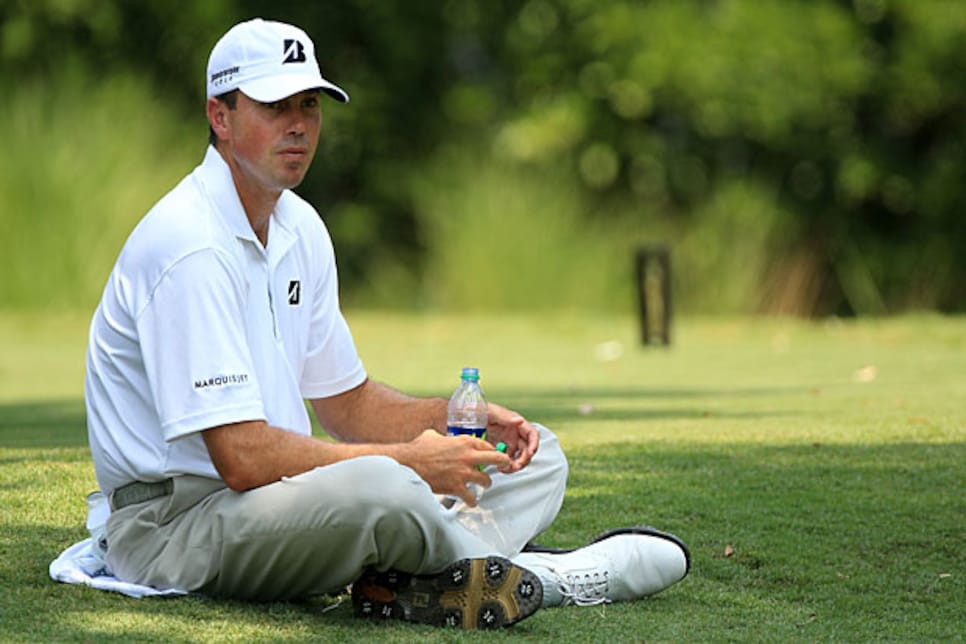 Better hydrate up, Matt. Summer is upon us and we want you playing at your best this week.
Welcome to another edition of Fantasy Fix, where we don't need any official world ranking to tell us where we stand among fantasy columns on GolfDigest.com. Good for Luke Donald for taking over the game's top spot and good for American fans and fantasy owners that he'll tee it up on the PGA Tour this week. What should we expect to see? Let's get to it.
The PGA Tour heads to Dublin, Ohio -- home of the headquarters of Wendy's -- for the Memorial. Tournament host Jack Nicklaus will be on hand to watch many of today's best players and to remind them that he has more major wins than all of them. Combined.
Random tournament fact: The Memorial is played the week after Memorial Day weekend. That makes as much sense as the work cafeteria serving vanilla and French vanilla as it's only two flavors of frozen yogurt. If that's not blatant flavorism against chocolate lovers, I don't know what is.
Justin Rose. A flawless final-round 66 brought him his first PGA Tour title last year. We'll put on Rose-colored glasses and look past a brutal missed cut in 2009 (75-80) to focus on his victory at Muirfield Village and the runner-up and solo fourth place finishes he's also recorded there.
Matt Kuchar. Since returning from golf's oblivion, Kuchar has been very solid at Muirfield. He finished T-13 in 2007 and has been in the top 10 in each of the past three years. I'm a little down on him for not coming through for me in a couple recent events and then nearly winning at the Nelson when I finally didn't pick him to do well. But I'm back on the bandwagon this week.
Jim Furyk. He's only been out of the top 25 at this event once this millennium. He had a disappointing weekend here last year, but still finished T-10. The 2002 champion, he finished runner-up to Tiger Woods in 2009.
K. J. Choi. Before the South Korean won the Players, a victory at this tournament was the top accomplishment on his resume. In fact, he has three top 10s in the last seven years at Muirfield.
Ernie Els. The recent World Golf Hall of Fame inductee has missed the cut here two of the last three years. He's also missed more than his fair share of putts of late. Until he gets straightened out on the greens, he's too risky a play.
"Hey, Alex. I just wanted to extend a personal invitation to my tournament this week. That David Toms pick gave me a commanding lead over Arnie in my fantasy league. Keep the winning predictions coming, Jack Nicklaus."
Glad to help, Jack, and that's very kind of you, but I'm afraid I can't make it. No, the Golden Bear didn't actually write, but that doesn't mean you shouldn't. Please feel free to e-mail me
with comments, questions or just to make fun of my picks. And of course, you can follow me on Twitter
FREE FANTASY BASEBALL ADVICE
Bartolo Colon is legit. At least his numbers are. Hitting 95 on the radar gun on your 103rd, and last, pitch of a game at age 38 isn't normal, but if you are a fantasy owner, do you care how he's doing it? After being out of MLB for the 2010 season, Colon is pitching better than ever before. He has a K/BB rate of more than 4-to-1 and a career-best WHIP of 1.10.
TOO YOUNG TO RENT A CAR PICKS
Rickie Fowler. He looked destined to get his first PGA Tour victory in his rookie season last year, but a bad final round, coupled with a fantastic finish by Rose, kept him out of the winner's circle. This year, he's been mostly mired in a sophomore slump
. Perhaps a return to Jack's place can help him bust out of it.
Jason Day. His results in this tournament (A MC, T-33 and T-27 in three appearances) don't jump out at you, but he's playing well of late. He finished fifth in his title defense at the Nelson to add to his T-2 at Augusta and T-6 at the Players.
WHY DOESN'T THIS GUY WIN MORE PICK
Ryan Moore. After winning everything as an amateur, the former UNLV star has just one PGA Tour title since turning pro six years ago. But Muirfield seems to be right up Moore's alley. The classy dresser has finished in the top 10 at the Memorial three of the past four years, including a runner-up in 2007.
Jonathan Byrd. In one of the more unusual tournament histories you'll ever see, Byrd has a T-3 in 2009 sandwiched by five missed cuts. The Clemson product has been playing great the past 12 months, but you've got to go with the numbers here.
Ricky Barnes. In his first time teeing it up at Jack's event, Barnes almost became the most unlikely winner in the tournament's history. A third-round 62 put him in contention before a final-round 73 left him T-3.
Bo Van Pelt. The veteran has only played here seven times, but two of those trips have resulted in T-3s, including last year's appearance. BVP is coming off another "show" finish at the Colonial.
Hunter Mahan. In his four trips to Muirfield, Mahan has managed just a T-14, a 61 and two missed cuts. Plus, he skipped the Nelson, a tournament in need of big names, despite the fact that he lives right down the road. Speaking of being right down the road, the first-ever Wendy's was opened in nearby Columbus back in 1969. Unfortunately, it closed in 2007, but not before I was lucky enough to visit and pay my respects. It was an even nicer gesture for Jack to name his tournament in its honor.
*-- Alex Myers is a contributing editor for GolfDigest.com. Feel free to e-mail him
) since he has self-esteem issues.*