News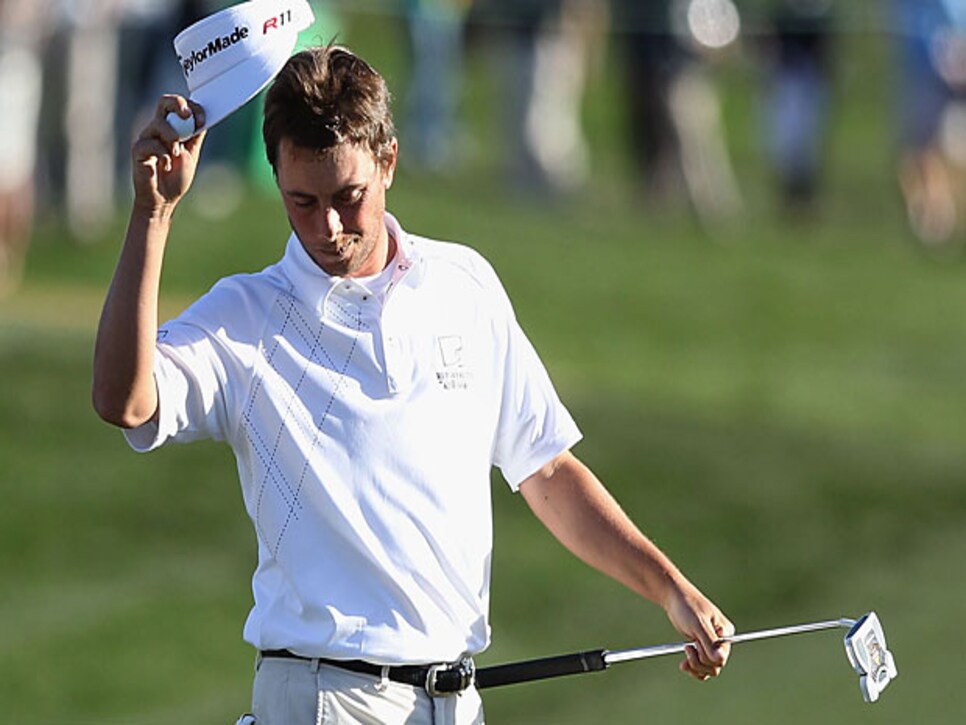 A win here would help erase Levin's memory of his meltdown in Phoenix.
Welcome to another edition of Fantasy Fix, where playing favorites can work in your favor. Unfortunately, the one time I don't pick Bill Haas to do well, he wins. Regardless, I'm happy for my much-richer Wake Forest classmate and now that he's ascended to No. 12 in the Official World Golf Rankings he's justified what some, including my boss, probably considered crazy ramblings by myself the past couple years. Moving on, at least we did guarantee Phil Mickelson wouldn't win for a second consecutive week...
The PGA Tour makes a stop in Mexico for the Mayakoba Golf Classic. At least, part of the PGA Tour. Of course, the year's first World Golf Championship -- the Accenture Match Play -- is taking place in Arizona, but for fantasy purposes, we will focus on the tourney taking place South of The Border.
Random tournament fact: This is the sixth year of this event. If you can name the previous five winners without looking it up, you are doing something wrong with your life.
Johnson Wagner. Last year, Wagner picked up a much-needed PGA Tour win. Now, he's an early player-of-the-year candidate. Unfortunately for him, his hot start, which includes a win at the Sony Open, wasn't enough to get him into the WGC-Accenture Match Play Championship. It's not Hawaii, but the Magnum P.I. look-alike should be regarded as the favorite in this tropical paradise as well.
STUD/KNOCKOUT PICK OF THE WEEK
Spencer Levin. He nearly got his first win last year here before losing in a playoff to Johnson Wagner. Levin healed those wounds, though, with a breakthrough victory at the Waste Management Open this year. Um, check that. But despite spitting up (insert Keegan Bradley joke here) that large Sunday lead, his response has been impressive with a T-9 at Pebble Beach. In all, he's six-for-six making the cut in 2012 and is currently 11th in the Fed Ex Cup standings.
Our guest pick of the week comes from Bo Bohlmann (@bothegrape):
"My pick for this event is based on a hunch and some past history. My guy will most likely have friends and family down there (he's from Texas), he has played there in four of the five years of this event, and he has won it one time and finished tied for fifth another time. He is ready to win with consistent golf. Your winner: Brian Gay."
Congratulations, Bo. You officially know more about this tournament's history -- and perhaps, Brian Gay -- than 90 percent of golf writers. No, but seriously, I love the pick and am a big backer of BG this week as well.
) for a chance to appear in next week's column. Or if you just feel like making fun of my picks or talking about NBA All-Star weekend.
WEEKLY YAHOO! ROSTER PICKS
Starters: Spencer Levin, Danny Lee, Briny Baird and Johnson Wagner.
Bench: Charles Howell III, Robert Allenby, Chad Campbell and Brian Gay.
OLD GUY WHO COULD BE IN THE MIX
Tom Lehman. With the Champions Tour having a week off, six of its members have added this event to their schedules (My grandpa taught me early in life that old guys love the heat). Even though one of the five former winners here, Fred Funk, is in the field, we'll go with Lehman based on his recent history. How good of a year did he have last year? Well, his picture graces the cover of this year's tour media guide no less than three times.
FORMER MAJOR CHAMP TO AVOID
Mike Weir. The winner of the 2004 Masters made just two cuts on the PGA Tour last year. His only start this year came at Pebble Beach and resulted in another missed cut. Injuries have certainly played a big role, but his falling off shows how cruel of a sport golf can be.
Jhonattan Vegas. The affable Venezuelan had a tremendous rookie campaign last year that included a T-19 here despite a first-round 74. He's struggled of late, but perhaps this watered-down field, plus a big cheering section will be just what he needs to get going again.
SLEEPERS WHO WE ARE STILL EXPECTING TO WAKE UP
, we aren't satisfied with his performance thus far in his rookie season on the PGA Tour. Sure, he's made three of four cuts, but we expect so much more. A first-career top 10 or better here certainly wouldn't be a shock.
Danny Lee. Another one of our big sleeper candidates, Lee looked poised to break through with an opening 63 at Pebble Beach. However, the 2008 U.S. Amateur champion only finished T-25. A similar finish here should be viewed as a disappointment as well.
FREE FANTASY BASKETBALL ADVICE
The trade rumors swirling around Pau Gasol make me even more bullish on the Lakers big man. If he is moved, his numbers will only get better. You know, because he won't have Kobe Bryant not passing him the ball anymore.
THESE GUYS ARE IN THE FIELD(?) PICKS
Charles Howell. Surprisingly, CH3 has played the Mayakoba three years in a row, including top-20 finishes the past two years. He again narrowly missed out on qualifying for the Match Play, but maybe it's a blessing in disguise for a guy looking for his first PGA Tour win in five years. We've been riding him all season thus far. No reason to stop here.
Rory Sabbatini. Sabbo made the most of his first trip to Mexico last year with four rounds in the 60s and a T-5. His big hats are definitely an advantage against such strong rays of sun.
John Huh. The 21-year old is the early favorite for PGA Tour Rookie of the Year after a successful West Coast Swing. Huh has been a bit shaky in final rounds, but he still has two top-15 finishes in four starts, including a T-6 at the Famers Insurance Open. And yes, he currently has the best last name in golf.
Joe Durant. The straight hitter has played in this event four-straight years, including a T-2 in 2010 and a T-12 in 2008.
Cameron Beckman. Finally, we conclude with the King of Mayakoba. Beckman has played in this tournament all five years and has done very well with a win in 2010 and two other top-12 finishes. What can we say? Playing just down the road from Cancun, the man obviously knows how to handle his tequila...
*-- Alex Myers is a contributing editor for GolfDigest.com. Feel free to email him
since he has self-esteem issues.*