News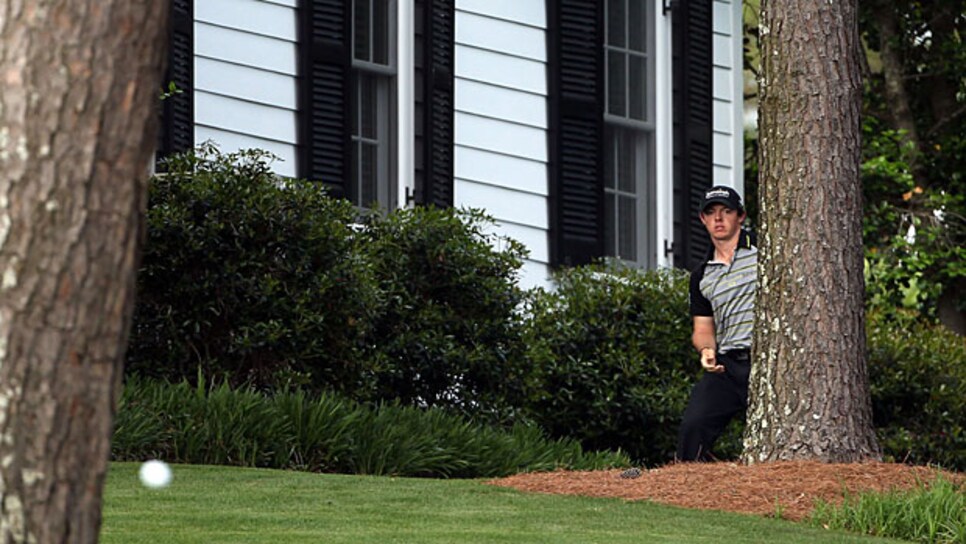 Rory McIlroy learned a lot at last year's Masters. Like, don't hit it here, for one thing...
Welcome to another edition of Fantasy Fix, where we learned a long time ago that no good can come from actually putting out one-footers. I.K. Kim's stunning miss got the 2012 major championship season off to an interesting start, but we are hoping to see a more heroic ending on the guys' side. There's also a chance for you to be a hero by entering our new fantasy challenge (see the neat little box to the right for details). So before the the bloom of Augusta's azaleas wear off
even more, let's get to our predictions.
has been turned up a notch. Like the men's NCAA Championship game, the hope is to get some brand names competing late on Sunday. Augusta National is obviously a fantastic course, but what makes it even better is that these guys get to see it every year. As a result, there's even more of a chance we'll see the best players separate themselves from the rest of the pack.
Random tournament fact: Nick Faldo has three career top-10 finishes at the Masters. He also happens to own three green jackets. Talk about taking advantage of the times he was in contention. The guy is like the Florida Marlins of golf.
Charl Schwartzel. If a slight South African wearing a green jacket falls in Augusta's dogwoods, does he make a sound? Seriously, the defending champion (he birdied the final four holes to win last year, people!) isn't getting much attention with everyone fawning over golf's "Big Three," or Four, or Five, or however you happen to see it. But Schwartzel has just as good of a chance as... Sorry, I can't make it through that sentence. Schwartzel is a great player and he'll have other major moments, but his chances of winning back-to-back years at Augusta are about as slim as, well, he is.
Tiger Woods. Duh. Yes, this is the obvious pick, but that doesn't mean it's not the right one (See: Kentucky, NCAA men's basketball). Like Ron Burgundy for an Anchorman sequel, Tiger is back! OK, so that's the 1,368th time my poor boss has had to hear me say that, but this time, it seems for real. Despite all his "putting struggles," Woods is first on the PGA Tour in scoring average by nearly a full shot and he leads by even more in all-around ranking, thanks in large part to being first in total driving for the first time since his mythical 2000 season.
But above all that, this is Augusta. A place where Jack Nicklaus once predicted Woods would win more times than he and Arnold Palmer combined. He has won four green jackets so far and has only finished out of the top 10 three times as a pro. Something tells me he could go through a huge sex scandal, not play competitive golf for half a year and still finish in the top five at Augusta. Oh, wait...
KNOCKOUT PICK OF THE WEEK
See above. As Ron Burgundy would say, "It's science."
. I've got Woods winning with a final score of 12-under par. Of course, since I'm an employee, I'm not eligible to win any of the prizes. This on the heels of me not winning the $640 million Mega Millions jackpot. Is there no justice in this world?!
THE USUAL SUSPECTS (OTHER THAN TIGER)
Luke Donald. Like Schwartzel, Donald has managed to stay under the radar despite the fact he's currently the top-ranked player in the world. He also finished T-4 here last year and T-3 in 2005. I was a bit worried the magic from his 2011 season had worn off, but his recent win at the Transitions proved he's a threat on a weekly basis.
Rory McIlroy. The biggest threat to Woods getting back on track to catch Jack Nicklaus' mark of 18 majors, the 22-year-old Northern Irishman has been on an absolute tear. He has finished in the top five in 11 of the past 12 events he's played worldwide and his start to the 2012 PGA Tour season has been just as good, with a win at the Honda, a runner-up and a solo third at the two World Golf Championships. How good is this guy? We aren't even factoring in what happened here last year
Phil Mickelson. Lefty opened the Shell Houston Open with a 65 and finished T-4, but did you know that's his only time breaking 70 in his last 15 rounds? But all that gets thrown out the window this week. Mickelson is a perennial contender at Augusta National and there's no tournament more suited to him adding to his career total of four majors. Plus, he's currently No. 2 on tour in strokes gained-putting meaning he's played better on the greens this year than people think.
"Hey Alex, love the column! Would you do me a favor, though, and not pick my student, Tiger Woods, to win? I'm worried you might jinx him with your cold streak. Thanks, Sean Foley."
Too late, Sean. And why don't you try picking the winner of a golf tournament? It's a little harder than coaching the greatest golfer of all time... OK, so Foley didn't write me and I'd never poke fun of him after the last couple months he's had with Woods, Hunter Mahan and Justin Rose. But that doesn't mean you shouldn't contact me. Be bold and email me at Alex.Myers@GolfDigest.com
) for a chance to appear in next week's column. Or if you just feel like making fun of my picks or discussing the one-year rule in college basketball.
WEEKLY YAHOO! ROSTER SELECTIONS
Starters: Luke Donald, Tiger Woods, Rory McIlroy and Charl Schwartzel (Chalk!)
Bench: Phil Mickelson, Bill Haas, Brandt Snedeker and Aaron Baddeley
FREE FANTASY BASEBALL ADVICE
As I learned in my auction draft, the big bats go fast. Therefore, you are probably best served investing a lot on those guys early and trying to find more value plays in pitchers late. I got guys like Edwin Jackson, Bartolo Colon and Phil Hughes for $1. Not exactly "Spahn and Sain and pray for rain," but it's not the Colorado Rockies' staff either. Forty-nine-year old Jamie Moyer as a No. 2 starter? What is this, 1988?
Jason Day. The Aussie was a runner-up at two majors last year, including here. He's also our Mr. Style's pick to pull of the white-belt look better than anyone in the field this week.
Bill Haas. Last year, Haas handled himself well in his first go-round at Augusta for three days. This year, he returns with a lot more confidence that he can close, as the reigning FedEx Cup champ and as a recent winner over both Phil Mickelson and Keegan Bradley at Riviera. After settling on a belly putter toward the end of 2011, Haas' play on the greens -- perhaps the biggest key to succeeding at Augusta -- is also much improved.
Keegan Bradley. First-timers don't tend to do well at Augusta, but Bradley is not your typical first-timer. He won the PGA Championship in his first time competing at any major and he has yet to finish outside of the top 25 in any of the nine events he's played so far in 2012, including a T-4 in Houston over the weekend.
Hunter Mahan. Speaking of chalk, Mahan has moved all the way up to No. 4 in the World Golf Ranking. While we think that's a little high, there's no reason to doubt he, along with that hot Ping Nome putter he put in the bag at the Match Play, can contend at Augusta, where he finished in the top 10 in both 2010 and 2009.
Brandt Snedeker. Sneds contended in 2008 before a disastrous final-round 77 left him in tears. He's a better player now, though, especially under pressure. Since last year's Masters, he beat Luke Donald in a playoff at Harbour Town and earlier this year he ousted Kyle Stanley in sudden-death at Torrey Pines.
Aaron Baddeley. Currently fifth on the PGA Tour in strokes gained-putting, he's never finished higher than T-13 at a major. We think there's a good chance he picks up that elusive top 10 this week.
Bo Van Pelt. BVP has quietly been one of the tour's most consistent players in the past year. In 2012, he leads in strokes gained-putting and is tied with Johnson Wagner for the most top 10s. He also finished T-8 at last year's Masters after having not made the trip to Augusta for six years. Don't be surprised to see him put forth a similar showing this week as well. But...
WHAT WE REALLY WANT TO SEE
Is it too much to ask for all of the game's biggest stars to contend? Probably. But the fact of the matter is that when it comes to professional golf, with Tiger not being Tiger these past couple years, we've been drinking diet soda. It's been tolerable and it's kept us in decent shape, but it's not as good as the real thing with all that yummy high-fructose corn syrup. With Woods back to playing well, however, we could be watching a more complete product than ever. As a result, like the sequel to a classic comedy such as Anchorman, this year's Masters has a lot of hype and a lot of pressure to deliver. It probably won't meet all of our expectations, but that doesn't mean it has to be Caddyshack II either...
*-- Alex Myers is a contributing editor for GolfDigest.com. Feel free to email him
since he has self-esteem issues.*