News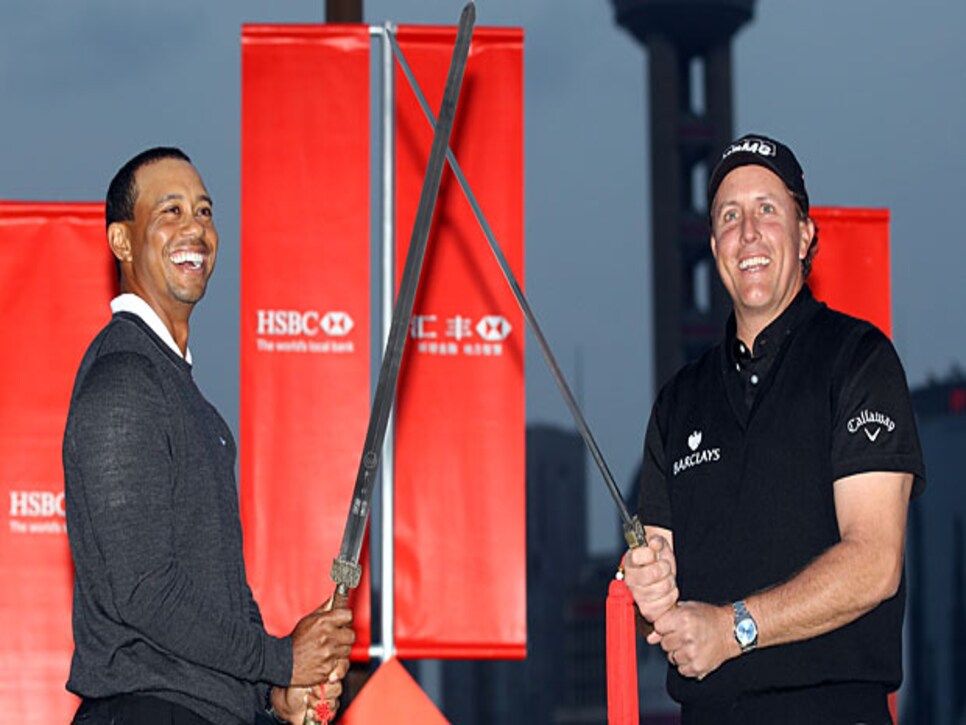 Will we finally see an actual duel between Tiger and Phil at a major? We hope so.
Welcome to a Masters edition of Fantasy Fix, where we plan on wearing our own green jacket if we predict the winner -- or even come close. The first major championship of the year is finally here and we can't wait for it to get underway. Let's get right to our thoughts.
Ahh, the Masters. The only sporting event that features blades of grass so perfect that you feel bad stepping on them. One of the most exciting tournaments on the golf calendar despite the bevy of tiresome pimento cheese jokes (I'll take the spicy chicken sandwich any day), this year's edition seems even more wide open than usual. Considered a bomber's course with all the tweaks over the years, a forecast of plenty of heat and not much rain should have the course playing firm and fast, giving shorter hitters like Jim Furyk and Zach Johnson a good chance of competing. In fact, out of a larger-than-usual field of 99, probably 98 have a chance of winning. Sorry, Larry Mize.
Random tournament fact: Horton Smith won the inaugural Masters in 1934. He's also the only non-Dr. Seuss character to have the first name Horton.
. Having finished outside the top 10 only once in the past 12 Masters, it seems like Mickelson could break par at Augusta in the dark. Sure, it's an obvious choice, but that doesn't make it a dumb one. Which leads me to this next guy you just may have heard of before...
ELDRICK TONT "TIGER" WOODS
Is it finally time for Tiger Woods to step into a phone booth and morph back into one of the most dominant athletes of all time? This could be the place, especially since Augusta is one of the few places that still has pay phones. Tiger's struggles in the past year
have been well documented, but he's only been out of the top 10 in this event three times since turning pro. If he could finish T-4 last year despite just returning from a self-imposed five-month layoff, there's no reason to think he won't be in contention again come Sunday. So will we finally be treated to the back-nine duel between Tiger and Phil that we've always dreamed of? In the words of Verne Lundquist, "Yes sir!" Why? Because the sports gods owe us after putting us through that dreadful NCAA championship game between UConn and Butler.
STUDS OF THE WEEK (NOT NAMED PHIL OR TIGER)
Hunter Mahan. With top-10 finishes in this event the last two years, Mahan looks poised for a major breakthrough. Yes, chipping under pressure has been a problem, but of all the major championship venues, this is the one where his superb ball-striking can mask that flaw the most.
Nick Watney. It's tough to forget about that disastrous final-round 81 at Whistling Straits when he was in the final group of the PGA Championship last year, but the guy is a player. Watney won at Doral earlier in the year, and he has been in the top six in four of six events in 2011. His high ball flight comes in handy at Augusta, where he's improved every year, including a solo seventh last year. Oh, and he has a connection with Masters co-founder Bobby Jones, having picked up the golfing legend to play a round of golf. So what if it was a Lexus commercial?
"Hey, Alex. Thanks for comparing me to your crumpled up NCAA bracket in the trash can last week. I kept thinking of you as I made birdie after birdie during my second-round 64 in Houston. I was struggling a little, but now I'm as ready as ever for Augusta. Sincerely, Anthony Kim.
My pleasure, AK. I was down on you, but it was for your own good. Now I might break my leg jumping on your bandwagon, so save me some room on there. No, Tony Kim didn't really write me, but he probably would have if he'd seen last week's column. Seriously, though, please feel free to e-mail me
with comments, questions or just to make fun of my picks. And of course, you can follow me on Twitter
Let's be honest, picking a winner is tough. But spotting great value bets is much easier. Obviously these numbers differ depending on what site you look at, but here are some of the ones I saw that jumped out at me: McDowell (41-1), Kim (45-1), Furyk (55-1), Jason Day (90-1) and Zach Johnson (100-1). Is it possible people forgot that ZJ won this event just four years ago? Actually, don't answer that.
We've heard so much about the rise of European golf in the past year and rightly so, but the continent is still looking for its first green jacket since Jose Maria Olazabal won in 1999. Will that streak end this year? Here are the three players with the best chances:
Paul Casey. We've been hearing about how this guy is the best thing since sliced bread from his teacher Peter Kostis for years. Will he finally live up to hype and capture his first major? The key will be avoiding the big number. Amazingly, he has six rounds of 77 or higher in his six appearances at Augusta.
Graeme McDowell. He proved his mettle last year at the U.S. Open and Ryder Cup and he has the putting touch to tame Augusta's ultra-slick greens. Can he avoid the wrath of the sacred course's golf gods, though, after posting behind-the-scenes videos to his Twitter account with buddy Ian Poulter last week?
Justin Rose. No one has won more on the PGA Tour since last summer and he's never missed the cut at Augusta in five tries, including a T-5 in 2007. His flowery last name also sets up perfectly for CBS announcer Jim Nantz to make some predictable wordplay.
TRENDY PICK (OTHER THAN PHIL) THAT COULD WORK
Anthony Kim. As mentioned before, AK is motivated and ready to beat an impressive list of good young players to the punch when it comes to winning a major. This appears the venue most suited to his gun-slinging game. His back-nine charge last year ended with a solo third and his T-20 in 2009 included a second-round performance that may go down as one of the most disappointing 65s in major championship history. Why? Because he made a course-record 11 birdies.
FREE FANTASY BASEBALL ADVICE
I looked like a boob when I ran out of money faster than M.C. Hammer in a jewelry store at my first auction draft. But near the end, I was still able to get two guys, who looked like potential Cy Young winners in their first starts, for the minimum price: Travis Wood and Kyle Drabek. Go gobble these guys up in your league if it isn't too late.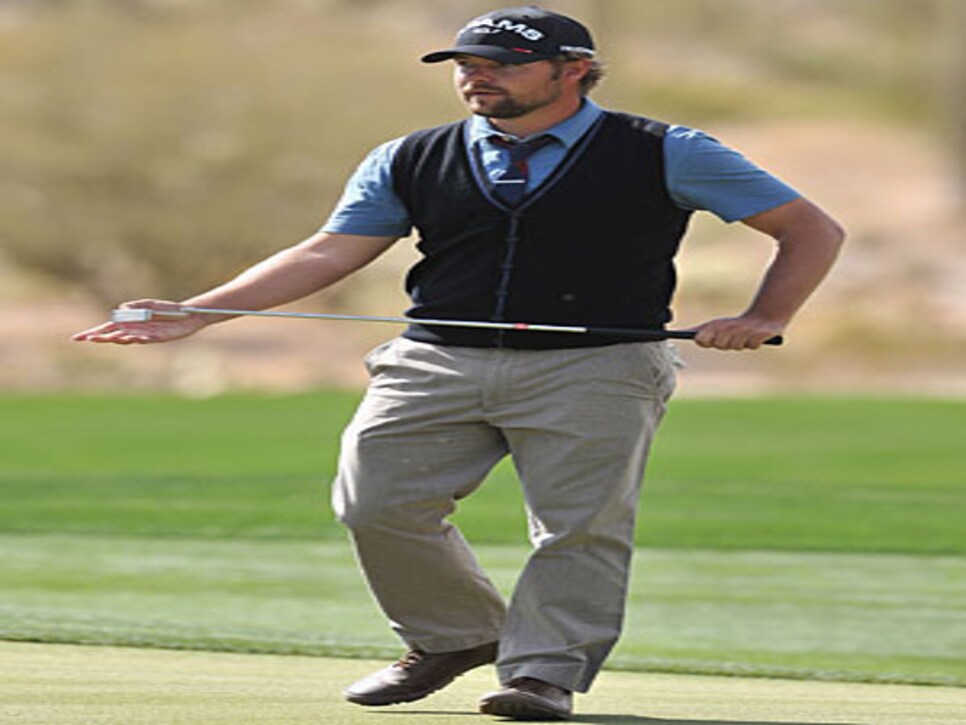 Martin Kaymer. It's one thing to say you've been working on a draw to play Augusta National. It's another to be able to pull the shot off once play actually begins on Thursday. The German may be the top-ranked player in the world, but he's clearly not comfortable at this event having missed the cut in all three tries.
Bubba Watson. In eight rounds at Augusta National, the lefty has broken par just once. That may not be a huge sample size, but couple it with the fact he shot a final-round 78 in Houston while battling a blood blister on his left ring finger and it's probably better to stick to using him when you're playing Tiger Woods PGA Tour 2012 on the Wii.
SEMI-SLEEPERS OF THE WEEK
K.J. Choi and Ryan Moore. I know, I know, it's not like you need a media guide to identify these guys, but it's tough to find true sleepers in a limited field like this. Choi's T-4 last year was especially impressive considering he had to play with Tiger all four rounds in a circus-like atmosphere. As for Moore, he was T-13 as an amateur in 2005 and in his first appearance as a pro last year, he finished T-14. Plus, despite the fact he hails from Tacoma, Washington, the 2004 U.S. Amateur champ has the whole Augusta southern gentleman look going for him, especially when he rocks the necktie.
*-- Alex Myers is a contributing editor for GolfDigest.com. Feel free to e-mail him
) since he has self-esteem issues.*