News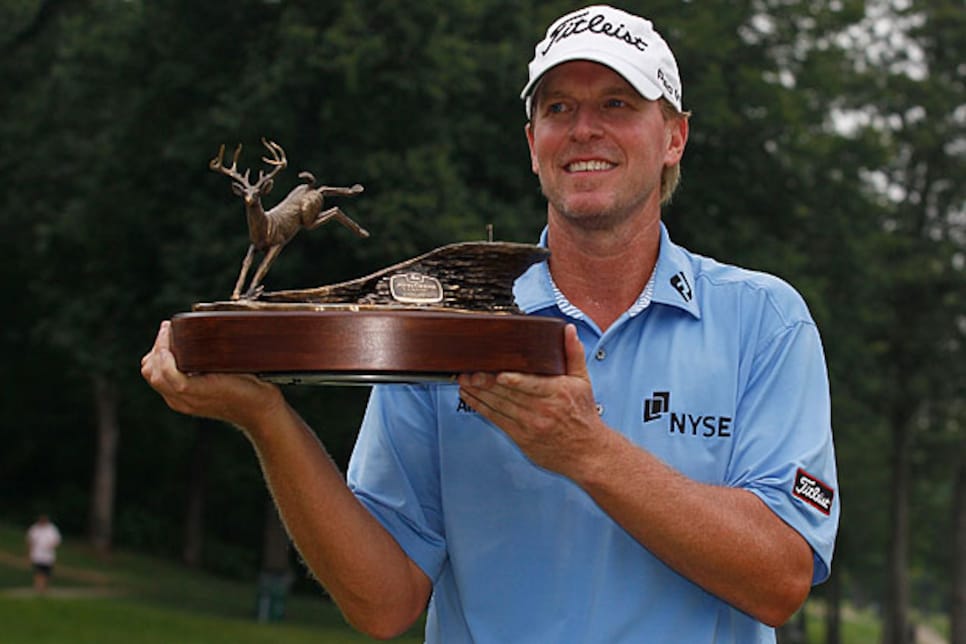 Steve Stricker is so used to winning here he doesn't even cry anymore. Well, not too much, at least.
Welcome to another edition of Fantasy Fix, where we're still trying to put the pieces together from last week. Two guys (Ted Potter Jr. and Troy Kelly) as famous as West Virginia's skyscrapers battling it out there in a playoff? Two guys (Tiger Woods and Phil Mickelson) with a combined 18 major titles missing the cut in the same event as pros for the first time ever? The reigning U.S. Open champ, Webb Simpson, collapsing less than a month after holding up under major-championship pressure? I guess weird things really do happen when July 4th falls on a Wednesday. Either that, or we'll just chalk it up to golf being, well, golf. In any matter, we're back for more educated guesses this week. Let's get to it.
The PGA Tour heads to Illinois for the John Deere Classic, AKA the Steve Stricker Invitational. Apparently, "nothing runs like a Deere" except Steve Stricker at the John Deere.
Random tournament fact: Current Golf Channel analyst Brandel Chamblee finished runner-up here in 1997. He might have won, but he was too busy critiquing Tiger Woods' swing.
Steve Stricker. I don't get it. Do these other guys think they aren't allowed to beat the University of Illinois product in this tournament? Golfers -- at least those not named Tiger Woods -- don't three-peat at PGA Tour events, especially in recent history. But that's what the Strick Show did last year, when he made an incredible birdie on the final hole after hitting a gutsy shot over water from a tough lie in a fairway bunker. I guess he just wanted to make things more interesting.
Steve Stricker. Um, see above. . . . He's 68-under par the past three years. 68 under!!! Do we need to say anymore? Time to wrap this column up. See you next week! Fine, fine, we aim to please so here are some more thoughts:
OTHER STUDS (NOT NAMED STEVE STRICKER)
Zach Johnson. ZJ has finished in the top three at TPC Deere Run in two of the past three years. Like Stricker he's a fellow Midwesterner, meaning he won't be treated too poorly by the fans, even if he tries to crash the party.
Charles Howell III. CH3 has been in the top 25 in five of his six times playing this event. Unfortunately, Howell has no ties to the Midwest and his middle name is Gordon. That's bad news because those diehard Stricker fans have been known to get pretty nasty. . .
Charley Hoffman. The man with the shaggy hair has a T-15 and T-7 the past two years here. Sure, he's coming off kicking away a win at the Travelers, but Hoffman is a California dude. He should be ready to hop back on his board and ride the next wave.
WEEKLY YAHOO! ROSTER SELECTIONS
Starters: Steve Stricker, Ken Duke, Brian Davis, and John Senden
Bench: Zach Johnson, Charley Hoffman, Blake Adams and Carl Pettersson
) for a chance to appear in next week's column. Or if you just feel like making fun of my picks or discussing your favorite Steve Stricker moment in John Deere history.
Blake Adams. Adams seems to have found a groove with eight-straight made cuts, including four top 25s. His problem is that he just hasn't strung together four great rounds. Perhaps this is the week.
Bud Cauley. We certainly thought this Alabama product would break through on the PGA Tour before Ted Potter Jr., but he's been pretty quiet for a guy who earned his card merely through playing on sponsor's exemptions last year. He has too much talent for that not to change soon.
IS IT (FINALLY) THEIR TIME?
Brian Davis and Ken Duke. These guys have combined for eight runner-ups on the PGA Tour without a win. And let's be honest. This is as good a week as any for either to find the winner's circle. Davis has been Mr. T-4 this year with three such results, and Duke is tied for the tour lead with six top-10 finishes.
John Senden. A winner in 2006, Senden is coming off a T-10 at the U.S. Open. He also has an obsession with tractors. Oh, wait. Never mind, that's Louis Oosthuizen. Moving on. . .
FREE FANTASY BASEBALL ADVICE
Don't panic on Tim Lincecum just yet. Sure, the two-time Cy Young Award winner is in the midst of a horrific season, but his strikeouts are still there and he is getting very unlucky with batting average on balls in play, home run to fly ball rate and left on base percentage. The two stats that are alarming are a big jump in walks and a loss of nearly two MPH off his fastball. Still, I'd much rather buy low than sell low on him at this point.
MORE AMERICANS WE LIKE THIS WEEK
Sean O'Hair. A birthday boy on Wednesday (30 -- welcome to the club, bud), he picked up his first PGA Tour win here in 2005. He hasn't been piling up the trophies of late, but he is coming off a T-7 in West Virginia.
Kyle Stanley. This guy actually had the nerve to challenge Stricker last year before coming up a shot short. And we've seen his toughness since, winning one week after that 72nd-hole meltdown at Torrey Pines.
SURPRISING DUD OF THE WEEK
Nick Watney. The year 2012 has been a big disappointment for the 31-year-old. And we don't have much confidence in him turning things around at a place where he's managed three missed cuts and a T-66 in four tries. Speaking of disappointing, apparently I have the equivalent of a plus-5 handicap at Cornhole (the tailgating game with the beanbags and the boards). As a result, no one would play with me this past week on vacation, putting a real damper on my summer budget.
Steve Strickler. No, that's not a typo. There is a Steve Strickler in the field and we're not expecting him to do as well as Steve Stricker. Sorry to state the obvious -- just checking to make sure you were still paying attention. . .
*-- Alex Myers is a contributing editor for GolfDigest.com. Feel free to email him
since he has self-esteem issues.*