News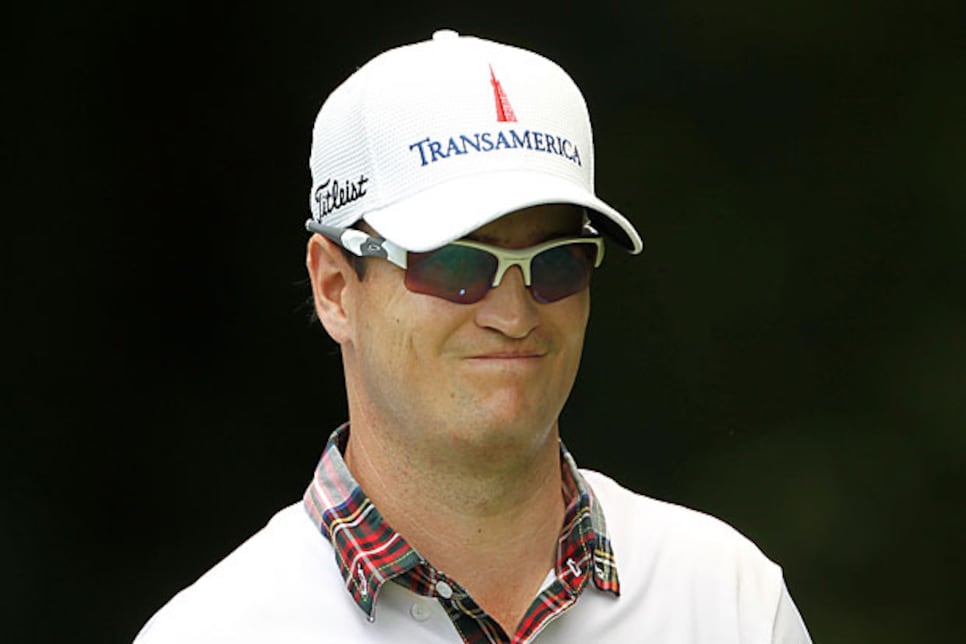 We're going with Zach Johnson. Despite the fact that he wears a shirt with this collar.
Welcome to another edition of Fantasy Fix, where we think it's fitting that an American was victorious on July 4th weekend. Even more exciting is that we called a big week for Nick Watney
, at least for this week. Hopefully, we can keep our success rate up as well with this week's tournament. Let's get to it.
The PGA Tour heads to the Midwest for the John Deere Classic. We'd call it a tune-up for the British Open, but TPC Deere Run wasn't exactly modeled after Royal St. George's and most of the field this week would need a ticket to get into the third major championship of the year.
Random tournament fact: David Gossett Jr. won this event in 2001. I swear I didn't just make that up.
Steve Stricker. The Strick Show is the two-time defending champion, a hometown fan favorite here, and a recent winner at the Memorial. Oh yeah, he also shattered the tournament record with a blistering 26-under-par total of 258 last year, so you've got to like his chances. Of course, nothing is guaranteed. For the first time in what seems like forever, I didn't play a round of golf over a long holiday weekend. What were the odds of that?
Zach Johnson. Another Midwesterner, ZJ finished T-2 here in 2009. He showed signs of breaking out at the Travelers before finishing T-24 and we still think he's due for a win. (Side note: Since I was out of the loop for a few days, how was Tiger as a host at Aronimink? I heard he burned a few burgers, but with a little practice, he'll get there.)
FORMER CHAMP TO KEEP AN EYE ON
Jonathan Byrd. The Byrd Man won this event in 2007 and has never missed a cut at TPC Deere Run in seven appearances. He hasn't won since the season opener, but is still in the midst of a great year, currently sitting at No. 14 on the money list.
DON'T FORGET ABOUT THE GUY WHO SHOT 59... AND LOST
Paul Goydos. The poor guy had the round of his life in the first round last year only to have a one-shot lead by the end of the day after Stricker nearly matched him. The Strick Show overtook him over the weekend, but Goydos did take home the runner-up's check for nearly half a million. I guess poor wasn't the best adjective to describe him.
"Hey, Alex. Big fan. Just wanted to say thanks for being on my bandwagon all year, even after what happened at Whistling Straits last year. Other than my swing coach, Butch Harmon, you have been my next biggest source of confidence. Sincerely, Nick Watney."
No problem, Nick. And I promise to find you a better nickname than "Dubs." OK, so Watney didn't really write, but that doesn't mean you can't. Please feel free to e-mail me
with comments, questions or just to make fun of my picks. And of course, you can follow me on Twitter
DUD OF THE WEEK (NOT IN THE FIELD)
Bubba Watson. Two people have won twice on the PGA Tour this year (Check that, three. Almost forgot about Mark Wilson), but only one has blamed a poor performance on the fans. The long-hitting lefty did just that in France over the weekend. I understand him being frustrated with missing the cut in an event featuring a watered-down field, but when you're already getting paid a lot of money just to show up, you can be a little more polite.
DUD OF THE WEEK (IN THE FIELD)
Mark Wilson. See? We didn't forget about "Little Cheese." While we are big fans of the diminutive Wisconsinite, Wilson has done virtually nothing at this event in his career. He's missed the cut as many times as he's made it in his eight attempts and his best performance was a T-39 last year.
SHORT HITTER WHO COULD MAKE SOME NOISE
David Toms. DT won this event in 1997 when it was still known as the Quad City Classic, but he has only made the trip back five times since. We wonder if that has anything to do with his allegiance to tractors made by Caterpillar.
OUR LATEST PLUG FOR A CERTAIN WINLESS PLAYER
Steve Marino. The UVA product was in the mix for his first win again at the AT&T National after a 63 on Saturday, but a Sunday 74 dropped him to T-20. Still, he received word he qualified for the British Open so he should have nothing but making more birdies on his mind at TPC Deere Run this week.
Jason Day. A runner-up in each of the season's first two majors, I must admit I was a little surprise to see this guy's name in the field. And when you can excel like that on the sport's biggest stages, it's just a matter of time before the 23-year-old starts racking up wins in smaller events like this.
Charles Howell III. "Sticks" comes in on a roll, having finished T-3 in each of his last two events, the Travelers and the AT&T. On top of that, he has four top 25s in five appearances at this tournament, including a solo third in 2000. Had he won, John Deere upper management probably would have agreed to his request and let him go for a supervised tractor ride in celebration. If he wins this year, rumor has it that they might even let him take one for a spin on his own.
*-- Alex Myers is a contributing editor for GolfDigest.com. Feel free to e-mail him
) since he has self-esteem issues.*