News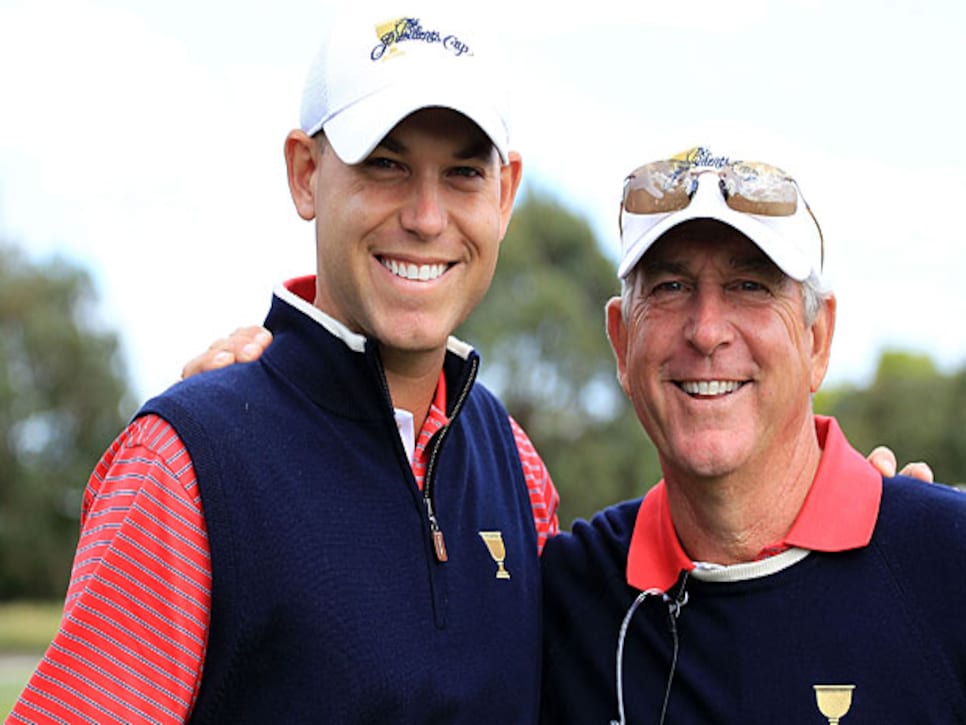 Like father, like son: Both Bill and Jay Haas have won this annual event in the desert.
Welcome to another edition of Fantasy Fix, where we promise to be the only article you read this week not to mention Tim Tebow. OK, starting... now! What a great weekend it was with the NFL Playoffs and a bushy-mustachioed Johnson Wagner in Hawaii. I don't know what's more surprising, the fact that J-Wags now has three PGA Tour wins or that he didn't know what the Magnum P.I. looked like before Googling the famed Tom Selleck character. Will this week's winner have facial hair? Let's examine.
The PGA Tour leaves Hawaii and begins its West Coast swing. The annual stop at Palm Springs is next for the newly-labeled Humana Challenge, which will work with the Bill Clinton Foundation
. Funny, when a former President of the United States gets involved, more big-name players show up.
Jhonattan Vegas. It was a coming out party for the Venezuelan rookie in the desert last year. Vegas three-putted No. 18 in regulation, but then defeated Gary Woodland and Bill Haas in a playoff, despite plunking his tee shot into the water on the second extra hole. Vegas didn't exactly light it up in Hawaii, but in the birdie binge format of the former Hope, don't be surprised to see his name on the leader board again.
STUD/KNOCKOUT PICK OF THE WEEK
Bill Haas. Like you didn't see this coming... The reigning FedEx Cup champion got his first career win here in 2010 and then nearly went back-to-back before losing in a playoff to Vegas last year. While the odds of seriously contending at the same tournament three years in a row are low (Then again, what are the odds of a father and son winning the same PGA Tour event?), it's hard to fathom him not finishing high considering he's 57-under par in La Quinta the past two years.
Starters: Kevin Na, Bill Haas, Anthony Kim and Pat Perez
Bench: Charles Howell III, Ryan Palmer, Chris Kirk and Greg Chalmers
This week's guest pick comes from Shosh Agus-Kleinman (@ShoshEAK) via Twitter. Here are his compact, but complex reasons for taking Kyle Stanley: "Can go low, knocked rust off, long hitters do well (Vegas/Woodland), good caddie, good finish to last yr."
I like the pick for all the reasons listed. Of course, I also like it since Stanley made my list of top 10 sleepers for 2012. Please see the brightly-colored link above. Also, care to make a guest pick? Be bold and email me at Alex.Myers@GolfDigest.com or tweet at me (@AlexMyers3
) for a chance to appear in next week's column. Or if you just feel like making fun of my picks.
Anthony Kim. How well does AK know these tracks? Well, he's a 2003 graduate of La Quinta High School. He hasn't played here since 2008, but he finished T-3 that year. Fellow GolfDigest.com team member John Strege helped with this one. So if it backfires, send your complaints his way on Twitter at @JohnStrege...
Charles Howell III. I liked CH3 a lot last week (as did our guest picker, @TheRealNova7) and he came through with a T-2. He's playing for a third-straight week at an event where he finished T-13 last year. And speaking of hot hands, how about Sergio Garcia winning $35,000 for finishing 51st place at the PokerStars Carribbean Adventure. Serg, you didn't tell me you play! Let's get a home game going, preferably at one of your homes. Just a guess, but they're probably a little nicer than mine.
Johnson Wagner. J-Wags is coming off a huge week in Honolulu. However, his lack of consistency make him hard to endorse, especially at an event where he's missed the cut the past two years. And again, he didn't get why people were calling him "Magnum P.I." all week? Seriously, dude? You've got a couple years on me and I saw that right away. In fact, my buddy Steve was him for Halloween once. Everyone got a kick out of it. Well, except his girlfriend...
Matt Kuchar. Like Haas, Kuchar has contended here each of the last two years (T-7 and T-2). In fact, he has shot 66 or better in seven of his last 13 rounds at this event. This may be his first tournament of 2012, but we expect him to get off to a strong start.
Kevin Na. The first-time winner in 2011 isn't off to the best start in 2012, but he's still been top 10 here the past two years, including a T-5 in 2011.
HOLD OFF ON THESE BOMBERS
Gary Woodland. Woodland lost in a playoff here last year, but there's a lot of upheaval in the rising star's game right now after switching instructors and agents. Woodland will be fine -- he has too much talent not to be -- but we're at little apprehensive about playing him at this point.
Dustin Johnson. There are even more questions surrounding DJ right now. I mean, when was the last time he and Natalie Gulbis texted each other? Seriously, this will be Johnson's first tournament since having surgery on his right knee in November.
Chris Kirk. For a third-straight week, we are highlighting the second-year player from UGA (Can you say "developing man crush"?). He finished T-7 at the season opener at Kapalua despite starting the year with a 75 in his first round. Kirk only finished T-38 last week, but didn't play poorly with rounds of 69-70-68-69.
Greg Chalmers. The Australian who finished 2011 so strong on his home turf finished T-11 here last year. Plus, it's yet another chance to plug my Top 10 PGA Tour Sleepers list.
It's funny that both conference championship games feature matchups of teams with a legendary quarterback (Full disclosure: I'm a Giants fan) and a, at least at times, mediocre defense, against teams with a legendary defense and a mediocre quarterback. I predict the legends under center will win, setting up a rematch of Super Bowl XLII.
Phil Mickelson. Won here twice (2002 and 2004), but hasn't played this tournament since a T-45 in 2007, when he also began his season here. And in case you didn't notice, he didn't exactly finish 2011 in strong fashion. In other words, we're not a big fan, especially if you're taking him as the tournament favorite at 15-1 odds. At least, the tournament shrinking from five to four days should help. (UPDATE: It appears Mickelson won't practice before showing up at the event on Thursday. Yeah, we're liking his odds of winning even less...)
Pat Perez. Struggled on the weekend at the Sony Open, but he has too interesting of a history here not to mention. He once opened this tournament with a 60. And finished in 73rd place. He also picked up his only PGA Tour win here in 2009, when he started with a 61. Bottom line, don't be surprised to see him go low on Thursday. After that, it's anyone's guess, though he is rocking a pretty mean goatee these days...
*-- Alex Myers is a contributing editor for GolfDigest.com. Feel free to email him
since he has self-esteem issues.*