News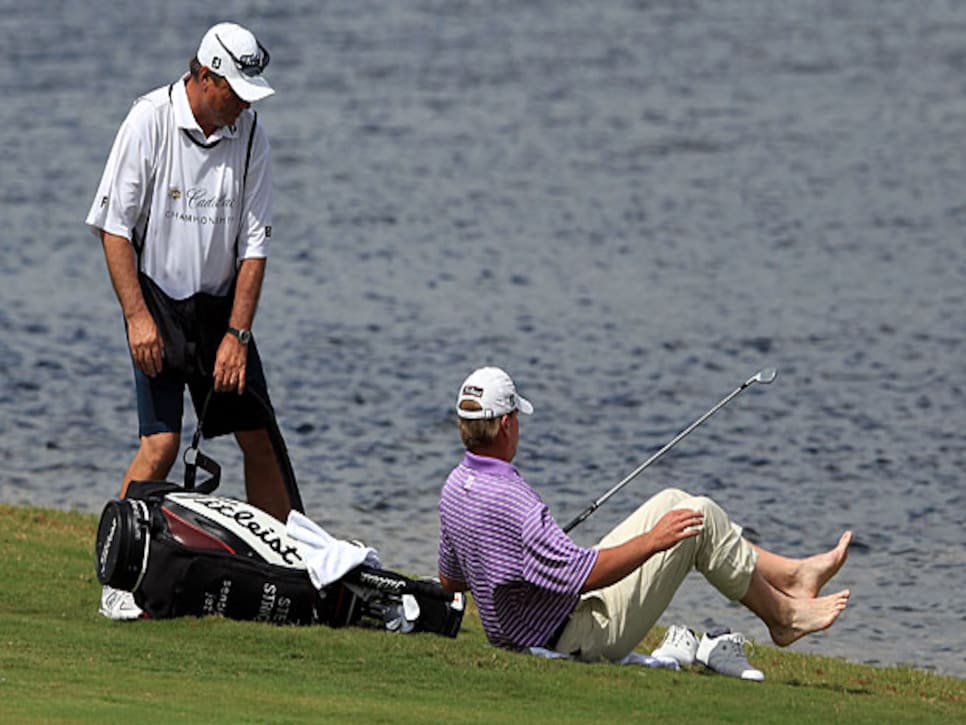 Steve Stricker has been playing such little golf, he barely has a tan line on his feet.
Welcome to another edition of Fantasy Fix, where everyone wins with a Tiger Woods win. Well, everyone except those other guys on the PGA Tour who are also trying to win. But enough about Tiger. Something tells me we might just touch on him a little next week when discussing that little tournament in Augusta. But like we always say, we treat every tournament like it's a major. Let's get to it.
With the Florida Swing behind us, the PGA Tour makes its first stop of the year in Texas for the Shell Houston Open. While it's a fine tournament in its own right, the title sponsor makes most golf fans yearn for a return of those made-for-TV matches on Shell's Wonderful World Of Golf. Well, maybe not a rematch of the 2001 tilt between Craig Stadler and Shigeki Maruyama. Whose brilliant idea was that, anyway?
Random tournament fact: Johnny Palmer won this event in 1949. Recognize the last name? Yep, he was the older brother of Arnold and it was actually his idea first to mix lemonade with iced tea.*
*That last sentence is completely false.
Phil Mickelson. Surprisingly, Mickelson had little success at this event before last year's 63-65 weekend. This time, Mickelson enters this event playing much better for the entire season, Then again, since opening with a 66 at Riviera, he hasn't broken 70 in his last 11 rounds. As a result, and with his focus obviously on Augusta, we are not as high on him as some other people (see below)...
STUD/KNOCKOUT PICK OF THE WEEK
Steve Stricker. Since this event changed courses in 2006, Stricker has been his usual consistent self. Aside from a missed cut in 2009 and a no-show in 2010, the Strick Show has a solo third, and finishes of T-4, T-9 and T-11. Stricker continues to play less competitive golf, but it hasn't seemed to hurt his game. He has three top 10s in four starts, including a win at the season opener at Kapalua.
Speaking of knockout picks, Golf Digest is proud to present our first ever fantasy golf game on our Facebook page: The Golf Digest Major Championship Challenge. Pick who you think will win each of the four majors the week of the event and you are eligible to win prizes. For more details, go to GolfDigest's Facebook page next week.
This week's guest pick comes from Mark Hoey in Jacksonville, Florida:
"Phil Mickelson will win the Shell Houston Open joining Vijay Singh as a repeat winner. Phil dominated Redstone last year and seemed to really grind that course down for four days breaking the course record in the process. He will take that momentum and confidence into it again this year and lap the field."
Lap the field, eh? Love the boldness even if I don't love the pick. But perhaps I should. Our guest picker has the same surname as Michael Hoey, who just won the European Tour event in Morocco over the weekend. An omen perhaps?
) for a chance to appear in next week's column. Or if you just feel like making fun of my picks or discussing Tiger's big win.
WEEKLY YAHOO! ROSTER SELECTIONS
Starters: Steve Stricker, Lee Westwood, Chris Kirk and Charl Schwartzel
Bench: Keegan Bradley, Anthony Kim, Chad Campbell and Johnson Wagner
Anthony Kim. AK finally showed some life last week at Bay Hill when an ace propelled him to the early lead in the first round. Of course, he played like a hack the rest of the week, but he has contended here at some point in three of his five appearances. Even the highlight of his terrible campaign last year came in Houston, when he fired a second-round 64 to take the lead.
Johnson Wagner. J-Wags hasn't played all that well here since winning in 2008. However, he comes this year with an entirely different swagger, thanks to his Tom Selleck mustache and a first-ever PGA Tour player of the month award for January (how long has the tour been giving those out, anyway?).
FORMER CHAMPS TO STAY AWAY FROM
Paul Casey. He's played in this event one time -- and won. So why aren't we predicting big things? Because he's shot more 76s than scores in the 60s since returning from injuring his shoulder in a snowboarding accident.
Fred Couples. Freddie is coming off a win on the Champions Tour and he won this event in 2003 on Redstone Golf Club's other course. He has fared well on the Tournament Course as well, with a T-3 in 2009 and a T-4 in 2008. The last two years haven't gone as great, though, and while he loves playing where he went to college (Yeah, yeah, he was buddies with Jim Nantz), we think he's a little more focused on making one more run at a green jacket next week. And speaking of Shell's Wonderful World of Golf, no one misses it more than Couples, who appeared on the program a whopping eight times, including the series' final match in 2003 against Michael Campbell. Now there's someone who could really use an appearance fee...
Spencer Levin. No, we are not too pleased with Mr. Levin after backing him at Bay Hill and watching him promptly open with an 81. However, there's better reason to avoid him this week. All he has to show for his three appearances in Houston is a T-44 and two missed cuts. But even more than that, we are still mad about that 81...
Chad Campbell. When you've made just three cuts in eight starts in 2012, you return to sleeper status. Fact. The Texas native does have three top 25s in the past four years here, though, including a T-2 in 2008.
Chris Kirk. As a rookie last year, Kirk posted four rounds in the 60s at Redstone Golf Club. After opening 2012 with a T-7, it's time for him to get back on track.
Bud Cauley. Poor guy. For the first time, the PGA Tour rookie drew some major TV coverage on a Sunday at Bay Hill. Unfortunately, just about everyone watching was rooting against him since he was in a battle for third place with Ernie Els, who was trying to earn enough ranking points to get a spot in the Masters. Both guys ended up T-4, giving Cauley, our pre-season pick for rookie of the year
, the second-best finish of his very young career.
J.B. Holmes. Hasn't played great in his return from brain surgery (not that we fault him), but he has made five of seven cuts, including four straight. He also finished solo second here in 2009. In a season that has has no shortage of great storylines, a win by Holmes, at least at some point, just makes sense.
Ernie Els. After devastating finishes in each of the past two weeks, it's tough seeing Els, who has clearly put a ton of pressure on himself to qualify for the Masters, bounce back. The Big Easy has played here the past three years, but hasn't managed better than a T-44 in either of the last two. Needing a win to head to Augusta, we're not high on his chances. Of course, if he just wants to be in town during the tournament, I hear John Daly has plenty of room in his RV...
FREE FANTASY BASEBALL/FINAL FOUR ADVICE
My advice this week is actually a cry for help. My big auction draft is on Saturday and I'm as underprepared as Charlie Wi playing in a final pairing on the weekend. Please let me know if you have any advice. As for the NCAA Tournament, my bracket may be battered and bruised, but my final two are still standing. No reason to change now. Kentucky will top Ohio State 75-68 in the championship game. Book it.
Lee Westwood. Westy hasn't been great here (T-8 and a T-11 in five starts), but against this field, he's worth a look. That's all I've got. Told you it was a "just because" pick.
Keegan Bradley. Last year's PGA Champ only finished T-51 in his first go-round at the Redstone Golf Club. However, he has a remarkable eight top 25s in eight starts this year, including near misses at Doral and Riviera.
Charl Schwartzel. As a Masters tuneup, perhaps doing worse at this tournament is better for the South African. He finished T-3 in 2010, but only T-30 at Augusta and then basically reversed that last year when he finished T-30 in Texas before going on to capture the green jacket. What does it all mean? Like Westwood, he's a top-flight player competing against a watered-down field. Play him.
Graeme McDowell. The man from Northern Ireland only finished T-54 the one time he played this course, but that was in 2006 -- long before he morphed into G-Mac. Aside from his runner-up finish to Tiger, McDowell played really well during the Florida swing with a T-9 at the Honda and T-13 at Doral. Oh yeah, he was also part of the victorious Lake Nona team at the Tavistock Cup. Who said he'd never win another major?
*-- Alex Myers is a contributing editor for GolfDigest.com. Feel free to email him
since he has self-esteem issues.*