News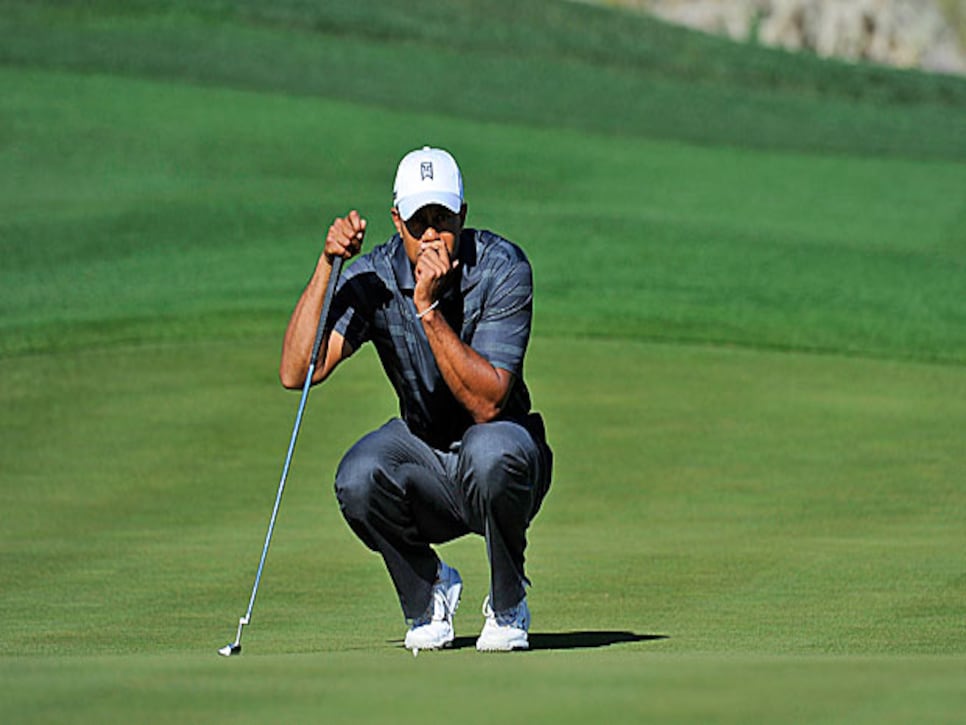 Tiger Woods' swing is looking better, but he's still searching for answers on the greens.
Welcome to another edition of Fantasy Fix, where we treat every week as if it was the final of the Match Play Championship. Or, in the case of Rory McIlroy, as if it was the semifinals. The 22-year old admitted to having a letdown after beating friend/foe Lee Westwood in the second-to-last match, but we promise not to do the same thing after an exciting weekend that included a WGC and an eight-hole playoff in Mexico (you're welcome for the John Huh pick, by the way). We also vow not to get caught looking ahead to next week's WGC at Doral either. So what conclusions have we drawn for this week based on intense research that would impress a Yale PHD candidate (Fact: A Yale PHD candidate would not be impressed)? Let's take a look:
in the books, the PGA Tour heads to Florida for the Honda Classic.
Random tournament fact: This event dates back to 1972, but it has only been staged at the Jack-Nicklaus-designed PGA National since 2007. In the five years since, the phrase "The Bear Trap" (used to describe the course's tough stretch of holes 15-17) has been uttered 357,821 times in promotional commercials by NBC.
Rory Sabbatini. Sabbo won here last year despite never having played this event since it moved to PGA National. This is yet another example of no matter how much research I do, often it is for naught. Sabbatini isn't a terrible option, but we'll stay away from someone who has only made the cut in half of his six starts so far this season.
Tiger Woods. TW is playing here for the first time as a pro, but as Johnny Miller astutely pointed out (isn't everything Johnny says "astute"?), this Nicklaus design should be right up his alley with the fade he has been going to almost exclusively. However, that won't help him on the greens, where he looked totally lost in his second-round loss to Nick Watney at the Match Play. More alarming, he said after that his putting problems were fixable "in about a day." While we still like his chances to contend, he sounds as delusional as me when I drench a buffalo chicken salad in ranch dressing, but still think I'm eating healthy.
THE BATTLE FOR NO. 1, AKA STUD OF THE WEEK
Rory McIlroy and Lee Westwood. For a second-straight week, these two have a chance to emerge as the world's top-ranked player. So who gets the edge? We'll go with Westwood based on a better track record here (McIlroy has only broken par in four of 12 rounds in this event). We like that pick even more if the winds pick up at Palm Beach after hearing McIlroy's weather-related comments
following last year's British Open.
This week's pick comes from Phil Mulroe (@PE_Mulroe) in Indiana:
"I'm going with the no-brainer pick: Rory. He played very well last week at Accenture (obviously) and has OWGR No. 1 in his sight. Best chance to keep the American winner streak alive to start the year: Mark Wilson. One of the tour's most underrated players, coming off a third-place finish at Accenture, Wilson won't be under the radar this time around."
OK, so that sounded more like two picks, but we'll let it slide...
) for a chance to appear in next week's column. Or if you just feel like making fun of my picks or talking about the NFL combine.
WEEKLY YAHOO! ROSTER PICKS
Starters: Y.E. Yang, Tiger Woods, Lee Westwood, Graeme McDowell
Bench: Keegan Bradley, Mark Wilson, Chad Campbell, Sang-Moon Bae
Y.E. Yang. As a relatively-unknown golfer in 2009, Yang broke through at PGA National for his first tour win. He'd become a household name later that year when he tamed Tiger at the PGA Championship and although he hasn't won since, his closest call came here last year when his final-round 66 left him one shot short of Sabbatini.
Mark Wilson. "Little Cheese" won in the first year this tournament was played at PGA National. But like our guest picker, we like him much more for what he's done lately. Since the start of 2011, only Steve Stricker has as many wins on tour as he does. He's also coming off a third-place finish at the Match Play, which has him in the top 25 of the world ranking for the first time in his career.
Camilo Villegas. It's tough to imagine a defending champion at an event struggling to break 80, but that's exactly what happened to Villegas last year as he posted tasty rounds of 79 and 78. After opening the season with a 63 at the Humana Challenge, he's gotten progressively worse since, missing the cut in his last start at Riviera.
FREE FANTASY BASKETBALL ADVICE
Beware of old players. In this condensed season especially, many veterans are going to see fewer minutes of playing time now that the second half is starting. Just recently, Spurs head coach Greg Popovich decided to give Tim Duncan and Tony Parker a random day off, despite the fact his team was riding an 11-game winning streak. The Spurs lost by 40. Duncan and Parker owners lost as well.
NOT A SLEEPER ANYMORE SLEEPER PICK
Sang-Moon Bae. John Huh may have beaten this fellow PGA Tour rookie to the winner's circle, but Bae had another nice week as well, making it to the quarterfinals at the Match Play before losing to Rory McIlroy in a tight match. It wouldn't surprise us at all to see Bae
, who has already earned $440,816 this year, become the next rookie to win.
Graeme McDowell. After a dissapointing 2011, G-Mac has played one round on the PGA Tour this year, losing to Y.E. Yang in the first round of the Match Play. Still, his skills in the wind could come in handy at PGA National, where he finished T-6 last year
John Rollins. A runner-up here in 2009, Rollins already has three top 10s in five starts this year, including a solo third at the Farmers Insurance Open.
Jerry Kelly. It's been a struggle so far in 2012, but Kelly finished solo third here last year and T-12 in 2010. Perhaps he'll be inspired by his Wisconsin Badgers hoops team's recent upset of Ohio State. Again, it's all about the research...
Ricky Barnes. The man who rocks the painter's caps on the course finished solo fourth here last year. He's also off to the best start to a season of his PGA Tour career with five made cuts in six events, including a solo third at Pebble Beach.
Rickie Fowler. The popular 23-year old has never worn his trademark orange here. Why? He's missed the cut in both attempts at this tournament. Add in the fact that he's off to an extremely disappointing start to 2012, with one top 25 in five starts. Yet somehow Vegas has him as one of the favorites this week, albeit at 40-1 odds. Can you say "sucker bet"?
*-- Alex Myers is a contributing editor for GolfDigest.com. Feel free to email him
since he has self-esteem issues.*