News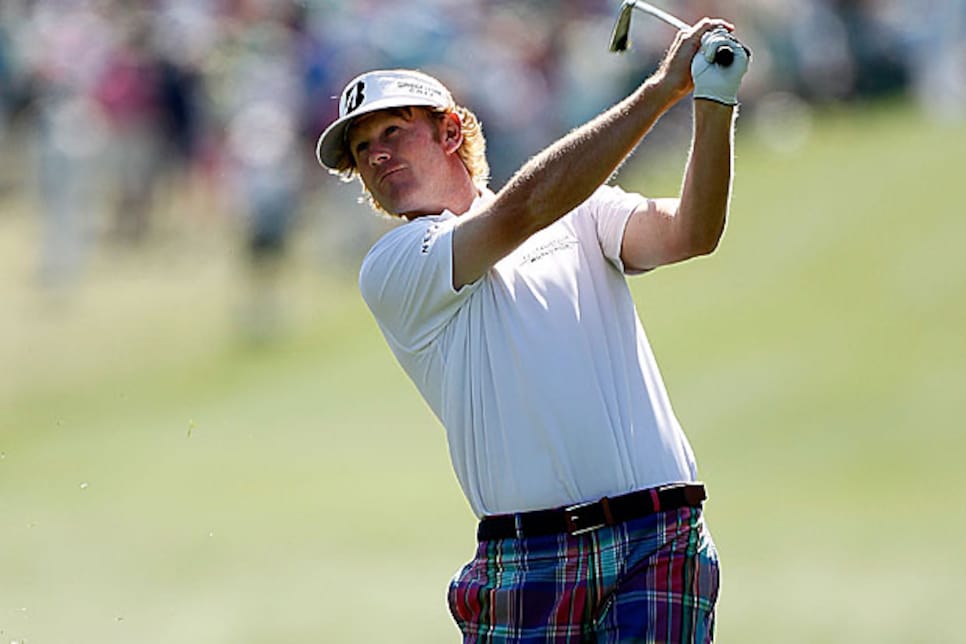 Sorry, Brandt. Plaid pants with the Heritage's plaid jacket would be a bit much...
Welcome to another edition of Fantasy Fix, where we're still stinging from a near-miss on an albatross ourselves. How do you get excited about watching Louis Oosthuizen play? Put $10 on him at 90-to-1 odds to win and see if that doesn't get the juices flowing. But with the South African coming up just short, we were left as deflated as, well, Louis Oosthuizen.
Combine that with the normal post-Masters hangover and we have a pretty good excuse to take a week off. But since our mental fortitude is slightly stronger than Sergio Garcia's, we will press on. Let's get to this week's picks.
The PGA Tour stays in the South and heads to Hilton Head for the RBC Heritage. Don't worry. Even though RBC is the new sponsor, Harbour Town Golf Links still has the lighthouse on the 18th hole.
Random tournament fact: Ernie Els is in the field this week. Even if he wins, he still won't qualify for this year's Masters.
Brandt Snedeker. My opinion of Sneds really changed at this event last year, when he shot a final-round 64 to catch Luke Donald and then played spectacularly in a playoff to keep the Englishman from ascending to the top spot in the world ranking. Snedeker has played great in 2012, so there's no reason to think he won't play well in his defense of this tournament's plaid jacket. Ironically, I'm playing for a plaid jacket myself this week, as I'm in the finals of our office's "Spring Opener" putting contest. Never fear. I'll let you know how it turns out.
Luke Donald. What's not to like? Well, other than the stinker he put up at Augusta... The top-ranked player in the world has been in the top three here in each of the past three years, including losing that riveting playoff to Snedeker last year. He also is back to leading the PGA Tour in strokes gained-putting.
This week's guest pick comes from Ryan Dean (@Dean_dontchakno), who is going with Matt Kuchar because "he comes off a strong T3. Showing he is in form and his GIR percentage is the kicker here making him my pick for the week. Also Harbor Town sets up nicely for a shorter hitter and I picked Bubba last week so I'm feeling good."
So, you picked Bubba, huh? I bet you're feeling good. As Jim Carrey says to Lauren Holly's husband at the end of "Dumb and Dumber" as he tries to hurt him by shaking his hand as hard as possible: "I'm. So. Happy. For. You."
) for a chance to appear in next week's column. Or if you just feel like making fun of my picks or talking about how you get over your own post-Masters hangover.
WEEKLY YAHOO! ROSTER PICKS
Starters: Luke Donald, Brandt Snedeker, Bo Van Pelt and Aaron Baddeley
Bench: Matt Kuchar, Rickie Fowler, Brian Davis and Jason Dufner
METICULOUS PLAYERS TO WATCH
Webb Simpson. Last year's Fed Ex runner-up has been T-14 here the past two years. Where has this guy gone in 2012, though? Last year, he was a lock to finish in the top 25 on a weekly basis. I think he gets back to that form here.
Ben Crane. Crane has made the cut seven-straight years, including his best finish -- a T-6 -- last year. He also arrives having been very inspired by good friend Bubba Watson's big win. Either that, or he was just celebrating with Watson on the green after because he had made a sizeable bet on him.
UPDATE: Thanks to @millmanb notifying me that Crane has withdrawn. That bet must have been bigger than originally thought...
MASTERS NEWSMAKERS CARRYOVERS
Jason Dufner. Does this guy ever contend in a regular tour event? After a T-14 here last year, maybe this is the time. Then again, I thought last week was the time for Tiger Woods to start winning majors again.
Bo Van Pelt. Missed the cut here last year, but he had been in the top 15 in three of the previous four years, including a T-3 in 2010. He's second to Donald in strokes gained-putting and did you see how he finished his week at Augusta National? With how consistent he's been, it's surprising he's still stuck on one career tour win.
Matt Kuchar. Not a great track record here, but not bad either with four top 25s in eight starts. How do you get the juices flowing again so quickly after contending at Augusta on the back nine on a Sunday? And speaking of juices, I also had $10 on him at 55-1. Was I just a little bit excited when he and Oosthuizen were leading with three holes to play? Nah...
POTENTIAL HARBOUR TOWN HEROES
Aaron Baddeley. His run of six-straight top 25s at Harbour Town includes a win in 2006 and a runner-up in 2008. In that stretch, he has shot over par just three times in 24 rounds.
Brian Davis. The Englishman had his closest brush with a win on the PGA Tour when he finished runner-up in 2010 to Jim Furyk after he called a penalty on himself in a hazard during a playoff. He has been in the 60s in seven of his last eight rounds at thsi event and has finished in the top 25 in four of six attempts.
Spencer Levin. He's been remarkably consistent with a T-13 and two T-14s in his three career trips to Hilton Head. A breakthrough first PGA Tour win could be in the cards, especially if he can build a bigger lead than seven strokes come Sunday...
FREE FANTASY BASEBALL ADVICE
We've said it before, and we'll probably say it again: Zack Greinke is one of the best pitchers in baseball. It would tough to get more unlucky than he did in his first season with the Brewers last year when he posted a still-respectable 3.83 ERA despite a ridiculous 201 strikeouts and 45 walks in 172 innings. If for some reason (like perhaps the fact that MLB completely buried the start of its regular season), you haven't had your draft yet, get on this guy in a hurry.
Tommy Gainey. The South Carolina native closed with rounds of 67-67-68 last year to miss out on his first-ever PGA Tour playoff by a shot. If a Bubba can win the Masters, maybe it's time for a fellow Southerner known for wearing two golf gloves to win on the PGA Tour. Plus, I'm seeing him at an outlandish 150-to-1 odds. That's pretty good, especially since Bubba isn't around to break any more hearts...
*-- Alex Myers is a contributing editor for GolfDigest.com. Feel free to email him
since he has self-esteem issues.*