News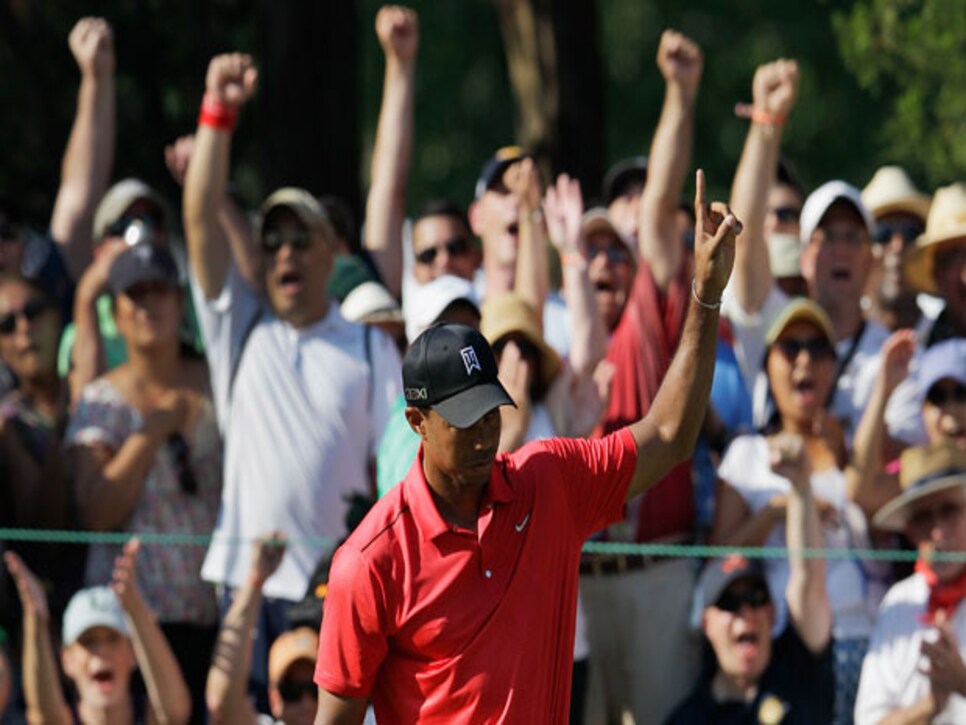 After a quiet couple of years, the roars are back in Tiger Woods' galleries.
Welcome to another edition of Fantasy Fix, where we're glad to see order has been restored to the world. Katie Holmes has come back to her senses, Ben Folds Five is back touring together, and yes, Tiger Woods is back to winning on a regular basis. Not surprisingly, a lot of golf analysts are also back to sounding like they actually know what they're talking about. And guess what? The man who wears red on Sundays is back in action this week. Let's get to it.
The PGA Tour heads down the road to West Virginia for the Greenbrier Classic. This is the third edition of this event, but its course, The Old White TPC, has a rich history that includes hosting the 1979 Ryder Cup and 1994 Solheim Cup.
Random tournament fact: Stuart Appleby put this tournament on the map in its first year with a final-round 59 to win in 2010. With the winning score being 12 strokes higher last year, it's safe to say the Old White is the first course ever to have been "Stuart-proofed."
Scott Stallings. Last year, Stallings birdied the par-3 finishing hole to get into a playoff and then hit nearly an identical shot and putt in the playoff to pull out his first win. But 2012 has been disastrous. With seven missed cuts in his last eight starts, Stallings is an obvious candidate to sit on the bench.
TIGER, TIGER, TIGER, AND MORE TIGER
Tiger Woods is winning again at the rate we'd grown accustomed to, even if his off weeks are still worse than in the past. While Woods has reestablished himself as the favorite for any event he plays in, in most formats you can't play him every week. Seeing how he's never played the Greenbrier in competition, perhaps this is a good week to give him a rest. Then again, doesn't he always win the tournament he plays in before a major championship?
Webb Simpson. The reigning U.S. Open champ finished T-9 here last year. Normally, I'd be worried about him looking ahead to the next major, but since he won't be playing the British Open with his wife expecting their second child, he should be fully focused.
WEEKLY YAHOO! ROSTER SELECTIONS
Starters: Jim Furyk, Tiger Woods, Brendon de Jonge, and Jeff Overton
Bench: Webb Simpson, Bill Haas, Andres Romero, and Seung-yul Noh
This week's pick comes from the wise Shosh Agus-Kleinman (@ShoshEAK) after I asked for non-Tiger predictions:
"Picky picky. OK fine, how about Mr. Furyk? Top 5 in scoring avg, put last week down to a major hangover."
I like this pick for two reasons: A. I think it's a good play; B. I literally was going to write the same thing, so @ShoshEAK saved me some effort. Hey, it's been really hot in the Northeast lately.
) for a chance to appear in next week's column. Or if you just feel like making fun of my picks or discussing your favorite Ben Folds Five song.
FORMER RUNNER-UPS HERE TO PLAY
Bill Haas. It's been a struggle of late for the reigning FedEx Cup champ, but he returns to a course where he finished T-2 on his first trip last year.
Jeff Overton. We've been waiting for this Indiana product to find the form that made him a runner-up here in 2010. He's coming around with more top 25s (seven) this year than all of last year. At a minimum, we expect another one this week.
AMERICAN STAR TO STAY AWAY FROM
Phil Mickelson. Lefty missed the cut last year and after a great start to 2012, he's cooled off. With Mickelson having one eye on Royal Lythan & St. Annes in a couple weeks and another on his hometown San Diego Padres
, it's probably safer to go with someone else.
Seung-yul Noh. We've been waiting all year for this phenom to break out and he finally did at Congressional with a T-4. Good timing for a celebration considering he recently turned 21.
Brendon de Jonge. The big guy had a 3rd here in 2010, and backed that up with a T-4 last year. He has shot 68 or lower in all but one of his eight rounds at the Old White. Plus, he's coming off a big week at the AT&T. Well, at least until he shot 77 on Sunday.
FREE FANTASY BASEBALL ADVICE
OK, now it's safe for my annual pump up Phil Hughes talk. Look, he'll never be an ace giving up so many fly balls in Yankee "Launching Pad" Stadium, but he's striking out nearly a batter an inning and his control is top notch. As a result he's pitched five great games in his last six starts, and more importantly, despite just turning 26 he's just five wins away from 50 in his career -- an achievement that will net me some money from a couple friends/suckers who never thought that day would come.
Charlie Wi. How easy was this course two years ago before it was lengthened/toughened? Wi shot 69-67-68-68 and that only got him a share of 60th place in 2010. Wi has been a cut-making machine in 2012. We think he's due for a big weekend.
Cameron Tringale. We highlighted this 24-year-old earlier in the year and he came through with a T-7 in New Orleans, his third-straight top 10. Tringale hasn't done much since, but he's worth a look considering he finished T-4 here last year.
Andres Romero. The Fantasy Fix favorite finished T-4 here as well last year thanks to a 66-65 weekend. He is also believed to be the only Argentinian to have ever voluntarily traveled to West Virginia.
Davis Love III. The Ryder Cup captain has been on a roll of late. Plus, Davis Love III and the Old White just seem to go well together for some reason...
*-- Alex Myers is a contributing editor for GolfDigest.com. Feel free to email him
since he has self-esteem issues.*