News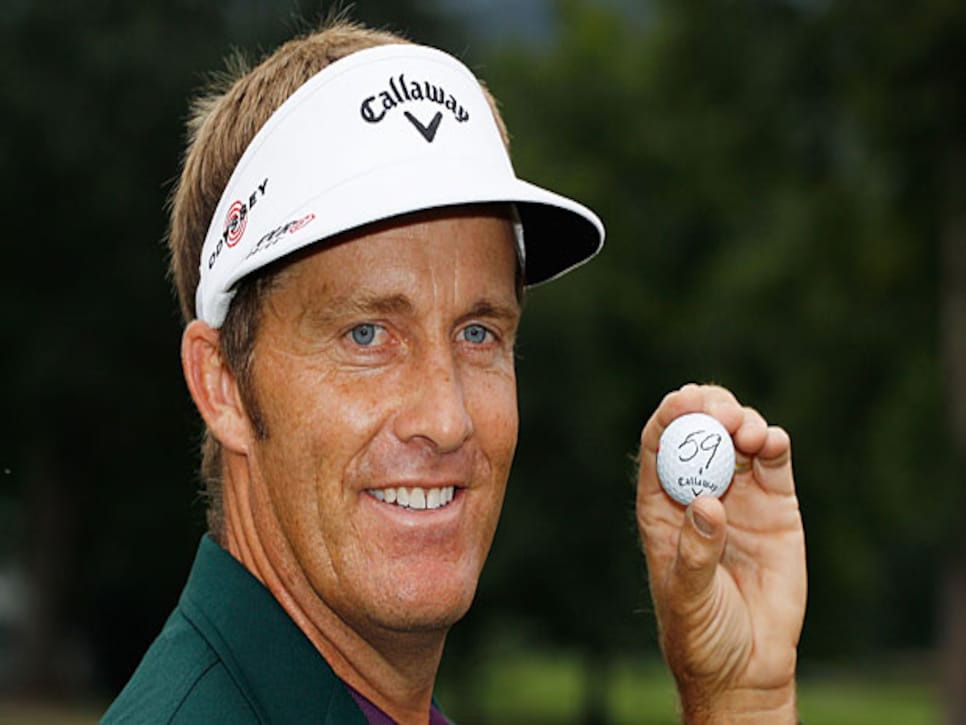 Stuart Appleby made the inaugural Greenbrier Classic a memorable one with a historic final round.
Welcome to another edition of Fantasy Fix, where we feel the only downside to the NFL lockout ending is that our dream of fantasy golf ever catching fantasy football in popularity probably won't materialize. We were so close... Anyway, back to reality. The PGA Tour's annual trip to the Great White North didn't go so well for us, but we're hoping to bounce back now that we're back stateside. Let's get to it.
The tour heads to West Virginia for the second Greenbrier Classic. Last year, the tournament replaced the longtime Buick Open event. Aside from its famed Old White Course, the resort is known for it's massive "bunker," which served as a top secret U.S. government relocation facility for Congress during the Cold War. Now it's a tourist attraction, except for when Tiger Woods needs a spot to go into hiding.
Random tournament fact: Tom Watson, pro emeritus at the Greenbrier resort, is missing the Senior U.S. Open to play in this event. No word yet on if the professorial figure of the links will be playing in a cap and gown.
Stuart Appleby. Last year, the Australian birdied the final three holes for a 59 and a one-shot win over Jeff Overton. We probably won't see such explosive scoring again, since more than 200 yards have been added to the Old White Course (16 holes were altered) and all the greens have been redone. We also probably won't see a repeat winner considering Appleby has made just one cut in the past four months.
Sergio Garcia. We touted El Nino at both the U.S. and British Opens and he paid dividends with top 10s. Now, it's just a matter of time before he gets back in the winner's circle. As bad as he is with the putter, his brilliant ball-striking makes him a threat and we only expect him to continue to climb the world rankings to get back to where he once was.
Phil Mickelson. Everyone seems to expect a high finish after his surprising T-2 performance at the British Open. But Lefty hasn't offered back-to-back big-time performances in more than a year. We recommend holding off to see how he'll fare following another close call in a major.
"Hey, Alex. Are you interested in being my caddie? Let me know ASAP, TW."
OK, I've gotten a few offers to caddy in the past, but this is the one I've been holding out for. I keep hearing experts say "he's a tough boss." Ooooo, big deal. I'm still pretty sure I'd like to potentially make millions carrying golf clubs around and watching one of the greatest athletes of all-time up close. So yes, Tiger, I'm in. Of course, like fantasy golf catching fantasy football, this is just a pipe dream and the 14-time major champion didn't actually write me. However, that doesn't mean you can't. Please feel free to e-mail me
with comments, questions or just to make fun of my picks. And of course, you can follow me on Twitter
BEST BOUNCEBACK CANDIDATE
Jeff Overton. How would you like losing by a stroke because someone else shot a once-in-a-million round? That's what happened to JO last year when Appleby clipped him with that magical 59. Since then, there hasn't been too much to yell "Boom, baby!" about for the Ryder Cupper, but he's starting to play better, with a recent T-3 at the AT&T National. Overall, he's made 16 of 18 cuts in 2011, so the Indiana University product seems due for more high finishes.
RIDE THE HOT HAND SELECTIONS
Charles Howell III. Since switching to a long putter, he has gone T-3, T-3, T-5 and T-28 at the British Open, where he had never had much success.
Andres Romero. The Fantasy Fix favorite seems to have regained the form that made him PGA Tour rookie of the year in 2008. His solo third in Vancouver was his best finish on tour since 2009 and he also had a T-6 in Hartford last month.
FREE FANTASY BASEBALL ADVICE
Don't trust Jeff Karstens. Sure his 2.28 ERA looks impressive, but he has been the beneficiary of ridiculous luck thus far. The chances of him keeping this up are about the same as getting a decent-sized snack on an airplane these days.
Bill Haas. It just seems like it's been too long since he's been in contention after living on leader boards (at least for the first three rounds of tournaments) week after week early in the season.
Davis Love III. OK, so I'll admit this is more for personal reasons having just shot a career round at a course he designed in Myrtle Beach, which propelled me to a second "green jacket" of my own for winning my annual buddies trip. But there's more than that. The guy has been very solid the past few months, including getting into contention at the British Open and finishing no worse than T-12 in his last three events. I'm putting stock in DLIII this week and if it doesn't work out? Well, we'll always have Myrtle...
*-- Alex Myers is a contributing editor for GolfDigest.com. Feel free to e-mail him
) since he has self-esteem issues.*