News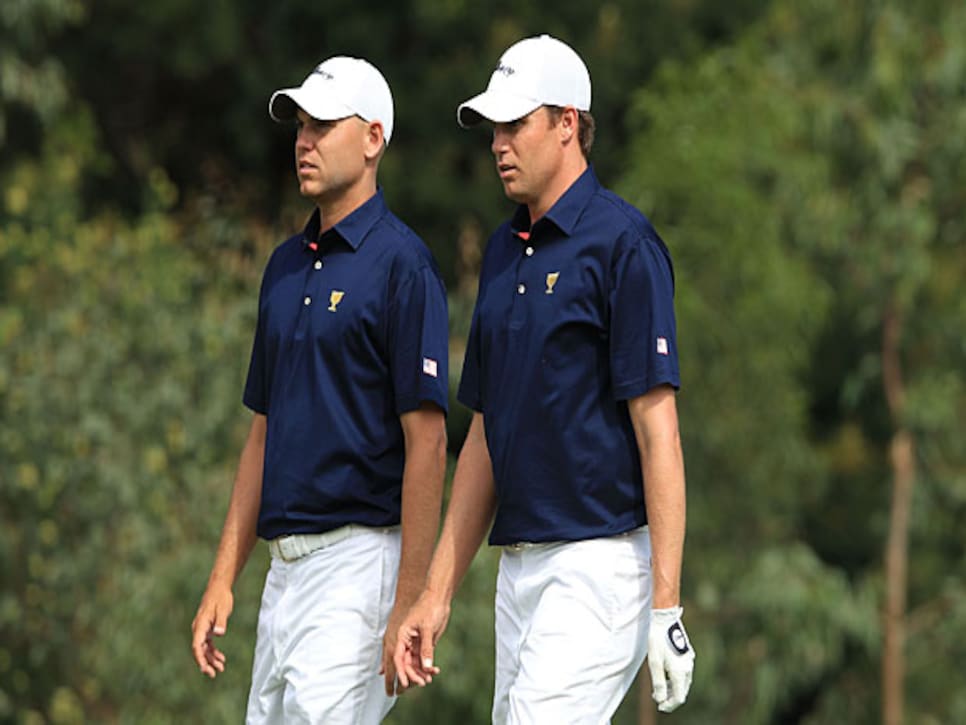 Are these guys twins? OK, maybe not, but we like both of their chances this week.
Welcome to another edition of Fantasy Fix, where we've come to realize that missed chip shots and crazy bounces aren't exclusive to the world of golf. The NFL playoffs and the Humana Challenge certainly gave us an exciting weekend. How about Mark Wilson, aka "Little Cheese," winning for the third time since the beginning of last year? Even among his peers, he'd probably be the guy you'd peg as the kicker if you were putting a pick-up football game together. Can he come up big again this week? Here are some thoughts.
instead of at the event that typically marks the beginning of his season, this is by far the best field of the year so far. As for San Diego, it's a city that will forever hold a dear place in my heart. I mean, it's the setting of the greatest comedy ever, "Anchorman." It's science. Oh yeah, my parents also happen to live there...
Random tournament fact: Last year, Phil Mickelson had his caddie Jim "Bones" Mackay tend the flagstick on the 72nd hole as he tried to hole out from about 74 yards to tie for the lead. This has never happened before.
Bubba Watson. The lefty held off that other lefty on his home turf to pick up the biggest win of his career. Since then, he added another win at the Zurich Classic, but really has struggled since, with a T-16 at the Deutsche Bank Championship being his lone top 25 in a full-field event PGA Tour event. We'd like to see him show us at least a top 15 before we give him a plug. He also might be distracted by the cool purchase he recently made when he bought the original "General Lee" car
could be distracting as well...
STUD/KNOCKOUT PICK OF THE WEEK
Nick Watney. He has four top 10s here in the past five years, including one of the most spectacular back-door high finishes you'll ever see last year when he went out in eight-under 28 and finished with a final-round 63. In those four years, which included a win in 2009, he has shot over par just once.
Starters: Nick Watney, Brandt Snedeker, Ben Crane, and Hunter Mahan.
Bench: Charles Howell III, Bill Haas, Rickie Fowler, Jamie Lovemark
This week's prediction comes courtesy of Karl Devlin (@kdevo1) via Twitter:
"I like D.A.Points this week,9th and 5th on last two outings here so obviously likes the setup.Game in good shape at the moment!"
) for a chance to appear in next week's column. Or if you just feel like making fun of my picks or talking about how great Eli Manning is
SURPRISING DUD OF THE WEEK
Ryan Moore. The dapper dresser, who recently teamed up with veteran caddie Tony Navarro and shot a second-round 61 at the Humana Challenge, has missed the cut four of the five times he's teed it up in San Diego, including three years in a row. We're sure his "duds" will be snazzy as always, though.
GUY I'M MAD AT WHO I CAN'T STAY MAD AT
Bill Haas. A T-64 at a tournament he'd won and finished runner-up the past two years after I went out on a limb and picked him? Ouch. But, I like him again this week based on his four top 20s in seven starts here. Last year, it looked like he would break through with a win before a 75 on Sunday took him from being tied for the lead to a T-9.
GUY I'M MAD AT WHO I MIGHT STAY MAD AT
Kevin Na. Another player who I liked at in Palm Springs who came up short. Na's T-30 was a disappointment and we're not expecting much this week either at an event where he hasn't played the weekend the past three years.
Charles Howell III. If it seems like I pick this guy every week, well, that's because I do. Aside from a great start to the season at the Sony Open, he's also been a runner-up twice at Torrey Pines. Who did he finish second to on each occasion? Just a certain 14-time major champion who likes to wear red on Sundays.
Ben Crane. The 2010 champ here, Crane bookended that victory with a T-7 in 2009 and a T-14 last year. Coming off a T-8 at the Humana Challenge, if he gets on the leader board this week, at least we won't have to worry about watching the over-meticulous (I'm trying to be nicer in 2012) golfer play in high winds.
Brandt Snedeker. Sneds has three top 10s in five trips to La Jolla, including a T-2 in 2010 and a solo third in 2007. He got off to a great start in his return from off-season hip surgery with five birdies in six holes at the Humana Challenge and finishing T-8. Getting that first tournament under his belt (Get it? Hip? OK, sorry) should help.
Phil Mickelson. A San Diego native, Lefty has a tremendous track record at Torrey Pines with 10 top 10s, including three wins, and that's just as a pro. Before that, who could forget that 1981 victory in the boys 9-10 division of the Junior World Golf Championships? Even with all that, it seems like it's been three decades since his last win on the PGA Tour and last week's T-49 in Palm Springs didn't do much to earn him his usual strong vote of confidence in this event.
, Lovemark is playing on a major medical exemption after having injured his back during his rookie campaign last season. A former NCAA individual champion and Nationwide Tour Player of the Year, it's a pretty safe bet he knows these two courses well considering he went to Torrey Pines High School.
THE LONG AND THE SHORT OF IT
Robert Garrigus. I'm not sure what's better: using a belly putter or using a putter that looked like it was stolen from a 3-year old's golf bag. Whatever the answer, Garrigus has given into the tour's long-putter trend (he actually splurged for a new one instead of gluing two of his old ones together) and it certainly paid off at the Humana Challenge, with a T-2 that included him flirting with a 59 in the third round.
J.B. Holmes. The long-hitting Kentuckian will make his first start on the PGA Tour since undergoing brain surgery last summer. How will he do? Let's just compare it to the last player to return from such a procedure. Hmm, I can't think of anyone. While we wish him well, he is obviously a total wild card at this point.
FREE ADVICE FOR OTHER SPORTS
First off, a quick pat on the back for myself. While it certainly wasn't easy, my picks of Patriots and Giants panned and paid out. I'll give my official Super Bowl pick next week, but in the meantime, a quick word about fantasy basketball: Watch out for John Wall. After getting off to a sluggish start, the Wizards' second-year point guard went off last week, including a 38-point, eight-assist, six-rebound and four-steal performance against the Houston Rockets. Make a move while his price tag is relatively low.
SPEAKING OF CHIP SHOTS...
Hunter Mahan. The Orange, Calif. native will make his 2012 season debut about an hour and a half south of where he was born. Like Haas, he also had a chance to win here last year until a Sunday 73 left him T-6. Despite the rust, we like his chances. As long as it doesn't come down to a, well, you know...
*-- Alex Myers is a contributing editor for GolfDigest.com. Feel free to email him
since he has self-esteem issues.*