News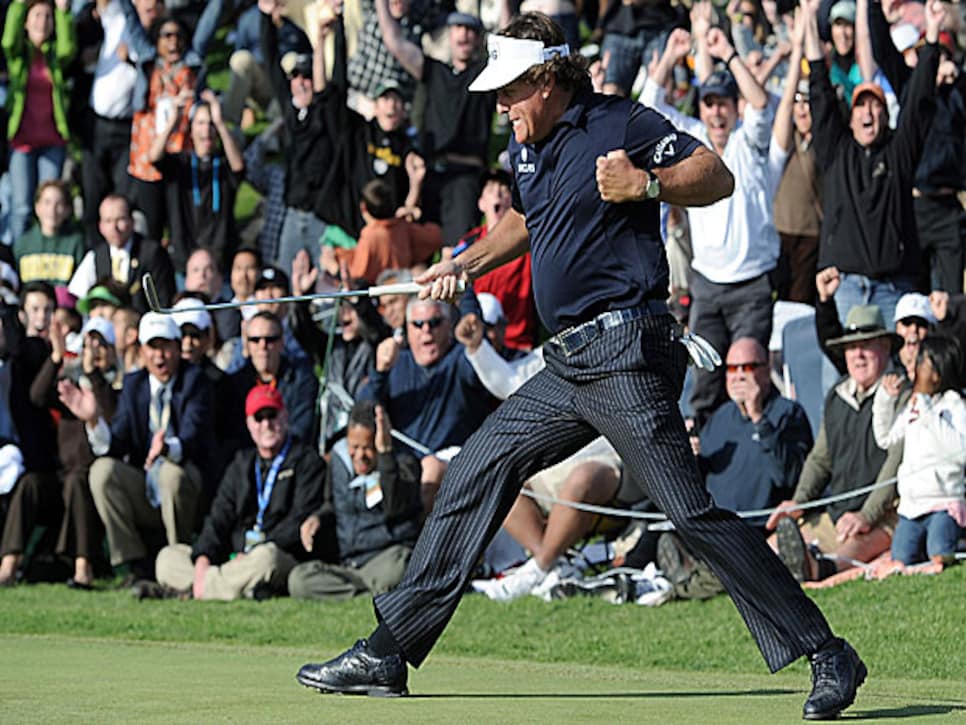 Remember me? Mickelson will tangle with McIlroy and Woods in Miami this week.
Welcome to another edition of Fantasy Fix, where we're just happy to report there were no actual casualties at "The Bear Trap." Seriously, has there ever been a more overblown angle to a sporting event? NBC and the Golf Channel treats the three-hole stretch at PGA National designed by Jack Nicklaus like it's an actual person/entity. I half expect this week's coverage of play at Doral's "Blue Monster" to be sponsored by "The Bear Trap." In any matter, we're not intimidated. Here are our thoughts on how things will play out.
The PGA Tour's Florida Swing continues with a trip to Miami for the WGC-Cadillac Championship. In the wake of the Rory McIlroy-Tiger Woods showdown in Palm Beach and with a Phil Mickelson resurgence still fresh, I don't think it's an exaggeration to call this the most-anticipated non-major in years.
, including the TPC Blue Monster at Doral, a couple of weeks ago. Perhaps his first order of business should be to tell whoever came up with the exorbitant green fee of $325, "You're fired!"
Nick Watney. A final-round 67 last year gave Watney the biggest win of his young career. We are expecting huge things from the 30-year old this year and there's no reason not to expect big things at a venue where he has a win and a solo second in the past three years. (Side note: Speaking of being 30, sadly, that will be me come this weekend. In fact, I've viewed everything I've done recently through the prism of it being the last time I will do it in my 20s. So this is the last fantasy column of my 20s and Wednesday will be the last "pasta day" in our cafeteria of my 20s, etc. Heck, this past weekend was the last time I'll watch TV coverage of "The Bear Trap" in my 20s. OK, now I'm really getting sad...)
STUD/KNOCKOUT PICK OF THE WEEK
Dustin Johnson. A runner-up here last year, DJ has shown signs of breaking through early in 2012, but he hasn't been able to put it together on Sunday. Plus, it's been at least a week since the whole "next great American golfer" debate has come up. That's simply too long.
With all due respect to Luke Donald and Lee Westwood, who are now No. 2 and No. 3, respectively, in the Official World Golf Ranking, a certain trio clearly has the golf world's full attention. Let's take a look at each of their chances at Doral:
Tiger Woods. Even if he hadn't finished runner-up at the Honda Classic thanks to an incredible 62 in the final round, he'd have to be considered a factor here. He's won at Doral three times, including his famous 2005 duel with Phil Mickelson in which he held off Lefty by a shot. After his best finish on the PGA Tour since winning the 2009 BMW Championship, we expect a strong encore performance. Perhaps he should engage in a testy pre-tournament press conference
at Madison Square Garden that girlfriend Caroline Wozniacki was a part of.
Phil Mickelson. Lefty finished T-55 here last year, but that was, well, last year. He won this event in 2009 and recently nearly won in back-to-back weeks, showing his first signs of consistency in years. And shout-out to Phil for his smart investment in the Five Guys burger chain a couple years ago, though it makes his brief attempt to be a vegetarian even more mystifying. That place makes me thank my lucky stars that I'm a carnivore. I just wish it hadn't taken me nearly 30 years to discover it.
That's not to say we don't think Donald and Westwood can't be a factor in Miami, but frankly they haven't been very good here. While Westwood at least enters with a bit of momentum after finishing fourth at the Honda, Donald hasn't started 2012 like he finished his stellar 2011 campaign. Bottom line: There are better options in this star-studded field.
We welcome back Phil Mulroe (@PE_Mulroe) after he brilliantly predicted Rory McIlroy would win the Honda Classic. Here's his prediction for this week:
"Coming off T-5 showing at Honda last week where he led field in GIR (67.86%), Schwartzel was runner-up at Doral in 2010. Has four top fives in last seven starts and no doubt wants to continue to fine tune his game for a run at securing another green jacket in just over a month."
Good luck, Phil. My boss says that if you are right again, you could be sitting at my desk next week...
) for a chance to appear in next week's column. Or if you just feel like making fun of my picks or talking more about "The Bear Trap." Actually, if that's what you want to talk about, please don't contact me.
WEEKLY YAHOO! ROSTER SELECTIONS
Starters: Nick Watney, Tiger Woods, Rory McIlroy and Charl Schwartzel Bench: Keegan Bradley, Lee Westwood, Dustin Johnson and Graeme McDowell
Charl Schwartzel. Like my guest picker/possible future replacement, I really like Schwartzel this week. The South African nearly burst onto the stage here two years ago when he came up short against fellow countryman Ernie Els. Now a household name and No. 9 in the world after winning last year's Masters, there's no reason not to expect another big week following his T-5 up the road in Palm Beach.
Paul Casey. After a snowboarding-related shoulder injury forced the former No. 2 player in the world to sit out the first two months of the season, Casey makes his return here. Fortunately, Miami doesn't have any snow-capped mountains. That should help Casey remain healthy for at least a week. And we're going to need at least that much time as well to evaluate the status of his golf game.
NEW FAVORITE TWEETER IN THE FIELD
Vijay Singh. From posting pictures to joking about letting his caddie beat him at pool (Who said this guy isn't a good boss?), Singh has burst onto the Twitter scene. Unfortunately, his skills on the course seem to finally be escaping him at age 49. A former winner here, despite his recent "Practice, practice, practice" tweet, we'll stay away.
FREE FANTASY BASKETBALL ADVICE
I'll leave you with some NBA knowledge: If you have Ramon Sessions, hang onto him. Cleveland's backup point guard did a great job while Kyrie Irving was out with a concussion, but despite going back to the bench, he still has great value -- especially if he gets traded before the March 15 deadline. L.A. seems like a good landing place. The Lakers' ancient point guard, Derek Fisher, still makes me even feel young...
*-- Alex Myers is a contributing editor for GolfDigest.com. Feel free to email him
since he has self-esteem issues.*