News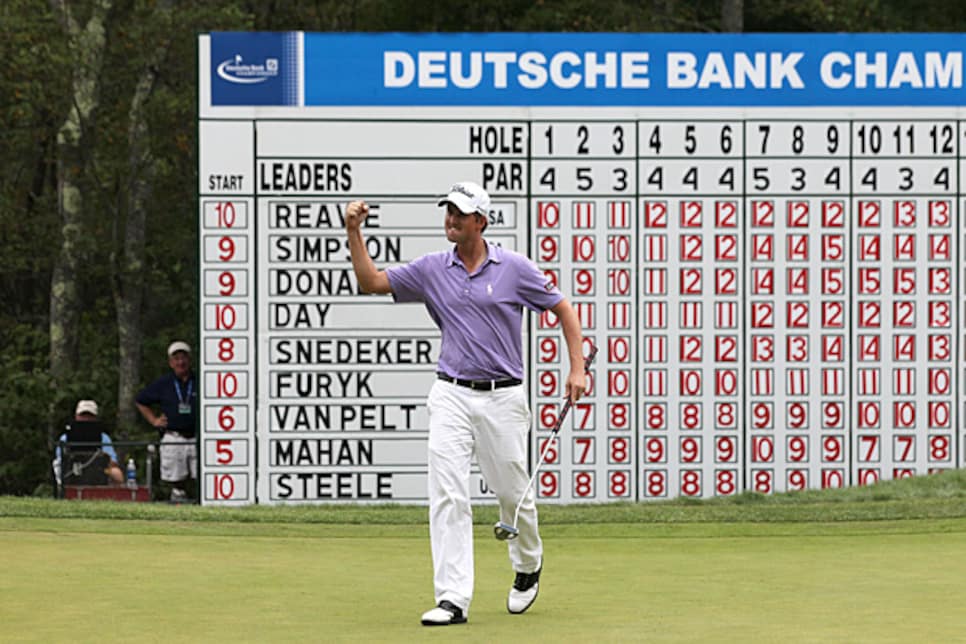 Webb Simpson displayed the poise under pressure here last year that came in handy at Olympic Club in June.
Welcome to another edition of Fantasy Fix, where we were glad to see Nick Watney re-emerge from whatever cave he's been hiding in all year. We were also glad our pre-tournament pick at the Barclays, Dustin Johnson, put forth a good effort. In theory, it should be easier to pick a winner in the FedEx Cup Playoffs with smaller fields. But again, not when someone comes out of nowhere to provide a wild season's
latest shakeup. In any event, onto the next one. Here are our thoughts.
The PGA Tour heads north to Norton, Mass. for the Deutsche Bank Championship, the second leg of the postseason. Expect more of a shootout at TPC Boston than what we saw over the weekend at Bethpage Black. In this tournament's nine-year existence, the worst winning score was 14 under, and three times the champion ended up at least 20 under. Also, expect the Boston crowds to be extra enthused with the wave of star power coming to town now that the Red Sox have cleaned house.
Random tournament fact: Olin Browne won this event in 2005. Now, he's best known as that dude whose daughter is dating Rickie Fowler.
Webb Simpson. Last year, Simpson became a star here with a clutch 15-footer for birdie on the final hole of regulation that sent him into a playoff he'd eventually win*. This year, he returns as a major champion. No reason to think he won't be lurking on the leader board again.
*We'll give you a minute to come up with who he beat. Never mind, we'd just be wasting time. It's Chez Reavie. Yep. That Chez Reavie.
Steve Stricker. Mr. September won this event in 2009 and has played remarkably consistently at TPC Boston, shooting over par in just two of his past 22 rounds there. Starting in 2006, and excluding last year when he was battling a pinched nerve, the Strick Show has finished T-7, T-9, T-13, win, solo ninth.
For three days at Bethpage Black, Woods looked like the Woods of old, finding himself in contention despite not having his best stuff. Then for five holes on the back nine Sunday, he looked like a 15-handicap. Still, Woods has played well at TPC Boston and if he's to win a third FedExCup, he needs to kick it in gear. Or, I guess he could just wait and win the Tour Championship like Bill Haas did last year. Sorry, I'm still trying to figure out how this is a "playoff" exactly. . .
Brandt Snedeker. The Barclays runner-up has finished in the top five here each of the past two years. Another such performance would make it nearly impossible for Davis Love III to not tab him as one of his four captain's picks for the Ryder Cup. Love will make that decision on Tuesday. Brandt, it might be a good move to find out what kind of beer Love likes before then.
Nick Watney. The impressive winner at Bethpage Black has failed to make the cut in five of his eight trips to Boston. His best-ever finish was a T-33 two years ago. And by the way, how is he No. 1 in the FedEx Cup ranking after struggling the entire season?! Does anyone out there understand these playoffs yet?!
BALL-STRIKERS WORTH KEEPING AN EYE ON
Adam Scott. As a 23-year-old in 2003, Scott captured this tournament in its inaugural year and then nearly defended his title in 2004. He's also finished in the top 10 the past two years. No reason to think he won't add to that streak this time.
Jason Dufner. Long before #Dufsanity swept across the country, Dufner recorded his first-ever runner-up finish at TPC Boston in 2009. And until struggling on the weekend there last year, he had a stretch of nine out of 10 rounds in the 60s. A "dud" last week for skipping the Barclays, we'll totally forgive him (See our lineup above) if he comes back strong here.
WEEKLY YAHOO! ROSTER SELECTIONS
Starters: Steve Stricker, Tiger Woods, Brandt Snedeker, and Jason Dufner.
Bench: Adam Scott, Bo Van Pelt, Bubba Watson, and Vijay Singh.
) for a chance to appear in next week's column. Or if you just feel like making fun of my picks or sharing your favorite Chez Reavie memory.
Sergio Garcia. For a second-straight week, a big name is skipping one of the PGA Tour's "biggest" events. This time, it's Garcia, who also happens to be in one of the best grooves of his career. Yes, he's played a lot of golf lately and we admire that he wants to be at his best for the upcoming Ryder Cup, but these absences don't do much to enhance the reputation of the FedEx Cup, which is now in its sixth year.Perhaps if the bonus was $100 million this wouldn't keep happening. . .
SPOOKY COINCIDENCES PICKS OF THE WEEK
Luke Donald and Jason Day. These two have finished T-3 and T-2 in each of the past two years with their 30-under totals being by far the best of anyone teeing it up this week. Both have also had somewhat disappointing seasons, though to be fair, Donald is still 14th in the FedEx Cup ranking despite having only played in 14 events and Day has had a hectic summer with his wife giving birth to the couple's first child. We've heard it gets a little tougher to play golf after that happens. . .
FREE FANTASY FOOTBALL ADVICE
After a year in which he dominated headlines despite not taking one snap, it appears that Peyton Manning is fully healed from his neck injury. The four-time NFL MVP has looked sharp enough in the pre-season to return to his rightful place among the game's fantasy elite as well. Even if his new group of wide receivers in Denver happens to be collectively less famous than his "other" brother, Cooper.
Vijay Singh. The 2004 and 2008 champ was also a runner up in Beantown in 2006. Singh has been playing well of late (Top 10s at the British and Canadian Opens), but stumbles on the weekend at both the PGA Championship and the Barclays after being at or near the top of the leader board have to make you wonder how much of a factor his age (49) is starting to become. If you are looking for a flier, though, you could do a lot worse.
QUIETLY STEADY SELECTIONS
Bo Van Pelt. BVP had a solo seventh in this event last year, but more importantly, he has finished outside of the top 25 just once this summer. For the year, he has 14 top 25s and eight top 10s. He probably needs a win, though, to represent the red, white and blue at Medinah next month.
Jim Furyk. The heartbreaking loser of both the U.S. Open and WGC-Bridgestone Invitational has finished in the top 10 three of the past four years at TPC Boston. Another guy hoping to be picked for the Ryder Cup team, we think a solid performance gets the job done.
Blake Adams. It's been a solid year for the journeyman who turned 37 on Monday, but if he wants it to continue, he needs another solid performance. Adams, who finished T-10 at this event last year, would be much better than 87th in the FedEx Cup rankings if he played as well over the final 36 holes each week as he does on Thursday and Friday. He's ranked 132nd in third-round scoring average, but perhaps the Monday finish to this tournament will throw everything out of whack. Kind of how Watney did last week. . .
*-- Alex Myers is a contributing editor for GolfDigest.com. Feel free to email him
since he has self-esteem issues.*