News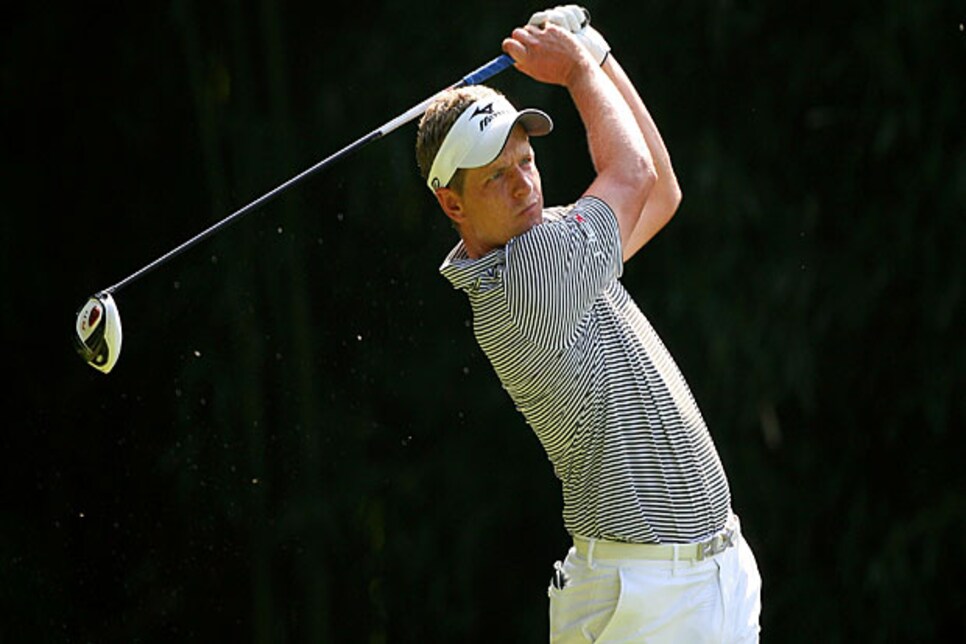 Luke Donald has emerged as a threat to win every week in 2011.
Welcome to another edition of Fantasy Fix, where the next hurricane we hear about better be the tropical drink you have in celebration of capturing your league. A wild, wet weekend has left me temporarily without a home or office, so I'm writing to you from a Così. On the downside, it can get a little loud, but on the bright side, I don't have to walk as far to get lunch and the smell of freshly-baked bread is delightful (Do I sense a potential Fantasy Fix sponsorship opportunity?). Let's press on so you can experience a bright finish to your fantasy season.
The FedEx Cup Playoffs continue with the Deutsche Bank Championship at TPC Boston. Unlike it's more famous counterpart, TPC Sawgrass, any island greens on the course this week are a direct cause of Hurricane Irene. The top 100 on the points list are all in the field and from that elite group, 70 will move onto the BMW Championship in two weeks.
Random tournament fact: All healthy players who qualified for this event will tee it up. Can you say "cha-ching"?
Charley Hoffman. Talk about good timing. Hoffman picked last year's final round here to post the best round of his life, a 62 that gave him a surprising five-shot win. Many predicted the result was his coming-out party as one of the game's elite, but he hasn't carried it over in 2011. His top 10 (A T-10) at the Barclays was just his second of the season. We don't expect a third this week.
Luke Donald. When compared with what he's done all year, last week's T-18 was a miserable result for the top-ranked player in the world. However, he finished with two straight 66s and given a fourth round, there's a good chance he would have climbed the leader board even more.
Nick Watney. Like with Donald, a win by Watts (Sorry, still can't think of a good nickname for him) could go a long way towards claiming a first PGA Tour Player of the Year Award. Watney doesn't have a great track record here, but he's also never played TPC Boston when his game is in this good of form.
(Side note: An elderly man has been singing to himself in one corner of the restaurant for the past 10 minutes. And by "singing to himself" I mean that I have been subjected to hearing some sort of chant-like melody from my table some 20 feet away. And no, unfortunately, he doesn't exactly sound like Sinatra either.)
Steve Stricker. The 2009 winner had a surprisingly quiet abbreviated week at the Barclays, but that was when it was still August. "Mr. September" should be ready to roll on a course that suits his game.
Phil Mickelson. The 2007 winner hasn't contended since his unlikely runner-up showing at the British Open. In fact, he hadn't contended leading up to that week either. While a Mickelson win wouldn't be out of the question, at this point, he doesn't seem worth the risk. Speaking of risk, I didn't know how dangerous sitting in a Così could be. A little kid just shrieked so loud that I may need to have my eardrum replaced.
"Hey, Alex. Just wanted to thank you for picking me to win last week and apologize for letting you down. I let the pressure get the best of me, but I promise to try to not let it happen again. Take care, Jason Day."
Relax, Jason. You didn't shoot anything worse than a 68 and you finished T-13. I appreciate the effort and don't worry, since you're 23, I think it's pretty safe to say you'll have a few more chances to win when I pick you. OK, so Day didn't really write, but that doesn't mean you shouldn't. Please feel free to email me
with comments, questions or just to make fun of my picks. And of course, you can follow me on Twitter
Jason Day and Adam Scott. For a second-straight week, we are highly endorsing both these guys from Down Under. Day finished T-2 here last year and comes in 15th on the points list despite no wins this year. As for Scott, the Aussie has always played well at TPC Boston and that was before he was armed with his trusty broomstick on the greens.
Vijay Singh. For the first time since winning the Barclays and this event in 2008, Singh has posted back-to-back top-10 finishes on the PGA Tour. He got lapped on Sunday at Plainfield CC by his two playing partners, but his third-place finish was a huge step in the right direction for a guy who was starting to look like he already had one foot out the door and into life on the Champions Tour. Will he win this week? Probably not, but nothing would surprise me during a season in which Tiger Woods will tee it up at the Frys.com Open. Oh yeah, and after a week in which New York experienced both an earthquake and a hurricane.
FREE FANTASY FOOTBALL ADVICE
As the position of the feature back who could be penciled in for 25-30 carries a week continues to go the way of the dinosaur, focus on wide receivers early in your draft. Guys like Calvin and Andre Johnson and Roddy White are going to put up big-time running back-like numbers, while taking less of a pounding. My head would be taking less of a pounding too if this baby would take a break from crying...
HEATING UP AT THE RIGHT TIME?
Camilo Villegas. Three years ago, the Colombian really got hot, making his first two PGA Tour wins the final two playoff events of 2008. This year, after a dreadful season, Villegas seems to be getting back on track again in time to claim his piece of the FedEx Cup prize pool. With back-to-back top 10s (only his second and third top 25s of the season), Villegas returns to an event where he has never missed the cut and has two top 10s in six attempts.
Jason Dufner. At least that's what my grandfather used to tell me after he'd run me ragged around the tennis courts as a kid. Dufner is still getting over a painful runner-up at the PGA Championship, but he returns to a site of another one of his closest calls. The Auburn product has missed two straight cuts since losing to Keegan Bradley in a playoff at Atlanta Athletic Club, but he finished T-2 here in 2009 and we think it's time for him to move on. As for me, I think it's time to see what's left on the menu that I haven't ordered yet...
*-- Alex Myers is a contributing editor for GolfDigest.com. Feel free to e-mail him
) since he has self-esteem issues.*