News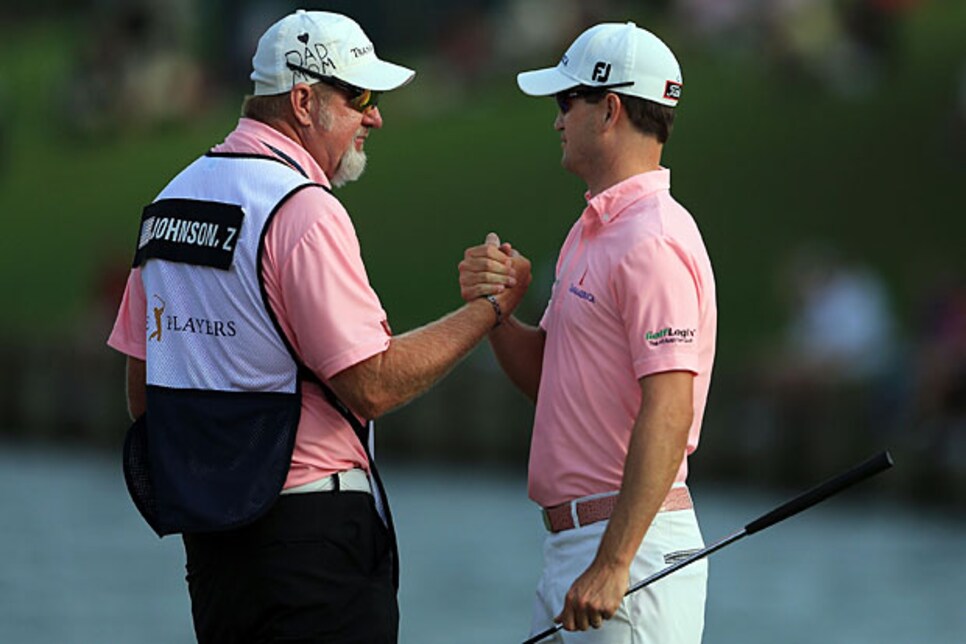 Zach Johnson came up short at the Players, but we feel a win coming soon.
Welcome to another edition of Fantasy Fix, where we are all just living in Jason Dufner's world right now. In the past month, the only two weeks he hasn't won he was getting married and then on his honeymoon at TPC Sawgrass (props for pulling that off by the way). It's only a matter of time before sponsorships and TV adds start piling up now. We're thinking chewing tobacco and sleeping pills? But don't worry. We're wide awake and ready for a big week ourselves. Let's get to it.
The PGA Tour stays in Texas for the Crowne Plaza Invitational at Colonial. Fort Worth is the site and it is also where three World Golf Hall of Fame members grew up: Ben Hogan, Byron Nelson and our own Dan Jenkins
(Another) Random tournament fact: There is a statue of Hogan overlooking Colonial Country Club's 18th green. Why? Because this was his home event and he is the greatest ball-striker of all time. Well, only if you take the word of such hacks like Jack Nicklaus, Tiger Woods and Gary Player.
David Toms. Last year, Toms won on the heels of a crushing loss at the Players, where he three-putted to lose in a playoff to K.J. Choi. This year, he's riding momentum from shooting eight under on his final 10 holes at TPC Sawgrass. He returns to a place where he's hit for the cycle, having finished 1st, 2nd, 3rd and 4th. No reason to believe he won't add another top 10 this week.
Jason Dufner. With this guy in the field, why are we even bothering with this column this week? Well, because the hottest golfer in the world only has two missed cuts and a T-59 to show for his three trips to Colonial. Then again, that was before he became the hottest golfer in the world.
STUD OF THE WEEK (NOT NAMED JASON DUFNER)
Zach Johnson. No one has played Colonial as well as Johnson the past three years, with all 12 of his rounds being in the 60s, including five of 65 or better. His results? A win in 2010, a solo fourth last year and a T-9 in 2009. Plus, as we've seen recently, when you wait around to congratulate a buddy on a win (Matt Kuchar at the Players), good things usually happen to you soon after...
WEEKLY YAHOO! ROSTER SELECTIONS
Starters: Zach Johnson, David Toms, Rickie Fowler and Jason Dufner
Bench: Matt Kuchar, Bill Haas, Hunter Mahan and Kevin Stadler
) for a chance to appear in next week's column. Or if you just feel like making fun of my picks or discussing your favorite Jason Dufner moment.
JASON DUFNER BREAKOUT CANDIDATE
Charlie Wi. Last year's runner-up has three top 15s in four trips to Irving. He's also at about the same level as J-Duf on the exciting meter.
(OTHER) BIG NAMES TO PLAY
Matt Kuchar. A week after capturing the Players, Kuchar was in contention at the Nelson until a lackluster weekend. Still, his T-15 suggests he's not going to have a letdown after picking up the biggest win of his pro career.
Rickie Fowler. Perhaps the hottest golfer on tour other than Dufner, Fowler shot an opening 63 here last year before falling to T-16. We also like highlighting him for his speedy pace on the course at a time when slow play is such a hot-button topic
BIG NAMES TO STAY AWAY FROM
Sergio Garcia. The Spaniard won in his first attempt here in 2001, but hasn't had great results since with three missed cuts in his last five tries.
Jonathan Byrd. Ironically, the man with the Hogan-like swing has missed the cut in five of his past six attempts at Hogan's home event.
FREE FANTASY BASEBALL ADVICE
I had heard rumblings about Felipe Paulino, but finally watched him pitch Monday night against the Yankees. The Royals righty is impressive with a moving high-90s fastball and a nasty slider that have accounted for 29 strikeouts and just seven walks in 25 innings (the 1.42 ERA isn't bad, either). Plus, he's still available in most leagues and he has a cool name. Just like these guys...
Harris English. If tournaments were only 36 holes, this guy would really be in business. He was one shot off the 36-hole lead at TPC Sawgrass before a disastrous weekend and on Monday he shot 60-63 to qualify for the British Open. One of these days, the former Georgia Bulldog will put it together for four days.
Jonas Blixt. The Florida State product has three-straight top 15s, including a career-best T-3 at the Nelson. We're looking forward to him getting his first tour win and an inevitable accompanying headline about him "Blixting" the field.
TOURING PRO SONS OF THE WEEK
Bill Haas. After five-straight over-par rounds early in his career at Colonial, Haas has managed a T-8 and a T-13 the past two years.
Kevin Stadler. The big guy is quietly enjoying his best year as a pro. with seven top 25s and three top 10s. Stadler finished seventh here last year and despite being the son of "The Walrus," he still moves around the golf course faster than Morgan Pressel. What? Too soon?
Tim Clark. After an injury-riddled year and a half, the South African has officially returned to sleeper status. A T-25 at the Players showed he's finally rounding into form (and ready to actually complete a tournament), though, and it's just in time. He returns to a course where he had consecutive runner-up finishes in 2009 and 2010. We're pretty sure he'd sign up for that this week. You know, especially since Jason Dufner is in the field...
*-- Alex Myers is a contributing editor for GolfDigest.com. Feel free to email him
since he has self-esteem issues.*