News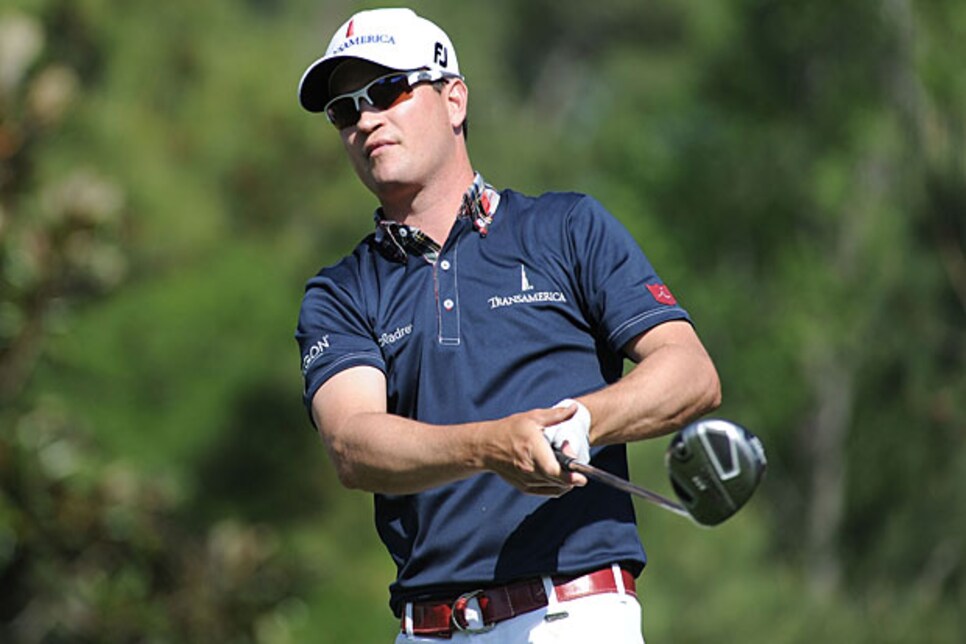 Zach Johnson is the defending champion. Apparently, the Texas heat doesn't bother the Iowa native.
Welcome to another edition of Fantasy Fix, where we wish every PGA Tour event ended in a playoff. Oh wait, they do. Four weeks in a row of extra holes is truly amazing. Almost as amazing as my personal feat of eating at a Jacksonville Chili's for five nights in a row last week. Almost. What's in store this week other than a few trips to the gym? Here are some thoughts.
The PGA Tour heads to Fort Worth for the Crowne Plaza Colonial Invitational. This used to be considered one of the biggest non-major events on the PGA Tour. Looking at this year's field, however, it appears that most of golf's big names either have forgotten it exists or are just adverse to taking trips to Texas. Matt Kuchar is the lone top-10 player in the field and he's ranked No. 10.
Random tournament fact: Ben Hogan won here five times and if your game is in need of inspiration, I'd suggest reading the golf legend's famed "Five Lessons." Just beware that there's a good chance that reading it will probably ruin your game as well.
Zach Johnson. ZJ has never finished outside of the top 30 here and he enters this week with 10 straight rounds in the 60s at Colonial CC. Plus, the Joaquin Phoenix lookalike is coming off a T-12 at TPC Sawgrass. We'll spare you the "Gladiator" references and just say he's an obvious play in this spot.
David Toms. That three-putt in the playoff at TPC Sawgrass was a painful ending, but DT remained confident in his post-round press conference, saying "I think I'm going to win again soon." He also said Colonial is one of his favorite events of the year. So while his winless drought is approaching five-and-a-half years, don't be surprised to see Toms back in the mix this week.
Jason Day. Toms' playing partner the first two days at TPC Sawgrass, there really isn't a question that the talented Aussie will win again soon. The 23-year-old has three straight top 10s, including a T-6 at the Players and a T-2 in Augusta. He finished solo fourth here two years ago and his lone win on tour came in Texas last year at the Byron Nelson.
"Hey, Alex. Sorry I couldn't make it more than nine holes for you at the Players. I know you were excited to see me in person, but I just didn't have it. Hopefully, I'll be able to put on a better show at the U.S. Open. Sincerely, Tiger Woods."
That's cool, TW. And yeah, I hope to see something a little better at Congressional than the 42 you hung on the board at TPC Sawgrass. I shot 41 the one time I played there and I've never had a lesson from Butch, Hank or Sean. No, Tiger didn't actually write me, but that shouldn't stop you. Please feel free to e-mail me
with comments, questions or just to make fun of my picks. And of course, you can follow me on Twitter
TO BE (SUSPENDED) OR NOT TO BE?
Rory Sabbatini. He and__Sean O'Hair__ both say they've made up since their confrontation in New Orleans a few weeks back. What remains to be seen is if the South African will receive any disciplinary action from the PGA Tour. Even if he has been or is suspended, the information won't be made public and his two-week appeal allows him to play this tournament as usual. Good thing for him considering his three top fives in the last eight years, including a win in 2007.
, and promptly turned in his best performance of the year, a T-19 at the Players. We'll have to see if the two can make it work for the long haul this time.
Matt Kuchar. I picked the affable Georgia Tech product to capture the Players, but after a solid Day 1, Kooch did a rare disappearing act, including a 40 on his Sunday opening nine. The ultra-consistent Kuchar can't have two bad weeks in a row, right? I don't think so.
JUST WIN A TOURNAMENT ALREADY SO WE CAN STOP TALKING ABOUT IT
Steve Marino. Missed the cut last year when even par didn't get it done, but he was T-10 in 2008 and lost to Steve Stricker in a playoff in 2009. Speaking of the Strick Show, he is now a no-show, having notified tournament officials on Friday that he had a change of heart.
Brian Davis. When do you start thinking that you might be cursed when it comes to winning a PGA Tour event? When you shoot 64-65-65-68 and lose. By three shots. That's what happened to the Englishman at this event last year, but he's back still looking for that elusive PGA Tour title and coming off solid finishes at Wells Fargo and the Players.
Ryan Palmer. The three-time PGA Tour winner has never been in contention in this event in seven appearances. In fact, he's only been in the top 50 twice. In other words, "Not Arnold" is not a sound pick this week.
FREE FANTASY BASEBALL ADVICE
I'll keep it simple this week. Don't go crazy drafting starting pitching. Your offense may suffer. My team now resembles the Philadelphia Phillies' incredible rotation with the banged up offense of the New York Mets. The 1962 expansion New York Mets.
Sergio Garcia. The Matador Jr. only finished T-12 at the Players, but no one played better on Sunday when he scorched TPC Sawgrass for a 65. It's been a decade since Garcia won here at 21 in 2001, but he's been playing pretty well of late with a T-35 at the Masters being his worst finish in five PGA Tour events in 2011. At No. 72 in the world ranking, he's also motivated to make a move into the top 50 in the next couple weeks to earn a spot in the U.S. Open. If he makes it into the field, hopefully we can get together for dinner. D.C. has a lot of Chili's to choose from.
*-- Alex Myers is a contributing editor for GolfDigest.com. Feel free to e-mail him
) since he has self-esteem issues.*