News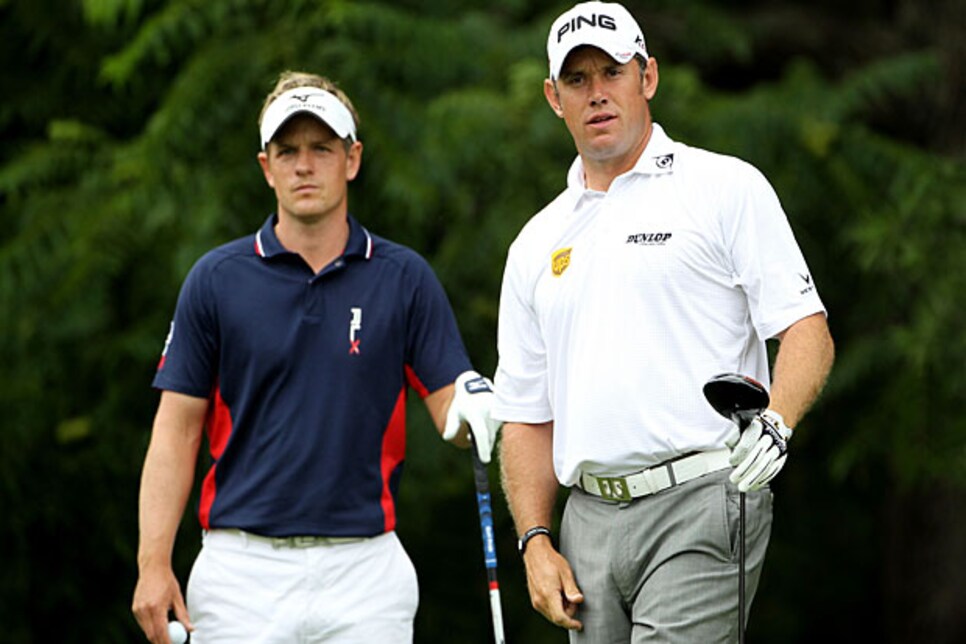 Your British Open winner? Look no farther than this English duo.
Welcome to another edition of Fantasy Fix, where we're glad to see Steve Stricker was taking notes on how to celebrate big putts while playing with Tiger Woods in all those international competitions. For one week, the void left by the 14-time major champion's absence was filled by the Strick Show and his dramatic win. That is, until you remembered that you were watching the John Deere Classic and not the Masters, of course. But it's time to turn up the excitement extra high again with the year's third major championship, one which is a particular favorite for those wishing to make a few wagers. We are peaking as well with our No. 2 choice winning for a second straight week and our No. 1 choice from last week, Zach Johnson, valiantly trying to track down Stricker before finishing T-3. Let's get to this week's thoughts before we lose our momentum.
The PGA Tour heads to Sandwich, England for the British Open. Despite the amount of withdrawals, this is a major championship and it comes with a trophy any player would eat a couple of pounds of deep-fried fish and chips to get his hands on.
Random tournament fact: The Open Championship was first contested in 1860. That's before the start of the Civil War in the United States and when Old Tom Morris was simply known as "Tommy Mo."
Louis Oosthuizen (100-1 according to Ladbrokes.com). Has a man's love of tractors ever cost him a major championship? That's the risk "Shrek" took when he played in last week's John Deere Classic instead of heading to Scotland to prep for his title defense. The South African grew up on a farm and really wanted to compete in Illinois so he could check out John Deere's headquarters. He missed the cut, which gave him more time to get back across the pond -- or to try out some new models. Either way, we're not expecting a repeat.
Ben Curtis (150-1). The Ohio native says he's glad to be back at the course where he picked up one of the most stunning wins in major championship history. Duh. The guy got more good bounces that week than your average pinball world champion does in a lifetime. Don't get carried away, though, and pick him in this spot. Curtis, who has fallen to 194th in the World Ranking, has just two top 10s in the past two and a half years. Then again, in 2003 he came in ranked No. 396...
Rory-mania has gotten to the point that some betting parlors are listing him at 11-to-2 odds (Ladbrokes has him at 8-1). While I'm not surprised at the figure after his dominant performance at the U.S. Open
, it's hard to justify it when he has to beat 155 other players in the field. Similarly, when it comes to filling out your fantasy roster, I think the odds of you making a move with him on your bench, while everyone else plays him, are much better than just following the crowd. Plus, after his romp at Congressional, he's giving everyone else two shots a round.
(SURPRISING) DUDS OF THE WEEK
Steve Stricker (33-1). As much as we love the Strick Show, we've seen this, um, show before. Stricker wins the John Deere Classic and then does nothing abroad the next week, with a T-55 and T-52 in the Open the last two years. Also, his last top five at a major came all the way back in 1999. By the way, how is it possible that Pat Riley trademarked the term three-peat? No one who won three in a row of anything before never thought of this? What am I missing?
Jason Day (40-1). I continue to like this guy more and more, but this week, I don't have a good feeling about him. While I think it's great he showed respect to the John Deere Classic tournament officials by playing (he remains thankful to the event for giving him a sponsor's exemption when he was 18), it definitely wasn't in his best interest if he wants to win a British Open. Like Stricker, Day will now spend much of the beginning of the week getting acclimated to the time difference and the weather. Not to mention, at age 23, it's not like he has tons of experience playing links golf to fall back on. His Ernie Els-esque run of finishing runner-up in majors should come to a close here.
"Hey, bud. Sorry for all the confusion with my 'big' announcement that turned into much ado about nothing. You were probably worried I was going to shut it down for the year and I didn't mean to put you through any stress. Hopefully, my next big statement will be made on the golf course. Later, Tiger Woods."
Apology accepted, Tiger, though I was holding out hope that you were really going to announce the formation of a new singing/dancing group, the "Golf Men," to rival the recently formed "Golf Boys." I'm sure you could convince your pals Phil and Vijay to join you and if you need a fourth, I was in an a cappella group in college... OK, so Tiger didn't really write me, but that doesn't mean you shouldn't. Please feel free to e-mail me
with comments, questions or just to make fun of my picks. And of course, you can follow me on Twitter
SLEEPERS TO KEEP AN EYE ON
Brian Davis (150-1). The Brit has just one top 10 in a major in his career, but guess where that came? That's right, right here with a T-6 in 2003. His 2011 has been a bit of a struggle, but keep in mind that this is a guy who has five runner-ups in the past four years on the PGA Tour.
Fredrik Jacobson (80-1). One of our super sleepers at the U.S. Open, he made a run at Congressional (at least at second place) before finishing T-14. His hot putter carried over to the next tournament, though, as he picked up his first PGA Tour win at the Travelers Championship. Now the Swede returns to an Open venue where he finished T-6 in 2003.
FREE FANTASY BASEBALL ADVICE
If there is any way to get Zack Greinke in your league, do it. I don't care if you have to throw in doing someone's laundry for a year. On the surface, the Brewers' ace appears to be pitching poorly since returning from a broken rib, but that 5.45 ERA has a lot to do with the fact he has been suffering from some historically bad luck. His batting average on balls in play, home runs/flyballs and runners left on base percentage are all staggeringly bad, meanwhile he is striking out 12 batters (yes, 12!) per nine innings, while walking fewer than two. Expect a huge second half from the 2009 A.L. Cy Young award winner.
THIS GUY DOESN'T DISCRIMINATE WHEN IT COMES TO OPENS
Retief Goosen (50-1). Sure he's never won a British like he has twice in the U.S. version, but he's been even more consistent abroad. The Goose has six top 10s in the last nine years, including a T-10 at Royal St. George's in 2003. He's also only missed the cut once in 15 tries in this event and was T-5 and solo sixth the past two years.
K.J. Choi (40-1). The Korean Jugernaut only has one top 10 in his career at the British, but his play of late is too good to overlook. A win at the Players and a runner-up at Aronimink indicate his ability to rise to the top during big weeks. Add in a respectable T-22 at Royal St. George's in 2003 and "Tank" should be ready to roll.
Davis Love III (150-1). The next Ryder Cup captain has quietly played very well the past two months. He finished T-12 at the Players, T-11 at the U.S. Open and T-12 at the John Deere. Sprinkle in a T-4 the last time the British was held here and there's no reason to think DL-III can't produce another high finish, even at age 47.
Paul Casey (80-1). Usually one of the favorites, the Englishman has struggled of late. Still, he was in the last group at St. Andrews last year, finishing T-3. Do we expect him to win? No. But who would you rather bet on at 80-1, Casey or that guy wearing a painter's cap? That's what we thought.
Sergio Garcia (33-1). The Spaniard comes into this event tied as the fifth favorite to win, according to Ladbrokes.com. Can you imagine what odds you could have gotten on that being the case at the start of the season when his whereabouts weren't even known? But a runner-up at the BMW International got him back into this major championship in which he has posted six top 10s, including a T-10 here in 2003. His T-7 at Congressional was also impressive and with windy conditions in the forecast, being a pure ball-striker and being able to keep the ball down will help as well.
THE BRITISH ARE COMING. OH WAIT, THEY LIVE HERE...
The top two players in the world will be playing a home game this week and every indication is that both Luke Donald and Lee Westwood (Both are 12-1) will contend at Royal St. George's. Since a missed cut at Riviera to kick off his PGA Tour season, Donald has 11 top 10s in 12 events worldwide, including three wins. Westwood, meanwhile, has won twice worldwide this year and in the last 11 majors in which he's competed, he's racked up six top threes. So who do we like better this week? We'll go with Westy finally picking up his first major championship. He just seems like more of a sandwich guy...
*-- Alex Myers is a contributing editor for GolfDigest.com. Feel free to e-mail him
) since he has self-esteem issues.*