News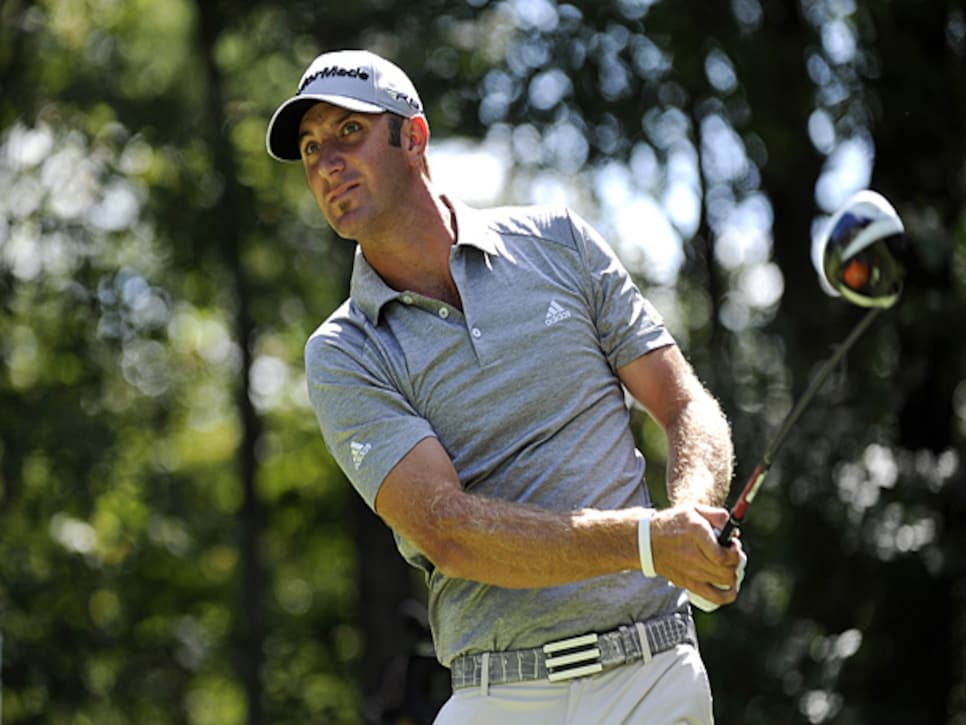 Now a Ryder Cup pick, Dustin Johnson can fully focus on winning another cup over the next two events.
Welcome to another edition of Fantasy Fix, where we have no sympathy for Davis Love III. C'mon, captain! We make heavily-scrutinized picks every Tuesday! But now that the Ryder Cup squads are finally settled and DL3 is breathing regularly again, we all can fully focus on the final two tournaments of the FedEx Cup season. And thanks to Rory McIlroy and Tiger Woods, this is the most publicity the PGA Tour's Playoffs have ever gotten. Before the buzz dies down let's get to this week's selections.
The PGA Tour heads to Crooked Stick Golf Club in Carmel, Indiana, site of the 1991 PGA Championship. Since none of the 70 players to qualify for this week's BMW Championship didn't play in that event, we'll have to rely mainly on who is playing well and who uses the movie "Hoosiers" for inspiration.
Random tournament site fact: John Daly became a star with his unlikely win here at the 1991 PGA Championship. Unfortunately for the state of Indiana, his victory also ushered in a new wave of mullet-wearing youngsters.
Justin Rose. A final-round 71 was good enough for a two-shot win over John Senden last year. But that came at Cog Hill, and Rose was 10 years old the last time Crooked Stick hosted the PGA Tour's best. It probably makes sense to go a different direction with the Englishman struggling the past two weeks, but he may just feel oddly at home. Apparently, Carmel has become the unofficial roundabout capital in the United States. Its mayor, James Brainard, has replaced almost all of the traffic lights for roundabouts "because of the expense saved and more importantly, the safety." Funny, I didn't feel all that safe whizzing through these circular intersections while in Manchester for the British Open. . .
Tiger Woods. TW may be chummy with Rory McIlroy, but if you don't think this whole "Rory is the new No. 1 in golf talk" doesn't bother the 14-time major champion, then I have some beach-front property in Antarctica you might be interested in. Woods will win this week setting up a 1-2 showdown with McIlroy at the Tour Championship in a couple weeks. At least, that's the script the PGA Tour is pitching. . .
Dustin Johnson. It took him most of the year, but DJ is finally spinning a good groove with top-five finishes in the first two playoff events. After getting tabbed by Love for his second Ryder Cup team, there's no reason to think he won't find success this week as well on a course that seems to favor bombers (Par 72, 7,516 yards).
Louis Oosthuizen. He may have come up just short in his bid for his first PGA Tour title in the United States in Boston, but the 2010 British Open champ is clearly on his game right now. Plus, although he hails from South Africa, his love of tractors makes him a heartlander in spirit.
WEEKLY YAHOO! ROSTER SELECTIONS
Starters: Luke Donald, Bo Van Pelt, Dustin Johnson, and Louis Oosthuizen
Bench: Steve Stricker, Bubba Watson, Rory McIlroy, Jeff Overton
) for a chance to appear in next week's column. Or if you just feel like making fun of my picks or sharing your favorite bad hairstyle.
THAT WAS DUMB, BUT WE STILL LIKE YOU PICK
Luke Donald. Didn't we learn anything from Anthony Weiner? A Direct Message is a lot different from a reply. Yet somehow, Donald, a Northwestern graduate, tweeted both his personal cell phone number and called course architect Gil Hanse a (expletive)
for what Donald thought was a bad re-design of TPC Boston's 18th hole. Unlike Weiner, though, Donald still has his job and he seems too good to go through the PGA Tour season with just one win.
Bubba Watson. Two decades later, Watson would be another popular people's champ at Crooked Stick. He doesn't sport a mullet, but this fellow country boy with a grip-it-and-rip-it style on the golf course has also been known to wear overalls and no shoes (See: "The Golf Boys" music video
FREE FANTASY FOOTBALL ADVICE
Stay as far away as possible from every offensive player on the Miami Dolphins. Why? Um, have you seen HBO's series "Hard Knocks"? This team needs a GPS to find the end zone.
LOCAL-TIES PICKS OF THE WEEK
Bo Van Pelt. Despite another solid season, BVP won't be making his first Ryder Cup appearance. But PGA Tour title No. 2, in his home state no less, would be the perfect pick-me-up for the two-time Indiana State Junior winner.
Jeff Overton. The Indiana product should have plenty of support this week after a T-7 in Boston moved him into the top 70 on the FedEx Cup points list. Perhaps we haven't heard the last "Boom, Baby!" after all.
OK, and that's that for another week of making tough selections with our reputation on the line. DLIII, we hope you were taking notes. . .
*-- Alex Myers is a contributing editor for GolfDigest.com. Feel free to email him
since he has self-esteem issues.*