News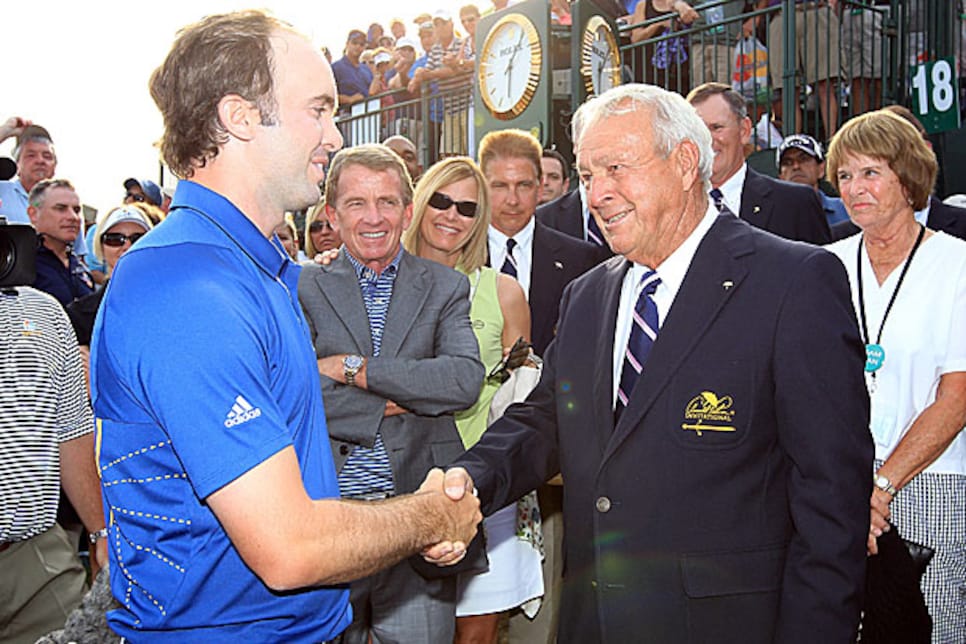 Despite a final-round 75, Martin Laird won the King's event last year.
Welcome to another edition of Fantasy Fix, where we wish we could earn world ranking points for near misses. Sang-Moon Bae, a 125-to-1 long shot, almost cashed in big last week, but instead walked away from the Transitions without a trophy. In related news, I walked away from a bachelor party in Las Vegas without much either. Shocking, I know... But back to the PGA Tour, the second go-round of the Luke Donald Era begins with a tournament that won't feature either the world's top-ranked player or Rory McIlroy. But believe it or not, there's still plenty to talk about. Let's get to it.
The PGA Tour's Florida Swing continues with a stop at Bay Hill for the Arnold Palmer Invitational. The King will be more focused than usual on hosting his annual event since our Wake Forest men's basketball program is a complete disaster. Like myself, though, I'm sure he wasn't too upset to see Duke get bounced by Lehigh in the first round...
Random tournament fact: Since it's an invitational, there's a limited field this week of 120 players. Yet somehow Robert Damron is playing. Then again, his participation this week isn't any more mystifying than his appearance as one of the approximately 10 pros in the original Tiger Woods video game.
Martin Laird. Last year Laird became the first European player to win this event. He also unofficially became the first player to completely gag away this event only to wind up winning because someone else (Steve Marino) gagged it away even more. This year? With four top 25s, including a runner-up at the season's opening event, the Scot is solid pick.
Say it with me, "I will not pick Tiger Woods to win, I will not pick Tiger Woods to win, I will not pick Tiger Woods to win." I am picking Tiger Woods to win. No! I am not picking Tiger Woods to win. As tempting as it is to go with a guy who has owned this tournament as much as any golfer has ever owned any tournament, his Achilles tendon is simply too big of a question mark
. Instead, I'm going with...
STUD/KNOCKOUT PICK OF THE WEEK
Justin Rose. The Englishman is in fine form with his recent win at Doral (Yes, they still finished the tournament after Tiger withdrew), which followed a T-5 at the Honda. Rose had a T-3 here last year and a T-8 here in 2006. Speaking of Rose and Woods, both played for Team Albany during this week's Tavistock Cup. Exciting stuff.
WEEKLY YAHOO! ROSTER SELECTIONS
Starters: Spencer Levin, Justin Rose, Brandt Snedeker and Martin Laird
Bench: Webb Simpson, Mark Wilson, Fredrik Jacobson and Sang-Moon Bae
) for a chance to appear in next week's column. Or if you just feel like making fun of my picks or discussing the end of Tebowmania in Denver.
SECONDARY STUDS OF THE WEEK
Brandt Snedeker. His Vanderbilt Commodores got bounced early from the NCAA Tournament, but we expect Snedeker to stay in contention a little longer at this event. Until missing the cut last year, he'd finished in the top 30 in all four of his previous trips.
Kevin Na. The native of South Korea didn't attend college, but we're guessing the Las Vegas resident still has an "interest" in the Big Dance. He's also fared pretty well here, with a runner-up in 2010 and a T-11 in 2009.
Spencer Levin. He was T-6 in his only appearance. While his New Mexico Lobos let me down in March Madness, perhaps the 27-year old can make it up to me with a strong showing.
FREE NCAA TOURNAMENT ADVICE
If you take a trip to Vegas during March Madness, don't try to bet on ALL the games. There are a lot of games...
"OLD" GUY SELECTION OF THE WEEK
Davis Love III. For some reason (Perhaps it's the fact that this tournament is based in Orlando), older players tend to do well here. Kenny Perry won in 2005, Vijay Singh won in 2007 and in 2008, Tiger had to hold off Bart Bryant with a walk-off birdie putt on No. 18. Love, who has been a runner-up three times at Bay Hill, is coming off back-to-back top-25 finishes.
Mark Wilson. Is it just a coincidence that both his alma mater (North Carolina) and his hometown Wisconsin Badgers are still alive? OK, yes it is. Still, "Little Cheese," who finished T-9 here last year, seems to be a safe pick in just about any event these days.
Fredrik Jacobson. The Swede has an interesting track record in his five appearances at Bay Hill. Sandwiched around two missed cuts are a T-17, a T-15 and a T-9 last year.
in 2012, and he hasn't disappointed. Well, other than not winning me my long-shot bet last weekend. Eight starts into his rookie season on the PGA Tour, Bae already has a T-5 at a World Golf Championship to go with his recent runner-up.
SURPRISING DUDS OF THE WEEK
Bill Haas. Just to show I'm not (always) biased, I'm picking against my fellow classmate at Wake Forest. Why? In four appearances at this event, he has two missed cuts and has only broken 70 once in those 12 rounds.
Dustin Johnson. DJ has never finished better than T-40 here, including a 77-74 trunk-slamming performance last year. Plus, he daggered me with his T-35 at Doral after I picked him to win. In other words, like my buddy who gave me a "hot tip" on LIU-Brooklyn being able to challenge Michigan State in the first round, he's got a little work to do to get back into my circle of trust...
*-- Alex Myers is a contributing editor for GolfDigest.com. Feel free to email him
since he has self-esteem issues.*