News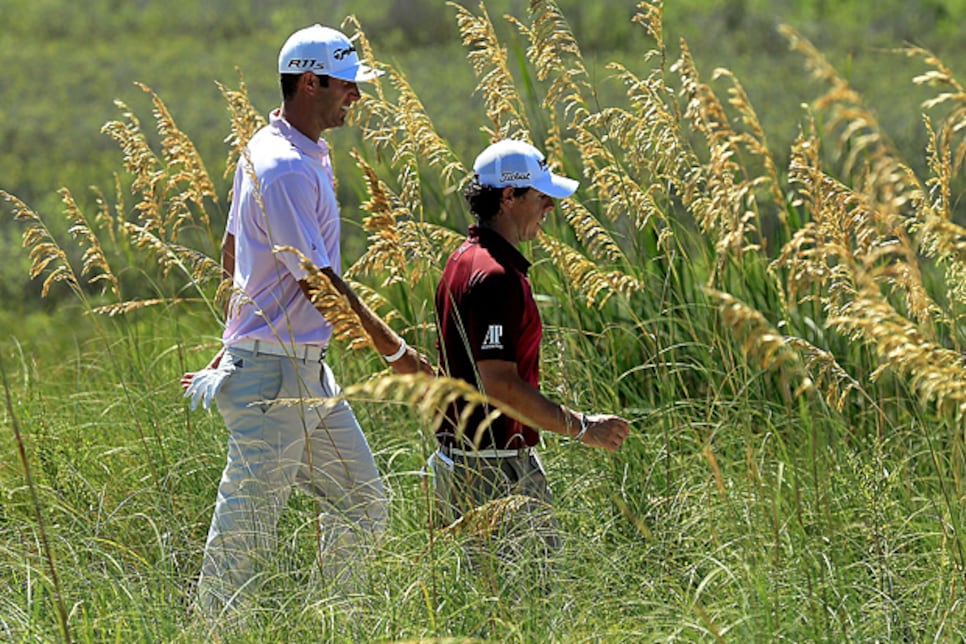 Dustin Johnson trails Rory McIlroy by two majors now, but at least he still has a considerable height advantage.
Welcome to another edition of Fantasy Fix, where we're happy for Sergio Garcia even if Sergio Garcia never appears to be happy for Sergio Garcia. And cheer up El Nino, even with Augusta National's big announcement stealing your spotlight, plenty of people saw you win to end your four-year drought on the PGA Tour. OK, so by "plenty" we mean fellow employees of golf publications who also happen to have huge TVs above their desks. . . . But as long as Bethpage Black can avoid a Monday finish -- something it wasn't able to do the last time it hosted the PGA Tour -- there will be plenty more people tuning in to see who wins this week. Here are our thoughts on what will transpire.
The top 125 on the FedEx Cup points list head to Bethpage for the Barclays, the first of four events in the FedEx Cup Playoffs, aka the most exciting postseason in all of sports*. It's the first time a non-major will be held at the famed Long Island course, which hosted the 2002 and 2009 U.S. Opens.
*-Commissioner Finchem, you can send that check to Golf Digest's headquarters.
Random tournament fact: Bethpage Black will be the fifth different course this event has used in the past six years. The only big-time event with a less stable venue is the annual Golf Digest vs. Golf World inter-office tournament.
Dustin Johnson. DJ won last year when the tournament was shortened to 54 holes thanks to Hurricane Irene. I remember it well, as the same storm caused me to have to live in a hotel for the next two months -- just like the nomad lifestyle of the world's best golfers. Maybe I'm closer to being a PGA Tour player than I thought. If only I'd stayed at a Holiday Inn Express. . . (Potential new Fantasy Fix sponsor?)
See above. Picking DJ at the PGA may have backfired, but we're going back to the well. Why? Simply put, he's too talented to keep winning just once a year. Also, Bethpage is a big ballpark and Johnson is one of the biggest hitters around, no matter what color driver he uses. (Side note: My advice to the pros as someone who has played this course a few times? Don't play a 230-ish yard fade/slice off the tee.)
I see Tiger Woods' season ending in one of two ways. Either he simply plays out the string knowing there isn't an individual event that people will really care about him winning for another eight months or he treats these playoffs like the major title he wasn't able to get during the regular season. We're going with option B. Woods will win his third FedEx Cup trophy and it will start with a good performance on a course where he's played very well (Win at the 2002 U.S. Open and T-6 in 2009). Whether that will be enough to add to his record 10 PGA Tour Player of the Year Awards remains to be seen.
Keegan Bradley. He's long, he's playing well, and last time I checked, his belly putter is still legal. Bradley backed up his Bridgestone win with a T-3 at the PGA Championship. Now, the St. John's product will head back to New York as a crowd favorite. He just might want to keep his love of the Boston Red Sox to himself for a few days. . .
WEEKLY YAHOO! ROSTER SELECTIONS
Starters: Keegan Bradley, Dustin Johnson, Rory McIlroy, and Graeme McDowell
Bench: Matt Kuchar, Tiger Woods, Hunter Mahan, and Padraig Harrington
) for a chance to appear in next week's column. Or if you just feel like making fun of my picks or sharing your advice for fixing my weak tee shots.
Jimmy Walker. After working his way into one of the final groups Sunday at the PGA, Walker finished T-4 in Greensboro. Before this guy gets his first win, we want to jump on the bandwagon. We also want to stake claim to the "Walker, Texas Ranger" headlines for the San Antonio resident. Man, could Chuck Norris act in that show. . .
Jason Dufner. Every year, something happens that calls the importance of the FedEx Cup Playoffs into question. Tiger Woods skipped the first-ever event in 2007, Phil Mickelson won the Tour Championship in 2009 but had to watch Woods get handed the $10 million bonus, and in 2010, Jim Furyk was disqualified from the first event after oversleeping, yet he came back to win the whole thing. This year, it's Dufner's turn. At No. 3 in the standings and looking at a tee time with Woods and Rory McIlroy, Dufner will skip this week since he doesn't want to play eight events in nine weeks. Although that makes sense, maybe it would have made a little more sense -- especially to Tim Finchem -- to take that week off a little sooner.
Phil Mickelson. Lefty has fared remarkably well at Bethpage with runner-up finishes at both U.S. Opens held there. The four-time major champ is mired in one of the worst slumps of his career, but perhaps this whole San Diego Padres sale being put behind him, along with a super-supportive New York crowd, will be enough to get Mickelson going again.
Ricky Barnes. Remember when this guy held a six-shot lead at the 2009 U.S. Open? Then you probably also remember him promptly blowing that six-shot lead. Although his T-2 finish was impressive, it was just one great performance by a guy who only has three top-25 finishes in 23 starts in 2012. Play the percentages and stay away.
FREE FANTASY FOOTBALL ADVICE
I hate watching pre-season games because I think they are about as worthless as heated toilet seats. But did you see Mark Sanchez and the rest of the Jets' offense on Saturday night? Don't let your fantasy team be infected by Gang Green.
THIS WEEK'S RYDER CUP-MOTIVATED PLAY
Hunter Mahan. It's been a career year for Mahan, but he still has something to prove to Ryder Cup captain Davis Love III if he wants to make the team. We say he takes a big step toward doing that at a course where he finished T-6 in the 2009 U.S. Open.
Rory McIlroy. After a mid-season swoon that was perhaps the result of him swooning a bit too much over tennis star girlfriend Caroline Wozniacki, McIlroy gave by far the year's most impressive performance at Kiawah. The recent PGA Champ will be the playing partner of Tiger (And Zach Johnson. We didn't forget about you, buddy!) on Thursday and Friday, so expect him to be fully motivated on a course where, at age 20, he finished T-10 at the 2009 U.S. Open.
Sergio Garcia. El Nino is coming off his first PGA Tour win in more than four years at the Wyndham Championship. He's also won this event twice. Too bad that means nothing with both wins coming at Westchester Country Club. He does, however, have a terrific track record at Bethpage Black with a T-10 (2009) and a solo fourth in 2002. If you recall, there were plenty of people in the raucous New York galleries watching -- and heckling -- a much younger Garcia then. So, be careful what you wish for, Sergio. . .
*-- Alex Myers is a contributing editor for GolfDigest.com. Feel free to email him
since he has self-esteem issues.*