News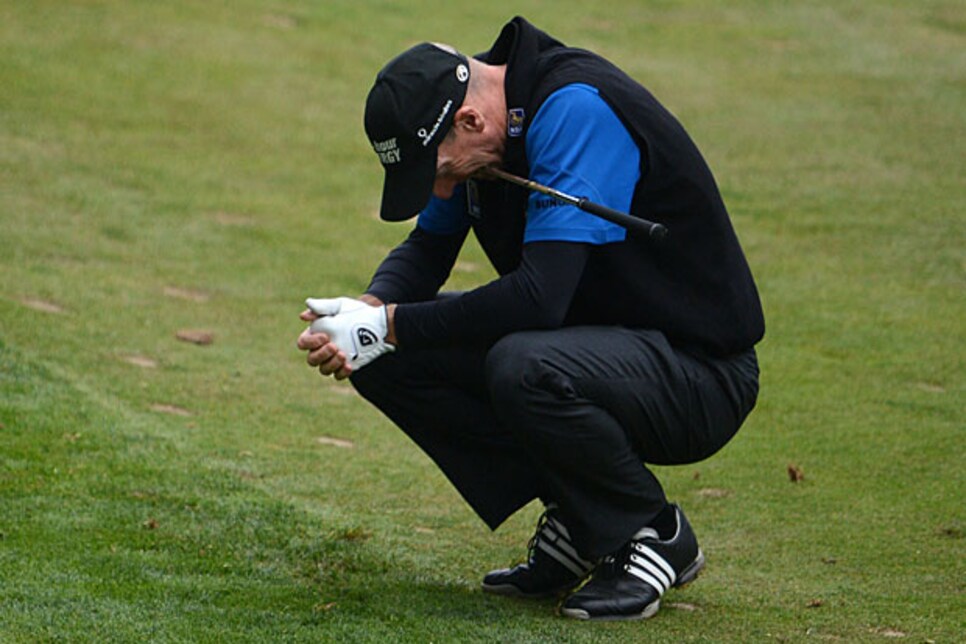 Furyk's U.S. Open ended in disappointment, but we expect him to bounce back this week.
Welcome to another edition of Fantasy Fix, where we can totally relate to LeBron James. Dont' worry, LeBron. Getting -- or predicting -- that first big win can be tough, but once you do, things get a lot easier. Of course, we didn't feel the need to hold a parade and a pep rally to celebrate our success, but hey, to each his own. Hopefully, this week's batch of bold predictions brings even more glory. Let's get to it.
The PGA Tour heads to our country's capital for the AT&T National at Congressional CC. This is the sixth playing of the event that was held at Aronimink GC the past two years, while Congressional prepared and hosted the 2011 U.S. Open.
Random tourmament fact: Anthony Kim won this event in 2008. Yeah, I never thought that fact would seem so random, so fast. Then again, I also thought Katy Perry would never come close to matching "Firework," but she just might have done it with her new single, "Wide Awake." OK, I've officially said too much. . .
Nick Watney. 2011 may have been Watney's breakout season, but 2012 hasn't been nearly as kind, as he enters this week a pedestrian 70th in the FedEx Cup standings. Watney has a win and a T-7 in this event the past two years, but both finishes came down the road at Aronimink. In short, we think there are many better options out there.
Jim Furyk. When we last saw "The Grinder" he was grinding his teeth on the shaft of his wedge after going long with his approach on the final hole of the U.S. Open (see photo above). Although he's never won at Congressional, no one has been more consistent on the course in this event, with Furyk finishing in the top seven all three times. We expect the man who is third in scoring average this year to produce another similar result. We just hope he stays away from the 5-hour Energy on Sundays if he's going to get that amped up down the stretch.
With LeBron capturing that elusive title, Tiger Woods resumes his role as the world's most overly-scrutinized/criticized athlete. Unfortunately for him, that won't change no matter what he does this week. Still, despite his unforeseen weekend meltdown at Olympic Club, Woods has clearly found his comfort level again (BACK!) in regular tour events, and he claimed the AT&T title here in 2009.
WEEKLY YAHOO! ROSTER SELECTIONS
Starters: Jim Furyk, Hunter Mahan, Tiger Woods and Pat Perez
Bench: K.J. Choi, Jason Day, Ryan Palmer and Patrick Cantlay
) for a chance to appear in next week's column. Or if you just feel like making fun of my picks or discussing your favorite Katy Perry song.
CONGRESSIONAL REJUVENATION PICKS
Jason Day. Granted he wasn't playing in typical U.S. Open conditions, but Day navigated Congressional better than anyone over the weekend a year ago with a 65-68 finish that earned him a solo second. 2012 has been a struggle, but his lone pair of top 10s have come in his last five starts.
K.J. Choi. The "Korean Tank" won the innaugural edition of this event in 2007. After a very slow start to the season, the 2011 Players champ is showing signs of life with a T-15 at the U.S. Open after a T-19 at the Memorial.
Hunter Mahan. Our "stud" from a week ago, Mahan didn't win the Travelers, but he is coming off a final-round 61 there. He had a similar Sunday at this event in 2009 when he nearly tracked down Tiger Woods with a closing 62. In fact, he's averaged a 65 in the final round the three times this event has been played at Congressional, and he's finished no worse than T-12.
Fredrik Jacobson. A 66-65 weekend in 2008 here gave him a solo second. Jacobson also played himself into contention at Congressional (at least for second place to Rory McIlroy
) during the 2011 U.S. Open. Apparently, wearing his trademark painter's cap is totally acceptable at this club, which boasts seven former presidents of the United States as past members. Maybe that's all William Howard Taft needed to help his struggling golf game.
LET'S FORGET ABOUT LAST WEEK AND TRY THIS AGAIN PICK
Patrick Cantlay. The 20-year-old phenom missed the cut in his pro debut at the Travelers. But we expect him to rebound at a course where he finished T-21 at last year's U.S. Open and contend for the first of many oversized checks.
FREE FANTASY BASEBALL ADVICE
We're glad to see that our ability to jinx has extended to other sports (Sorry, R.A. Dickey). This week's victim? Mike Trout. We've all heard about 19-year-old phenom Bryce Harper, but can this 20-year-old get a little love? He has an OBP hovering around .400, pop to match (23 extra-base hits in 207 at bats) and 21 stolen bases, despite not being called up until the end of April. It's also funny that Trout plays for the same organization (Anaheim Angels) that called up another fish-named outfield prospect, Tim Salmon, 20 years ago.
Ryan Palmer. Leading the while-you-weren't-noticing category, Palmer has top 10s in four of his last five starts, including back-to-back top fives (Colonial and St. Jude) coming into this week. Speaking of hot, how about our Miami Heat prediction? Let's just say there are a couple co-workers and friends walking around with slightly-lighter wallets this week. . .
Marc Leishman. Before we declare #Leishmania, let's be real. The guy is coming off the best day of his life, but he still ranks 150th in strokes gained-putting. The 2009 PGA Tour Rookie of the Year will definitely be heard from again, but we'll hold off for now.
SEMI-SLEEPERS OF THE WEEK
Robert Garrigus and Kevin Chappell. Just a year ago, before Webb Simpson restored national pride, these two tied for "Low American" at the U.S. Open on this course. Garrigus' solid track record here extends further back with top-30 finishes all three times this event has been contested at Congressional. Chappell, a rookie last year, doesn't have as much experience, but he is coming off another top 10 at the U.S. Open.
Pat Perez. The "Volcano" had a T-3 here in 2007 and a T-12 in 2008. Surprisingly, Perez has made 12 of 15 cuts in 2012 and has racked up eight top 25s, but just one top 10. Sounds like he's due for a breakthrough performance. Even if that happens, though, something tells me Pennsylvania Avenue doesn't have to get ready for a parade . . .
*-- Alex Myers is a contributing editor for GolfDigest.com. Feel free to email him
since he has self-esteem issues.*