News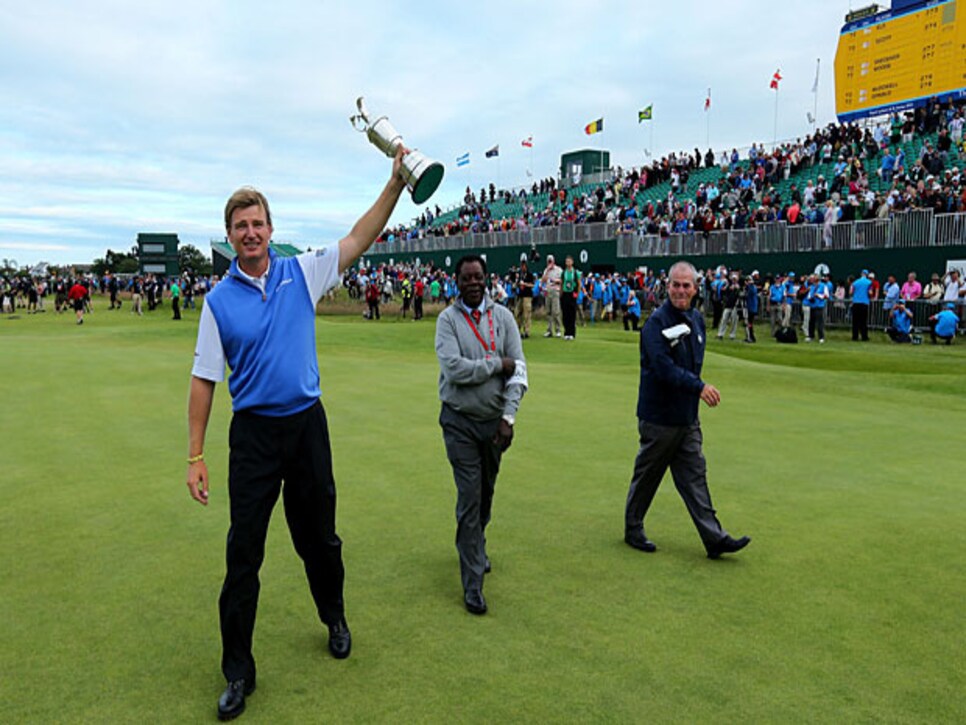 Els' remarkable back-nine 32 on Sunday earned him a second claret jug.
The problem with history is that is gets old in a hurry. There are just so many revisions in pencil before the final draft is set into type, and many of those rewrites carry contradictory stories. Often, it's not until after a career or a life or an event has disappeared over the horizon that we can see it clearly.
In the case of Ernie Els, the early drafts started with words like "youthful phenom," then blossomed into "budding superstar," before wandering off into "damaged goods." Over the decade since winning the 2002 British Open, the word that gained credence became "underachiever."
But Els did a massive revision of his story Sunday at Royal Lytham & St. Annes -- with a little editing help from Adam Scott. By winning the Open Championship, Els changed his personal narrative from "what could have been" to one flirting with the fringes of true greatness when evaluating those who have played the game.
Let's start at the beginning. Els got on the radar screen when he won the 1994 U.S. Open at Oakmont at the age of 24 in a playoff over Loren Roberts and Colin Montgomerie. And when he added another U.S. Open at Congressional three years later, it appeared the newly arrived Tiger Woods would have a rival.
That's when fate started playing cruel tricks on Els. In 2000, he finished second in three majors, behind Vijay Singh in the Masters and runner-up to Woods in both the U.S. Open and the British Open. But the devastating reality was that Els was second to Tiger by a combined 23 strokes.
"I could have played as well as I could and I still don't think I could have gotten to 20 under," a dazed and confused Els said after Woods shattered the Old Course scoring record at 19-under-par 269. "The guy's 24 years old and he's lapping us in the majors every time, it looks like," Els said that day at St. Andrews.
"I'm supposed to be getting to my prime," Ernie lamented. "I'm 30 years old, but I'm going against a guy who's fearless and with so much confidence that it's going to be tough to beat him. We just have to hope he's off. He's streets ahead of us."
Then, at the relative tender age of 30 and just six years after his break-through win at Oakmont, Els sounded very much like a guy throwing in the towel and engaging in a retrospective on his career. "When I was 24, everyone said, 'Here we go,'" Els said. "The big putts and the key shots, that's where I'm a little off. And that's where Tiger always seems to be on."
From then on, Woods was not only in Els' head, but he possessed a suite of rooms there. First Ernie lost his confidence and eventually, he lost his touch on the greens. He did win his third major in 2002 at Muifield when Woods was blown out of contention with a third-round 81 played in sideways rain.
But Els lost the British Open in a playoff to Todd "Are You Kidding Me?!" Hamilton in 2004 and injured his left knee in a sailing accident the next year, requiring two surgeries. The last few years, the putting has been at times painful to watch. And that is the most important takeaway for Els from Royal Lytham. If he can putt like that, he can win. That swing will hold up for a long time.
While it is unfair to hang the label "underachiever" on a guy who, going into this year's Open Championship, had 18 PGA Tour victories, 46 other wins internationally, three majors and was a member of the World Golf Hall of Fame, the "what could have been factor" was huge.
First of all, just the glorious tempo of his silky smooth swing seems to suggest he should never hit a bad golf shot. Also, for a lumbering 6-foot-3 guy with the body of a tight end, Els has remarkable soft hands around the greens. And then there was the fact that he always seems to be putting himself in position to win, which is a large part the battle.
In addition to his four major championship victories, Els has 29 other top-10 finishes in the majors, including second six times and third on four occasions. That's a boatload of "what-might-have-beens" right there. It feels like he should have six or seven majors by now.
So that's where Ernie has been, but where is he now? While his win at Royal Lytham wouldn't have happened without help from Scott, the fact is he shot 32 on the back nine, birdied the 72nd hole, was in the 60s in three of the four rounds and never over par. And that putt on No. 18 is pretty much the putt he hasn't been making for years now, the one that drove him to the belly putter.
With that victory at Royal Lytham, you could begin to make the case that Els is one of the top 20 players of all time. In major championship victories, he is now T-19 with Phil Mickelson, Raymond Floyd, Willie Anderson, Jim Barnes, Bobby Lock, Willie Park and Old and Young Tom Morris.
Another major gets him to T-14 with Byron Nelson, Seve Ballesteros, James Braid, J.H. Taylor and Peter Thomson. And if get gets to six he would be T-12 with Nick Faldo and Lee Trevino. At seven is the special group of Arnold Palmer, Sam Snead, Gene Sarazen, Bobby Jones and Harry Vardon.
The top six all time include Tom Watson (8), Ben Hogan and Gary Player (9), Walter Hagen (11), Woods (14) and Jack Nicklaus 18. Back in 1997, when Els got that second U.S. Open at the age of 27, I was thinking that he'd get to seven majors and might threaten the record of four career U.S. Open titles held by Anderson, Jones, Hogan and Nicklaus.
While that is unlikely now, it is not out of the realm of possibility that Els could have one more burst of greatness. For so long -- maybe as far back as that day at St. Andrews in 2000 -- it has seemed as if the issue with Els was mental.
If that silver claret jug comes filled with confidence, and if that brings with it more putts to fall, Els just may have a couple more majors in him. We know the swing is going to hold up. Somehow, it feels very much like the rewrite Els did on his history at Royal Lytham might include another chapter not yet written -- perhaps a major one.